When it comes to cute, crochet animals, horses might not be the first to come to mind, but there is absolutely no reason why they shouldn't!
Whether it is as a gift or for yourself, crocheted horses are a brilliant and somewhat unique choice that is certainly worth looking into if you- or a friend or relative- are a crochet fan. Let's take a look at 17 crochet horse patterns that are sure to turn you into a real-life equestrian!
This is a pattern that you will want to try if you have some advanced crocheting skills! The beautifully realistic horse design is made stunning by the long mane, green eyes, and black and white coat.
This looks like a crochet pattern that would need sewing but this isn't the case, as the horse is crocheted into one piece and so there is no need to sew.
Ars Venus has kindly offered a 12-page step-by-step to aid you with this crocheted creation. You'll need to have either cotton or acrylic yarn to hand- in white, gray, and black if you want the same color scheme as seen here- as well as a crochet hook, stuffing, plastic eyes, scissors, a stitch marker, and a tapestry needle. 
If you're more interested in the cute than the realistic, then this mini, chibi horse crochet might be more in your line of interest. Despite the small stature of this crochet cutie, a medium level of skill is required.
The pattern comes with a detailed 8-page PDF and you will need to get your hands on some worsted weight yarn in the colors that you would want, a yarn needle, polyester fiberfill stuffing, some 6 mm black safety eyes, and a 3.25 mm crochet hook. 
RELATED: Fun Amigurumi Turtle Patterns That You Can Download And Make Right Now!
This choice is a bit of a middle ground option between the realistic, larger crochet pattern and the smaller, cutesy option.
Worsted weight yarn in four different colors is what you will need to bring this adorable horse to life. 8mm plastic animal eyes work fantastically as do fiberfill stuffing and pellets for some additional weight within the body. 
The next addition to this list is a collection of four different crochets all centered around the theme of "A Horse for Every Season."
VioletsandHeathers cleverly creates a slightly different horse crochet pattern based around each season, with the summer horse having flowers in their mane, the spring having a cute butterfly perched on their head, the winter being decked in holly (and also being a shire horse) and the fall sporting a crown of orange fall leaves.
This is such a cute and clever way to bring something new to these crochet designs whilst also offering different variations of a similar item.
If you feel brave enough to tackle any of these beautiful horse patterns, why not give it a go? All of the horses are medium weight and are made with a 3.75mm hook. Some additional materials include 24mm safety eyes, optional poly pellets, hot glue (rather than sewing), and poly fiber filling.
VioletsandHeathers suggests that the Spring Horse could be crafted by an advanced beginner whilst the other patterns are more suitable for intermediate crocheters. 
Although this horse crochet pattern is ideally suited as a Christmas decoration, there is no reason why you couldn't easily display it all year round. The Christmas vibe comes from the buttons on the horse's legs as well as the dark green saddle and reins combined with the silver hooves and tail and the white coat of the crochet horse.
You could easily mix and match with different yarn colors to create a more everyday horse or stick with the originals if you want to maintain that festive feel. This Christmas Crochet horse ornament comes with a 13-page guide to aid you as you craft!
Sticking with the Christmas theme, this pattern allows you to create a cute carousel horse. This pattern is a little different as it offers a different take on the mane and tail of the horse doll. PuppetFashionStore rates the difficulty of the carousel horse as two out of five so if you are just beginning and are feeling bold, this could be a great place to start.
The Carousel horse comes with a 17 page PDF but there are a fair amount of materials you will need if you want to get a complete replica of the horse that PuppetFashionStore has created. This includes wire for the frame, holo-fiber, a 0.75 crochet hook, instant glue, Miss Alize yarn, two sets of needles- one wool needle and one felting needle-, a synthetic brush, and more. 
RELATED: Easy Crochet Bookmark: Perfect Project for Beginners
This might not be what first comes to mind when you consider a crochet horse pattern but a hobby horse is just as much a horse as any!! This hobby horse could make a fantastic gift and it is also relatively simple to make.
If you have an understanding of some of the basic terms of crochet- such as increasing and decreasing, crocheting in rounds and chain, slip and single crochet stitches- then you should have no problem making this super fun hobby horse.
Alright, so these might be ponies rather than horses but we are still going to include them! Ponies are pretty much just small horses, right? The popular children's franchise My Little Pony got a total makeover in 2010 with the animated series My Little Pony: Friendship is Magic.
With this new smash hit series came tons of popularity which continues today, so if you or a friend or relative are a fan then these patterns could be just what you are looking for.
There are six different patterns available- one for each of the show's main characters (all brightly colored ponies- one purple, one blue, one white, one pink, one orange, and one yellow- guaranteeing lots of fun times with an array of rainbow yarns!) and you can make them with a size 7 crochet hook, some polyfill, felt and a yarn needle.
You need to have a relatively good knowledge of certain crochet techniques, such as rowed crocheting. Nerdy Knitter Designs suggests an intermediate skill level of crochet before bringing these pastel ponies to life. 
This pattern is a unique take on the horse crochet pattern, combining a baby security blanket with a crotched horse plush. This adorable security blanket comes with a cute horse for a baby or toddler to cuddle.
The materials you will need to make this blanket are two crochet hooks (one between 4mm and 4.5mm and one 5.5mm), fiberfill, a stitch marker, a tapestry needle, and 350 yards of worsted weight yarn- or whichever yarn you would prefer- in three different colors. 
The gorgeous curls of the horse's mane in the display models for this crochet pattern are so mesmerizing that you can't help but want to give it a try!
You will need DK acrylic yarn, stuffing, 12mm safety eyes, and a 2.75mm crochet hook to create this as well as some basic sewing skills due to certain parts being crocheted separately and then sewn together. 
RELATED: Crochet The Amigurumi TikTok Bee
The crochet pattern here will give you a 20cm horse doll that sits up adorably. It very much resembles an old-timey doll that would be great for cuddling or to place on a bed to brighten up your home with its crippling cuteness.
MyKrissieDolls offers a PDF of the pattern in four different languages: English, Spanish, Dutch, and German. 
Much like Horse Piem, this pattern will give you a sweet, retro-style horse doll that sits upright. This is an advanced beginner/intermediate pattern that also requires some sewing skills so keep that in mind!
This stunning white horse is for more experienced crocheters and will require a 1.75mm crochet hook as well as wire for the frame, stuffing, needles for tightening, and more.  
If you are a beginner who wants to start small then this tiny horse crochet pattern could be right for you. The pattern is simple and is made with a 1.5mm hook, fiberfill, a sewing needle, scissors, pins, and plastic eyes.
It is not only a great first practice with crochet, but it is also ridiculously adorable and could easily be used as a keychain due to the size. 
RELATED: A Guide To Making The Famous TikTok Bumblebee – 3 Different Sized Crochet Patterns
Another simple yet cute crochet horse pattern, this particular choice is made almost entirely from the basic, single crochet stitches.
There are detailed instructions to help you out but the shaping is all built into the design of the horse so there is no need for sculpting with needles, no need to change crochet hook sizes, and no need for wiring. 
Another of the more realistic designs, these gorgeous horse patterns have a unique look due to the thin chenille yarn that has been used with the display models. However, any kind of yarn can be used when you make them for yourself. 
If you are looking for something a bit more comical to whip up with your crochet skills, then consider this amazing trophy horse head! This one is an intermediate skill level and it isn't hard to see why. You will need a working knowledge of various crochet skills, such as single and half double crochet, rows, slip stitch, and more.
You will also need a 4mm crochet hook, scissors, a stitch marker, and a tapestry needle. Don't worry, this one is going to be worth the time and effort!
Frequently Asked Questions
What Kind Of Animals Can Be Crocheted?
Whichever ones you want! You might have to start with small and less complicated animals whilst you are still a beginner but you'll quickly be able to work your way up to a tentacled octopus or a fluffy maned lion in no time!
What Is The Easiest Animal To Crochet?
Some particularly easy animals are the small and simple critters, such as cats, dogs, rabbits, birds, and even animals like sloths and turtles! Starting easy doesn't offer any less variation to your crocheting options when it comes to simple animal designs. 
What Is The Easiest Way To Learn To Crochet?
The tried and tested method of practice makes perfect applies to crochet but if you're looking for specifics, try searching around for tutorial videos, books, or even lessons to make a start. The hardest step of learning a new skill is always the very first one but once you have begun your journey, you'll be crocheting all sorts in no time at all.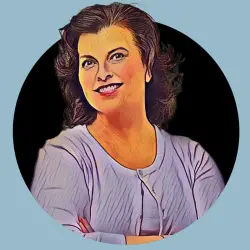 Latest posts by Amanda Brown
(see all)