Llamas are the cutest animals ever – so why wouldn't you want to crochet one?! This can be the perfect gift to someone who you know loves llamas, or alternatively you can crochet a llama as a gift to yourself.
So, immediately we have swayed from the llama theme – but we do have very good reason. This alpaca pattern is just ADORABLE – and it will let you make your own really sweet cuddly alpaca. This would make the perfect gift for anyone who loves alpacas – or you could just give yourself this gift. You will not regret it!
Although we have immediately strayed from the llama theme, we could not ignore this top-rated crochet pattern on Etsy – it is just so cute. So, if you work your way through our llama crochet patterns then you should definitely consider moving on to this one!
Okay, you will be pleased to know that we are officially back on the llama crochet pattern trail. And, this llama is especially funky! Called the 'hatching llama', this llama is in its very own hatching rainbow egg – or pouch. This is super unique and even more adorable – and we already know that you will not have anything like this in your stuffed animals collection.
RELATED: 15 Crochet Ideas To Make At Home
This llama crochet pattern is a take on a much more classic and traditional looking llama – it is the authentic pacha design that gives this llama that well-loved look. This llama looks more than ready for its own expedition, and would be the perfect gift for someone who has been to or is preparing to go travelling – as this llama looks more than ready to take on an adventure.
These llamas come as a pair that cannot be separated – they are the best of friends, and they are so cute you would not want to separate them. The girl llama is adorned with flowers around her neck, and the boy llama is adorned with blue tassels around its neck. They are the cutest pair and they are too adorable to not love! 
Here we have llamas that are much more authentic looking, they have a much more neutral color palette going on – and these ones are just super cute. These llamas would be the perfect present for a new born baby, due to their cute faces and their delicate features. The softness of the crochet patterns make them perfect for newborn babies – we just love them and think that they would be the perfect gift. Why not start the llama love really young?!
We have gone back to the classic pacha llama here, but this crochet pattern comes with an especially hip twist… or should we say hipSTER twist. This classic llama is paired with a hipster llama so you really get that perfect modern and traditional blend. The pacha llama is adorned with the classic headwear, and this one also has a mini cactus complimenting it too. The hipster llama has a cute pastel hue color scheme and some spectacles too!
Louisa llama is the most stylish llama of them all… have you ever seen a llama wearing a beret? No? Well, now you have Louisa – who is the sweetest beret-wearing llama there is. Not only is Louisa wearing a beret, she is wearing a pom pom scarf which just adds that extra bit of sass to this stylish llama.
Are you looking to crochet a super cute and super girly alpaca? Well, look no further than little Miss Aviana the alpaca. We know that this strays away from the theme again… but she is too adorable to not include. Miss Aviana is adorned with pinks and floral embellishments which make her look super cute. She is just a crocheting dream! 
RELATED: 13 Stunningly Beautiful Hooded Scarf Crochet Patterns
Back to the llamas and sticking with the theme – here we have another set of llama friends. These are pretty big in size, and they are just adorable. The one llama has a blue scarf and the other llama has a pink scarf and also a sweet pink flower. Cute couple or the best of friends? This is totally at your crocheting discretion.
Another adorable llama for you to obsess over and appreciate – Lucy the llama is super small and such a sweetheart. This little llama would make the perfect gift for a small child, or for anyone who just loves llamas in general.
Now, here we have a llama that is a lot more partial to a party, and that is a lot more of a funky looking llama. The red heart llama-no-drama is so sweet and will be really fun to crochet. This llama is wearing a rainbow cover and this is what makes this llama that bit more funky.
This llama is so adorable and there is nothing not to love about it. The simplicity of the design is really effective and it just makes the llama the best companion. It is so cute and adorable, it would be rude not to be obsessed with this llama.
RELATED: Crochet The Amigurumi TikTok Bee
Here we have another llama that ventures into a funky town. This llama is so soft and fluffy, and it comes adorned with its own bright personality for sure! This llama has its own colorful pom pom collar and vibrant matching shawl. All in all, this llama is pretty unique and it is safe to say that no one will have a llama toy quite like this.
This llama crochet pattern really goes back to that authentic and traditional crochet style. This crochet pattern will allow you to make llamas which are colorful but very true to a 'real' Peruvian llama. You could either make a llama with dark fur and vibrant accessories or you could make a llama with white fur and more pastel accessories. Or, you could even make both! The choice is yours.
Another llama which is visually very authentic in terms of appearance, although this one has a lot less fur detailing, this is a very clean cut llama that does have that traditional feel. This is all to do with the simplicity behind the design. However, this llama is complimented by a pastel shawl which makes it look that extra bit sweeter.
This is much more of a two dimensional llama in that this is a flat crochet piece. But, that does not make this crochet pattern any less cuter. This is a really unique and decorative crochet pattern, that is completely unique to anything that you might come across on the high street. This llama is just adorable and will add a sense of personality and flair to any room.
We can guarantee that this is the perfect gift to a newborn baby as this is a super sweet and unique gift. There are a wide range of baby mobiles on the market, but we can guarantee that there are no baby mobiles quite like this. This is a really unique baby mobile and it is the sweetest thing. We are pretty certain that the newborn's parents will adore this too!
RELATED: Easy Crochet Bookmark: Perfect Project for Beginners
Oh, the llama just llama is super simple but it is just adorable. This llama crochet pattern is much more of a hug-friendly toy and this would be perfect for any toddler who loves a hug. This llama just llama will be the perfect companion for any toddler and its facial features are just adorable.
Last but not least, we have that perfect gift for anyone who is a plant lover as well as a llama lover. Didn't think you could combine the two? Well, think again! This llama planter is so adorable and your favorite plant will be able to sit quite comfortably in this. It is so unique and so funky, you will be totally obsessed with this. The colorful pom poms adorning the planted give this llama planter that extra bit of personality.
Frequently Asked Questions
What's The Best Way To Get Started In Crochet?
A. Do you want to get started in crocheting, but you're not too sure where to begin? Well, these designs might seem intimidating to you but practice really does make perfect here. It is so important that you dedicate some time to hooking yourself up with the basics and then you have a lot of crochet patterns at your fingertips to test out.
What Is The Best Way To Do A Double Crochet?
A. First of all, you need to yarn over, then insert the hook into the third loop from your hook. Yarn over and then pull through so that you now have three loops on your hook. Yarn over and then pull through two loops, so that two loops will be left on your hook. Yarn over and pull through the last two loops so that you can complete your very first double crochet. Now you must not forget to tie up your loose ends!
How Do You Make A Chain Out Of Crochet Yarn?
A. To crochet a chain out of yarn, first of all you need to make a slip knot around the crochet hook. Next, wrap the yarn once around the crochet hook above the slip knot – finally use the hook to pull the yarn through the slip knot.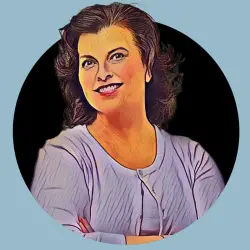 Latest posts by Amanda Brown
(see all)