The world is full of toys, phones, and other fantastic devices that run our lives. Yet, none of these really speak from the heart or really capture what children like.
Have no fear, though, as it is easier than ever to create something yourself. With the advent of the internet, there is no better time to make a true and lasting gift for your children or someone special to you with its help. What gift should you make? Well, how about a lamb?
These adorable little creatures are loved by all and give us the sense that springtime is just around the corner. They are the perfect gift for family or loved ones.
You may be wondering how to go about this as well and to that I say: the best way is crochet. Crochet? I hear you cry back, the thing that my grandma used to do?!
There are good reasons that granny used to crochet, and it is because the equipment is easy to get your hands on, and you can purchase patterns to make.
Not one part of crochet should leave you confused, and the things you can create with it are absolutely amazing. With that in mind, here are 23 different lamb crochet patterns that you can use at home.
Lisa is a cute little crochet lamb that only requires basic crochet skills to make. The lamb has long limbs that end in rounded paws, while its body is oblong, and its head is round.
On the head sit two ears that droop down and frame the face nicely. The guide calls for black, beige and white yarn, but if you so chose you can adjust the colors more to your taste.
This blanket is of a sleepy sheep that has closed eyes and floppy ears coming down its face. As this is supposed to be a blanket, the only parts of its body that are dense are its head and limbs.
The rest is made of only a couple of layers of fabric, in order to make it pliable and huggable for whomever it is for.
This lovely lamb has long limbs that wrap around the object in front of it. This makes it great to use on curtains to hold them in place, to decorate kid's rooms to make them more friendly and homey, or just for display around the house, so guests feel more invited into your home.
Thanks to its versatility, this lamb can be placed almost anywhere you feel is appropriate.
This stool is perfect for kids to sit on, giving them a comfortable seat and something for them to enjoy while sitting on it.
The soothing nature of a cuddling toy can also help parents looking for a moment's peace, as their kid's marvel and snuggle up to their new favorite thing. The feet of this stool are also completely detachable as well, making it easy to carry anywhere.
Argo is a standing sheep that has a bumpy woolen coat and a sleepy face with closed eyes.
Its small size and sturdy design mean that this sheep is perfect as decoration around the house or to have on your desk at work, reminding of all good, fun, and cute things that life has to offer.
Laura is quite a big project sitting at 22 cm tall, however the results are great. With her long, folded ears and rounded body covered in specially made wool bobbles, she certainly looks the part of a perfect spring lamb and would make a great present for anyone at any time of year.
Lupo has quite the story behind him. Being a wolf who loved sheep's wool clothes, when trying to collect it one day he was bitten by a sheep and every full moon he turns into a sheep.
Realizing he much preferred being a sheep, he knitted a sheep's coat from his own wool and decided to live the rest of his life as a sheep. Apart from this cute story, Lupo is a cuddly crochet sheep that is for all ages.
RELATED: Easy Crochet Bookmark: Perfect Project for Beginners
This impressive lamb is not for the faint-hearted, it involves a lot of quite complex stitches, and the fleece is quite time-consuming, however should you manage to pull it off the design and patterns make it look quite impressive, as well as giving you a cute toy of your own.
This amazing vintage design from the UK is a product of another time, still it reminds us why, even now, toys for children – and adults – have always been so beloved. This cute sheep is a standing model but is big enough to still be a cuddly companion for those who want him.
This amigurumi lamb involves a lot of skill, with the fleece, the detail around the ears, the neck baubles, and the toes, it is an incredibly detailed crochet design.
However, the result is astounding and will be a beloved and welcome present to anyone, with zero complaints and much amazement at your work.
Sam Lamb is a happy little chap that has a grin on his face and a lovely demeanor. Unlike other crochet patterns, there is no baubling of the fleece, instead having a much more fur-like texture.
Yet, he is still very cute and with his bow tie, he will make a perfect addition to your household.
Lulu is an intermediate pattern that requires some skill to master, not least because of her toes and the rose that you have to make on top of her head. However, once you have mastered this, you can create one of the adorable crochet creations that there is available.
RELATED: Crochet The Amigurumi TikTok Bee
Shelby is a baby lamb that appears to sleep too much and with a bauble fleece that has a potential for multiple different colors, you can make this little lamb as bright or as mellow as you want while also keeping as very well-loved around the house.
With this pattern, you can make a whole family! The pattern provides for one ewe and two baby lambs, with an inside pocket in the ewe to store the lambs. While this is a big project, the achievement you will feel at the end of it will be worth every second.
This small crochet lamb has long loving arms and short stubby legs, while retaining the bauble fleece and droopy ears we've come to expect.
Except, this lamb has a little pink bow and a little bell and the accessories are what make this lamb special, catching the eye in a perfect way.
What's great about this pattern is that it is its own creation kit, as it not only has the pattern, but includes yarn, polyester fiberfill, safety eyes, and embroidery floss. For a little extra, you can also get hooks and needles as well, making it the perfect kit to start your crochet adventure.
RELATED: A Guide To Making The Famous TikTok Bumblebee – 3 Different Sized Crochet Patterns
Although not the traditional colors associated with a lamb, it is nonetheless a beautiful lamb to make, with pinkish hues working together with the pure white to make a beautiful doll. You can also make a selection of lambs in different colors to decorate your home, making a rainbow of crochet creation.
This pattern is listed as easy; however, it contains a lot of materials thanks to the intricacy of the toy. But, once completed, it looks perfect and, due to being quite large, will make you feel good about how far your crochet skills have come, especially when you start being able to decorate it.
This lamb is perfect for a fun activity with friends and family, as this tiny crochet project only takes an hour or so. As such, it is a great way to introduce crocheting to loved ones or to have a fun little project to do with the kids and create a whole little flock of your own personal sheep.
The best thing about this lamb is the size. Being only 2 inches long, it is the perfect starter lamb to get into crocheting.
You won't have to spend a lot of time finding equipment or making the lamb itself, and you won't have to learn a lot of new knowledge, you can just try and make it, picking up the skills as you go.
An excellent crochet lamb to make if you have a newborn or small child, it functions as a toy when rolled up and tied, but when unrolled it can be a blanket to lay on top of your child, a play mat for kids on the floor, or a cover for an armrest or hard surfaces to keep your children from being hurt.
This amazing creation comes with instructions on how to make a little moon for it to sit in, which along with its chipper smile and delightful horns make Moony a lovely little decoration for your home or desk at any time of year.
Friendy Wendy is a beautiful amigurumi toy that stands upright, while her face only shows closed eyes, it is expressive of contentment and the detail on the rest of her body – from the wonderful flowers crocheted into her hat to the little blue sleeves at the end of her arms and legs – present an amazingly beautiful crocheted toy.
Final Thoughts
Crochet has come back into fashion with a vengeance. With its easy access, soothing engagement, and the items you can create from participating in crochet, it's not hard to see why.
One of the best things you can create with crochet as well is toys and soft items, and if you can create toys, you should at least make one or two lambs, if not for practicing then just for how wonderful they look and how much everyone who receives or sees one will be awed by them.
Frequently Asked Questions
What Is The Best Crocheted Lamb For Babies?
Any lamb design that is huggable, durable, and safe. A baby will be ecstatic with any lamb that you give it, as long as it feels good to touch and looks interesting. But babies also have a habit of being very rough with their toys, so just make sure it is pretty sturdy.
Also, make sure you don't use any dangerous materials for babies, that means not small hard objects that they can swallow – eyes being the main culprit here. If you follow those rules, you should be fine.
What Can You Do With A Crochet Sheep?
Anything you choose too, really. Once you have made it you can do whatever you want with it, though common uses include as a toy for children and adults, a decoration around the house or at work, sometimes they are used as doorstops, or even just fill your bed with them.
Once you have made a crochet sheep, you can choose how to use it.
Is There A Free Crochet Pattern For Sheep?
There is probably a free crochet pattern that you can find online, however the cheapest patterns can be as little as a few pence.
This makes crocheting incredibly accessible to new starters, however for more complex and extravagant patterns, they can set you back a fair way.
Of course, if you are good enough at crochet, you could potentially start making your own patterns as well.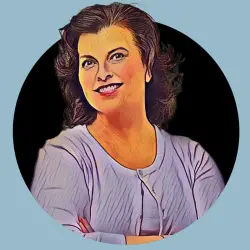 Latest posts by Amanda Brown
(see all)