Alpacas are certainly one of the more underappreciated beauties of the animal kingdom. Often mistaken for llamas, these cuties make for excellent dolls or plushies due to their amazingly fluffy nature and general cuteness.
Thanks to the emphasis on their fluffiness, alpacas are relatively popular when it comes to arts and crafts.
This includes crochet and amigurumi, the Japanese art of crocheting and knitting. It is a technique that is almost the same as crochet except it is used mainly for dolls or plushies rather than crochet which can include clothing, blankets, etc. 
There are tons of great designs and patterns out there, particularly so when it comes to amigurumi alpaca crochet patterns, so we are going to be taking a look through 25 super adorable options if you want to make yourself an alpaca of your very own!
Simple but undeniably adorable, the doll that is created from this pattern has a gorgeous red saddle topped off with some pink and orange pom-poms.
The creator of this pattern- Ranjitha- offers a comprehensive set of instructions over on her website(linked above) along with a list of what kind of materials you will need for this adorable alpaca, including large eye tapestry needles, scissors, stuffing, a 2.75mm crochet hook and yarn (she suggests worsted weight yarn but any yarn will do). 
These simple and pudgy alpaca dolls can be created from a downloadable pattern courtesy of Miles of Crochet on Etsy.
They are designed a little differently than some of the alpaca patterns that will make an appearance on this list due to the block coloring that is used to make it look like they are wearing colored overalls!
The color of their all-in-ones is your choice depending on what yarn you pick but it is suggested to use worsted-weight yarn. You will also need a 4mm crochet hook, some kind of stuffing such as fiberfill, a large-eyed needle, and 6mm black safety eyes.
It is a relatively simple pattern that only requires techniques learned in the basics such as front loop crochet, the slips stitch, and increasing and decreasing. 
If completed, Alfie the Alpaca should measure at between 7 and 8 inches and would make a lovely addition to a baby or toddler's bedroom! His curly locks, puppy dog eyes, and cute sitting position make him perfect for kids to cuddle up with or be comforted by.
Alfie requires an intermediate level of crochet skill- including techniques such as the chain stitch, the slip stitch, and working in the round stitch- and requires a 3.5mm crochet hook alongside one another crochet hook- measuring a little smaller at 3mm-, a yarn needle, stitch markers, stuffing and DK weight yarn. 
RELATED: Fun Amigurumi Turtle Patterns That You Can Download And Make Right Now!
These two alpaca patterns come either individually or together so you can try and craft both or just one if you find yourself struggling for the time to make two. Their crocheted outfits are the highlights of these adorable alpaca patterns.
These are also recommended for a more experienced, intermediate level of crocheting. You will need two crochet hooks- 1.75mm and 2mm- sewing pins, sewing needings- stuffing (holofibre is recommended), scissors, embroidery thread, and black safety eyes.
There is a 22-page guide to help you out when making these designs, with 60 photos and a positive pattern test by crocheters from the website Ravelry!
The fluffy mop of hair included in the pattern for this particular crochet pattern immediately catches the eye thanks to its adorable simplicity.
This pattern is for those more experienced in amigurumi, so if you think you have the skills to take on the challenge then you will need yarn (around120 meters worth), toy stuffing, 3mm safety eyes (or black embroidery thread if you would rather use a different method for the eyes), a yarn needle and a 3mm crochet hook. 
Whilst we are on the topic of alpacas with fluffy hair, this pattern also offers that quirky bed head look. This option isn't quite as taxing as the previous pattern on this list but it is still recommended for advanced beginners rather than complete beginners.
There are a few stitches that will be needed to complete this pattern: the single crochet, the double crochet, the slip stitch, the chain stitch, and the single crochet increase and decrease.
It is also handy to have a basic knowledge of embroidery or sewing purely for assembly purposes and for any finishing touches that you might want to add. To get that super chunky and fluffy look, opt for a bulky yarn. 
This alpaca has a different look to the ones we have looked at so far due to the sheer level of detail.
You'd be forgiven if you thought this was an intermediate or advanced pattern but it is a basic pattern that can be completed with simple techniques and stitches such as chain stitches and the increase and decrease stitching method.
A 3mm crochet hook is needed to make this piece as well as a stitch marker, scissors, black sewing thread, 12mm safety eyes, polyester fiberfill for stuffing, a wool needle, and any kind of DK wool in various colors. Fun fact, this crochet pattern was featured in issue 91 of Simply Crochet magazine!
Why settle for one alpaca when you could have an entire family! This pattern features designs for two bigger alpacas and one smaller, baby one. Beginners should be able to find their way around this pattern as well as intermediate crocheters.
DK wool is the recommended wool but in terms of colors, the sky is the limit! The display models for the pattern each have a different colored coat- one blue, one pink, and one yellow- whilst brown and white DK wool is used for the secondary face and ear colors.
The adults should measure at about 21cm tall whilst the baby will be around 17cm tall and you can make a start on them with that aforementioned DK wool, some black yarn for sewing on features, a 3.5mm crochet hook, a tapestry needle, toy stuffing and a pair of 10.5mm safety eyes. 
RELATED: Easy Crochet Bookmark: Perfect Project for Beginners
Rin is a crochet pattern to consider if you are looking for an alpaca doll that could be used as a gift as he is perfect for cuddling! Rin can be made with a 2.5mm crochet hook and DK sport or light weight yarn and if made correctly, he will be about 22cm to 23cm tall. 
Although these patterns could technically be either a llama or an alpaca, we are still going to mention them! The accessories are what make this pattern unique and utterly adorable.
The dolls have hats and blankets, both of which have their own patterns and instructions that are included in the 12-page guide. This is another option that is great for beginners and Ambercraftstore even offers free consultations for novices on her Etsy. 
This is another that can be treated as a llama or an alpaca but the fluffiness of the models used for the pattern suggest more of a leaning towards an alpaca!
This is a beginner-level option but would be more suited to someone who has a working knowledge of crocheting with fluffy yarn due to that excess alpaca fluff. You'll need a 2.5mm crochet hook along with some stuffing, 10mm safety eyes, scissors, a needle, and- you guessed it- yarn!
There is a cute, optional scarf that is makes for a great accessory as well as excellent practice to sharpen your crochet skills.
Sticking with the alpaca/llama hybrids, this adorable doll pattern is another that would be a brilliant gift for a child for maximum cuddles.
Another relatively simple pattern, you will need a 3mm crochet hook along with fiber fill stuffing, a stitch marker, scissors, a sewing needle, black embroidery thread if you wish to sew the eyelashes and 12mm safety eyes.
Don't forget the yarn too! TheCraftyMammy13 recommends Stylecraft special DK yarn . 
RJ the alpaca is a character included in the highly popular BT21 cartoon franchise (created via a collaboration between Line Friends and the South Korean boy band BTS).
Due to his connection to the superstars that are BTS- designed by the eldest member Jin- it is no surprise that RJ is a popular character who has inspired various crochet patterns!
This take on RJ the alpaca comes courtesy of MooeyandFriends, who provides thorough instruction for each part of the doll on their blog (linked above).
To make RJ with this pattern, you will need sewing pins, a slanted tapestry needle, glue, three lots of felt in pink, red and black, stuffing, worsted weight yarn in white or cream, and brown and two crochet hooks, one 5mm and one 4.25mm. 
Another adorable take on the fluffy alpaca from the BT21 series, this pattern is super cute, super simple and will require a 1mm crochet hook, a sewing needle, stuffing, scissors, white, brown, red, black and pink yarn and a knoweldge of basic single crochet stitches as well as the increase and decrease stitching method. Tori has listed all of the information on the Amino Apps website (linked above). 
RELATED: Crochet The Amigurumi TikTok Bee
This character is just too cute to not add some more crochet patterns for him.
This pattern is also relatively simple- utilizing stitches such as the chain stitch and the slip stitch, and techniques like the single crochet and the increase and decrease stitching method- and requires a 2.5mm crochet hook, stuffing, cotton or baby wool in white, brown, red and pink and toy stuffing.
One different feature here is that Narumicrochet uses felt and liquid silicone to make the face once the body is complete.
This iteration of the character is based on the baby versions of the BT21 characters, so- if it is even possible- this pattern is even more adorable. Much like the other RJ the alpaca crochet patterns, this one is basic and only needs a beginner level of knowledge.
Alongside the usual suspects in terms of materials (a crochet hook, yarn, and a stitch marker)- you'll need black felt, white glue, fiberfill, and a yarn needle.
The suggested yarn is DK lightweight yarn in RJ's color palette- white, pink, orange, and light brown- and the crochet hook sizes that are needed are 2mm, 2.25mm, and 2.5mm. 
If it is a fluffy alpaca doll that you are after, then look no further than Miss Aviana the Alpaca! Not only does this pattern contain instructions for making the Aviana herself, but there are also instructions for a blanket and decorative flowers to accessorize her.
Although Aviana isn't too difficult and can be taken on by beginners, you will also need some beginners sewing skills due to the parts that are crocheted separately and then sewn together.
This pattern can be made with a 2.25mm or a 3.5mm crochet hook, 9mm safety eyes, and an acrylic/cotton blend of yarn. 
André the Alpaca is a rather unique addition to this list as he is the first doll that has instructions featured on his pattern to turn him into a doorstop if you so choose!
André is designed to be a chunky alpaca crochet doll so the pattern works best when using a chunky style of yarn. ThreadbareGifts suggests the King Cole Big Value Super Chunky brand of thick yarn.
You will need a 5mm crochet hook, safety eyes, toy stuffing, black thread, and- if you do opt for that doorstep choice- rice, sand, or lentils/pulses can act as the doorstop filling. 
This simple yet sweet alpaca crochet pattern is another relatively basic one for beginners, requiring simple crochet techniques such as increasing, decreasing, chain stitch, slip stitch, and single crochet.
KNUFL used Scheepjes Catona yarn for Paco along with a 2.5mm crochet hook and once complete, he will measure at around 12 inches high. 
RELATED: 13 Stunningly Beautiful Hooded Scarf Crochet Patterns
These two twin alpacas would make a fabulous pair of gifts for siblings due to their matching nature but with the option of utilizing different color palettes! The 13-page guide is sure to help you through the process but there is also a short manual included for those who are more advanced. 
This pattern is super adorable thanks to the incorporation of large black eyes with long eyelashes. This one is also suitable for tons of cuddles due to the doll-like nature, the long slender neck, and the pudgy legs of the alpaca.
The skill level is listed as medium but MagicinLoop advises that templates are included that make the instructions much easier to follow for novices. 
Another great cuddle option- though smaller than some- this super cute alpaca pattern comes with a 17-page instruction manual that explains the crocheting process step by step along with high-quality images included to help.
There is also a description of how to go about creating the pom-pom scarf that is shown in the display image of the pattern. This little guy should be able to stand, sit and lie down without the need of support and can be made with single crochet, double crochet, increase/decrease, and knit stitches.
Use a 2mm crochet hook with knitting needles, buttons to join the legs to the body, and the appropriate yarn to get the best out of this pattern.
This charming pair of alpacas are sure to add some color and personality to your home! This pattern shows the instructions for making either Ata or Juanita but you can easily make both if you opt for double the materials.
Ata and Juanita are relatively well-sized- measuring at about 27cm tall and 18cm wide- but they are still perfect for beginners to the craft of crochet. 
RELATED: 15 Brilliant Crochet Baby Yoda Patterns (With Pictures)
If you are looking for a super fluffy choice when it comes to alpaca patterns, this could be the option for you! This pattern is made with both crochet and felt as the main body of the doll is crocheted whilst the nose and mouth area is felted.
You should be able to make this alpaca with a 5mm crochet hook for the body and a 3.5mm hook for the feet. Felting wool is best used for the felt area whilst regular felt is used for the inside of the ears.
Because of the use of felt, you'll need a felting needle too as well as 12mm safety eyes. Grab yourself two skeins of Bernat Pipsqueak yarn (in whichever bright color you may want) and some worsted weight yarn for the feet and you are ready to go! 
Carl the Alpaca is getting prepared for Christmas with his adorable red and white Christmas hat and green scarf! He would make a perfect decoration or Christmas tree ornament during the festive season but he would also be a great decoration all year round due to his universal cuteness.
Sport weight yarn is the recommended yarn choice but you will also need stitch markers, polyester fiberfill stuffing, tapestry needles, 4mm safety eyes, black embroidery thread, and a 2.5mm crochet hook to bring Carl to life. 
Frequently Asked Questions
Where Was Amigurumi Created?
Amigurumi is a term coined entirely within Japan, with no history of the word in the west until its conception in the east. 
What Is The History Of Amigurumi?
Although knitting and crochet are not native to Japan, samurai warriors adapted the craft to knit socks that had toes built-in to allow for better movement. Amigurumi developed naturally with the introduction of knitting and crochet. 
What Sort Of Crochet Is Used For Amigurumi?
The most appropriate crochet stitch for amigurumi is the single crochet stitch, due to the tightness of the stitch which leads to the fabric becoming denser with as few gaps as possible. This is particularly helpful for dolls, which amigurumi is predominately used to make.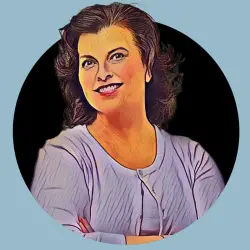 Latest posts by Amanda Brown
(see all)