Knitting is a hobby enjoyed by many. Not only does it keep the mind active, you can also create some awesome clothes, soft furnishings, and toys that make excellent Xmas or birthday gifts.
Most people appreciate a handmade gift that is created with care and thought and can be something that is treasured forever. So, let's have a look at 25 patterns that are ideal for beginners. 
This gorgeous pattern creates a warm and cozy sweater perfect for chilly winter days. The garter stitch is easy to master and looks attractive and stylish. It makes a wonderful gift. 
The pattern is available as a PDF file and has video tutorials that are easy to follow. The patterns are designed with adult women in mind and can be adapted for small, medium, and large. 
The pattern requires 658.368 meters of yarn and needs a 9 mm needle. It also needs straight knitting needles as well as a circular one. 
A perfect Xmas present, this fir patterned wooly hat is guaranteed to keep your head warm during chilly wintery days. The seasonal pattern makes this hat the perfect match for a scarf or mittens of similar design. 
The pattern is slightly complex but still suitable for beginners looking for a challenge. It requires a circular needle as well as a double pointed needle. The pattern comes with color charts to assist you with the structure. 
The hat fits heads that are 52 cm to 58 cm. Included in the kit is green and gray yarn (200 MTS) and a pretty bag for keeping everything together. You can choose whether to just purchase the pattern or add in the needles needed for the project. In addition, the seller has also written a tutorial to help complete the colored parts.  
RELATED: 20 Adorable Knit Baby Booties Patterns (With Pictures)
Do you know any small people (and not so small people) that love cuddly bears? This easy pattern will delight anyone that loves cuddly toys, and it's super simple to make. Harry the puppy was designed by Sue Jobson who is a well respected designer. 
The kit comes complete with yarn, pattern, buttons, cotton, and stuffing. You will need to purchase knitting needles separately. On completion, the puppy measures 11 inches (28 cm). The stitches required are casting on and off, purl, knit, pass slip and sewing seams. 
This stylish poncho pattern is quick and easy to knit. The designer has created it as a no fuss and simple design. The Pattern requires a 15 mm needle, and you can use any yarn to knit it (not included). 
The pattern uses simple knitting techniques such as knit and purl. The pattern is available as a PDF and has detailed instructions to create this gorgeous poncho. In addition, pictures are included for comparison purposes. 
If you share your life with a canine friend or have a family that loves dogs, you can provide them with these cute little bandanas. They are stylish and can be knitted in a variety of colors. The bandana can be worn at the front or back. 
The kit is perfect for beginners and includes everything you need such as needles, yarn and pattern, In addition it also comes in a hessian bag useful for storing the materials. The pattern can be adjusted depending on dog size. What's not to love! 
For the parents of babies and toddlers, this cute little cardigan makes a great gift. The simple design makes it easy to create and has striped edging and pockets. The pattern is knitted from the top downwards and buttons are sewn simultaneously. Sleeves and pockets are knitted after the body is complete.
The cardigan is ideal for babies 6-12. 12-18 months and chest size is approximately 46, 51, 56 cm. You will need baby yarn – 2, 3 or 4 balls depending on age group. Needle size will need adjusting to find the right tension. You should also purchase 4 stitch markers, 6 buttons and a yarn needle. 
This cute little poppy is perfect for showing respect to those that risked their lives during the war. Wear this poppy with pride each year. It fixes onto any clothing and is durable and effective. It's super simple to make and perfect for beginner knitters. Furthermore, it comes complete with instructions. 
Is it really Xmas without buying some sock gifts? Now you can add the personal touch with hand-knitted socks as a gift to a loved one. This pattern comes with tutorial videos and a full set of instructions. In addition, the seller has provided extra hints and tips to help you create the perfect pair of socks. 
You will need to be confident at knit and purl stitches. The pattern can be customized depending on size requirements. The pattern offers advice on sizes that correspond to small, medium, and large. The yarn isn't included, and you will need to purchase yarn that offers a high twist and high nylon content as the socks will be more durable. In addition, you will need double pointed needles, tapestry needle and stitch marker. 
The pattern is available as an instant download. 
RELATED: 20 Brilliant Knit Cardigan Patterns (Including Pictures)
For a unique gift that would appeal to children and adults alike, why not try your hand at this cute knitted octopus. The small tentacles are ideal for little fingers and are perfectly huggable. You can make the octopus in gray, blue, or pink. 
The kit includes enough yarn for the body and tentacles and extra to make the eyes. In addition, it also includes a pattern, needle, stuffing and a beautiful gift box. You can also add knitting needles if required. The stitches required are purl, knit, increase and decrease. 
This hippy style headband is a great beginner's project and makes the perfect accessory to any outfit. Available in 25 different colors, you could make several and mix and match. You can customize the size, and it also makes a perfect birthday or Xmas gift. 
The headband is super easy and can be completed within half an hour. The kit contains everything you require such as designs, 10 mm knitting needle, tapestry needle and full instructions. 
A wonderful addition to a sofa, this chunky cushion cover is attractive and warm. It makes a 45 by 45 mm cushion. The kit includes a pattern and three balls of yarn made by James Brett, Lazy Days Yarn. In addition, it has buttons and needles. 
Reviews are great for this cushion, with many commenting on it being a great gift and easy pattern to follow.
A practical gift for the kitchen, these dishcloths are easy to make and are lovely to use in the kitchen. The natural cotton yarn is high quality, making it an eco-friendly addition to your washing up requirements.  
The kit doesn't include needles, so you will need to purchase either 3.75 or 4 mm. However, the kit does include 50 g (X2) of knitting cotton, full instructions, and a recyclable  gift bag. There is enough yarn to make 2 large, 4 medium or 5 small cloths. 
The pattern is easy to follow without any complicated stitching requirements. It needs knit and purl stitching for a great pattern and texture. 
If giving this as a gift, there are several gift boxes available in several colors and are simple to assemble. 
RELATED: 25 Amazing Knit And Purl Stitch Patterns (With Pictures)
Practice knitting and treat yourself to these stylish gloves. They are ideal for keeping warm, but equally make a great accessory to a sophisticated outfit. 
Everything required is included in the kit: knitting needles, sewing needle, 100 g wool, 20 g polyester wool, pattern, and a cotton bag. 
These cozy slippers are perfect for snuggling up with and enjoying a relaxing activity such as reading or watching a movie. 
The pattern is simple with an effective and practical result. The slippers make a great gift for someone that enjoys feeling warm and cozy and who suffers from cold extremities. 
The kit includes a tote bag made of natural materials, chunky yarn, sewing needle and comprehensive instructions. The slippers fit feet that are 4-6 and foot length of 23 cm. The slippers are available in cream or mink. 
This pretty little blanket is made using 100% wool and is great for a beginner. It makes an ideal first project as it only requires knitting squares and rectangles. Garter stitch is used to create a highly textured finish. The blanket can be made with an option of 13 colors and has simple instructions at every stage of the project, including adding the tassels at the end.  
The blanket can work as a throw over for a chair or sofa, or can be used to keep legs warm on a chilly evening. Included in the kit is 3 100gm balls of wool and standard knitting needles. 
George the Great Tit is a colorful little creation and would make an excellent gift to any bird lover. He fits perfectly in the hand and sits at 14 cm high. 
The pattern is available in downloadable format. You will need to purchase DK yarn and use 4 mm needles as well as a darning needle. This is a great project for a beginner, and you will need to know how to do stocking stitch, and be able to decrease it by knitting front and back together. The pattern gives instructions on how to change color halfway through. 
This beautiful cowl would make a great addition to any ladies' wardrobe. The cowl is a pretty design with a mix of pink, beige, purple, and gray. The kit comes with detailed instructions and a color chart to show how to get the Fair isle pattern right.  
The size once completed is 28 cm when out flat. However if you want it longer just increase the amount of repeats. The kit includes enough yarn to increase the size. 
The kit contains everything needed except the needle, but you can add for an extra cost. In addition, the seller has included a blog with a tutorial to assist the project. 
This project is ideal for beginners or children that like to knit. Kid's will enjoy practicing their knitting skills and creating this cute cuddly bear. The bear is created using 100 % British wool and stuffed lightly to ensure a floppy and soft end product. 
No previous knitting knowledge is needed as it comes with detailed instructions on how to do stitches such as casting on, the knit stitch and casting off. No complicated shaping required, and all stitching is done in rectangles or squares. 
There are 13 colors to choose from, included in the kit is wool, toy stuffing (plastic bottles that are recyclable) and wooden knitting needles.  
A simple but effective knitting project, this cute brightly colored coffee mug warmer is ideal for keeping hot drinks steaming and hands warm without burning. It's very simple to make, and the instructions include: Knitting needles, sewing needle, red wool and a button that says 'handmade with love' – the perfect gift for a loved one. 
RELATED: 25 Easy-To-Follow Knitting Patterns For Beginners (With Pictures)
Another good option for children who like to knit. It's best suited to children 8 years old and above. The buddy kit can be personalized and adapted depending on preference. When purchasing the kit, you'll also get access to instructions and videos from 'Knit School' that contain detailed information about the knitting process. Furthermore, the knitting wands are ideal for children and made from durable beech wood. 
The material for these little friends is unspun merino that is lovely and soft, and you have a choice of 24 colors. The kit contains everything needed, so there is no requirement to purchase extra materials. The main stitch used is garter stitch as a simple stitch to learn and use. It should take around 4-5 hours to complete. 
This Xmas Santa hat will last for years to come and will be the envy of your friends. The perfect hat for the festive season, it's made from super chunky yarn making it a good choice for warmth as well as style. It is knitted using a 15 mm needle with double yarn which makes knitting swift, and the end result is a fantastically squidgy hat. 
The hat is available in lots of colors, either traditional Xmas or you can get a different color for a touch of individuality. Included in the kit is: yarn, needles, tapestry needle, instructions, and pom maker. 
Does it get a bit draughty in the winter at your house? Do not fear…knit this fantastic draught excluder that measures 10cm wide and 99cm long. Although this pattern is a copy it has great reviews and is easily adaptable and easy to follow. 
Suitable for beginners wanting a challenge, this sweater is lovely and warm, and you'll get the satisfaction of knowing you created it yourself. 
The jumper does not need any sewing up and is knitted using just circular needles. The style is oversized and fits size 6-28. You can knit the jumper with just one color or add in a second color to create the stripes if required. The kit includes: natural cotton, chunky yarn of required color. If needed you can add circular needles, tapestry needle and stitch markers. 
Get into the festive spirit and knit your own Xmas stocking. Make the stocking as a gift for the kids and personalize it to make them feel special. Imagine the kids' faces when they come down Xmas morning to find their own named stocking? 
The kit contains full instructions on how to make the stocking and how to knit on each letter needed. In addition, it also includes a tote bag, chunky yarn, sewing needle, pattern and wooded needles if needed. The finished stocking measures 62cms long. The stitches required are knit, purl, loop and increase, decrease. 
RELATED: 25 Festive Knit Christmas Stocking Patterns (With Pictures)
Treat your best friend to this cute coat and keep him warm in the winter. The woolly coat is ideal for short haired dogs and those that feel the cold. It's super easy to do and designed for dogs that weigh 12-15 kg. The pattern is simple to follow and ideal for beginners.
So, there we have it, 25 patterns ideal for beginners. Happy knitting everyone. 
Frequently Asked Questions
Is It Easy To Learn How To Knit? 
With the above patterns you will receive detailed instructions and often video tutorials. There are a plethora of tutorials on media platforms where you can learn how to knit. It's a good idea to spend some time practicing before attempting a pattern. Everyone learns at different paces so it depends on your learning style as to how easy it is to find it.
Do Knitted Garments Make Good Gifts?
Many people appreciate the personal touch that goes into knitted gifts. The fact it took time and effort makes getting a handmade garment one of the best gifts ever.
Do All Kits Include Everything Needed?
Some of the above patterns include patterns, needles and yarn and some are just patterns. If you get the patterns then you will need to purchase the other materials separately.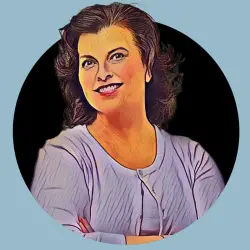 Latest posts by Amanda Brown
(see all)