Are you good with a crochet hook? Or perhaps you are a knitting fanatic and want to open yourself to the world of crochet. Maybe you're a complete beginner looking to learn a new skill to pass the time.
Well, you've come to the right place!
We will be looking at several crochet flower patterns for you to have a look at and maybe give a try yourself.
Crochet flowers are great for all, whether you are a beginner or an expert.
This is because they are quick to do and are easy when following the pattern. This will be a great task if you're wanting to put your feet up and find something to occupy your time.
Why You Should Take Up Crocheting?
For those of you who are new to crocheting and are wanting to tackle a new hobby, the are many reasons why this is the right path for you.

Did you know crocheting has many health benefits? It is more than just a way to pass the time and more than just a means of producing extravagant creations. Crocheting is good for the body and the mind and can really benefit an individual.
It's good for your body – as crocheting involves a lot of movement in your hands and your arms, this can be good for the exercising of your joints.
Helps with mental health – studies have shown that crocheting can help with mental health, particularly with depression and anxiety. Because crocheting requires lots of repetitive movements, this releases serotonin which acts as a natural anti-depressant in the brain.
Mindfulness – by taking up crocheting, you are developing mindfulness and allowing both your mind and body to relax.
Saying no more to bad habits – crocheting is not only relaxing and creative, but it can be distracting and help you to take your mind off things. If you are wanting to kick a bad habit, crocheting may be the best distraction for you. You will also be gaining a lot of new knowledge and expanding your creative horizon.
Why The Crochet Flower?
Crochet flowers are known for being quick and easy projects. They are also known for their diversity, for there is so much you can create with a flower. From a rose to a tulip, the list is endless! And these little flowers not only make great gifts but are perfect accessories to add to other projects such as crocheted bags or scarfs.
Here, we will be listing 25 different flower patterns to inspire all you crochet-lovers!
This crochet flower is great for beginners. It is simple yet fun with its colorful appearance and adds a dose of uniqueness with a smiley face in the flower's center. This pattern is ideal for children/babies as it is innocent, fun, and is made from soft cotton which is recommended for young children due to its soft touch.
The Buttonhole Crochet Flower acts as the perfect addition to a crochet project which needs a decorative button. With this flower piece, there is a convenient hole in the center where you can thread your button through to add to projects such as knit cardigans.
RELATED: Fun Amigurumi Turtle Patterns That You Can Download And Make Right Now!
The Pinwheel Crochet Flower is a little more advanced than the previous, but it is worth it for the beautiful end result. It is a seven round flower and creates a lovely amount of texture and dimension to make it stand out from the more simple designs.
This design is another more difficult project, however once all the hard work is done, you'll be left with a gorgeous work of art. This crochet rose is perfect for a gift Mother's Day or just as a way of showing a person you care. Make this design using cotton yarn to assure absolute softness.
Need an extra coaster? Why not make one yourself? These crochet sunflower coasters are the perfect addition to your home. They are easy, subtle, yet add a little personality to that boring coffee table.

The circle center of the flower makes an ideal place to place your mug and the petals on the outside add that needed decoration. If you want something different from a sunflower, try other flowers with large centers such as a daisy.
Crochet the traditional Japanese flower, the cherry blossom. This pattern is simple to learn and makes for a perfect spring decoration. Use the traditional pink color to create an accurate depiction of the design. This is perfect for adding to other crochet pieces or using as small decoration.
Try crocheting this beautiful blooming flower. This design is great for those wanting to take on a detailed, 3D design and who are looking for a design which will be sure to stand out. This design is on the more complex side but is a great one to challenge yourself with.
RELATED: Crochet The Amigurumi TikTok Bee
This is a design for those who want to create an easy, basic design. This is ideal for beginners who are wanting to develop their skills. As well as this, this simple design allows you to make it your own. Choose your own yarn, your own colors, and make this simple crochet flower unique to you.
A crochet flower brooch will be the perfect addition to your clothing. Choose any flower design you wish and use the center of the flower as a placement to place a pearl button. Pair this with a stainless steel safety brooch back to complete the crochet project.
Recreate this wonderful crochet flower headband from the comfort of your home. This is perfect for babies and can be made with the softest cotton yarn, ideal for children.
Adjust the length on the headband for what suits you best, whether that be for a newborn or a toddler. To add that finishing touch, place a pearl in the center.
Crochet a peony flower – this design will make for a beautiful addition to the home. With this design pattern, you have the option of crocheting the flower's bud or the full bloom of the peony. The choice is yours!
This Never Ending Wildflower is a great choice for crocheters looking to tackle a larger piece. Just as the name says, it is never ending.
This design is made to expand the flower's width by increasing with each round. In the end you'll end up with a large flower which can be used for any purpose. This is ideal for any level of crochet.
Try crocheting the clematis flower. This flower design is inspired by Princess Diana herself and is a beautiful, fun creation to make. Choose to create this flower on its own or be adventurous and create an entire clematis flower arrangement – this can be as tall as you'd like it to be.
This pattern is perfect for beginners and is a simple way to create a flower. Measuring 2 and a half inches across, this is a small crochet piece which can be used to add detail to a hat, or you can make this into a hair pin. Enhance the basic skills of doing single crochet and watch this crochet flower grow.
Use your crocheting skills to create a flower keychain. This uses the bobble stitching technique, great for anyone who is looking to enhance their skills in this method. After your flower is done, all you need to do is add a simple chain stitch and your keychain is complete.
RELATED: 13 Stunningly Beautiful Hooded Scarf Crochet Patterns
This design is more advanced and is ideal for people with experience in crocheting. Create an array of flower patterns and stitch it into a shawl. This design gives you the freedom to incorporate and style however you like.
This is another crochet design made for people at an intermediate level.
This design is fun to make and uses many materials such as toy stuffing, yarn and safety eyes. This flower doorstop will make a great addition to the home and will advance your crocheting skills.
This Irish Crochet Flower can be made all year round but its resemblance to a delicate snowflake is just the right thing to remind you of that winter season. This is a crochet piece made for all and is a good way for beginners to challenge themselves and move on up to the next level of crocheting.
Make this beautiful blooming flower afghan, perfect for babies to cuddle into or to be used as a lap blanket. This is great for those wanting to take on a larger project and develop their crocheting skills.
These crochet flower booties are an adorable design, perfect for babies. The sole and top of the bootie incorporates the flower design and is made using cotton to protect your baby's sensitive feet.
This embroidered crochet necklace is one for those looking to crochet at an advanced level. This is a beautiful pattern to follow and uses bold, rich colors to emphasize the design. This is ideal for a present or a gift for yourself.
RELATED: 15 Brilliant Crochet Baby Yoda Patterns (With Pictures)
Inspired by the Japanese artist Takashi Murakami, this large crochet flower is great fun to make and requires a lot of skill. This flower is around 24 inches across and is perfect for a present. This will be sure to bring color into to your home!
This crochet flower scrubbie is a nice simple stitching pattern to learn using double crochet.
This design can be easily finished in a short time of ten minutes and only requires some counting. This project is great for those days where you want to occupy yourself whilst watching tv.
Choose to create these crochet tulips. They are a good beginner's project for those who want to excel in the art of crocheting and come out of it will a beautiful flower which you can display.
Create a crochet basket full of primroses. This project will make a great gift and is a lovely way to enhance your home's décor.
Frequently Asked Questions
What Is The Hardest Thing To Crochet?
There are many things we can crochet but its difficulty depends on the crochet pattern, the style, and how large the project is. Although there isn't any one crochet project that is the most difficult, there are some that are harder to learn than others.
For example, crocheting a cardigan can be difficult as it takes patience and a lot of manual work.
How Long Does A Crochet Piece Take To Finish?
This depends on the project you are creating. Certain crocheting projects require more yarn than others or more detailed stitching. Based on this a crochet piece can take anywhere from half an hour to three hours to several days.
Is There A Difference Between Crocheting And Knitting?
There is a common thought that many people have – crocheting and knitting are the same. That is completely wrong. In actual fact, these two differ quite a bit. With crochet it only requires a single hook which binds the yarn together into one piece. Knitting, on the other hand, requires two much larger knitting needles and concerns itself with moving one loop to another.
Final Thoughts
After highlighting many crochet flower patterns, you will be sure to find something that suits you. Whether you are at a beginner's level, intermediate or advanced, there is a creation waiting for you to try.
These flowers will not only make a wonderful addition to the home but is both therapeutic and relaxing. It is a great skill to learn and with all these flower projects to choose from, you will be sure to develop your crocheting skills.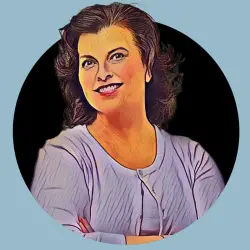 Latest posts by Amanda Brown
(see all)