These 29 crochet slipper designs are the cream of the crop in this particular category. Each pattern will keep your toes toasty, comfortable, and cuddly.
The designs are fashionable enough to complement any outfit. These slippers, on the other hand, are comfortable enough to wear all around the home, all day long. 
There are various ways to create slippers, and because these patterns vary, you'll be able to master a number of skills to keep you interested while you create. Let's dive in!
How cool are these dragon slippers? We love them – and we think you will too! This pattern will teach you how to make our very own crochet dragon slippers in a boot-style design complete with dragon scales and wooden buttons. The crocodile stitch used in these booties is much simpler to make than it appears!

This technique will be mastered in no time by an experienced crocheter or even a devoted novice. This is a composition that is enjoyable to work on and will impress without creating unnecessary worry. This pattern also comes with plenty of detailed images to help you visualize the stitching process.
This pattern has all the instructions you need to make your very own pair of moccasin-style winter slippers. There are even multiple sizing instructions so you can make multiple pairs suitable for the whole family!

The seller recommends making these with super thick yarn and a large hook for the best results, making them perfect for those chilly winter months. There's even a video tutorial on how to transform these indoor booties into outdoor-appropriate footwear. Get started now!
These gorgeous slippers will help to keep your feet cozy and warm no matter how cold it is outside. The pattern will help you to make these plush slipper socks, complete with a rainbow border and sole design. This pattern is suitable for intermediate crocheters with some knowledge and experience with basic stitches.

This pattern is made for adult females with a shoe size of 5-6.5 (US). The seller has received thousands of positive reviews on Etsy, so you know that you are in good hands. 
RELATED: Fun Amigurumi Turtle Patterns That You Can Download And Make Right Now!
These slippers are made with faux fur and feature category 6 ultra-thick yarn for the ideal everyday comfortable (but trendy) look and feel, but they can even be made with just about any category 6 ultra-thick yarn you like!

They're ideal for a chilly Fall or freezing Winter afternoon inside, and they make fantastic Christmas or Holiday Birthday gifts for family members and friends.

The seller claims that this pattern is suitable for advanced beginners who have some experience with using faux fur yarn.
This is one of the simplest crochet slipper patterns we've included in this list, and just about anyone can make them with ease! The finished result is reminiscent of Tinker-Bell, thanks to the grass-green yarn used and the pom-pom adornment at the toes.

These slippers are bright, unique, and fun, and you'll soon want a pair in every single color! The seller has even included plenty of images to help guide you through the stitching process. 
If taking on the task of crocheting your own bootie slippers seems a little daunting – why not start with some slipper socks? Well, with the help of this pattern, you can make your very own pair in just a few hours! The pattern is super simple and easy to follow, and we're obsessed with the fur trim around the edge of these slippers – perfect for chilly winter months!

The pattern is written in standard US crochet terms and is only available in English. The pattern is created for a women's size 7, but still, it includes tips on how to alter it wider or longer by measuring the heel before finishing.
With the help of this unique and funky crochet pattern, you may make the "Just Elfin' Around Shoes" in 11 different sizes! Everyone in the family, from newborn to adult, will enjoy a set of these colorful tiny shoes! The finished product is complete with curled toes and a bell – this is sure to put a jingle in your step!

The seller states that this pattern is suitable for experienced/intermediate stitchers as there are some challenging aspects to the design. 
This is a basic pattern for textured slipper shoes with individual instep insole components. The seller emphasizes that no stitching instructions are given, so a basic crochet experience is essential. Once your payment has been made,  users can download the pattern in Pdf file format.

We appreciate that this pattern is appropriate for men, women, and children, so you can make a pair for everyone in the family!
Do you want to feel as if you're walking through the clouds? Oh, so soft! House Slippers will do the trick! You can make these in 2 to 3 hours with less than a bundle of yarn! If you do not even eventually wind up saving them for yourself, these make excellent presents.

Ideal for the Hygge culture that everyone is raving about. This design is quite simple to follow, and the excellent feedback on Etsy speaks for itself. To construct this crochet design, you will need a tapestry needle.
This slipper is so simple to create that even a rookie can do it. The pattern can readily be scaled to fit any size. You can adjust the size by changing the yarn and crochet tool, as well as adding or subtracting rows. You'll want to wear these all the time!

This pattern is written in standard US crochet terms and is available only in English. The seller has included plenty of images to make the process easier, and there's even a link to a video tutorial included in the price.
RELATED: Easy Crochet Bookmark: Perfect Project for Beginners
These contemporary crochet slippers will please your inner minimalist even while causing you to feel like a Christmas present superhero.

They're quick to make with bulky yarn and just require basic crochet abilities like working in round, simple crochet, and slip stitch. The ad-free, downloadable PDF has both textual instructions and numerous pages of instructional photographs.

Because the photographs are separated from the written directions, you may choose whether to copy them or save ink. A template for the alternative leather soles, which may be created from craft shop leather or a thrift jacket or pocketbook, is also included.
These slippers are so straightforward to make that even a newbie can do it. The pattern can readily be scaled to fit any size. You can adjust the size by changing the yarn and crochet hook, as well as adding or subtracting rows.

You'll want to wear these all the time! This pattern is written in standard US English terms and is very easy to follow. The seller has also made it super easy to modify the pattern and create slippers of any size you need.
This pattern includes everything you need to build your own set of moccasin-style winter slippers. There are even different sizing directions included, allowing you to construct many pairs fit for the entire family!

The merchant suggests using extra thick yarn and a large hook for the best outcomes, making them ideal for the frigid winter months. There's even a short guide showing how to turn these indoor booties into outdoor footwear. What are you waiting for? Make your own today!
These Simple Slippers are a very easy and effective slipper design. Ladies sizes 6, 7, 8, and 9 are included in the pattern. You'll need 90 to 110 yards of bulky 5 weight yarn.

The seller chose to make these adorable tiny slippers out of all of the bulky yarn remnants, and they recommend that you do the same in order to achieve the best results. 

You'll also need a Size 9mm/N hook. For every size, the design contains a very detailed step-by-step guide.
This pattern will show you how to make your very own boot-style crocheted slippers, along with frilly trimming and cork buttons. The intricate stitches used to make these booties are actually a lot easier to construct than it seems! An expert crocheter or even a dedicated beginner will be able to learn this method in no time.

This is a piece that is pleasant to work on and will amaze you without causing undue stress. This pattern also includes a wealth of detailed photos to assist you in visualizing the stitching process.
These warm, comfy slippers are ideal for both men and women. The Celtic Weave collar offers them a lush and warm appeal that is very fashionable. They are composed of thick yarn, have a double sole, and a tight-fitting foot and heel for ultimate comfort and form.

Because the vendor sized them for both men and women, the sizing is dependent on foot length. These will quickly become your favorite slippers! This pattern is written in standard US crochet terms and is available only in English.
RELATED: Crochet The Amigurumi TikTok Bee
These are some of the comfiest slippers socks you've ever worn. This crochet design is ideal for beginners. This textual pattern is accompanied by a video lesson. Never again will you get confused by a pattern!

The design has multiple pages as well as plenty of images to help you visualize the process. The seller has even included a handy link to a video tutorial that you can follow along as you stitch. Easy-peasy!
Sweet Slippers is a unique crochet design that is simple and quick to create. This pattern creates adorable, easy-to-wear boots by using a single yarn for the bottom and a self-striping fabric for the rest. The design involves full stitching guides for the slipper bottoms in any and all sizes.

Because the slipper design is in pdf form, users would need Adobe Reader to view and download it. According to the seller, this pattern is suitable for beginners and does not require any prior stitching skills.
Crochet these soft and warm slippers in a variety of sizes, from newborn to size 14. Every size is provided. Unlimited color combinations allow you to customize your slippers for each individual.

The design is presented in a step-by-step format, complete with visual lessons and descriptions for each step.

Gauge, stitches and row numbers, yarn information, materials table, abbreviations catalog, stitch descriptions, how to's, and photographs are always included in all designs.
Everyone who tries the end product of this design raves about how comfy, warm, and fashionable they are. This pattern calls for around 880 yards of worsted quality yarn and a size J hook. The round cord elasticated section and a blunt large-eye needle are also required. This design and images are secured by a current copyright application filed with the United States Patent and Trademark Office. Any use or selling of a copy will be a copyright violation – so keep this one to yourself!
RELATED: A Guide To Making The Famous TikTok Bumblebee – 3 Different Sized Crochet Patterns
You can use any color combination you choose with the Emilia slippers pattern. Your slippers will be one-of-a-kind and entertaining. You can even make them more enjoyable by including joyful buttons.

Perfect for friends and relatives as a present for their birthdays, Holidays, or anniversary, or simply because you support and respect them.

You can also sell them if you create them. The pattern is simple to understand and apply. There are several instructional graphics for important steps. To make it easier to follow, each size is written individually.
This crochet pattern is ideal for making cozy winter slippers! These simple slippers will also have the comfort of wool socks but the appearance of charming booties thanks to the use of extra thick weight yarn. The design includes directions for women's sizes 4 to 12 in the United States.

It also contains directions for modifying the size if you need to make the slippers in a dimension not indicated in the design.

The slippers are stitched from the toes up, allowing you to try these on as you work. There is no need to stitch! Feel free to add buttons or buckles to your shoes to give them a full boot look.
These booties are all about fashion. Featuring a completely distinct stitch from start to finish. Everyone will want to know where you got these. These dense and comfortable crochet shoes will keep your feet toasty even in the harshest of conditions.

This is a simple crochet pattern that requires only a few fundamental stitches; nonetheless, you must be comfy and precise while identifying and measuring stitches.

Assembly is simple, and instructional pictures are given to assist you.
These fashionable slippers are warm, cute, and, of course, comforting. They have a double sole for sturdiness and comfort and can be constructed from thick or two strands of wool yarn.

This design is straightforward and published in American Standard Terms. There are many images provided. You are authorized to sell the final product created from this design.
These Sock Monkey Slippers are adorable for anyone! By inserting more stitches to the foot section before the heels, the design may be readily adjusted to make bespoke sizes.

Sock Monkey Slippers are a big favorite since they are super elastic and toasty. These are really simple directions with step-by-step color pictures.

After you buy, you will have the option to access the PDF. Try to respect the designer's rights to this design. Without written consent, no part of this material may be replicated or reproduced in any way.
This is a really simple pattern for children, teens, and adults. They are very comfy and will cushion your toes. You can use them all year; simply choose the appropriate yarn for the occasion. The pattern includes a PDF file and a youtube clip.

Make your own with this design for your feet, which uses basic general techniques and can be done with acrylic or wool, for these simple, simple to create yet exquisite house shoes that you can enjoy all year. The pattern offers instructions for sizes ranging from children to adults.
These are the perfect pair of slippers for the gentleman in your life. They are an excellent fundamental design for novices, and they progress swiftly. When you insert your own buttons or modify the color, the options are unlimited.

Have some fun with these! The pattern comes with plenty of colored images to make the stitching process as easy as possible. This pattern is suitable for people with some basic knowledge of stitches and the seller describes it as an "intermediate pattern". 
These have a great deal of flexibility, which is due to the stitch rather than the wool, thus nearly any type of yarn will give the same airy, flexible results. The best part is that they can be made in one uninterrupted section from toe to heels, with the sleeve knitted forward from there.

These gradually build up extremely quickly once you get the toe done! The pattern contains instructional images and is clearly written so that even a determined novice who's never performed the stitches necessary can make them with ease!
The hefty acrylic/wool mix is used to make these plush, comfy slippers. They're ideal for wearing under rain boots in the springtime, or with a pair of trousers while relaxing around the home when it's chilly outside.

For added warmth, they can be worn hanging down or pulled up. The pattern may be readily adapted to fit any woman's shoe size.

The design is written in ordinary American English and includes step-by-step directions as well as photographs to help lead your hook on its voyage. The pattern contains a close-up picture demonstration as well as easy-to-follow textual directions with numerous color photos.
Frequently Asked Questions
How Long Does It Take To Crochet A Pair Of Slippers?
The answer to this question will depend on the pattern you choose to follow, as well as the yarn type and hook size you opt for. However, most of the patterns included in our list above can be completed in just a few hours – so you'll be feeling cozy in no time!
How Much Yarn Do I Need To Crochet A Pair Of Slippers?
Each pattern will demand a different amount of yarn. However, if you're using super-thick or very plush yarn, we recommend getting your hands on at least 220 yards for each pair of slippers you plan to crochet. This will ensure that you don't run out mid-project!
Can I Wear Crocheted Slippers Outside?
Due to the nature of the soft materials used in crochet, most crocheted slippers will have a soft fabric sole that is not suitable for wearing outdoors. This is because the yarn is not water-resistant, and can be thin enough to damage your feet if you're walking on concrete.

However, there are plenty of tutorials out there that can teach you how to make your own slipper soles from flip-flops so that they can be worn outside safely.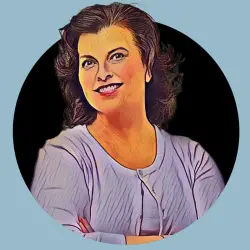 Latest posts by Amanda Brown
(see all)