If you are searching for inspiration for your next crochet project then look no further. We have compiled a list of the 30 coolest, cutest and coziest ear warmers and headbands to fire your creative imagination.
Headbands and ear warmers are not only the must have fashion accessories this season, but are also very simple and easy to crochet. You will be able to whip up multiple warmers in no time and they make excellent handcrafted gifts for all the family.
They can be made to fit all ages, genders, shapes and sizes and are easy to personalize and adapt for that extra homemade detail. So read on and see which of these fantastic crochet patterns from Etsy tickles your fancy.
Let's start off with this brilliant headband pattern that only takes1 hour to complete. The design is so simple, yet it's striking when worn and will keep your ears wonderfully warm all through winter. This pattern is ideal for anyone starting out on their crocheting journey.
It comes with photos to guide you through a step-by-step plan, as well as written instructions which help you with all the tricky bits. Once you get the hang of the simple stitches, you'll whip this headband up within the hour, and be able to make multiples for all your friends and family!
This twisted waffle ear warmer headband is a great next step for those of you looking to create texture and detail. The waffle stitch is slightly more involved then a simple single crochet but it is easy enough once you get the hang of it, so this headband won't take long to complete but it will look like it did!
The cozy, textured finish works well with full and winter outfits and the pattern comes with yarn suggestions to help you pick the perfect material to achieve the slightly fuzzy finish.
At number three it's the twisted herringbone crochet ear warmer, and we love the autumnal colors used in the example photos. This simple pattern is easy to follow and will have you finished in no time.
There's even the option of purchasing the kit, which includes Sugar Blush yarn so that you can create an exact replica of the headband in the photos. Better still, this pattern can be adapted to fit 4 sizes: toddler, child, adult, and large adult. So, you can make matching headbands for all the family!
Wow wow! We just love the bean stitch used to create the bubbled texture in this coffee bean headband. It creates a really unusual and unique finish that can't be found elsewhere, which is why this headband is so great for gifting to others.
The pattern is well written and easy to follow, and we particularly like the button fastening which adds a lovely design feature at the back of the head. This seller also offers patterns for coffee bean scarfs and mittens, so if you're feeling confident why not create the whole set?
This Cadillac knot ear warmer pattern is designed for beginners and includes links to instructional video. This is an ideal pattern for visual learners who like to see demonstrations of how the techniques can be created.
We love how this headband is thick all the way around, as it gives maximum warmth to the head and ears whilst still leaving space for your messy bun to poke out.
The finished article looks very professional and the twisted knot at the front of the band adds a design detail which is eye-catching and stylish.
RELATED: 15 Crochet Ideas To Make At Home
The Eliron headwrap is an intermediate crochet pattern and so is best suited to those with some experience. The headwrap covers most of the head so is excellent for warmth, and also has loads of bright colour combination options to choose from.
The pattern has the option of a knitted brim, but if knitting isn't your thing then you can just stick to the crocheting and still end up with an awesome headwrap that will make a wonderful handmade gift for friends and family.
The effect of this crossed hair headband is just beautiful and will certainly finish off any winter outfit perfectly. The pattern includes a link to a YouTube video which teaches you all about how to tie sailors knots.
Once you master the technique you'll be including these knots in all your crocheting projects because they look so impressive and yet are simple to do.
The pattern can be made for newborn babies all the way through to large adult sizes, so you could make matching sets for new mums and their little ones.
We just love the retro finish on this Hannah turban ear warmer pattern. This headband looks like those worn in the 1920s in Paris and will make a great handcrafted gift for any friends who love a bit of retro chic.
The pattern even comes in French if you really fancy getting Continental! The stitches involved are simple and relaxing, so this turban headband weaves together wonderfully quickly, and you'll find yourself pulling it on all the time to keep your ears toasty and warm.
What we love about the Avalyn crochet pattern is that it provides three different makes in one. Not only can you create a gorgeous, autumnal ear warmer to pull on for winter walks, but the pattern also adapts into a messy bun hat and a winter beanie hat!
The pattern is suitable for advanced beginners and intermediate level crochets, so if you feel confident you could have a go at all three variations of this one design.
We love the formation of single stitch bands running around this ear warmer as it looks stylish and professional yet wonderfully homemade.
If you're looking for a basic ear warmer pattern without any bells or whistles then look no further. This twisted ear warmer pattern is simple yet effective and is great for those hand crafters who like to put their own twist on things.
You can personalize to your heart's content through your choice of yarn weight and color. And you could even use multi-colored yarn to create some really cool effects that will enhance this simple pattern.
We love the tight we of this areolar headband ear warmer pattern. No cold wind will chill your ears through this beauty as it is snug and insulating. The skill level is aimed at beginner and intermediate crocheters because the stitches are somewhat involved in order to create that textured finish.
The arena headbands can be made for toddlers, teens, or adults, and the clean finish means that it goes with any outfit. We think this pattern works best in a block color to show off the expert crocheting.
The Celtic knotting displayed in this beautiful pattern is incredibly eye-catching and unique. This Celtic winters ear warmer would make a wonderful gift for friends and family who love the great outdoors and have an appreciation of detailed design.
We think this pattern works particularly well In the two-toned yarn used in the example photographs. The techniques used are intermediate level and there is an instructional video to guide you as you work.
This grey skies Chevron headband pattern is Dizzy and Lee delightful. The skill level needed is easy so anyone can have a go, and the finished article looks really impressive because of the diagonal design.
This pattern works really well with multi-colored yarn as the chevron Vs really stand out in contrasting tones. You can add an edge to this headband if you wish, although we love it with the chevrons extending across the full width of the band.
Once you've made one of these you'll immediately want to make another in a different colour combo.
We love the way this Lida turban ear warmer has the button fastening at the front to create a real pop of color and interest. You can choose a button in a contrasting color to the yarn used for maximum drama and impact, or a complementary color if you wish to create a more subtle finish.
The chunky, textured weave used to create this headband makes it extra warm and snugly to wear. This turban ear warmer will make a great gift for any trendy friends who like statement pieces.
This easy crochet pattern can be made in 8 different sizes ranging from newborn right the way through to large adult! We absolutely love the bobbled effect created through the simple stitch work as it adds a unique design feature as well as lots of lovely texture.
This pattern comes with plenty of photos for you too to look at as well as a link to a video tutorial, so it really is a great option for first-timers.
This braided, chunky ear warmer is made with super bulky yarn for an extra squishy finish. It is the perfect choice for anybody going on a skiing holiday this year and is ideal for those who live in particularly cold climates.
The thick yarn and chunky weave trap lots of air to keep your ears and head toasty and warm. What's more, this headband makes a super cute fashion accessory so that you'll look extra cool on the slopes.
We love the biscuit colored yarn used in the example photos, but this pattern would work in any color yarn.
RELATED: 15 Brilliant Crochet Baby Yoda Patterns (With Pictures)
This Felicity ear warmer crochet pattern is simply adorable, particularly with the front bow detail. Little girls will love wearing this gorgeous headband and luckily the pattern comes with a sizing chart and instructions for child and adult sizes.
Because it is made for small heads, you need a 4.5 hook to achieve those close stitches. The pattern is suitable for advanced beginners who have some experience, and the finished article looks good enough to be shop bought!
This headband makes an ideal stocking filler and the fact that it is handmade makes it all the more special.
This intermediate level pattern can be adapted to create a snuggly headband that is as thick or narrow as you desire. We absolutely love the simplicity of the design because it leaves you plenty of room to get creative with the yarn choice.
The pattern recommends using size 4 yarn with a 6mm hook to achieve the squashy, bouncy finish, and this particular stitch results in a lovely stretchiness which helps this headband fit snugly around the ears.
It can be made for a toddler, child or adult, and we especially love the choice of rainbow pink yarn used in the example photos!
This headwrap for toddlers is an awesome choice of crochet pattern because it is so easy and can even be attempted by beginners. We love how thick the brim band is because it creates the effect of a turned over beanie hat.
We also love the added detail of the animal badge on the front twist. All kids love animals, and sewing a fun character to the front of their headwrap instantly personalizes the item and makes it special and unique.
It is a great idea to crochet the brim band in a contrasting color to the rest of the wrap to add as much fun and vibrancy to the make as possible.
Speaking of fun and vibrancy… this crown headband pattern is just adorable. What child wouldn't love to receive a homemade crown from a beloved family member?
They will feel like royalty wearing this to school, and it doubles as a great costume accessory too. The techniques involved include seamless crocheting, crochet bobbles, short rows and elastic ribbing, and for this reason we would recommend that this pattern is suited to intermediate crocheters.
There is an instructional video which is very handy as the written instructions are a little tricky to follow in parts. But once you get the hang of it, this pattern is so worth the effort!
We absolutely love the central plait that is woven into this autumnal headband. The clean lines and neat overlapping give it a striking and sophisticated finish that works well whether you are wearing your warmer to work or out shopping.
We think that the orange yarn choice is ideal for fall as it compliments the season's colors and reflects the changing of the leaves.
This pattern is wonderfully simple and can be finished within a few hours for confident crocheters – just be prepared to get lots of requests from friends and family for you to make them one too!
If you are wondering how to make an ear warmer headband with a bit of a unique twist then this Kelsi pattern could be for you. The pattern works up on the diagonal, and we love the way the band is tapered to a point at the end.
The diagonal overlap creates an originality which sets this headband apart and gives it a sleek, modern look.
The double button fastenings can be positioned for a perfect fit depending on your exact head size, and it works especially well if you choose contrasting colored buttons to the headband color so that they stand out and draw the eye to the stylish overlap.
Speaking of stylish design features, this simple headband has a crocheted flower which really is just beautiful.
The pattern comes with colorful pictures to illustrate the techniques used to create both the headband and the flower, and the flower can be made in two sizes (incase you are making it for a child, or you prefer a more subtle flower on an adult band).
The finished item makes the perfect gift for boho lovers and anyone who appreciates nature, beauty and the great outdoors.
The Tunisian knit stitch is a crochet technique which results in a knitted finish. We love the neatly woven look of this very thick and warming headband, and we particularly like the two tone design.
The front twist stands out more distinctly due to the two block colors, and the whole headband has a very professional finish which will make you feel extremely proud of your own crafty work!
Luckily, this pattern includes a video tutorial on how to do the Tunisian knit stitch, so even if you haven't tried it before you can still give it a go.
RELATED: 13 Stunningly Beautiful Hooded Scarf Crochet Patterns
You get more for your money with this crochet pattern because it contains 5 different ear warmer designs in 1!
The designs range in difficulty, so you can progress through them as you grow in confidence and experience, and you will end up with lots of great headband gifts to give away!
The pattern has pictures to accompany the written instructions and the techniques for each design are well explained. You really will be a master maker by the time you have worked your way through this lot!
We cannot get enough of this next crochet headband pattern! The fox design is so ingenious and cute, and there is no mistaking it for anything else!
The simple ears and nose are perfectly positioned to create a clever fox character that kids will absolutely love to wear! You won't have any trouble getting the little ones to wrap up warm because they will never want to take this headband off.
And best of all, the techniques are very simple so you do not need to be a wizard to whip one of these up. There are multiple options for child sizings, and luckily the pattern adapts to an adult size too – so you can make yourself one as well!
This Luna headwrap is very unusual in that it crosses over at the front rather than twisting or knotting. The simple design shift is incredibly impactful and makes this headband stand out from the rest.
The finished item is great for boho chics and cool skater girls because of its fuss free appeal. The design works well with a button or broach on the front, but we also love the undecorated version as it shows off the crossover more obviously.
The bright yellow yarn used in the example photos is an awesome choice for those looking to turn heads.
Confident / advanced beginners can take on this crochet headband pattern with no trouble. The pattern supplies row by row instructions on how to create those clean lines and the evenly spaced bobbles that sit along them.
The finished article is fun and quirky and has tons of lovely texture. We really love the loop fastening at the front as it creates the effect of an enormous bow and gathers the rows onto a focal point.
We adore the lilac yarn color used in the example but you could choose whichever yarn best suits your personality or that of the one you are making it for.
It is amazing what a difference a trim can make and this pattern demonstrates that beautifully. This incredibly simple and quick to make headband is elevated to a higher level thanks to the frilly trim that runs around its edges.
Using a contrasting color for the trim makes it stand out clearly and gives this headband the finesse that it needs. It can be made in child or adult sizes and is sure to be a winner with friends and family.
And finally, we couldn't resist adding this froggie headband to our list! The crocheted eyeballs are simply hilarious and stand on top of your head exactly as a frog's eyes do!
Not only will this headband keep your ears warm in the winter weather, but it will put a smile on every face that you pass!
The eyeballs are easy to make once you master the technique, and if you create this pattern in different colors you can make an alien headband, a monster headband and any other crazy creature too!!
Frequently Asked Questions
How Long Does It Take To Crochet A Headband?
The length of time it takes to crochet a headband depends on your skill level and the difficulty of the design. However, most basic headband ear warmers can be completed in a couple of hours.
What Is The Best Type Of Yarn For A Crochet Headband?
The weight of yarn used to make a crochet headband will depend on the finish you are after. Using a thick bulky yarn will result in a chunky headband, and for a more delicate finish you should use a lighter weight yarn.
How Much Yarn Do You Need To Crochet A Headband?
The amount of yarn it takes to create a headband depends on the size and width of the band you are making. Most standard adult headbands require around 50 yards of worsted yarn.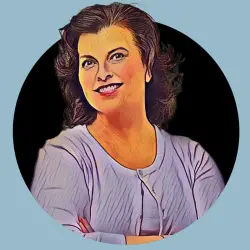 Latest posts by Amanda Brown
(see all)