Bernat Blanket is an ultra-soft yarn that's of the chenille variety. Ideal for adding coziness to a room's decor, Bernat Blanket is one of those super-squishy, super-bulky yarns that you just want to cuddle up to and squeeze.

Versatile in its intentions, this special yarn can be made for (as the namesake suggests) blankets, as well as garments such as ponchos and jackets, or even the living room rug if you're feeling keen enough. 
Coming in every on-trend color of today, Bernat Blanket is a chic yarn that'll effortlessly add a touch of style to your home.

Being so darn soft, this chunky-knit yarn is also the preferred choice in yarn for making baby blankets. By putting forward 31 of the finest crochet patterns that strictly use Bernat Blanket, we've ensured your home to be the comfiest it's ever been, come winter. 
Using the super-thick Bernat Blanket Extra #7, this jumbo-sized blanket will have every house cat purring with content. You'll need four skeins of yarn to crochet away your day, as you admire this super-sized blanket taking shape.

Don't let its size fool you though, this is a pattern that's perfect for beginners to tackle, with the rewards speaking for themselves. 
Certainly one of the most textured crochet patterns out there, this blanket will have your babies nestled up and asleep in no time.

The point of difference is in the raised 'nubbie' bits that, standing up on their own accord, are comfort-focused by design. Made entirely of Bernat Baby Blanket yarn that's 100% cotton, this is an ideal gift for new moms and bubs. 
RELATED: 13 Stunningly Beautiful Hooded Scarf Crochet Patterns
Coming in both a standard and extra-large size, you'll be able to make Squishy Home Blankets for every room of the home. As a point of reference, the extra-large size covers an entire adult's body snugly – so no toes will go cold this winter.

Beginner friendly, this simple and repetitive pattern has been designed so that complete novices can crochet their way to comfort. 
Contemporary in design, the Moss and Puff Throw by DaisyFarmCrafts is a breath of fresh air that'll complement your modern living space perfectly.

With five skeins of Bernat Blanket yarn in whipped cream, you'll be ready to replicate this utterly gorgeous throw in no time. Or, mix it up and go for a more vibrant colorway that screams, this is my throw and I'll do what I like with it. 
Named after the classic INXS song of the same name, this crochet pattern produces not one, but two chunky-knit scarfs. Choose between the regular and infinity scarfs.

Or, dedicate yourself to your scarf game this winter by crocheting both patterns. Guaranteed to turn heads whichever decision you make, these simple crochet patterns are poised to make a big impact.
Another stylish throw from the celebrated DaisyFarmCrafts, except this one is sized for children specifically. You'll be needing two balls of Bernat Baby Blanket Sparkle in seafoam and two more of Sparkle in moonlight to create this crocheted masterpiece.

The design sees each seafoam segment increase in width, which is a downright pleasure to the eye and will have your child's nursery looking trendier than ever. 
The Dyaman throw layers texture with texture to offer a big-statement piece to any room. The abundance of bobbles that can be found on this Afghan-inspired throw have been purposefully separated by a classy diamond design.

The pattern includes six finish sizes, including baby, throw, twin, full, Queen, and King. Become known as the bobble crocheting icon of your home by knitting your entire family a Dyaman blanket. 
RELATED: 15 Brilliant Crochet Baby Yoda Patterns (With Pictures)
This crochet blanket pattern is designed to be completed in three hours. This isn't a test to see how efficient your crochet skills may be, it's just a good guide to know that most people can whip this blanket up in just the one evening.

It features a loose-crochet style that is ideal for newborns to snuggle up to, while the stripes make for a striking finish. 
Keeping on the time theme, this may actually be the quickest and comfiest crochet blanket pattern to make that's found online.

Done in a corner to corner design using Jumbo Bernat Blanket yarn, you could have your favorite movie on in the background, and by the time the credits roll, you should be the proud owner of a handmade blanket. 
Looking for a cozy companion to keep you warm when nestled, coffee in hand, in your favorite nook of the home? Then the Cozy Country Blanket is just the thing.

Before purchasing, just be mindful of the fact that this pattern does require some prior knowledge by way of single, double, and half double crochet skills.

So, if you already know a thing or two, then go ahead and treat yourself to this sizeable and desirable chunky country blanket. 
This baby blanket pattern is for three colors, however, it can be just as easily crocheted in one block color, or even stripes, if you like? The finished size is just shy of 36" x 36".

If you'd prefer a larger or smaller size, all you have to do is adjust the stitch multiple given to crochet to your preferred size. A classic baby blanket pattern that gives you the keys to customization. 
Put a smile on your child's face when they see this oversized stocking hung proudly over the fireplace and know that, come Christmas, it will be overflowing with presents.

Beautifully textured and finished, you'll also be sitting back to admire your crocheting craftsmanship. A sure-fire crowdpleaser that will stay in the family for many memorable Christmases to come. 
The Winter Jasmine Throw by ArrowandArcherCo is so unbelievably cozy that it may just have you longing for winter, all year long. ArrorandArcher has used Peruvian Highland wool for this pattern.

However, this super-bulky style of throw would go just as well with some #6 Bernat Blanket yarn – Bernat being a whole lot cheaper too!
At 42" x 55" this Lapghan/ throw style blanket is, without being excessive, sized just right to tuck up into a night.

Using single and double crochet, the pattern works up surprisingly quick into a beautiful to touch, arresting to look at, blanket for the ages. Treat yourself to this delightful Afghan-inspired, striped delight, and make sure your feet never fall victim to the cold again. 
Your baby will have never slept better in this super-snuggly baby blanket. Designed as a quick-to-make crochet pattern, even fresh-faced beginners should have no issues with this simple and repetitive pattern.

This is also a great pattern to have in your arsenal for when you're in need of a quick gift idea and homemade is the only way. 
This gorgeous terracotta rose blanket benefits from a subtle crochet design that is simply too cute to handle. Quite small in size (32" x 41"), the pattern only requires 3 skeins of Bernat Blanket yarn to get the job done. Drap it over the feeding chair of your home's nursery for a spirited feature throw that also doubles as a practical blanket when required. 
The Velvet Stripe Blanket pattern uses the irresistibly soft Bernat Velvet Baby yarn for a super-cushy finish. The pattern is four pages long and features a diagram as well as checkboxes to keep your progress on track, row by row.

The completed project measures 50 x 60 inches, which is more than big enough to become an instant living-room classic. 
Branded as the 'Chunksta' by bubnutPatterns, this newsboy hat is a sure-fire way of adding some flair to your winter wardrobe. The pattern is intended to fit an average lady's head with a 21 – 23 inch circumference.

Grab some of your finest super-chunky #6 Bernat Blanket yarn and set to work on this unique hat pattern that shouldn't take more than two hours to accomplish. 
Blending a mixture of #6 Bernat Blanket and #4 black and white yarn, this pattern allows you to wow your kid in a big way by making them their very own Theo teddy.

You only need basic crocheting skills, with an emphasis on the spiral crochet technique to turn Theo into your child's soon-to-be-favorite stuffed toy. A handmade toy that'll leave a lasting impact on your child and you. 
RELATED: 15 Crochet Ideas To Make At Home
This classic throw pattern is designed for beginners to sharpen their crocheting skills with. It measures 40 x 60 inches including the carefree and flowing fringe. This is one of those timeless crochet creations that will have no trouble fitting in and feeling right at home on any colored sofa or chair.

With video assistance only helping to sweeten the deal, this pattern package is very well priced and eager for you to succeed. 
This accomplished piece is all about creating texture. The Kenscoff Throw uses a particular crochet technique that sets a cascading herringbone against a geometric rib that makes for a fascinating contrast between the two.

With 16 finish sizes to choose from, DeBrosseNYC has done their crocheting homework so you don't have to. 
Oh-so toasty and textured, this chunky piece has been fittingly named the Fireside Throw, for it may just be the perfect throw to cozy up next to the fireplace with. A true delight to crochet (even for beginners), you'll be feeling proud as punch once this maroon throw is in the mix.

With links to video tutorials, a shopping list, and a thorough stitch glossary, you'll be feeling confident in your crocheting ability before the very first stitch. 
Complementing the modern home, this chunky crochet throw will add a little bit of boho-chic genius to any room. Drape it across the end of your lounge and let the nice and wide tassels fall casually down for full effect.

ChicCrochetPatterns make sure their patterns are written simply, using layman's crocheting terms so that any beginner can get onboard with the boho-chic vibe. 
Let your child's inner wild side roar, with this fox-hooded crochet poncho pattern. If foxes don't do the trick for your kids, then there's also a wolf and cat option too.

Whichever animal your child decides on, you don't need to fret too hard about your limited crocheting abilities, as MukiCrafts have stated quite clearly that this is a beginner-friendly pattern. 
Simple to make but utterly elegant to wear, the Lyana poncho is the must-have poncho of the season. With a large kangaroo-style pocket, plush fold-over neckline, and statement buttons to boot, this striking design takes no prisoners.

This is the perfect crochet project to take on over an idle weekend, when not a lot is going on (thankfully) and you've finally found some time to yourself. 
Much like the Fox-hooded poncho, this dragon-inspired hood is meant for any wild child who dares to be different. With a super-fierce spiked tail and pointy ears, this chunky crochet hood is ideal for keeping your kids warm but in the most inspiring of ways.

The pattern comes in three sizes and is described as requiring an intermediate crochet skill level at a minimum.
RELATED: Fun Amigurumi Turtle Patterns That You Can Download And Make Right Now!
Choose to make this crochet sweater vest in US women's sizes XS up to XXL. Featuring an oversized hood, cozy pockets, and a general loose-fitting sense, this sweater vest is a one-way ticket to chill-vill.

The thick colored trim of the pockets, hood, and vest-ends help to give the sweater a stylish side that complements its carefree nature.
Inspired by 1970s fashion, this slim-fitting vintage waistcoat is a great garment to keep your organs warm through the chillier times of the year. Pick up some super-chunky Bernat Banket yarn to get started on this pattern that even beginners shouldn't have too many issues with.

The 70s theme tends to suit earthy tones, but the sky and rainbow is literally the limit as far as which color you would like to wear this vest in – it will suit them all. 
After purchasing this crochet baby blanket pattern, you will receive a detailed 8-page tutorial with an extensive photo guide to keep things as clear as can be.

Reading in a conversational tone, the tutorial will act as your experienced crochet friend with plenty of time on their hands. The end result will be snuggling up to the newest addition of the lounge, that likes keeping the family warm.
This crochet pattern will produce the littlest and most adorable overalls you ever did see. Intended for babies from newborn to three months, the overalls are adjustable so that your baby can grow into them until they inevitably grow out of them.

It's a beginner-friendly pattern that will have you feeling mighty proud of the finished product every time you manage to get your child to wear them. 
With colors that signal in that salty hair, sand everywhere, lazy summer vibe, this V stitch crochet blanket is the ideal candidate for a light-filled nook of the home. Even though this blanket looks drop-dead gorgeous you can rest assured that it can be made using a quick and easy crochet pattern.

There are also two dedicated tutorial videos that run you through the whole process, including how to add on the optional fringe if you so see fit. 
Frequently Asked Questions
What Size Crochet Hook Should I Use With Bernat Blanket Yarn?
Bernat Blanket yarn is a chunky and soft yarn that requires a large hook. In general, you should be using US hook sizes M-13 to Q and the metric sizes of 9 to 15 mm for this style of yarn. 
What Weight Is Bernat Blanket Yarn?
Bernat Blanket yarn is super-bulky yarn with a weight grading of #6. Bernat Blanket extra yarn is another level above at #7 and is classed as a jumbo yarn. Although, either one will give you the irresistibly soft to touch blanket that you've always dreamed of. 
How Many Skeins Of Bernat Blanket Yarn Do I Need To Make A Baby Blanket?
Bernat Blanket yarn skeins can come in either 3.5 or 10.5 oz sizes. To make a baby blanket you will need two of the larger 10.5 oz skeins to be on the safe side.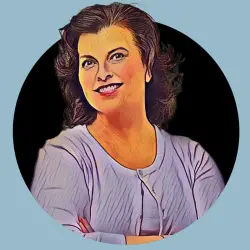 Latest posts by Amanda Brown
(see all)