It is always an exciting time having a baby. The best stages are when they're a newborn, or when they are only merely months old.
You want a way to treasure those memories and give them a comfortable upbringing. And what's more comfortable than soft crochet clothes!
The great thing about crocheting clothes is that the possibilities are endless. You are free to experiment with sizes, textures, colors, and create whatever clothing is best suited.
Whether you are a professional at crocheting or are new to it all, there is always something you can make.
Tips For Crocheting Clothing
Crocheting clothing can be difficult, especially if you are a beginner. It is often that beginners start off with crocheting "straight forward" pieces such as the typical blanket or maybe a scarf. Crocheting clothing, however, extends the beginner's level of skill as they develop other crocheting techniques.
In the making of clothing, for example, measuring is important. It is not only about having that knowledge of the patterns but is also about being able to use your initiative and measuring correctly.
Arguably, the crocheting of baby clothing may be a good place for beginners to start and develop their garment making skills. This is because the piece would of course be smaller therefore taking less time. Bigger pieces for newbies may be intimidating.
It is always best to start small and work your way up when crocheting as there are plenty of skills to learn until you move on to intermediate and then advanced level.
In order to help you on your crocheting journey, here will be provided a variety of tips to start you off if you are thinking about crocheting any clothing.
The Pattern
Choosing your pattern is very important. You have to be comfortable with what you are going to be working with as the making of clothes is a long process which has to be endured. You want to have fun while you are creating and not see this as a chore.
A good way of determining if the pattern you have chosen is right for you is to do research. Look at reviews of the pattern, join public forums and ask for advice, compare that pattern to ones you may have experience in, know your skill level.
It is important not to push yourself too hard as the art of crocheting is a journey. This takes us onto our next point.
Complexity
How complex do you want your crochet design to be? There are many levels of crocheting – beginner, easy, intermediate, advanced – and there are different styles of crochet projects to suit these levels.
It is good to challenge yourself when creating however you want to make sure that you are not putting too much pressure on yourself and your work. Find a pattern that matches with your crocheting ability.
Yarn
Depending on what you are making and who you are making the garment for, certain yarn may be better suited than others. This is easy to look over, especially if you are new to the crocheting regime.
For example, if you are crocheting clothing for a baby, you don't want the yarn to be too rough on their skin. On the other hand, some other clothing projects may require a sturdier yarn. The type of yarn you use may also affect which crochet hook you need (thicker yarn requires larger hooks, thinner yarn requires smaller hooks).
However, with most patterns it will tell you which yarn to get for that specific project, other patterns will be more flexible with yarn choices.
Recommended Projects Based on Crocheting Level
In crochet there are different levels – some people are experts whilst others are still beginners. But this is nothing to be concerned about since there are plenty of crochet patterns best suited for all levels.
The difficulty of crocheting progresses the further you level up, and this can take time to make it to this point. The main change you will see when going up a level is the type of stitches you will learn. As a beginner you will be concerned with the simple single crochet and double crochet.
As someone who is crocheting at an advanced level you will be skilled in stitching more complex stiches such as the crab stich and bullion stitch.
Here are some crochet suggestions for people based on their different areas of knowledge:
Beginner/Easy
Beginners will be using simple stich patterns in their work, learning the basic and creating basic items such as coffee cozies, towels, blankets/throws, bags, headbands.
Intermediate
The intermediate level is the level past easy but not yet as skilled as someone who is advanced. At this point you will be comfortable with the fundamentals of crochet and will be moving onto the next stage, developing your skills whilst taking on larger and more detailed projects.
Some items someone at an intermediate level can do is creating leg warmers, tank tops, cardigans, mermaid tails, baskets.
Advanced
Advanced is the highest level you can achieve in crocheting. You will know all the basics, know how to develop your skills and will be taking on complex patterns and big projects. Some stiches an advanced level person can crochet include the crocodile stich and diamond trellis stich.
Below will be listed 35 crochet baby clothes patterns for you to explore and try having a go at yourselves! Each of the patterns are appropriate for a variety of levels so don't be put off by these designs if you are a complete beginner.
This romper is the perfect design for a little baby girl. With the thrilly skirt and heart shaped buttons, this romper will be a cute attire to add to their collection.
This snowbear onesie is a great thing to crochet if you are looking to make something thick and warm. This pattern uses weight 5 chunky chenille yarn which ensures a cozy fit and its striped design makes the onesie stand out.
RELATED: A Guide To Making The Famous TikTok Bumblebee – 3 Different Sized Crochet Patterns
Try challenging yourself making this bobble romper. This pattern is different from your simpler designs as it incorporates the use of bobbles, adding that 3D effect. This pattern will be sure to challenge your crochet skills.
Crocheted mittens are perfect for every baby, especially in these cold seasons. This pattern includes a drawstring attachment, a ribbed cuff and stitch top and can be completed in a matter of hours.
Take on a big project by crocheting a set of clothes for a baby. This design includes a baby girl's burgundy dress, headband, hat, and booties. They are finished with a signature crocheted flower on each item. This will be a cute addition to your baby's wardrobe.
This winter dress is ideal for babies aged between 9 and 12 months. This is a perfect design to tackle for the winter season, and its bold red and white colors are enough to get you in the mood for Christmas. This is a great crocheted outfit to take pictures in for those Holiday photos.
This pattern is recommended for those at an intermediate level. These baby booties are unique, following the image of a sneaker but crocheting it into a warm cozy shoe. Choose from either blue or pink and test your abilities creating this crocheted bootie.
A pixie bonnet will make an adorable addition to any baby and is a nice adjustment to your typical hat. This crochet project is made from lovely autumnal colored yarn and the bonnet is finished with side ropes which tie together to keep your baby's ears warm.
RELATED: Crochet The Amigurumi TikTok Bee
Choose a simpler crochet piece and try knitting this plain sweater. This is a good one to practice for those beginners who are wanting to expand their skills. This is a unique crochet design, finished with three sewn in buttons.
This dinosaur romper is another cute creation to crochet. The romper is a plain white but becomes more difficult when stitching in the dinosaur design.
If you're looking to keep it plain and simple, this newborn footed romper is the perfect pattern for you. Finish this romper off with front buttons to complete this crocheted look.
Are you looking for a crochet pattern that is unique, fun, yet challenges your abilities? Try making this crochet dinosaur hat! This design follows an easy pattern and definitely stands out with the pointed spikes, tail at the back of the hat, and long earflaps.
This is another easy design to replicate. It is cute and subtle, yet adds a touch of uniqueness from the small little bear ears.
The crochet Baby Yoda hat is perfect for Star Wars fans wanting to get their child into the spirit. The repetitive crochet pattern is ideal for a beginner and the wide signature Yoda ears add that perfect unique touch.
RELATED: Easy Crochet Bookmark: Perfect Project for Beginners
Here is a design which uses contrasting patterns, perfect for those wanting to perfect their crocheting styles. This lace inspired cardigan is a great design to practice with and you will be coming out with a great end project.
This adorable, hooded pixie jacket is the best crochet piece for the winter. The crochet pattern is simple enough for a beginner to approach and come out with a great crocheted piece.
Get into the Christmas spirit with this gorgeous snowman crochet project. Learn to make a snowman themed hat, scarf, and cocoon, perfect and cozy for a newborn.
This roll neck poncho is a great project to take on. The poncho can be adjusted to size depending on the age of the child and features a cable rib and sleeve cuffs. This is a great crochet piece to practice your crocheting skills.
If you are looking for a different style, try out this vintage 1970s baby poncho. Just as the title states, this poncho is inspired by the 1970s giving it a vintage twist. This is an easy pattern to follow, with lovely flowers dotted around the poncho to complete this piece.
RELATED: Fun Amigurumi Turtle Patterns That You Can Download And Make Right Now!
These animal baby mittens are great fun to make. Choose from a bear, bunny, cat, dog, and mouse themed mitten and create this simple piece.
This woodland romper set consists of a crocheted hat, romper, and booties. Pick to crochet this in different woodland critter themes – fox, bunny, bear. This is the perfect creation for baby's first photoshoot!
Add some festivity to your crocheting and make a reindeer baby bootie. This is suitable for a skilled beginner and can be adjusted to fit babies between 0-3 months and 3-6 months.
For a newborn, this simple white dress will be the perfect gift for them. The dress is lightweight and follows a simple crochet pattern. This is also a good outfit for a baby's christening.
These adorable crochet overalls follow an easy step by step guideline and make for a great gift. This is good for beginners to try their way around another alternative project.
RELATED: 15 Crochet Ideas To Make At Home
Crochet a sundress for those long summer days. This is yet another design which is ideal for beginners as it is testing their abilities. After all that work you will be coming out with a gorgeous dress for an adorable baby.
The dinosaur cardigan is such a unique design and just from how it looks, your child will fall in love. The crocheted spikes trail down the spine of the cardigan to emphasize that dinosaur theme and its end result is worth the effort.
This crochet elf baby costume is to die for! Bring the Christmas spirit into your home by crocheting this amazing elf costume for your baby. This pattern comes with a top, pants, hat and booties and is a great costume for your little ones.
This elephant styled hat is a fun and adorable accessory to any baby's closet. The elephant's face acts as a hat with its long trunk and wide ears. This crochet pattern requires some level of skill but is great fun to make.
The Blair Bunny suit is made to be comfy and warm and makes for an impressive piece of crochet work. This suit is made using a plain color, but its long bunny ears attached to the hood call for an exceptional piece.
Crochet this wonderful mermaid themed attire, perfect for baby girls. This easy-to-follow crochet pattern creates a magnificent tail covering the entire body, matched with a gorgeous starfish headband.
The baby star snuggle suit is such a unique piece of clothing to make. This is ideal for newborns and babies to wear when resting in the evening. Choose whichever color you prefer and have fun crocheting this unique and easy piece.
Treat your baby to this warm hooded robe. This is a simple pattern to follow in a natural brown color.
These crochet baby pants are a great pattern to learn, suitable for beginners. Choose to make this for a newborn, 3 months, 6 months, or 12 month old and experiment using a range of colors to transform these pants.
This crochet baby t-shirt is a simple white design with a red collar, perfect for any beginner wanting to learn how to craft clothing. This is a comfortable, versatile shirt for everyday use.
This final crochet piece is this crochet ruffled diaper cover. Crocheting this for your diaper wearing baby will add some personality to their plain attire. The pattern works from the waistband down and is a great crocheting project to take on.
Frequently Asked Questions
What Is The Best Yarn To Use For Crocheting Baby Clothing?
It is important to be particular when choosing your yarn for making baby clothing. This is because a baby's skin is sensitive, especially if they are a newborn. You don't want to put them in clothing that can irritate the skin (scratch the skin, cause itchiness).
When picking out the right yarn, it is important to think about the appropriateness and how the baby will react. The most important thing is ensuring the baby is comfortable.
The best yarn for this will be cotton. You will be able to find cotton yarn in any of your local arts and crafts stores. There are also plenty of choices through online retailers.
How Do I Measure Before Crocheting Baby Clothing?
Measuring can be a difficult step in the clothes crocheting process. There are lots of things to take in such as a person's height, bust, weight.
It is known that babies grow at a fast rate so it is very likely that a baby will grow out of their clothes quickly. A good tip is to crochet clothing a few sizes up.
For babies, there is a standard measurement that people tend to follow. Here are the standard measures for a 6 month old (this age should last the baby longer as not to outgrow the clothing).
Chest – 17 inches
Cross Back – 7 ¾ inches
Arm length – 6 ½ inches
Waist – 19 inches
Hips – 20 inches
How Long Does It Take To Progress My Crocheting Skills?
There are different levels of crocheting and developing those skills can take some time. The speed of development all depends on how much time you spend crocheting in your spare time and how much practice you put in.
Riding a bike takes practice, and there's many times where you may fall down. That is the same for crocheting. There may be times where you want to give up because of a stitch you can't master, but in time and with plenty of development you will make it to the level you want to be at.
Final Thoughts
After listing all 35 crochet baby clothes patterns, you can be assured that there is plenty to choose from. These patterns can make great presents or you can crochet these in preparation for the birth of your own child.
It is essential to remember the importance of choosing the right type of yarn as a baby's skin is much more sensitive.
All in all, it is important to have fun when crocheting these creations and learn to progress in your crocheting skills.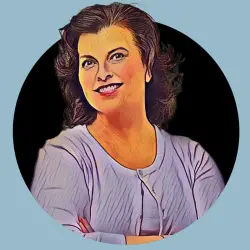 Latest posts by Amanda Brown
(see all)