Handmade is not just an old hat but traditional crafts like knitting and crochet are bang on trend. So it is no surprise that you can make a range of items simply with a ball of yarn, a crochet hook and the right pattern.
As a crochet beginner, you may want to try something quick and easy to get you started, and kitchenware is ideal because it usually uses a limited number of basic stitches.
Particularly crochet potholders and hot pads can be so versatile because they are essentially thicker coasters, usually made with cotton yarn which means they help protect your hands and surfaces when you are handling hot pots, pans, and dishes.

With a range of unusual crochet designs, these hot pads also make a beautiful decorative piece when not in use, or even a special handmade gift for friends and family.
If you are looking for inspiration, here are our 35 best crochet patterns for potholders and hot pads.
As a crochet beginner, you cannot go wrong with a granny square pattern. They are quick and easy to make, with so many possible variations.
This traditional granny square pattern for a potholder plays with a nice contrast of dark blue and white but you can use any colors you like to match your kitchen.
The modern-vintage flower design is simply timeless.
You do not have to wait for summer with this vibrant crochet pineapple hot pad. It is not just fun to look at but great fun to create.
The bright yellow cotton yarn makes up for the cluster stitch which is more suitable for an intermediate level but it creates a beautifully thick and textured effect that is ideal for protecting your kitchen surfaces from hot dishes.

Measuring 15 inches from the bottom to the top of the leaves, this pineapple hot pad will add a bit of colour to your kitchen at any time of the year.
Basket weave stitch can add a touch of sophistication to all your crochet projects, and it is particularly suitable for anything which needs to be thicker and bulkier. In addition, it also creates this loom handmade look.

That's why, this woven potholder crochet pattern can be made with neutral color yarn to imitate a more natural look or you may choose to go bold with a rainbow color design. Whatever you choose, this crochet potholder will give your kitchen a truly vintage touch.
This sweet crochet heart can double-up as a potholder to protect your romantic dinner as well as kitchen decoration for Valentine's Day. The thicker 3D design with cotton yarn makes it ideal as a hot pad.
However, this pattern is even more versatile as you could sew two together and make a pretty cushion cover, or use bulkier yarn to turn it into a footstool cover.
Delicious! These three decorative potholders are made with 100% cotton so you can securely put your hot pots and pans without melting them. When done, just hang them back up on your kitchen wall as decoration.
RELATED: Fun Amigurumi Turtle Patterns That You Can Download And Make Right Now!
This double-thick crochet hot pad in two tones of blue can be the perfect gift for the man in your life. Quick and easy to make, this pattern even comes with the design for the matching handle covers. Useful for all cast iron pots and pans.
If you love modern and a dash of color, then these fun tutti frutti crochet potholders are for you. Worked in rounds, the melon, lemon and orange design are easy to make with only chains, double crochet (US) and slip stitch.

If you sew a felt base or an anti-slip mat piece on the back then these potholders keep their flat shape and stay in place. They can even add a touch of interest to your summer party if you use them as coasters for your cocktails and other drinks.
With pumpkins often far too fast gone, this pumpkin crochet potholder is guaranteed to stay for more than one season.
Ideal for beginners and intermediate crocheters, this pattern is worked in rounds with front and back post half doubles. The intricate leaf and stem details make this not just a fun trivet to use for your Halloween meals but also a wonderful fall decoration throughout your kitchen.
Add a touch of elegant farmhouse style to your kitchen with this natural woven circle hot pad coaster. Beginner-friendly and easy to make in single crochet throughout, you can use any heat-resistant bulky yarn in any color to match your decor.
Not only a practical kitchen item but it makes a classic gift to give to someone special in your life.
Are you looking for a potholder for your RV or trailer when you are out on the road? This charming camper crochet potholder is perfect for all camping lovers.
This crochet applique pattern is easy to make and works up quickly. You can vary the colors to match your own decor or keep it neutral to give as a gift.
If you prefer to use mittens in your kitchen to keep a tighter grip on your cast iron pots, then these crochet potholder mittens are a great addition when handling hot dishes.
Worked in rows, you can make them in the color of your choice to match your kitchen or give them away as a special handmade gift.
RELATED: Easy Crochet Bookmark: Perfect Project for Beginners
Classic, timeless, and completely beginner-friendly yet this modern hot pad design adds a touch of sophistication to your kitchen. It is made with thick, mercerized cotton to ensure you can use it to protect hands and surfaces from hot pots and pans.
The hygienic cotton yarn makes this modern heating pad ideal for all your heavy-duty kitchen work which means it can also be used as a dishcloth to wipe any spills.
When you think of waffles, what comes to mind? Yes, delicious hot waffles, and although this potholder isn't for eating, the waffle stitch for this crochet hot pad creates a thick enough surface to protect your hands from hot dishes.
The modern design makes this crochet kitchen project ideal for every kitchen. A sturdy handle makes it easy to hang up when you don't use it. The finished size is 8 inches square but the pattern explains in detail how to vary the size and some elements of the design to make it unique.
This bee potholder is very thick thanks to its use of tapestry crochet so if you are not sure yet how tapestry crochet works, this might be a good beginner piece with a limited number of stitches used.
Part of a farmhouse collection of tapestry crochet potholders, this bee heating pad can work in any color. Just use a darker background color with a lighter color for the bee to match. The finished size is approximately 7inches by 7.5 inches.
Bobble stitch is fun to make and creates this wonderful, textured effect. It also gives a greater thickness to your hot pad. Perfect as a gift for your mother, grandmother, sister and friends.
This bobble crochet trivet is worked in easy rows and uses two colors in cotton yarn as a contrast but you can change the colors to match your decor.
Almost too beautiful to use. This artisan crochet potholder is made in different layers to give it a distinctive 3D look.
If you want to use it just as a decoration, you can create a unique piece by adding beads and other decorations. If you also intend to use it as a potholder, make sure you do not add any metals, which could get hot.
Stripes are always the best choice for beginners new to crocheting. This colorful stripes pattern for a potholder is simple to make and can be a great first-time crochet project.

The two-tone design adds a touch of bright and cheery colors to your kitchen but you can also choose to make this only in a single color. This potholder is designed as a mitten but also lies flat so you can keep a tight grip on your hot pots as well as place the heating pad underneath your dishes.
RELATED: Crochet The Amigurumi TikTok Bee
Do you love cats? Or you are looking for a gift for a cat lover in your family? This wonderful cat crochet pattern is a sweet decoration as well as a potholder. For a more natural-looking cat, just use black, brown, or white as the main colors.
With Halloween coming around so quickly every year, we are sometimes stuck with ideas for interesting decorations and practical ideas.
This crochet pattern for three square potholder designs features pumpkins, witches, and cats. Ideal for handling all your hot dishes at a Halloween party, or simply hang them up as fun decorations.
From snowflakes to a labyrinth, this hot pad crochet pattern creates a stunning visual effect.
If you use a dark background color and a lighter color for the intricate lines, then it brings out the design best. Worked in rounds with double filet crochet, this pattern is more suitable for advanced crocheters.
A great gift that is practical and fun. This lovely crochet turtle hot pad is perfect to put your teapot, dishes, or hot pans on. The shell design of the woodland crochet turtle is worked in the round with single and double crochets.

Make this with different green colors to give your turtle a natural look, or create your own unique turtle in different colors.
Use 100% cotton or wool to ensure this heating pad is heat resistant and won't melt when you place your hot pots on it. This crochet pattern is also double-sided so you can use both sides.
This colorful rainbow wiggly crochet pattern can be easily adapted to the colors of your choice and you can even change its shape. For the wiggly crochet design, you work a mesh first and then add your 'wiggles' on top along the mesh.
Using cotton and natural fibers, this crochet pattern is so versatile that you can turn it into a potholder, dishcloth and washcloth.
What a sweet idea! The shades of light pink and the 3D effect for the cupcake with a cream background bring this design to life. You can adapt the color scheme easily enough.
Made with worsted weight 100% cotton threat, you can make just one to use as decoration, or two to sew together and create a double thickness to make a heat-resistant crochet potholder.
RELATED: 15 Brilliant Crochet Baby Yoda Patterns (With Pictures)
Pretty and easy to make, these lovely potholders could even end up on your Christmas tree. The single crochet stitch in rounds can be made with any color and any suitable fire-resistant yarn (ideally cotton to make sure your yarn does not melt with heat).
The more decorative crochet alternative to cork potholders! Made out of 53 little crochet balls, this pattern is easily adjustable.
Simply add or remove balls to make this ultra-thick potholder smaller or bigger. Once you have the right number of balls you need, glue them together in the shape you like.
The combination of pastel colors makes this beautiful crochet potholder a joy to work on. It includes a number of different stitches so may not be suitable for a crochet beginner.
This crochet trivet is worked in the round, easy to use two or more colors. It doesn't come with a handle in the pattern but you can just sew a thin thread on the back if you want to hang it up.
Use as many or few colors as you like for this sweet owl trivet. Worked in the round with cotton yarn, this pattern has different parts to assemble so can be a bit more tricky for a crochet beginner.
This mandala-style owl is only one-sided but if you make two and sew them together you can create a thick double-sided heat pad.
For this pattern, you can go with traditional black and white colors or you can up with something funkier, like pink and white. The pattern is crocheted with a double strand of yarn to ensure greater thickness.
This pattern is almost so mesmerizing that you don't want to use it. The front features a star design and the back stripes. It comes together very easily, and you can use the pattern to make other items as well, like scarves.
Not as colorful as the owl but you can easily change any of the colors. This cute penguin crochet pattern comes with step-by-step instructions on how to make the different parts of the penguin, and how to assemble it all.
Perfect to add a little farmhouse style to your kitchen. Made with 100% cotton yarn, this chicken crochet potholder is made in double thickness so helps to protect your surfaces from hot pots and dishes.
The pattern can be crocheted in so many color variations. You may be tempted to make more than one!
Perfect for the lady in your home. This sweet crochet pattern is very versatile.
You can use it with thicker cotton yarn as a potholder, or you could use it as an angel Christmas decoration, or even a little doll might enjoy wearing this special little crochet dress.
This little crochet pig is so sweet and simple to make with the easy-to-follow instructions. It could make a wonderful gift for a baby shower.
The different parts of the pig are mostly worked in the round with two strands held together. Once you made all the parts, you just sew them together, and also sew two button eyes on.
This fairly simple pattern is perfect for beginners and can add this special Christmas touch to your kitchen.
A handle sewn on one corner and the double-sided design make this potholder a practical accessory. You can also adapt the pattern, make it striped, solid or add different accent colors for different seasons.
This pattern is easy and flexible to adapt. You can choose how many rounds you wish to do to create the right size for your coaster, and make sure to use thicker cotton yarn if you would like to use it for handling hot dishes.
Frequently Asked Questions
Can You Use Acrylic Yarn For Hot Pads?
No. Acrylic, polyester, plarn and any other plastic-based yarns would melt with the heat so they are not suitable for crochet hot pads. With so many different fibres to choose from it can be difficult to find what's right for a crochet hot pad or potholder.
Through trial and error, you will quickly discover that some yarns are much more suitable for kitchen items than others. For crochet heating pads, the yarn has to be heat resistant so that it doesn't melt when you place your pot on it. This excludes all acrylic and part-acrylic yarns.
How Do You Crochet A Thick Hot Pad?
With thicker natural fiber threads, like cotton, you can crochet a thick hot pad quickly and easily. A range of crochet patterns can give you inspiration for designs, depending on your level.
Heating pads and crochet potholders are ideal for beginners but can also make a great challenge for crochet experts with a more intricate design.
Can You Use Mercerized Cotton For Pot Holders?
Yes. All types of cotton make a great choice for crochet potholders because they won't melt. Mercerized cotton thread, including organic cotton yarn and kitchen cotton, are easy to clean, which is important for hygiene in the kitchen when you handle food.

Cotton is also water absorbent so you can use it not only for your hot dishes but also as a dishcloth to wipe kitchen surfaces. These benefits make cotton the most popular choice for any kitchen crochet project.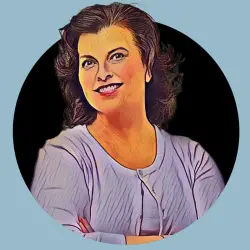 Latest posts by Amanda Brown
(see all)