If you are looking for some popular crochet patterns on Etsy to try out, but you are not too sure where to start, then we are here to help you. We have scoured through Etsy's most popular crochet patterns and we have selected some of our favorites that you should definitely try to make. If you are lacking crochet inspiration then you have definitely come to the right place!
This blanket design is one of the most popular on Etsy, and is especially perfect for those people who are new to mosaic crochet along with those who are regular mosaic crochet makers. This pattern makes it easy for anyone to give crocheting a go, no matter what their level of expertise is. The design of this blanket is extremely relaxing and this blanket will be perfect for snuggling under during the colder months. This blanket will make a perfect gift for someone special, or it will be the perfect gift to yourself.
This super cute crochet pattern is really popular on Etsy due to the adorableness of the bats who all have their own names and personalities. First we have Inky who loves to eat, sleep and rest. He is described as a pretty simple bat who can be super sweet as long as he is allowed to nap! Then we have Echo who is the little sister that works hard to keep the boys in check, although this does not always stop her from joining in on the fun. Last but not least, we have Zotz who has big dreams, he wants to be the supreme ruler of all of the bat species when he gets older. Who doesn't love an ambitious bat or three?!
This hooded scarf is a really popular crochet pattern, and this is all to do with the uniqueness of the texture that features throughout the entire design. This is all down to the interesting stitches that are used within the entire design. You can also incorporate some fringe detailing which is an optional add on that can give the hooded scarf an extra lift.
This pattern is a firm favorite on Etsy, because it is very easy to follow and it also includes pictures during the step-by-step patterning process. This pattern is very unique and is super fun, perfect for any kids or adults who are lovers of all things nautical. 
This shawl is the ultimate boho style, and it is super versatile and will always be a little different from a shawl that can be purchased from a retailer. This can be admired even more because it will be your very own creation.
RELATED: Fun Amigurumi Turtle Patterns That You Can Download And Make Right Now!
Tyrion the lion is a really adorable crochet pattern that has the cutest little lion as an outcome. Within the pattern instructions, you have a detailed description of how to create Tyrion the lion, and this also comes with a whole host of step-by-step photos too. This makes this particular crochet pattern even more accessible.
Although this is not strictly just a crochet pattern, we could not resist including this in our list. This is a really on trend crochet kit right now, and it will make you the most stylish and colorful pom pom blanket. This kit is very accessible as it has a skill level of being very easy. This crochet blanket is made by using beautifully soft lambswool and the whole process of making this blanket is not only extremely easy but it will be extremely relaxing too. This pattern is not just suitable for experienced crochet makers, this kit is also very suitable for beginners in the crochet world. The finished blanket will be guaranteed to be extremely soft and luxurious, and you will be so proud of your finished creation.
Also referred to as The Fireside Throw, this pattern will allow you to create a throw that follows its nickname. You will be able to crochet the coziest blanket to snuggle up in on those colder evenings. We envision this blanket to be thrown over a comfy couch in front of a roaring fire. This is a beginner friendly pattern too, hence its popularity on the Etsy website.
Including a video tutorial as well as written instructions, you will certainly fall in love with this corner to corner moss stitch crochet tutorial. This is an especially easy crochet pattern to do and your end result will be a colorful baby blanket unlike any other on the market. This would make a truly thoughtful gift. 
This pattern is another one of the ultimate favorite animal crochet patterns on Etsy. Say 'hey' to Shawn the shark, he is an absolutely adorable lil shark that any sea lover will adore. The best part? This cute shark will only take you a few hours to make through using the easy-to-follow pattern. This crochet pattern also has detailed instructions and pictures which will explain how to crochet and also how to assemble all the parts that will bring this sweet shark to life. 
RELATED: Easy Crochet Bookmark: Perfect Project for Beginners
This crochet pattern is super bold, but it is very fun. This pattern is all about appreciating the silly and the fun. You can add to this pattern as much as you wish, the seller even says that they made a boob scarf with squeaky toys inside. On the whole, this pattern is very bold, but it really allows you to have an appreciation of the silly.
A very popular accessory in the winter, this ear warmer crochet pattern is praised by many buyers for the beginner-intermediate level of the crochet pattern. By using this crochet pattern, you will be able to create winter ear warmers that will serve you well in the colder months. You will be able to adapt the colors within this pattern to create winter ear warmers that really suit you.
This is a very unique crochet pattern that is perfect for anyone who is an elephant lover. This is more of an intermediate level crochet pattern, but the combination of texture along with lace and chunkiness will make this rug a stand out feature in your home. You can stick to the classic elephant colorings, or you can really push your creativity boundaries and use whatever colors you want to. This pattern is really easy to follow as it includes crochet diagrams , along with step-by-step photos too.
If you are in the market for a new winter accessory, then this crochet pattern will be perfect for you. The claire bun beanie is a super cute crochet pattern, and it is great for beginners too. This pattern includes high-quality images which will help explain each step and also links to the specific supplies that are used within this pattern.
This crochet cape pattern has been designed with ultimate comfort and warmth in mind, and this piece will be a welcome addition to your winter wardrobe. This pullover will make the perfect unique layering piece for all of the winter seasons. It is true that this cape will make the perfect gift for someone special or it will be perfect for you to wrap up in too. This pattern also comes in a variety of sizes too, so you can make this for kids or adults.
RELATED: 15 Brilliant Crochet Baby Yoda Patterns (With Pictures)
Another super cute animal crochet pattern? Yeah, these are super popular on Etsy and this is all for good reason. They just keep getting cuter! Ellis the elephant is a crochet pattern for a baby elephant who also has his own cute story. Ellis is still a baby elephant who is just learning how to find his feet and walk, he knows that he wants to be an explorer one day. But for now, he enjoys the comfort of his family and will hold on to this dream until he is older. So, if you want your very own Ellis then we would definitely recommend this pattern to you.
If you are looking for a crochet pattern that is easy to make, but very on trend to wear then this is the perfect crochet pattern for you. Here, you are most certainly invited to discover innovative pattern designs that are in crochet and in knitting. This particular pattern does follow a trend, but it adds a little something extra to it – so you can really make this beanie your own. This pattern comes in a variety of sizes – from toddler right through to an adult large. This is a great everyday kinda beanie hat – and you can embellish it with a faux fur pom pom.
A super beautiful crochet pattern which is designed with love, this pattern is bright and vibrant and will really give you that perfect boho summer feeling. This pattern has been written in a way that is especially easy to read and to understand. This makes the pattern perfect for beginners as well as the more advanced crocheter.
The sellers themselves say that you should: be a unicorn in a field of horses… stay magic and sparkle wherever you go! This blanket pattern will help you to do just that. It is so fun and so unique, and is perfect for anyone who loves unicorns – or it is perfect for anyone who wants to add a funky blanket to their collection. 
A super popular pattern on the Etsy website, the happypotamus really makes use of that beautiful African flower hexagon crochet motif and variations of this, and these hexagons will all get joined in a specific order which will give you a recognizable 3D toy. If you hadn't guessed it already, this is a hippopotamus. To be able to do this pattern to its full potential you should be familiar with how to crochet the African flower hexagon crochet motif before moving onto assembling the hippopotamus… or should we say, happypotamus!
Do you want to make your own cute Mimi the unicorn? Well, this popular crochet pattern will allow you to do this! It is important to note that this crochet pattern can end up varying in size depending on not only how tight your crochet is, but it can also depend on how stuffed the toy is.
The skill level for this pattern is beginner to intermediate, and this is so popular due to its versatility. You can make your own festive stocking with whatever yarn you want, the pattern is written so that you can do this. It is important to note that this pattern is for the stocking only.
So, it turns out that cute animals are very popular crochet patterns because here we have another cute animal with an even cuter story. Here we have Claude the octopus who lives in a large cave under the sea, where he tends his award winning sea garden. This is one of the larger cute animals that you can crochet, as Claude ends up spanning approximately 45 inches lengthways.
A popular crochet pattern to add something extra to your collection of plans, this pattern to make your own crochet hanging basket will make a great addition to any room in your home. We envision this is the lounge, or in an office room to add a hint of hanging greenery.
You didn't think we were done with unicorns just yet, did you?! Another popular crochet pattern on Etsy is this Charlotte the unicorn pattern. It is popular not just for its cuteness, but because it is an easy beginner pattern with much detailed instructions and also with photos throughout. For this pattern, you will need to have basic crochet stitch knowledge.
We have a very different kind of crochet pattern here, this is a much more practical kind of crochet pattern. If you have never heard of a crochet sweeper before, then you should know that they work great as they are not only reusable but they are eco-friendly. This is our friendly lecture to you: do not waste your money on buying disposable sweeper pads. This kind of sweeper pad will last you for years!
We couldn't stay away from the cute animals for too long… They are too popular to ignore. Who are we kidding?! They are too cute to ignore! This deer crochet pattern is super cute but this is a bit more of an advanced pattern as you will have to sew the separate components together to make your deer come to life.
This is a beginner crochet pattern which will give you the cutest rainbow bag. This makes the perfect accessory for the spring and summer time, and it would also be the perfect festival bag. It is so individual and creative, no one will have a bag quite like this one.
The perfect pattern for those of you who are familiar with the basics of amigurumi and also how to sew the details together. This pattern will be perfect for you if you want to crochet yourself your own voodoo bunny! This is pretty specific but it is pretty popular on Etsy, so it is definitely worth seeing if this pattern is for you.
RELATED: 15 Crochet Ideas To Make At Home
Create your own adorable little otters in a few hours with this crochet pattern. A simple to follow crochet pattern, anyone with beginner crocheting skills will be able to take on this crochet pattern and produce the cutest otter friends!
Another festive pattern has made it to Etsy's most popular crochet patterns! This particular pattern definitely makes some especially cute Christmas decorations! These will add a real sense of personality to your Christmas decor. 
This crochet pattern will let you make your very own adorable pride bee – the cute animal crochet patterns just keep coming. But, we are not surprised that people love them so much, because they really are one-of-a-kind and they are just outright adorable!
This crochet pattern will help you to create the perfect  colorful poncho that is like nothing that you will come across in stores. The crochet poncho will make a great layering piece and is like nothing else that you will have in your closet.
This is our final cute animal crochet pattern, and this is Dolores the giraffe. This would be a really cute addition to your growing crochet cute animals collection – or this will make a perfect gift for someone who loves giraffes.
Last but not least, we have an adorable baby romper that is well loved on the Etsy crochet patterns page. This is a super cute romper for a baby, and you will be pleased to know that this is really easy to make – and your baby will find this very fun to wear. 
Frequently Asked Questions
What's The Best Way To Get Started In Crochet?
A. The best way to get started in crochet is to familiarize yourself with the basic techniques. Start off making smaller pieces before moving on to the bigger and more challenging patterns as your confidence builds over time.
What Is The Best Way To Do A Double Crochet?
A. Yarn over (yo) and then insert the hook into the 3rd loop from your hook. Yo and pull through, so you should now have 3 loops on your hook. Yarn over and pull through 2 loops, so that 2 loops are then left on your hook. Yo and pull through the last 2 loops to complete your first double crochet. Don't forget to literally tie up your loose ends.
How Do You Make A Chain Out Of Crochet Yarn?
A. Make a slip knot around the crochet hook. Wrap the yarn once around the crochet hook above the slip knot. Use the hook to pull the yarn though the slip knot. 
What Is The Best Way To Wrap Yarn For Crochet?
A. Make sure to yarn over the hook from front to back. Slide your hook between the first 2 front loops and under the fourth chain link from the hook. Then, yarn right over the hook again. Pull the wrapped yarn through the chain stitch by carefully guiding the wrapped hook through the chain. This should result in you now having 3 loops on your hook.
Which Is Easier To Learn, Knitting Or Crochet?
A. When you have learned the basics, a lot of people will end up finding crocheting to be much easier than knitting. This is because you will not have to move the stitches back and forth between the needles. Crocheting is also much less likely to unravel by mistake than knitting is, and this is a massive benefit of crocheting when you first learn how to crochet compared to when you first learn how to knit.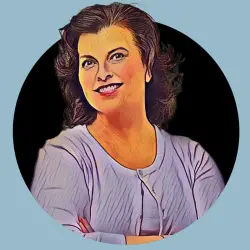 Latest posts by Amanda Brown
(see all)