Crocheting Christmas stockings can be a perfect project for you to work on during the holidays, or depending on how many you are planning to make you can even work on your crochet Christmas stockings during the build up to the holiday season.
You can hang these Christmas stockings up on your wall or above your fireplace, and we can guarantee that crocheting your Christmas stockings will be a great addition to your festive decor.
Let's be real – nothing really says 'it's Christmas' quite like a Christmas stocking. After all, a Christmas stocking was originally an oversized sock, which was typically red or green in color.
We all know that stockings are usually filled with sweet treats – but there is nothing stopping you from loading your stocking with… Christmas spirit?!
And you can just use these crochet stockings as decor pieces if you are not sure about using them as functional Christmas Eve pieces.
Naturally, there is nothing stopping you from tweaking the classic Christmas stocking colors to… well… any colors that you want. Your Christmas stockings can be as classic or as colorful as you wish.
We thought that we would start off this list with one of the most classic Christmas stockings that you can make.
This stocking is not intimidating as far as the actual design is concerned, but we would really recommend sticking with the Christmas colors just so that you can really appreciate your stocking during the festive season.
This traditional Christmas stocking would make the perfect piece to hang above your fireplace on Christmas Eve. This stocking pattern is the classic red and white and it just screams CHRISTMAS. This stocking is something that can be appreciated by adults as well as children.
RELATED: 15 Brilliant Crochet Baby Yoda Patterns (With Pictures)
Well this stocking is most definitely loud and proud – and it is truly amazing. This stocking is made up of the brightest rainbow colors and it is a real showstopper.
If you are looking to make your festive decorations that extra bit more funky then this will be the perfect stocking for you to crochet in time for Christmas.
We can guarantee that there will be very few stockings quite as bright as this on the market, and your fun stocking will definitely catch the eyes of anyone who enters your home. What's not to love? After all, it really does give a whole new meaning to merry and bright.
A twist, or should we say an expansion on the classic Christmas stocking, this jumbo crochet stocking is amazing. If this jumbo stocking does not get you or your family in the festive spirit, well then we do not know what will.
This stocking is certainly very charming and this is all down to the rustic essence of it. How can a stocking be rustic? Well, this is all to do with the color scheme because you should use a yarn that is fairly muted, or somewhat peach in color.
To really add to that rustic feel you can embellish it with your initial or your loved one's initial.
This is what really helps to add that rustic element to the stocking. You do not have to be particularly neat and tidy with this, in fact, the messier you are then the more rustic the stocking will look overall. So, do not be too paranoid about getting this completely perfect.
This Christmas stocking will be perfect for you if you are a beginner at crocheting for this very reason. 
Another gorgeous classic color scheme stocking, this pattern will really put you in the festive spirit. You can use a gorgeous red shade for the actual stocking and then crochet a white snowflake right in the center of the stocking.
Alternatively, if you really wanted to you could use whatever colors you want to for your Christmas stocking. You can totally customize the color scheme to best suit your personal taste.
This Christmas stocking pattern is pretty subtle, but it does have a really tasteful pattern that will perfectly compliment any kind of fireplace display that you have going on.
This stocking might not be the loudest one out there, but it will complement any other bright Christmas decorations that you have in and around your home.
With a skill level requirement of beginner to intermediate level, this stocking pattern is suitable for almost anyone with little or no crocheting abilities. This stocking pattern is one block color, and will be the perfect neutral color for a more neutral lounge area.
This is more style over traditional, but it totally depends on your own aesthetic. If you want something that will compliment your color scheme then you can adapt the color to do this too.
These stockings are two things: 1. Super festive and 2. Super easy to make. What's not to love?! Depending on how confident you are at crocheting, then you will definitely be able to give these a go.
These stockings would look great in a range of reds and greens just to make them look as festive as possible. On the whole, these stockings are pretty festive.
This crochet pattern will allow you to create a classic crochet stocking, or you can take this up a level and go for a stripy Christmas stocking. Either way, this stocking will compliment your home during not just the festive season.
We would go as far as to say that these stockings would compliment your home during the autumn period right through to the winter. It's never too early to get into the festive spirit!
These kinds of stockings seem to be everywhere this year, so if you want to put your own twist on a trend piece then you should definitely try and crochet your own classic stocking. This stocking will look perfect above your fireplace area, or even on your staircase bannister.
However you choose to display your classic crochet stocking, it will make a very tasteful impact for sure.
These stockings will really show off your crocheting, because it is big and bold in that the intricate patterns of the crocheting will be really effective. It is totally up to you what color scheme you decide to go for – you could go for really traditional colors or you could go for something really vibrant like bright blue, or you could go for a muted grey.
Whatever you'd like to – the creative freedom within crocheting is endless.
This Christmas stocking is a firm favorite with us – because it is so cool! The zigzag pattern in Christmas colors really adds your own personal style into Christmas decor – and we are so not mad about this.
This stocking would be perfect for displaying on a mantelpiece or above a fireplace just for that extra festive feeling. It will set off your Christmas decor and it will look absolutely amazing!
This is a crochet pattern where you can make cute mini stockings which can be used as individual decorations or they can even be strung together as a garland.
You could even fill each stocking with a little treat, or you could make your own mini stocking advent calendar and fill up a stocking with treats each day.
We can't lie, we are loving the classic Christmas stockings this year – and these holly and berry striped stockings are definitely up there with some of our favorite stockings. They are so festive, we just love them. And these stockings are certainly timeless – they are something that will always be fitting for every Christmas and visually, they are pretty impressive.
You would be mad to not give these Christmas stockings a space on your mantelpiece – or at the end of your bed!
Here, you can really dip into the traditional Christmas crochet stocking pattern. You should really use the authentic red, white and green hues to really bring out the festiveness of this Christmas stocking.
Visually, it is pretty impressive and we can't say that we have seen a wide variety of stockings that look quite like this on the market.
RELATED: 15 Crochet Ideas To Make At Home
This is another stocking that really puts a twist on the Christmas theme, because the colors are a gradient of berry. In other words, the colors go from blue to purple back to blue and then to purple.
Overall, this stocking will really suit you – or be the perfect gift for someone who you know loves purple hues – so if this is fitting for you in any way, then you should definitely try out this stocking crochet pattern.
This stocking is perfect for beginners in the crocheting world, it is something that you can really enjoy doing and it will add that personalized touch to your festive decorations.
This stocking certainly screams 'CHRISTMAS IS HERE' especially if you use the right hues of red and white.
Of course, you can use whatever colors you want to – but for this stocking in particular we would say: the more festive, the better.
Here we have a stocking that is so festive it hurts… Just kidding, we are not in literal pain. But, we do really love this stocking – the name alone is pure genius! This stocking is subtle, but the crochet pattern really gives it that something extra.
It is not a particularly in-your-face sort of stocking, but it will definitely catch your attention. You can use whatever colors you want to – you could opt for the classic festive shades, or you could use your favorite colors just to make this stocking that bit more personal.
Do you feel bad that your four-legged friend has to miss out on all the fun? Well, fear not! Here, we have the perfect dog stocking for you to enjoy and appreciate on behalf of your four-legged friend.
We say this because we know that your dog will only really appreciate this stocking if and when you load it with treats for them to devour.
We're back to the classic stocking… Sorry, we just can't help it! This stocking is just gorgeous, it is very stylish and is not a particularly over the top patterned Christmas stocking.
In fact, this Christmas stocking is more on the subtle side – the pattern just helps to give the stocking that added element of interest and intrigue. We really envision this particular stocking as an end-of-the-bed sort of piece.
This crochet bobble Christmas stocking pattern is the perfect stocking to really set you into the festive spirit. This stocking pattern is very clean and very classic and it is the perfect stocking pattern to go for if you are a crocheting beginner.
This is the classic stocking that will look like it took forever to make, but in reality it will be pretty effortless for you!
Another Christmas stocking that looks like it is very challenging, and like it will take you a very long time to make, this stocking is so beautiful to look at. The patterning on this very stocking is so easy to do, but it will look like it has taken you hours!
And, you can really use any colors that you would like to make this stocking pattern as personal as you wish.
This Christmas stocking pattern is the essence of Christmas, and it has that subtle hint of the festive season about it. The Christmas tree makes this stocking that extra bit more unique than the standard stocking patterns out there.
RELATED: Fun Amigurumi Turtle Patterns That You Can Download And Make Right Now!
We included this stocking because we know for sure that kids would love this. In fact, this would be a really fun Christmas activity to do with your kids – you could help them to crochet their own Christmas stocking.
And, this would be a pretty fun one to pick, just because they will be able to get as creative as they want with the finishing button decorations.
This stocking is another design that encapsulates the essence of Christmas through its simple but effective design. We recommend that you stick to the guide when it comes to this particular stocking, as it would really scream 'Christmas' if you select a green hue.
This would look particularly great as a centerpiece in terms of your mantlepiece. 
Super festive and also super sleek – this Christmas stocking is perfect for anyone who is a lover of stripes… Or more specifically, sporty stripes.
This stocking would be perfect for a family – we can see all of the stockings hung on a mantelpiece with everyone's initials in the top left corner. Overall, this stocking is pretty cool.
This stocking is really perfect for anyone who loves snowflakes. We think that after seeing this stocking pattern that they are especially underappreciated! This stocking would look perfect on a mantlepiece, or it would make an especially great Christmas Eve hanging stocking.
Here we have another adorable Christmas stocking, which we know that kids and adults will love. Who does not love gingerbread at Christmas time?! It is the mere essence of Christmas, so here we have the perfect stocking to commemorate and fully recognize your love of gingerbread. You're welcome!
This Christmas stocking is perfect for the keen crocheter. We say this because, truthfully, these stockings should be displayed on a mantelpiece. We envision the whole family having a stocking each to enjoy, you can really add an extra something to your home decor by doing this.
It's true, nothing quite says Christmas like a bright red stocking. This is a completely classic looking Christmas stocking, and it is visually pretty appealing. What's not to love? A full red stocking and a white trim is something that Santa himself would approve of highly.
This is a Christmas stocking that is like no other – it is a stocking that deserves to be showed off and appreciated by anyone who comes to visit your home. This Christmas stocking has so much personality, and it is just adorable to look at.
If this does not put you in the Christmas spirit, then we do not know what will! Kids will find this stocking especially amazing too. 
This Christmas stocking is pretty unique – in that we have never seen any stocking like this before. This lacy crochet stocking is very unique and will definitely make a great talking point. This Christmas stocking visually looks amazing, as it is so delicate.
We would not recommend using this as an actual stocking due to this – we would just use this for decorative purposes. That and the last thing you would want is for any treats to melt inside and ruin all of your hard work.
Here we have another pet crochet stocking for you to enjoy making. Granted, you might appreciate this stocking much more than your four-legged friend, but it is most certainly the thought that counts in this situation.
You can fill this stocking with treats for your pet to enjoy during the build up to Christmas, or you can give your pet their very own stocking on Christmas Day. Just don't forget to fill it on Christmas Eve!
RELATED: Easy Crochet Bookmark: Perfect Project for Beginners
If you want to gift your loved ones crochet Christmas stockings then this is the perfect crochet pattern for you. The blessings stocking will let you make a classic Christmas stocking with the added personalization feature of a name at the bottom.
This stocking will be perfect for that person who is hard to buy for – you can make this stocking and fill it with some of their favorite treats.
If you are wanting some homemade stockings to adorn your Christmas tree, then these would be perfect. You can make these stockings as uniform as possible just to give your Christmas tree that extra TLC!
These stockings will certainly add an element of interest to your Christmas tree – that's right, stockings do not just have to be put on your mantelpiece.
Last but not least, we will leave you with another classic Christmas stocking. These are always extremely popular, and something tells us that red and white will never stop being Christmas colors. So, on the whole we definitely recommend going down the classic stocking sort of route. 
Frequently Asked Questions
What Is The Best Way To Make Christmas Stockings?
If you want to impress your family and friends, then you can crochet everyone's stockings in time for Christmas! There are a variety of different patterns that you can try depending on how advanced you are at crocheting.
But, whether you are a beginner or whether you are advanced then there will be a Christmas stocking crochet pattern out there for you.
What Can You Make With Crocheting For Christmas?
There are so many different things that you can crochet for Christmas, but a stocking is something that can be easily overlooked.
Crocheting a Christmas stocking can actually be really quick, and this is something that you can use as decoration and you can also use this as part of someone's Christmas gift. You could make a Christmas stocking for family, friends or even pets.
Can You Make A Christmas Stocking Out Of Yarn?
Here's the thing, we know that Christmas stockings are totally essential decorations for your home during the festive season. It is true that homemade stockings can really help to make your home decorations appear much more special.
All that you need to crochet a Christmas stocking is a few balls of yarn and also some pretty basic crocheting skills.
You can have a completely free range of the choice of the color of the yarn and also the texture of the yarn and this will really let you create a very unique Christmas stocking.
How Long Will A Crochet Stocking Last For?
Christmas stockings are on display for everyone to admire, even though they are on display for as long as a month or as little as one day! This can be a bonus for your crochet Christmas stockings as they will not get much wear and tear so they should be much more durable.
It is true that a well-loved stocking can last for decades, and for a lot of families these sentimental Christmas stockings can become family heirlooms that are passed down to generations.
Where Do You Hang Your Christmas Stocking In The House?
Whether you are really young or whether you are an adult, the magic of hanging up Christmas stockings is undeniable. The most popular places to hang up a Christmas stocking is above the fireplace or on the wall right near the tree.
Everyone loves that feeling of waking up on Christmas morning seeing the stockings that are full of sweet treats and other goodies.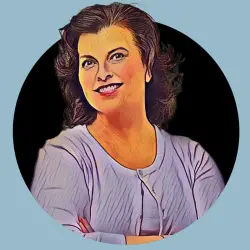 Latest posts by Amanda Brown
(see all)