Scuba diving is one of the most exciting sports out there. 
The water is warm, the air is fresh, and the view is breathtaking. If you want to try it out, you'll need some gear. 
Scuba diving requires specific equipment, such as masks, fins, snorkels, and tanks.
As a result, when you think of scuba fabric, you will think of scuba diving. However, you may be shocked to learn that this fabric isn't used for creating diving suits. 
In this article, we will be discussing what scuba fabric is and where you can use it. 
What Is Scuba Fabric
Scuba fabric is a synthetic, double-knit fabric. It is made from a blend of spandex and polyester. Thus, scuba fabric is a smaller version of neoprene fabric. 
This is because both fabrics are made from similar materials, yet scuba fabric is considered a more fashionable alternative. 
Neoprene is typically used for more technical purposes. Compared with scuba fabric that is used to make technical yet fashionable clothing such as dance clothes. 
As a result, you will have seen scuba fabric before and not realized you were looking at scuba fabric. 
Scuba fabric feels really heavy and yet smooth. It is slightly stretchy due to being made from a blend of polyester and lycra or spandex.
RELATED: Get You Chiffon On – The Complete Guide On All You Need To Know About Chiffon Fabric
History of Scuba Fabric
Scuba  fabric was originally created in America by DuPont Corporation. This was another type of neoprene that was originally used in the 1930s. 
It was used as a synthetic form of rubber. However, during the Second World War, the demand for neoprene increased, as there was a shortage of natural rubber.
Eventually, neoprene was used to create wetsuits for divers.
This was due to its insulating and waterproofing abilities. This is then how the scuba fabric got its name today. 
Yet, neoprene wasn't the best choice for making everyday clothing, as it wasn't very breathable.
This then results in scuba fabric being created, to make it more suitable for clothing. 
As a result, scuba fabric isn't the same as neoprene, as it is much more breathable and suitable for clothing. While neoprene is what makes wetsuits. 
Making Scuba Fabric
The basic materials to make scuba fabric are the same as neoprene fabric. The base compounds are reacted together with derivatives of limestone. 
As a result, this then produces chloroprene. 
Now, this chloroprene is turned into a liquid, by using a process known as polymerization. This will then produce polychloroprene. 
Once this process has been completed then the polychloroprene is sent to a textile manufacturer to be created into a more manageable product to be able to produce certain things.
When the polychloroprene is at the manufacturer's factory, it is combined with particular additives. This is what gives this fabric its particular characteristics. 
This mixture is crushed and blended together and baked.
Once baked, it is now known as neoprene. 
The neoprene is then cut into pieces and sprayed with epoxy.
It is this coat of epoxy that makes the difference between neoprene fabric and scuba fabric. 
Essentially, scuba fabric is just neoprene fabric but sprayed with a mixture of spandex and polyester fabric. 
If you cut a piece of scuba fabric in half, you would see a layer of neoprene fabric sandwiched between two layers of spandex and polyester. 
The spandex and polyester fabric is a type of double-knit material which has fine thread. This is what gives this material it's really smooth feel. 
Once the fabric is completed, it is sold either as it is or sent to another manufacturer who makes clothing. 
Characteristics of Scuba Fabric
Understanding this material will make it much easier to work with.
Once you understand its properties and its characteristics, then you'll recognize when to use this fabric. 
The Stretch of Scuba Fabric
As we have mentioned above, scuba fabric is created with a blend of polyester and spandex. It is this small percentage of spandex which gives this fabric a slight stretch. 
This is one of the better qualities of this fabric. It is also the reason why scuba fabric is such a popular choice when it comes to activewear and sportswear. 
The stretch scuba fabric has, will give particular items of clothing more shape.
As a result, it is a popular fabric choice for pieces of clothing that are required to be much more form fitting or need to be a particular shape. 
Breathability In Scuba Fabric
The main real downside to scuba fabric is the fact it isn't very breathable. This is due to this material being made from synthetic materials. 
Neoprene isn't known for being very breathable, that is why it is used to create wetsuits. While also, spandex isn't very breathable either. 
Polyester is the only material used that is slightly breathable, but that doesn't add very much to the overall breathability of scuba fabric. 
This then causes the wearer of the clothing to feel quite warm and sometimes even stuffy. 
Overall, scuba fabric isn't really recommended for clothing to be worn when the weather's warm. It is more suited for colder climates and seasons. 
Thus wearing clothing made from scuba fabric will feel comfortable as it will keep you warm in the colder months. 
RELATED: Have Some Chambray – The Must-Read Guide on Chambray Fabric
Retaining Heat
We just briefly mentioned it above, but scuba material is ideal when you want a garment that can retain heat well. 
This can be taken as either a good or a bad thing. It does depend on what time of year you are wearing your scuba fabric clothing, that will determine whether its heat retaining qualities are good or bad. 
Thus, it is better to wear scuba fabric in the winter or in colder climates. 
Other Properties
Alongside that, scuba fabric is water-resistant. Whilst also, people love how soft and smooth it feels. It is a very flattering fabric that makes anyone look good.
Thus, this fabric can be used on a wide range of body sizes and shapes. 
However, scuba fabric is really heavy compared with other materials that could be used to create clothing.
Also, some people don't like the fact that scuba fabric is 100% synthetic. 
This means that this kind of fabric isn't sustainable or eco-friendly.
As scuba fabric is basically made with plastic, it means that the fabric itself can melt really easily due to this plastic. 
Hence, you need to be careful when you are cleaning and washing your scuba fabric garments.
When to Use Scuba Fabric
You may have a piece of scuba fabric and aren't sure what you can do with it.
Due to its unique qualities and texture, scuba fabric is suited for more particular items of clothing than others. 
Thus, you can't make anything you want with this fabric. 
It is very common to see dance clothing made out of scuba fabric. Some kinds of dance clothing includes:
Leotards,
Tights,
Skirts,
Leggings,
Costumes. 
However, it is important to remember that scuba fabric isn't very breathable.
So while a lot of sports wear or active wear might be made with scuba fabric, it isn't ideal to be worn when you are doing a completely heavy activity. 
Otherwise, you'll get too hot and could overheat. 
Another great way to use scuba fabric is to use it to make skirts or dresses.
However, these types of skirts and dresses aren't ones that you would wear casually. 
As a result, you will typically see scuba fabric used to make formal dresses and skirts instead. 
Sewing With Scuba Fabric
Scuba fabric can be difficult to sew with due to the unique texture and the thickness of the material. 
If you are new to sewing or new to sewing with scuba fabric, below are a few tips to help you to get to grips with sewing with scuba fabric. 
You should always pre-wash your scuba fabric by itself before you start doing anything. 
By pre-washing, you are making sure that you have removed any chemicals that may still be left on the fabric from the manufacturing stage. 
This then prevents any of the color from scuba fabric bleeding into any of your other clothes. 
Due to scuba fabric being so much thicker than other materials, it is a lot easier to cut. 
We would recommend cutting this fabric by hand to get the most accurate and precise cut. However, remember to cut slowly, so you don't make any mistakes.
The edges of scuba fabric don't fray, therefore you don't need to hem this fabric at the end. It is known that some people do this fabric as they like the look, but as you don't actually have to, the choice is up to you. 
While you are sewing, you will notice that scuba fabric can be quite slippery. It can easily slip or snag, so you need to remember to use a ballpoint or a stretch needle to sew with. 
These needles will help you to prevent the fabric from tearing or the stitch slipping. 
If you are using a sewing machine with this fabric, then we would advise that you use a walking foot. Due to scuba fabric being double knotted, the walking foot will help you to feed the scuba fabric through the machine a lot more easily. 
RELATED: Acrylic Paint On Leather: How To Paint And Seal Leather
Caring For Scuba Fabric
Scuba fabric is a really easy fabric to maintain, as it doesn't have many needs at all. Except there are a couple of steps to follow when caring for it. 
As we have mentioned above, scuba fabric can melt if it reaches a high temperature.
As a result, you should either hand wash your scuba fabric clothing or put it on a cool or cold water wash in the washing machine. 
Alongside that, you should only really be using a mild detergent when washing with scuba fabric too. 
Then, when it comes to drying scuba fabric, we would advise avoiding putting it in the dryer. 
Even a low heated dryer could end up melting the scuba fabric. As a result, your scuba fabric should always be left to air dry. 
Although you can iron your scuba fabric, but again only use a low heat setting. 
Scuba fabric is not a very high-maintenance fabric. However, there are precautions you should take when caring for it. 
The biggest issue with caring for scuba fabric is that it can melt if you use temperatures that are too hot.
Scuba Fabric Products
Women's Skirt
A skater style skirt is a really popular choice for scuba fabric. It is really comfortable to wear and can be worn either for a formal or casual event. 
Typically, it will have an elasticated waistband and a flared skirt. This skirt is a very flattering shape for every body type. 
Women's Dress
A lot of formal dresses you will find are made with scuba fabric. A pencil silhouette dress is a really popular choice for scuba fabric. 
Due to the fabric being stretchy, it makes this dress really comfortable to wear. It is a great dress for business and formal events. 
Again, this dress looks great on a wide range of body types and shapes as well. 
RELATED: All Of The Differences Between Pima And Supima Cotton
Final Thoughts
The name is quite deceiving, but now you should know what scuba fabric is. 
Hope this guide has answered all your questions, and you have gained an insight into what characteristics make up scuba fabric. 
Overall, scuba fabric is a fashionable material choice that is the perfect fabric to make flattering and appealing women's skirts and dresses.
Frequently Asked Questions
Can You Embroider On Scuba Fabric?
Yes, you can embroider on scuba fabric by using an embroidery or sewing machine. 
You still need to stabilize your fabric, but you need to be careful as this fabric already has some stretch. 
Thus, you don't want to end up distorting your final garment by over stretching. 
Is Scuba Fabric Expensive?
Overall, Neoprene and other polychloroprene fabrics like scuba fabric are somewhat expensive. 
When they are sold in bulk this reduces their value, however due to all the chemicals used to create the fabric and process this is what causes the slightly higher price tag for this fabric. 
Can you Steam Scuba Material?
Yes, all you need to do is use the wool/silk setting and steam. Be careful how hot you have the steam, as you don't want to melt the material.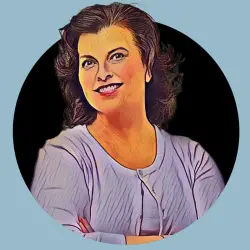 Latest posts by Amanda Brown
(see all)