Exploring the great outdoors is so refreshing! But is there anything more annoying than losing essential items such as keys, your phone, and your ID card in the wilderness? Losing these items while discovering new spots can leave you stranded, not knowing how to get home!
However, there's a solution! Paracord lanyards are sturdy and sit around your neck, keeping your essential items literally close to your heart! Moreover, these practical lanyards don't have to look boring; you can even have fun making your own personalized ones!
It can be challenging to find the one you want without getting overwhelmed with many patterns to choose from. So, to help clear your mind, we've made a list of handy paracord lanyard patterns. With these lanyards, you can roam freely, knowing your valuables are safe!
This pattern takes you through creating a simple lanyard. The easy-to-follow instructions make it ideal for a total beginner who's looking for a no-frills option! If you want to spice up this design, we suggest using a stripy paracord.
Are you wanting to explore the wilderness? Or do you find yourself losing your flashlight when you most need it? This handy design will comfortably secure a bush hacking knife or torch to your wrist.
The Celtic button can be adjusted so that you can quickly get it on or off, and it can be worn on people with different-sized wrists! We love that this is a video tutorial, too, so you can follow along as the teacher makes it.
This lanyard is perfect for holding your keys securely, and if you adjust it to create a larger loop, it can even support a survival knife! In addition, we believe this is an excellent option for color lovers, as the zigzag design can easily be customized to your favorite tones! 
RELATED: How Many Skeins of Yarn Do You Need to Crochet a Blanket?
If you're searching for an advanced neck lanyard with flat knots, this is the design for you! The pattern uses two buckles, one at the front for a detachable key fob and one at the back of the neck. 
The buckle behind the neck is super handy for removing it efficiently without having to take your hat off! We love that the flatter knots make it more comfortable to wear and sturdier than rounder cord lanyards. Also, you won't have to worry about it digging in.
The snap hooks on this design lend themselves to holding your keys so that they don't get lost. This pattern lets you adjust the lanyard to suit you, with the cord lock keeping it as snug or loose as you want. 
Are you searching for a lanyard that you can use to keep your wallet safe? This easy round pattern is the one for you if so! Depending on your preference, the design uses a single cord to wrap around your kneck and hugs a snap hook or carabiner. 
You can further personalize it, too, by crafting with two complementary or contrasting colors. You can even match it to your wallet!
If you want a quick no-fuss lanyard pattern, this one is for you! The lanyard uses the cobra stitch to keep your keys safe, and you'll need a snap hook too. However, you only have to make 11 cobra stitches and can make it in up to 2 hours! 
Keeping safe in the wilderness is simple with this lanyard holding a carabiner! It's not intended for lifesaving, but its breaking point is 550 pounds.
It can be used for attaching your water bottle to your backpack so that you don't get thirsty in the wild and find your drink is missing.
Are you an advanced knotter? If so, this is an ideal option for you because the pattern requires making intricate gaucho beads. 
The beads add extra style to any functional design; we love the braided effect! However, as it is a pretty fiddly craft, it's definitely not made for beginners.
Are you a paracord lanyard expert? If you are, this advanced pattern will satisfy your knotting craving. These cords are great for holding knives, and you can let your creative juices run wild by choosing the beads you use.
Find yourself scrambling around looking for your vapor pen when you want it? If so, you'll benefit from making this handy lanyard that will lovingly hold your vape around your neck. 
Having it close to you means you never have to spend valuable time searching your home for it again! We particularly love that you can adjust the cord, to easily remove the vapor pen if you need to.
Don't want a swinging neck lanyard getting in your way? If you thought, "I don't!" this design is perfect for you to tie. Who doesn't love knowing where their keys are when they're in a rush to leave the house?
The pattern is super simple to follow, too. 
For this lanyard, you'll need a circular item with three pegs in it, a lot like a french crochet tool. The end result is a relaxed and springy holder for your keys. We adore that you can add a contrasting color to the bottom section. 
This is a fantastic project for doing while watching TV, as once you get into the flow state, you don't have to concentrate much!
This round design is ideal for making simple lanyards because you can choose only to tie one knot and leave it at that! The clear pictural instructions have handy arrows to help you see which ends go where. The diamond knot is super popular for paracord enthusiasts because it's so robust.
This decorative pattern is made for a beginner and will add personality to any knife or key chain. There are helpful videos to watch too, by an experienced knotter who will show you the ropes.
The monkey knot is minimal and impressive, ideal for those seeking a more intermediate-level rope craft. This pattern uses different colored paracord, which makes a fun design in warm tones. 
RELATED: How Much Is A Yard Of Fabric? Yard Of Fabric Information – Fabrics By The Yard
This simple make doubles up as a survival tool, as when unraveled, you'll have 12 feet strong paracord! This uses the king cobra knot, which is great because it packs lots of cord into a small space. 
This stretchy lanyard can be attached to a belt loop, keeping your wallet safe from pickpocketers. In addition, the cord holds split rings and steel clips that you can easily connect your keys to for easy access. 
If you work in a job that requires you to carry keys aplenty, this project is ideal for you!
If you're looking for something with clips at both ends, this two-peg lanyard can be attached and detached in two places. The braided design is stylish, too, allowing you to quickly feel it when you reach into your pocket. 
Often losing your glasses? If so, this lanyard will solve your problem and is excellent if you have reading glasses that you have to take off regularly. In addition, the straightforward pattern means you don't need any previous experience with making lanyards, which we love!
This straightforward project means you never have to hunt for your keys, making you late again! The design is super adjustable, so you can make it as long or short as you need. In addition, the keyring can hold cute key fobs if you want to add some more personality to it. 
We adore the warm tones on this one, which works well at being visible so that you can quickly grab it when you need to.
With this pattern, you can have a lanyard that lets you release whatever you've attached to it without taking the whole thing off. So, it's helpful if you want to use your keys and don't like awkwardly bending over the lock to make your lanyard reach.
The natural colors would work well in a camouflage situation, so if you're a keen survivalist, this lanyard won't blow your cover. 
RELATED: Get You Chiffon On – The Complete Guide On All You Need To Know About Chiffon Fabric
If you want to wear a glasses lanyard without feeling like you're wearing a thin string, this design is for you. The lattice is stylish and minimal, so you don't have to compromise your appearance for practicality. 
This would also make a wonderful handmade present to an elderly loved one. It saves your old friend from getting up unnecessarily when they want to change their glasses. 
Useful for attaching a water bottle, map, or keys to a backpack, this short and sweet cord won't leave your mind in tangles. The carabiner is quick release, and you can switch it out for a key ring or snap hook, depending on what you're using it for. 
We love the pink design, but if these rosy tones aren't your style, you can always switch them out with colors that suit you. 
RELATED: Have Some Chambray – The Must-Read Guide on Chambray Fabric
Do you want a funky keychain that's also functioning? Well, if you do, this spiral cord adds a playful twist to a classic key holder. 
Once you've picked up the knot, it's super easy to keep going, and you can even make them for your friends! These would make adorable stocking fillers, too. In addition, these are great presents to make with children to give to classmates when starting at a new school.
Frequently Asked Questions
How Do You Make A Paracord Lanyard? 
Paracord lanyards use paracord, a sturdy rope that can be helpful in survival situations. These lanyards are typically made using knots to secure valuable keys, wallets, and glasses. 
There are loads of patterns on the internet for simple paracord lanyards to suit everyone's practical needs. You can make anything from simple lanyards using only a few knots right through to advanced designs made with beads and complicated looping. 
Is Paracord Good For Outdoor Use?
Yes. In fact, outdoor use is what it's designed for. The cord is made with a solid inner braid surrounded by an outer protective rope layer. This outer layer stops water and sand from getting to the inner core, which would weaken it. 
Paracord is a valuable item for hikers, backpackers, campers, soldiers, and other adventurers because it's handy for a troubling situation. For example, if you have to pack up your tent and have lost the bag, paracord works well and holds the folded canvas together. 
Paracord is a welcome addition for survivalists when they need shelter; it can be used to hang up tarpaulins between trees.
However, if you're not an avid outdoors person, paracord is still helpful for holding your keys safely on a lanyard or belt-loop keychain. It will also keep your glasses securely around your neck if they get blown off the top of your head in a wild wind. 
What Is Special About Paracord?
Paracord is famous for adventurers because it's powerful. The durability is made from interwoven braids, covered in an outer cord layer, which shields the inner cord from damage. 
Because the inner braids are protected from the elements, it's water-resistant, which prevents the cord from weakening and going moldy. In addition, it's inexpensive and lightweight, letting survivalists easily pack it with them on an expedition. 
It's so brilliant in challenging situations that soldiers wear paracord bracelets that they might unravel to escape if they're caught in a hostage situation. The cord can tie up camping gear, attach a parachute and hold hundreds of pounds in weight.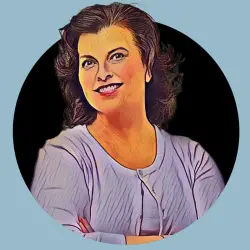 Latest posts by Amanda Brown
(see all)