Finding a gift for a new baby is always difficult. You can spend hours trying to find something unique that a new parent will need, but they won't think to ask for – and then three other people have got them the same thing! 
New babies (and parents) deserve to have something meaningful, something they will treasure for years to come. A handmade crochet baby blanket is just that.
We have compiled the ultimate list of the best baby blanket crochet patterns out there to help you find the perfect design for your gift. 
This gorgeous 'Bunny Parade' baby blanket pattern is perfect for any level of crocheter, with a stitch guide and a step-by-step photo tutorial included in the purchase.

The blanket itself is 24"x26", and the applique bunnies around the edge of the blanket come in two different sizes so you can create a whole bunny family for your baby to have with its blanket! 
If you're looking for a dual-use baby blanket pattern, look no further – this blanket doubles up as a baby bag!

This design requires a basic knowledge of crochet as there are quite a few different stitches involved (including a reverse slip stitch), but all of the reviews have said that the pattern is easy to read. 
This waffle stitch baby blanket pattern is a beautiful gift for any new baby. It has a contrasting hem design and adjustable sizing. The pattern needs some knowledge of single, double, and front post double crochet, but it is still suitable for beginners because of the simplicity of the design. 
Sometimes simple yet effective is all you need with a baby blanket – and this pattern suits that perfectly. With a tight, interlocking crochet stitch and a recommended thick yarn, this design will definitely keep your baby warm and cozy.

It also comes in two sizes (baby and toddler) so when your newborn grows up, it doesn't have to be without its favorite blanket – you can create a new one that will still fit them! 
For an easy skill-level baby blanket, take a look at this color block masterpiece. It's a fun pattern with two options for the color design.

You can either do bigger blocks of color in a rainbow design, or you can do a striped version with varying sizes of striking colors. There are also two different border options. This is a lovely and unique pattern with the choice of personalizing the blanket to your taste! 
RELATED: 15 Brilliant Crochet Baby Yoda Patterns (With Pictures)
This beautiful shell stitch pattern looks intricate enough to make you look like a crochet expert, and with the option to customize the alternating colors, this blanket is bound to be an impressive gift for any newborn baby. 
For a more advanced baby blanket, take a look at this puff stitch option.
Along with 'building blocks' of different colors making up the 31" square pattern, each block of color has a motif decoration of thoughtful words that can be personalized by contacting the seller – you can even choose to have a name put on the pattern! 
To truly show your love for a newborn baby, make them a crochet blanket with subtle, weaved hearts placed throughout the pattern. This Amour baby blanket is a very simple design with most customers saying how easy it is to follow as a crochet beginner.

The instructions are incredibly detailed with a stitch counting sequence included, and the finished product definitely looks more complicated than the basic crochet stitches actually are! 
This crochet pattern creates a lovely, eye-catching design for a baby blanket, with a lovely message behind it. Dotted around this otherwise simple cream blanket are multi-colored stars which will keep your baby entertained for hours and help them to learn colors from an early age.

It will also remind them of how much of a star they are as they grow up. This pattern is for an intermediate crocheter so you will need some experience to complete this beautiful blanket. 
Following on from learning the colors, we have found a baby blanket pattern that will introduce the alphabet from an early age!

As there are no unusual or difficult stitches in the pattern, this can be completed by a crochet beginner, and you can adapt it to whatever color you like. The instructions come with a full stitch count, and the final blanket will measure at 31.5" by 28.5". 
Another fun and educational blanket! This is the Zookeeper's Blanket, a mesmerizing piece of crochet work that will keep a baby thoroughly entertained.

With 30 little crochet animals in the design, including a cow, a giraffe, and even a jellyfish, this blanket pattern is made entirely of crochet, so it is suitable for newborns.

Although the pattern comes with detailed instructions, some of the stitches for the animals are fairly intricate so you will need previous knowledge of crochet and sewing for this project. 
Here is a 3 in 1 baby blanket that is sure to be the centerpiece of any nursery. What initially looks like a decorative sheep unfolds into a blanket, that can then be enjoyed as a toy for a baby to play with as well.

This clever design uses neutral colors so it is sure to fit in any home. If you are experienced with basic crochet stitches and want to wow with your hard work, try out this crochet pattern. 
This is a beginner crochet blanket with simple stitches and only three colors of yarn – yet it looks highly complicated and effective!

After you choose whatever yarn you require (bold or pastel, it will look beautiful) you are then given five options for the size of the blanket: Preemie, Stroller, Redeiving, Toddler, and Throw. This selection means that you can make this gift fit any occasion for any child. 
Create a sensory experience for a new baby with this bobble line baby blanket pattern. This is an easy-to-follow pattern with subtle lines of color and little bobbles dotted around the 35" square blanket.

If you're struggling with the instructions, the seller also has a follow-along video that you can watch while you're making this lovely gift. 
This is a modern and striking blanket with four sets of detailed instructions to guide you along. Bobble leaves cover the main area of the pattern and cute tassels dangle off of the edge of each side of the blanket, making it a fun and physical way of keeping a baby warm.

While the customers have said it is easy to create, the pattern is recommended for an intermediate crocheter. 
Grab yourself a personalized baby blanket pattern with a 'lovey' and hat to make this baby gift even more special!

Within 24 hours of sending this seller the baby's name, they will return a unique crochet pattern for you to complete, and whilst you are waiting on this part of the crochet graph, you can get started on the matching hat and rabbit lovey to accompany it. This 3 in 1 pattern is definitely a gift to be cherished. 
Here is an easy and budget-friendly pattern for a beautiful baby gift. The design only uses one skein (a standard length of knotted yarn) of whichever yarn you decide to use, and it also uses simple stitches that are perfect to get beginner crocheters practicing the basics. 
For the ultimate comfort for a newborn baby, try out this Harlequin design blanket pattern. The design has videos to accompany your progress, and there is only one main type of stitch to follow (with a lovely, fluffy texture), making this pattern perfect for those who are just starting out with crochet. 
This pattern creates a beautiful and personalized baby blanket, complete with balloons, clouds, a bear, and the baby's name woven into the rainbow crochet design.

It looks very intricate and complicated, but the design is made up of very few different types of stitches and there are three PDFs worth of instructions to guide you through the pattern. 
Although this pattern isn't specifically designed for babies, the stitching is very similar to those used in the other baby blanket designs and the rainbow effect running through the charcoal crochet is stunning!

The message behind this blanket, 'Rainbow Through the Storm', is a lesson of positivity that all young children will need when growing up. This is definitely a crochet gift for a baby to take from their childhood through to their adult life.  
RELATED: 15 Crochet Ideas To Make At Home
If you're looking for a classic, delicate-looking blanket with a subtle color pattern (of your choice) running through, then this is the pattern for you. Intended for a crocheter with some previous knowledge of crocheting, these easy-to-follow instructions create a crib-size blanket with two different choices for you to pick from for the edging of the blanket. 
This non-traditional star baby blanket is the perfect choice for a new baby gift, and it is also the perfect choice for someone just starting out in crochet.

That pattern creates a 38" star shape blanket, and there are different layers of colors within the blanket that follow the star shape round to the middle. It is striking, easy-to-follow, and easily adaptable to whichever colors you think would work. 
This gorgeous elephant blanket is a must-have for a new baby! With only basic crochet stitches involved, including slip stitch and single stitch, this pattern is very simple to follow. It is written row by row to guide you along, and photos are also included to make sure you're on the right track.

The blanket is all one color so it's entirely up to you how you want the finished product to look. 
Here is a truly unique and striking pattern for a baby blanket – a new baby won't be able to keep their eyes off it! The blanket is designed to look like a honeycomb structure with little orange hexagons stacked up with a subtle yellow border.

Some of the honeycomb hexagons have small crochet bees placed on them, and this warm blanket pattern is perfect for a neutral nursery. 
This 'Easy Done in a Day' crochet blanket definitely lives up to its name – with only a chain stitch and double stitch involved, this pattern is intended for beginners to pick it up quickly.

The PDF pattern provides you with 11 different sizes to choose from, as well as color pattern charts (to customize it), design ideas, and finishing techniques such as fringing on the edge.

All of the reviews say the pattern is clear and easy to follow, especially for a beginner, so if you're looking for a quick and lovely gift then this is it! 
Here is a crochet afghan pattern that will be a wonderful gift for a newborn, and is intended for beginner/intermediate crocheters. It is well-written and easy to follow, and it comes written in three sizes so you can choose the best size blanket for you.

With a beautiful crochet cable border and a thick, nicely textured body of the blanket, this pattern looks intricate and impressive. 
This simple yet effective blanket pattern is made up of beautiful shell stitching, creating a thick and comfortable blanket for a baby. The pattern is an instant download so you can get started on it straight away – the creator uses an acrylic yarn for their blanket, and it creates a 34" square finished product. 
For a fun twist on a traditional baby blanket, here is a safari-inspired pattern for a newborn. The 15-page chart helps you to create a blanket featuring a monkey, parrot, lion, and more – but they are crocheted into the design, so you don't have to worry about a newborn pulling any bits off or chewing on small parts.

The pattern recommends a blue color scheme but you can adapt it to whatever you think works best for a baby/nursery. 
This is a cute bunny blanket with small pom-poms for the bunny tails as a nice texture change. You will need to know how to do a single crochet and a half double crochet stitch, as well as previous knowledge in reading color charts and intarsia (making yarn color changes).

The pattern is easily adaptable to whatever color scheme you will need, and the finished product will be a beautiful gift for a baby! 
This is a beautifully simple pattern made up of grey and white color blocks and small applique elephants placed around the border of the blanket. The pattern comes with 6 pages of instructions that include a list of the necessary supplies, a pattern breakdown row by row, and a stitch breakdown. 
If you're looking for a baby blanket pattern that's a bit different, take a look at this one. The design is made up of different colored squares in a patchwork style, but some of the squares have an intricate, twisting design that looks elegant and accomplished.

You can adapt the size of the blanket and colors according to your needs, and the skill level of this pattern is easy (beginner/intermediate). 
This Lark Crochet blanket pattern is a sophisticated and impressive design that would be suitable for a baby to keep from birth to adulthood!

It's a corner crochet blanket pattern so it will be created on the diagonal, and you can alternate whatever colors you choose into its lovely color striping to make it completely original. 
This chunky baby blanket pattern looks so comfy and warm – it's a new baby necessity! You'll need a thick and bulky yarn (in whatever color you like) and a size M/N crochet hook, but because of the thickness of the yarn it builds up quickly, so you'll be finished in no time at all.

The pattern is easy to follow but it does have quite a few stitches involved so you will need some prior knowledge of the basic crochet stitches. 
RELATED: 17 Different Types Of Pleats For Skirts And Dresses
Here is an adorable baby blanket pattern that will immediately catch your attention, and only needs three different types of stitches to make it.

The pattern has row by row instructions and a chart to help you make this deer-inspired pattern, with the wonderful woodland creature appearing in between the crocheted words: 'Dream Big Little One'. The finished product will end up around 43" by 49". 
We have found a Sleepy Bear baby blanket that is sure to comfort a newborn into some sleep itself. With a recommended yarn weight of size 3 (lightweight), this soft blanket is made with a corner to corner method using a double crochet stitch.

The finished product, complete with a large, sleeping bear, will definitely be a newborn baby's favorite. 
Frequently Asked Questions: 
Is It Easy To Make A Crochet Baby Blanket?
For the most part, yes. However, this will depend on the pattern you use. Some patterns will only use two types of crochet stitching, such as a single crochet and half double crochet stitch, but others will weave in a variety of crochet stitches to create interesting textures and visual effects.

This may make it more difficult to make a crochet baby blanket. You also have to consider decorative effects – such as appliqué – that are more time-consuming and may be quite complicated. 
Can You Change The Color Of A Crochet Blanket? 
Of course! You can change the color of a crochet blanket to whatever you would like – whether it's a color to match a room or to match a family's personality.

However, changing color once you've already started a project can be more difficult. Color-changing like intarsia (a technique in crochet and knitting where a number of colors are used in a project but instead of carrying the different yarns at the back of the work, you use a separate length of yarn for each area of color) can be more difficult to do. 
Is Crochet Yarn Suitable For New Babies? 
This depends on the crochet yarn that you use because some yarns will be more suitable than others. For example, pure wool yarn can be quite scratchy and can also cause allergic reactions or irritation – particularly with babies who have sensitive skin.

To combat this, you can look at baby-friendly yarn that may mix wool with a cotton blend, or you can also use fine acrylic yarn to avoid irritation altogether. You will also want to keep an eye out for washable yarn as babies tend to make quite a bit of mess!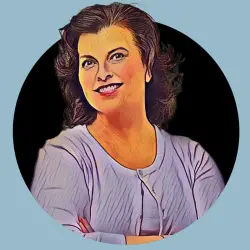 Latest posts by Amanda Brown
(see all)