Crochet coasters are especially great since they can be produced in a range of colors to fit any décor plan. Crochet coaster sets make excellent housewarming or workplace gifts.

Also, if your drink sloshes over the edge of your mug, your useful crochet coaster may catch small drips and preserve the area it is resting on. Then, when they're dirty, chuck them in the washing machine.
To make things simple, we've compiled a list of the top 35 crochet coaster patterns available on Etsy right now, so there's sure to be something to suit everyone. Don't forget to read on to the end where we've answered your frequently asked questions. Let's dive in!
Are you a cat person? Do you know of any? If you said yes, then these beautiful cat butt coasters might be just what you're looking for! They're fantastic and are sure to make any guests laugh.

Each coaster is roughly 4 inches in diameter when finished, but this can be altered depending on yarn quantity and hook size.

This pattern calls for you to create the coasters and then glue them to a felt covering to keep water out and conceal the yarn ends.

On Etsy, the artist and vendor have hundreds of good reviews, and their feedback from customers speaks for itself. Why not build your personal cat butt coasters right now?
Because owls are absolutely gorgeous creatures, it's no surprise that colorful owl decorative stitching and presents have grown in popularity in recent years.

Why not make these lovely owl crochet coasters if you're skilled with a crocheting hook and a spool of yarn? You may build your own patterned owl coasters by implementing this design created by ZoomYummy on Etsy.

The design is quite detailed. It includes a 20-page easy-to-follow textual user guide and a pictorial lesson. The picture tutorial includes 36 helpful step-by-step images to make the process as simple to follow as possible.
Why not adorn your table with these lovely fruit crochet coasters?! This pattern includes everything you'll need to produce your personalized crochet fruit placemats. This design is the most inexpensive on this listing, but it's significant to remember that it only includes one coaster.

When you go to the checkout, you'll see a drop-down menu where you may choose the fruit you want. If you want the entire set, you'll have to buy them all separately. According to the seller, all of the patterns are suitable for beginners, and the directions employ basic vocabulary.
If you enjoy summertime, sunshine, and everything flowery, these flower coasters may be ideal for you! Understand how to create your own with this lovely pattern collection from Etsy seller MiladyUA.

We appreciate how clear these directions are, as well as the seller's availability for any assistance or advice you may require during the stitching procedure.

This Crochet Sunflower Coaster Pattern provides written step-by-step directions in the American language with 35 images illustrating each process. With petals, coasters are roughly 412″ inches (11 cm) in diameter.
RELATED: Fun Amigurumi Turtle Patterns That You Can Download And Make Right Now!
This 2-in-1 design collection from MosieandMe on Etsy had to be included on our list of the most gorgeous coaster crocheting designs.

Cacti and plants have recently been highly "on-trend," so these coasters are sure to please any visitors. This pattern will teach you how to construct four round coasters that fit perfectly into a little jute bag, which you can also hand-crochet now using directions.

The design is incredibly simple to follow and self-explanatory, per the dozens of positive reviews for this item. It's also appropriate for novices! It's ideal as a birthday present, wedding favor, or housewarming gift!
This item is for 1 Rainbow Crochet Coaster digital version. This is a one-time download that will arrive immediately in your inbox, and you'll be ready to start crocheting right away!

The simple yet effective rainbow pattern on a simple white backdrop is eye-catching, and because each coaster is identical, you can produce as many as you like! Once completed, each multicolored wool crochet coaster usually measures 5 12″ in circumference.

You can use any color cotton you like, however, the pattern designer has supplied the colors they chose as well as the manufacturer and type of cotton they suggest.
These small mini turtle coasters are very beautiful! You can understand how to create your own with this template from TheHatandI on Etsy! They're cute and bright, with a floral design on every turtle's "shell."

These colors can be modified and tweaked to suit your preferences, however, we think they look fantastic in bright blues and pastels!

You may also change the yarn and needle to make your turtle coasters any size you like. Fortunately, you won't have to work this out on your own because the pattern contains a modification guide that shows you how to make these adjustments without endangering the final product.
If you want something more toned down and subtle, think about making this 2-in-1 coasters and organizer set available on Etsy.

You'll learn how to construct your own circular coasters and a nice small container to keep them in with this design. This pattern is quite simple to grasp, and the artist claims that it is completely beginner-friendly!

With this PDF file, you'll get 13 pages of aesthetically pleasing and efficient directions, and also over 30 photographs to complement every step, avoiding you from being bewildered or lost during the procedure. According to the designer, this collection should take no more than an hour to finish.
1 ball of yarn will yield at least 4 of these really easy and extremely useful tiny gems. When your friends and family see it, they'll all want one… trust us. The best part is that these puppies are working in continuous rounds!

As a result, they are ideal for beginners, while more knowledgeable stitchers will appreciate how rapidly they make up. They also make excellent housewarming presents, party favors, and even washable and reusable face cloths.
It's easy to make and comes in an infinite number of colour combinations. These Coasters are ideal for adding colourful flair to your dining table and house, as well as a quick DIY for future market events.

Once made, these coasters will add a pop of color to any space and you're sure to receive compliments from happy guests and visitors.

The pattern is easily modifiable so you can make changes to the colors with ease, making it perfectly suited to just about anyone's taste and style. 
Both beginners and more skilled stitchers will appreciate how simple, quick, and enjoyable it is to make these for gifting or keeping! It is around 4.75″ across and is the ideal size for all of your glasses and cups.

Thanks to their super simple design, these coasters can be created in under 30 minutes and make a perfect project for your daily public transportation commute or while you're waiting to be seen at the doctor's office. Get started today!
RELATED: Easy Crochet Bookmark: Perfect Project for Beginners
With these simple boho crochet coasters, you can raise the stakes on your summertime DIY home décor! You can make these coasters in no time by crocheting them with two strands of yarn strung together in a basic spiral design.

The untangled fringe provides a delightful boho vibe that pairs wonderfully with a warm pot of tea or a delicious, summertime drink.

This crochet coaster template is simple to make and ideal for beginners! The pattern includes directions for three different sizes, as well as for instructions for extending the spiral to make it as huge or as tiny as you like.

Crochet bohemian placemats, hot cushions, tabletop mats, or use it as a flower arrangement base pad — the possibilities are limitless!
The Haven Coaster is ideal for all of your entertaining needs. It is a decorative item that may be left out even when not in use! The Haven Coaster is well-known for its ease of use.

It's ideal for a cup of joe or your favorite houseplant! This crocheting pattern is written in American Standard Terms. Sections of the Haven Coaster Pattern feature step-by-step photographs to help guide you through the process. 
Decorate your table for Fall with these adorable crochet leaf coasters! This is a quick and easy activity that is ideal for decluttering your collection. The PDF includes thorough directions and images, as well as simple print pages for more advanced crocheters or a hard copy.

The completed object is about 4″ x 4″ (10cm x 10cm) without the stem. The size of the item may differ based on the substance used. This pattern is written in standard US English terms and is suitable for even beginners. 
Beautiful, sleek, and stylish – the ideal gift for anyone, and an excellent addition to your markets or online store. Create one in less than 10 minutes and the entire set in under an hour. 

Wrap them up well, and they're good to go! This template is only accessible in English and is presented in regular US crochet words.

You ought to have basic crochet skills but be able to read and understand advanced techniques and explanations. The pattern provides step-by-step directions in a. To create the item in this listing, you will need to download a PDF file. There will be no tangible thing sent to you.
These lovely little coasters will look fantastic on any coffee table! You will be sent a pdf design with images. The template is in English and will be available for download immediately once payment is made. This is a novice pattern written in American words.

The finished product will measure approximately 5 inches in diameter once complete. However, you can easily make changes to make it fit your personal size needs.
Do you like the Harvest Collection coasters and want to try your hand at making them? Download this pattern to learn how to do it correctly! This design is suitable for beginners and is simple to follow. This pattern is immediately available for download.

You will receive emails with a download link after your payment has been validated. While the design is pretty simple, some basic understanding of crochet stitches and techniques. 
This crochet pack contains 5 distinct figures to make: an elf, a gingerbread man, a reindeer, Santa Claus, and a snowman. Every coaster is composed of little sections that are sewed together and crocheted in the round. To stitch the eyes and lips, basic needlework skills are required.

These coasters are fantastic for adorning the kids' table for December, but they will also make grownups smile! Not including the head and arms, the total size is 3 3/4″ (9.5 cm) in circumference. This sample's finished crocheted products may be sold.
RELATED: Crochet The Amigurumi TikTok Bee
The Cali Nights Coaster has lovely stars with a puffy popcorn stitch edging. This is a daring starter pattern. It is intended for coasters, but it may easily be expanded to become a complementary trivet as well (details on how to do this are included in the pattern).

This coaster will complement your decor and make a great gift for teachers, colleagues, and family. The size of the item may differ based on the substance used. This pattern is written in standard US English terms and is suitable for even beginners. 
Influenced by frequent excursions to the shorelines and tide-pooling in search of coral, this fast and easy star crochet coasters design makes a terrific holiday gift or way to declutter your yarn inventory while adding a personalized feel to your interior decoration.

Please keep in mind that the suggested yarn is Bernat Maker Home Decor Maker Outdoor. If you must use a separate yarn, use a linen or cotton blend that will absorb liquids well.
This wreath coaster would look excellent as an addition to your Holiday decorations. These will add a festive touch to any holiday gatherings you have planned. Once payment has been processed, you will be able to download it immediately.

This is a pattern for you to make a final product, not a completed thing. This wreath coaster is a lot of fun and incredibly simple to construct. Depending on the levels of stitching ability, one coaster can be made in as little as an hour.
This is a crochet flower design for three flowers. There are two types of sunflowers, as well as a daisy/gerbera design. This pattern provides both textual and photo step by step directions for each flower.

The design is written in English. Completed sunflower metrics: double layer sunflower 9cm and single layer sunflowers 9cm, based on yarn and hook size used.

You ought to be able to download your pattern immediately after payment is completed; however, templates cannot be downloaded via the Etsy app. You must use a browser to access Etsy.
These colorful crochet coasters will wow your friends and relatives! Make the entire set, or pick your preferred project and make as many as you want.

A snowman for the kids, a Santa Jacket for Grandpa, and a choice of Festive Puddings and Elf Jackets for everyone else will be perfect on your Christmas table!

Although two of the images are 3D, you can still lay a cup or glass bottle on them. Every coaster measures 12cm by 12cm when made with the same yarn and hook combo as indicated in the design.
These coasters have a lovely texture and will make a wonderful home for your favorite drink, a tiny plant pot, or candles. Based on the yarns or thread used, the coaster can be constructed in a variety of sizes.

This crochet pattern makes a gorgeous flower-inspired coaster. The crochet design is provided in American terms.

As long as the confirmed payment is made, the design will be accessible for immediate download. To ensure correctness, this design has been tech revised and verified by crocheters. It's also appropriate for novices and doesn't require any prior crochet skills.
This cackling witch coaster is super unique and will stand out in just about any home, workspace, or event. Your drink sits right on the witch's skirt, which is complete with plenty of frills. The witch is also sporting green and black striped stockings which are topped with curly-toed witchy shoes.

This coaster works great as a Halloween decoration, or could easily be incorporated into your everyday decor – particularly if you're a lover of all things spooky! This pattern is easily adaptable so that you can use your favorite colors. 
RELATED: 15 Brilliant Crochet Baby Yoda Patterns (With Pictures)
Pokébutt coasters are a reaction to the cat butt coaster craze – and we're totally obsessed with it!
While displaying your nerdiness and pretty unique sense of humor, you can shield your furnishings from the evils of moisture and hot drinks. Each set includes a fire, grass, water, and electric-type starting Pokébutt, so there seems to be something for every fledgling trainer around nowadays!

This design is appropriate for intermediate stitchers since it employs a range of techniques, including repeating and non-repeating patterns, as well as mid-level shaping and completing.
We adore these vibrant coasters, and we're confident you will as well! The design is quite detailed. It includes a 16-page easy-to-follow textual instruction manual and a pictorial lesson.

The photo tutorial includes 37 step-by-step images to make the process as simple to follow as feasible. The design is written in common American terminology.

It includes detailed supply info, abbreviation keys, stitch counts, and other notes to help clarify the procedure. The adorable colorful coasters you can make with this design will be approximately 4 14 inches (11 cm) wide.
This listing includes the design for all 4 crochet coaster patterns, which work up rapidly. The Teagan Coaster Set has a contemporary, geometric shape and would make an excellent handcrafted hostess or housewarming present.

They would look wonderful in any color scheme and would complement any modern design. You may knit several outfits out of just two skeins of the suggested yarn! There is also a full visual tutorial for Tapestry Crochet included. A video tutorial on the seller's page is also available.
This simple (8-page) template is designed for a single size. It includes detailed written instructions in English with step-by-step directions using common crochet acronyms and US words (stitch guide is given in the pattern).

It also has a lot of photos that describe all of the complicated and demanding spots.

The final size of the coasters is determined by the fabric and hook used. This pattern is described as intermediate level by the seller, but an ambitious novice should be able to manage it. On request, a print copy of this pattern is also available.
These Sunny-Side Up Egg Coasters look delectable! Each coaster set is meticulously stitched with 100% cotton fabric and is ideal for a birthday Christmas present!

These coasters are perfect for housewarming or hostess favors! Cotton coasters provide great moisture absorption and safeguard furnishings well, and these Sunny-Side Up Egg Coasters will offer a very distinctive touch!
On a freezing winter night, who doesn't enjoy a nice quilt, a great book, and a cup of hot chocolate? You can now create Peppermint Candy Coasters to go with your hot chocolate! The sweet coasters crochet design is quick to make and makes a great last-minute present.

This design is appropriate for advanced beginners. You must be comfortable with fundamental stitches and increases, and also tapestry crochet for color changes.
This one-of-a-kind coaster will enhance your outside dining environment. On cold winter mornings, use your Julep Coaster to hold a steaming pot of joe (or your favorite house plant), and on summer days, use your coasters outside to hold icy drinks.

This design is ideal for using up excess yarn pieces or as a stash reliever. This coaster can be made in 1-3 colors (or more!). You can use any length of yarn for the fringes as long as it is longer than 5-6″ in length.
These adorable crochet donut coasters have all the appeal of your favorite fried dessert but none of the calories! They safeguard your furnishings while adding a humorous touch. The pattern is pretty simple, making it ideal for advanced beginner crocheters.

This seller has literally thousands of positive reviews on Etsy, and their feedback speaks for itself. You can easily change the colors of the donuts to suit your desired color scheme, too. 
This set of Smiley face coasters will look great on your tabletop or as a present for anyone who appreciates contemporary interior decor. Crocheted coaster set in the tapestry style. The tapestries crochet technique is described near the beginning of the PDF download.

The template includes text directions for crocheting each row as well as a numbered color visual depiction of the pattern. A vast number of photos are included in the download.
RELATED: 15 Crochet Ideas To Make At Home
Make these adorable crochet Coffee Mug coasters. These are the ideal gift for the caffeine enthusiasts in your life. The java mug could be used to make coasters or a charming applique for any craft.

This coffee mug design is simple to make. This pattern is simple to follow and comes with a pictorial guide. Please credit the seller when selling or displaying finished goods made from this pattern online.
Frequently Asked Questions
Can You Crochet A Coaster?
Yes! Despite the fact that most of the coasters you'll find for sale in stores will be made out of waterproof and wipeable material – they don't have to be. Crochet coasters are easy to make, perfect for using up small scraps of yarn in your stash, and may be made with simple or complicated designs.
Are Crochet Coasters Easy To Make?
They can be! The most basic crochet coaster design is to just construct a circle. You may create this in any sort of fabric and make it as little or as big as you like to fit the cups you'll be drinking from. 

Since it is a tight ring, the single crochet circle is an excellent choice, and it is better accomplished with cotton yarn, which will soak any dampness from your drinks. However, any simple circular can be used as a coaster; a double crochet circle is yet another common form.
What Kind Of Yarn Is Best For Making Crochet Coasters?
A crocheted coaster can be produced with any kind of yarn; nevertheless, cotton yarn or a cotton mixture has been shown to be the ideal yarn for coasters.

Cotton is porous enough to absorb minor accidents or moisture from cold beverages. It's normally considered wise to check to see if the cotton you're using is washable and dryable.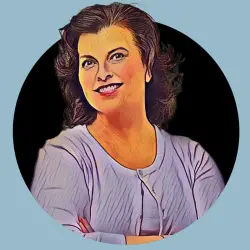 Latest posts by Amanda Brown
(see all)