Suits can instantly upgrade your appearance. Wearing one can make you look professional, intellectual, or elegant. The cut and pattern matter when choosing a suit, but fabric choice is also a big factor. 
For instance, wool suits can look good on a variety of occasions, but they may look a little stiff during a summer wedding. Velvet smoking jackets look classy during lavish black-tie occasions, but they're not well suited to the office.
Your suit's fabric is a simple choice that makes all the difference, so it's important to choose the right fabric for the occasion.
One of the most popular fabric choices for suits is wool. This is available in many patterns, like twill, houndstooth, and herringbone. Wool keeps suits breathable and soft, both important factors that ensure comfortability.
Other than wool, you can also find suits available in cotton, velvet, silk, and linen. These fabrics create suits suitable for different events.
We'll cover more about what makes a suit fabric good in this article. You'll learn more about the most common suiting fabrics, as well as why synthetic suits cause debate among the suiting community.
The Most Popular Materials For Suits
Suits are usually made out of a few common fabrics. These all have various qualities depending on the chosen material.
Some are lightweight and breathable, while others are soft and smooth. You'll learn more about the most popular fabrics for suits below.
Cashmere Suits
Cashmere is a fabric that's similar to wool. It's made from the under-hairs of a specific Mongolian goat, explaining why it's so covetable.
Cashmere is known for its impressive soft feel, but it's also a breathable and water-resistant fabric. Cashmere suits are available in heavy and light weaves that suit different climates.
Excluding some forms of alpaca wool, cashmere is the softest form of wool and one of the softest fabrics ever known too. As it's so unique, cashmere has a high price, classing it as a luxury fabric.
As long as it's well cared for, cashmere can last a long time. It can keep heat in better than most kinds of sheep wool, so it's a great choice for winter suits. Cashmere has an attractive sheen and can be used for pants as well.
If cashmere was more affordable, it would likely become the most popular suiting fabric.
Advantages
One of the softest materials ever known
Breathable
Long lifespan (with proper care)
Works well in hot and cold temperatures
Disadvantages
Higher quality cashmere comes from Mongolia, so there's a short supply
Expensive costs single it out as a luxury fabric
Cotton Suits
Cotton suits are amazing in hot weather. The fabric is light, breathable, and soft, making it very comfortable to wear during spring and summer events. However, as cotton isn't the best insulator, it's not a great choice for winter suits.
Cotton suits also don't look as formal or elegant as wool ones. The finer weave can wrinkle easily instead of draping straight across your figure. This also means you'll also have to iron it more regularly. 
Still, cotton is one of the best materials to wear in the heat, and it tends to cost less than wool, so you should consider purchasing a cotton suit before summer arrives.
Advantages
Very breathable fabric
Lightweight and comfortable to wear
Less expensive than wool
Disadvantages
Prone to wrinkling and folding
Shouldn't be worn during formal events
Poor insulator, so unsuitable for colder months
Linen Suits
Like cotton, linen is another fabric that's great for hot weather. Linen has a looser weave with slightly knotted feet. The loose weave lets air circulate through the material, keeping you cool and dry in the heat.
Linen may be breathable, but it does wrinkle easily. This isn't necessarily a bad thing. Slightly wrinkled linen can be attractive in its own way. Wealthy men are often found wearing linen jackets on holiday. Keep in mind that the key term here is 'lightly'. You should still press your linen suit before you wear it.
Wrinkled linen has a relaxing, carefree feel that's nice in casual settings. However, it's best not to wear it in formal settings or official events.
Linen is sourced from flax plants. These are much more sustainable than attempting to grow cotton. Nevertheless, linen is more expensive than cotton, so it may be out of some people's price range.
Advantages
Very breathable
Interesting look and feel
Sustainably sourced
Suitable for warm weather and casual summer events
Disadvantages
More expensive than cotton
Shouldn't be worn on formal occasions
Silk Suits
All suiting fabrics have certain connotations, but silk suits give off a particular image. Silk is generally saved for specific events or environments, like a formal party or a club night. Even so, some higher-quality suits will use a fabric blend that includes silk fibers.
For instance, wool blended with silk produces a soft fabric with a nice sheen. This fabric can fit nicer than standard silk or wool. Blended fabrics can have many advantages, which is why pure silk suits can be hard to come by.
Silk is lightweight but doesn't wrinkle as badly as linen or cotton. It holds up well against stains and feels soft on the skin. Silk is made from very fine threads to produce a smooth, level weave with an exceptionally soft texture.
Silk is known for being a luxury fabric, which is why silk suits are expensive. Creating silk involves collecting pure silk from silkworms, then transforming the threads into material.
This process can be lengthy and difficult, which is one of the reasons silk costs a lot. As silk is made from fine threads, it isn't as strong as other materials, so it needs to be well cared for.
Advantages
Breathable fabric
Comfortable and lightweight
Has a soft sheen
Disadvantages
The weaker fabric needs to be handled gently
High Cost
Not a common suit choice
Tweed Suits
Tweed suits have a thicker consistency that keeps the wearer warm in a colder location. Tweed suits began in England and tend to be made from Irish sheep wool.
They have a tufty surface in a herringbone or twill weave. Tweed suits can also be made in a thinner fabric. These are made with silk fibers to create a lightweight material with a nice sheen.
In most cases, tweed suits are suitable for both semi-formal and casual occasions. They can be appropriate in an office environment, though this will vary with each workplace.
Tweed suits are also worn in academic settings, giving off intellectual, scholarly connotations.
Americans may find tweed suits dated, as they may conjure up images of bumbling professors with elbow patches on their jackets. Despite this, tweed suits can be a terrific purchase as they resist wear and tear and keep the wearer warm.
Real tweed produced in England can be quite expensive, but it can be a worthwhile investment. A well-cared-for tweed suit can last for many years to come.
However, tweed suits can be hefty and can seem old-fashioned. Some people may find their thick texture cumbersome, though you can find lighter tweed blends available on the market.
Advantages
Has a unique, interesting look
Very good insulator keeps the wearer warm in cold weather
Long lifespan (with the right care)
Suitable for semi-formal and casual events
Disadvantages
Real tweed is very expensive
Thick weave can be heavy and bulky
Shouldn't be worn on formal occasions
Velvet Suits
Velvet used to be created from silk fibers, but now velvet tends to be made with artificial material. This makes it more affordable to produce and purchase.
Velvet is made with a particular weaving style where two sheets of material are fixed together and cut down the center. This gives velvet its lavish, thick texture from the cut threads.
Velvet is very warm and soft, making it ideal for winter suit jackets. However, as velvet has a thicker consistency, it isn't appropriate to wear in hot summer months.
Several decades ago, velvet smoking jackets used to be appropriate to wear during the daytime. Times have changed, as a velvet jacket would look out of place while running errands. It's best to save a velvet suit for black-tie or formal occasions.
A velvet blazer with a visible pattern or a bold color can help you stand out. Those that prefer a subtle look can try pairing a velvet jacket with a form-fitting shirt and an understated silk tie.
If the look calls for it, you can dress down a velvet suit by wearing a silk shirt or turtleneck underneath. Velvet suits may seem hard to pull off, but they can be worn in many different ways.
Advantages
Creates elegant jackets suitable for various events, including nightclubs, black-tie events, and formal wear
Thick material with a luxuriously soft texture
Keeps the wearer warm and comfortable in cold weather
Disadvantages
Fashion is changing, but velvet is still saved for formal events instead of day wear
Thick and heavy consistency makes it unsuitable for hot temperatures
Wool Suits
Wool is the most popular fabric to make suits with. It has a pleasantly soft texture and breathable weave that make it suitable for various types of jackets.
Wool resists wrinkles well, has antimicrobial qualities, and even though it isn't completely waterproof, it holds up to water well.
Wool is a temperature regulating fabric, so it can be worn during hot and cold months. In hotter temperatures, one would wear wool suits with a lighter weave but would change to thicker wool when winter comes round.
In the case of wool suits, wool material is created in two different ways. Wool fabric uses threads with tufty, tousled fibers with many little ends escaping free. This makes wool resemble sweater fabric with a scratchier feel.
Worsted wool is different, as it uses wool fibers that are longer and closely twisted. This makes a thicker, smoother fabric with a subtle sheen. A lot of suits use worsted wool with several common patterns.
Wool sounds amazing, but it does have a few drawbacks. It can be expensive, though the price can vary depending on the maker and the style of the suit. Some kinds of wool can be thick and bulky, which can be uncomfortable to wear during casual events.
Advantages
The most common fabric made to create suits
Sleek and breathable fabric
Drapes across the body nicely
Temperature regulating fabric suitable for warm and cold weather
Available in many weaves appropriate for summer and winter
Disadvantages
Can get expensive, though this depends on the quality and choice of wool
Some kinds of wool can be bulky and thick to wear
Worsted Wool Suits
Wool is the most common suit material, but worsted wool is the most popular fabric for high-end suits. Worsted wool is smoother and softer than standard wool and doesn't have any fuzzy or tufty edges. It has good breathability and a sleek feel.
As mentioned above, worsted wool is made from long fibers turned into thick yarn. The fibers are twisted tightly to make an even, soft material. Unlike regular wool, worsted wool is lighter and won't feel cumbersome when worn for lengthy periods.
Worsted wool also has a large 'super number'. This term refers to how fine the yarn used to make the wool is. On average, wool has a super number around 100, but very high-quality worsted wool has a greater number over 180.
Worsted wool is available in different weights that cover how thick or thin the material is. Those that want a warmer fabric should go for the thicker option, but keep in mind that it will be bulkier. Lighter worsted wool won't keep you as warm, but it will drape stylishly over the body.
Wool suits always look elegant in professional and semi-formal settings, but worsted wool suits can be worn at formal occasions and, if the fabric looks appropriate, black-tie events.
Advantages
Creates high-quality suits
Available in thin and thick weights
Sleek feel with an appealing gloss
Suitable for business and semi-formal settings
Disadvantages
Very expensive depending on the super number
Looks out of place in a casual setting
Luxury Suiting Material
Luxury materials for suits may cover high-priced linen and worsted wool, but some rare fabrics can cost even more than these materials, reaching $10,000 – $50,000 for each suit. Some of this cost will cover personalized tailoring, but most of the cost is due to how rare the fabric is.
Some luxury suiting materials are sourced from rare animals. These kinds of materials are made in short supply, which lets manufacturers set very high prices.
Vicuna fabric is made from llamas from South America. These llamas do not thrive when kept in captivity, so they are left to survive in the wild with their fur cultivated once every three years. Vicuna hairs are known as the first-rate kind of wool to ever exist, even passing cashmere.
Cashmere can be classed as a luxury suiting fabric, but it can be hard to tell good quality cashmere apart from cheaper makes.
The highest quality, Grade A cashmere is made from extremely thin goat hairs less than 14 microns wide. Cashmere is one of the softest types of wool ever known. If you spot a scratchy suit labeled as cashmere, you'll know to look elsewhere.
Some other rare animals like the guanaco and qiviut can create sought-after, extremely soft under-hair. These will be extremely expensive, so you won't find these suits available to purchase from stores or fashion brands.
In this day and age, luxury brands, tailors, and designers use several blended fabrics to create their suits. These can blend both standard and rare wool with silk, making a material with extremely fine threads. This material can be pricey, but it has interesting qualities from merging the different strands.
Selecting The Right Suiting Material
The most significant factors that go into a suit's material are its breathability, texture, weave, and weight. The suit's cut and finish matter as well, but elegant tailoring won't mask a suit made from the wrong fabric.
It's important to consider the season and climate when wearing a suit. For instance, linen and cotton can keep you comfortable in the summer, but you'll be very chilly during the winter.
It's important to match the suit's material to the correct event. Some materials should only be worn in a specific setting, while others are acceptable at several events. For instance, linen should only be worn at casual events, but wool suits are suitable for several settings.
We'll cover these key factors below in more detail.
Weight Of Material
Material weight can be tricky to gauge as fabrics all have different measurements. No matter what fabric you choose, heavier-weight materials will keep you warm in the cold, while lighter ones are better to keep you cool in the heat.
Most kinds of fabric are measured in ounces per yard (oz) or grams per peter (GSM). These cover how much a particular length of fabric weighs. Thicker threads or a tighter weave will weigh more than a loose weave or thinner threads.
The words 'light', 'medium', and 'heavy' are often used to tell you how thick a material is. One example is tweed, which is often labeled as a heavyweight material, weighing roughly 14 ounces.
Other than keeping you warm or cool, fabric weight also affects the suit's look and how the material drapes.
Medium weight materials drape better than finer fabric. This is why fine wool can be too sleek. It may form patches and succumb to wear and tear easily.
Heavyweight fabrics have too much thickness to drape well. They can also give a suit a rigid, stiff appearance.
Breathability
Breathability can affect how comfortable and classy a suit is. No one wants to feel trapped under heavy, bulky fabrics. Fabrics with a looser weave will let air circulate through, keeping you cool and comfortable throughout the day.
Linen and cotton are examples of fabric with a loose weave. These are very breathable, making them a good choice for summer.
Some kinds of wool can be breathable too. As mentioned above, wool can have amazing temperature regulating properties. They can react to your body temperature to insulate you in cooler conditions, but let hot air escape during hot weather.
Cotton may be breathable, but it can soak up moisture in humid or sweaty conditions to display seat stains. Wool is different, as it will absorb the moisture at first, but will then let it escape into the air outside.
Texture
Scratchy and rough materials can be uncomfortable to wear, so it's important to find soft suiting fabrics.
Some fabrics will be softer than others. Cashmere, for instance, is known for its softness and is a lot softer than sheep's wool. This can vary with how long the fibers are in a material.
Other features that affect how soft a piece of fabric is are its thread count. Materials with a higher thread count per square inch indicate that the weave was made with thinner strands.
Generally speaking, the finer the threads in a fabric, the softer the material. Cotton is an example of this.
You can judge whether a fabric will be soft or not by examining its surface. Materials with a prickly or scratchy surface, like some wool varieties, will feel rougher than materials with an even, sleek surface, such as silk.
Weave Pattern
Materials can look different depending on their weave. Some common weave patterns are twill, houndstooth, and herringbone.
A weave pattern refers to how a piece of fabric is woven together. Most people relate weaving to strands crossing over and under each other. This is a basic weave style, but there are many more weave patterns.
Twill weaves are very popular when creating suiting material. Twill weaves are made with a diagonal pattern, usually in two different thread colors. Denim, for example, uses white and blue strands in a twill weave.
As the name suggests, houndstooth weaves resemble small dog heads. These fit together to create a distorted check effect. This occurs when two different yarn colors are woven to make the design.
Herringbone weaves are often called broken twill weaves. These resemble twill, but the lines in the diagonal design point in opposite directions with each row. This produces a contrasting shape with a distinct appeal.
A gabardine weave is made by adjusting a twill weave, using warp threads instead of weft. This has a stylish look, creating an even back with a visible, diagonal design on the material's surface.
Types Of Materials For Ladies Suits
Unlike men's suits, women's suits are normally cut to highlight certain body parts. Nevertheless, they are still made from the same fabrics. Worsted Wool, for instance, is a popular material for both men's and women's high-end suits.
However, silk and satin suits tend to be more popular with women than with men. You'll often see these in a pencil skirt and jacket coordinating style.
Women's suits are also available in luxury fabrics, but like men's luxury suits, they will be expensive. These include cashmere, vicuna, and worsted wool.
Suit Fabrics For Summer
It's best to wear fabrics with a looser weave in summer. These are cotton and linen, though you can also find lightweight worsted wool at a higher price.
It's important to choose a summer suit that's breathable, comfortable, and isn't too bulky.
Linen and cotton are breathable and comfortable, but wool is a better temperature regulator. A decent lightweight wool suit may be deceptive, but it will keep you cooler than you think!
Look at how a suit is made too. Unlined suit jackets will be lighter than lined ones which can keep you comfortable in hot weather.
A looser cut will let more air circulate your figure, which can help keep you cool in the heat. Suits that are form-fitted can look stylish, but they'll work better at trapping heat, so you may feel warmer in them.
The Polyester Suit Debate
Most mass-market brands will sell suits made from polyester, but higher-end brands won't use synthetic fabrics to make their suits.
As polyester is affordable, this can give polyester suits a cheap look. Polyester is very easy to purchase as it's created from plastic. You can tell lower-quality polyester suits apart as they'll have a shiny appearance.
Some people believe that polyester can mimic the softness and breathability of natural fibers, but some disagree. In most cases, cotton will feel softer than pure polyester, while wool will have better breathability.
Textiles have come a long way over the years. Today, polyester can be made in a way that resembles natural materials. Polyester creates over half the retail clothing sold all over the globe.
Polyester clothing can divide people. If you want a higher-end suit, you'll need to part with more money to get your hands on real wool. However, if you want a more affordable suit, don't feel ashamed of purchasing polyester!
When it comes to fashion, you normally need to pay for better quality clothing. Nevertheless, personalized worsted wool suits are out of many people's price range.
If you find a polyester suit that looks good and suits you well, there's no harm in wearing it as you go about your day.
Frequently Asked Questions
Get your last-minute suit-related questions answered below! 
What Is The Most Breathable Suit Fabric?
Linen suits are best worn during spring and summer. The fabric is lightweight, breathable, and strong, making it a good choice for warmer months.
However, linen does crease easily, so it's best worn casually than at formal events. You can also opt for suits made from a linen/wool blend, as they won't crease as easily.
Cotton can be breathable too, but it's important to choose cotton with an open weave, as this will allow air to pass through easily.
You can check this by holding up cotton against sunlight. You should be able to see through the fabric. If you cannot, the cotton won't be good to wear in hot weather.
Is Mohair Good For Suits?
Mohair has several advantages over traditional wool suits. Mohair is breathable and resists wrinkles well, making it a good choice for the summer months.
The fabric has a larger warmth to weight ratio, keeping you warm in the cold too. Mohair has a slight sheen that looks elegant, distinguishing it from cheaper polyester suits.
What Is The Best Thread Count For Suits?
A suit's thread count indicates how fine the yarn used to make it is. A higher thread count ensures the fabric is sleek and soft. However, the yarn will become finer as the thread count increases, so the suit will become weaker. The best thread count for everyday use is between 120 – 140.
Conclusion
The cut and fit of a suit always matter, but your fabric choice plays a big part as well. Suits are often made from types of wool, but linen and cotton ones are popular during hotter weather.
Many things go into choosing the right suiting fabric for you, including the breathability, weight, weave, and texture of the fabric. Some materials are appropriate for several settings, like wool, whereas others are best for specific occasions, like silk.
Polyester suits won't be sold by high-end brands, but these can be made elegantly. Synthetic suits won't look as expensive as natural ones, like wool, but they can still be worn stylishly.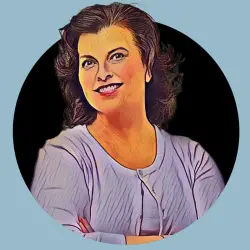 Latest posts by Amanda Brown
(see all)