When first getting into sewing, you might be apprehensive to spend money on sewing patterns that you aren't confident you will be able to use.
After searching far and low we have compiled a list of different sources you can use to find free sewing patterns online.
Now, free sewing patterns are accessible for almost every item in a woman's wardrobe, including shirts, dresses, skirts, trousers, jackets, jumpsuits, and even swimwear or lingerie.
But how do you know where to get the best ones from? It can be tricky to find this information out and leaves many of us returning to the same one or two sites, limiting our choice of patterns. 
Well no more! Today we are here with the answers you need. Keep reading to find out where you can get free sewing patterns online and everything else that you need to know! 
What Are Sewing Patterns?
A sewing pattern is used to create the shape of a garment in the specified size. It is a collection of flat paper pieces that help in fabric cutting and subsequent garment stitching.
In general, it consists of sewing instructions for combining these components in the correct order and using a specified method.
For instance, the front, back, sleeve, and neckband of a conventional t-sewing shirt comprises four sections.
It indicates that one front piece must be cut on the fold of the fabric, one back piece must be cut on the
fold of the fabric, two sleeve pieces must be cut on the fold of the fabric, and one collar band must be cut on the fold of the fabric.
Finally, it guides you through the steps required to assemble these components.
Since sewing patterns exist in a range of sizes, the pattern components are shown on paper in their proper sizes.
Sizes are often expressed by layered lines of varied styles, which makes it simple to trim to the required size.
RELATED: How To Make Pants Or Jeans Smaller
How Do You Cut A Sewing Pattern?
There are different methods for pattern cutting:
If you're impatient like me, you may just cut the pattern pieces straight on the paper. Trace the pattern onto another piece of paper and cut it there to save the original.
In a few instances, cutting the pattern straight from the original design is not feasible; the pattern must first be traced on another piece of paper:
When the seam allowances are deleted.
When pattern components overlap or the paper is printed on both sides. This is often the case with books and periodicals to save paper.
Once you've mastered the technique of cutting, you'll proceed to cut out all the pattern pieces using your scissors.
Websites You Can Use For Free Sewing Patterns
Free patterns for contemporary, on-trend women's clothing are available from Peppermint Magazine, Mood Fabrics,
fabrics-store.com, fabric.com, Marfy, Bernina, Fibre Mood, Lekala Patterns, BurdaStyle (Russia), Grasser, and pattern-vault.com.
Each website listed here is associated with well-regarded fabric stores, as well as pattern distributors, and sewing magazines, hinting that the designs are well-crafted.
The majority of pattern companies provide just a couple of sewing designs, which means you will not have the opportunity to sew with one business long enough to understand how to adapt their patterns to your body.
If the patterns are freely accessible online or in magazines, they are often generated by a range of different designers each using a variety of different slopers.
A sloper is a simplistic pattern that designers will use to develop other patterns.
This means that patterns may be based on a variety of body types, implying that they may fit differently even within the same magazine or website,
and there may be little quality control, implying that you can never be certain that each pattern and set of instructions are of the highest quality.
The fabric store made famous by Project Runway has significantly expanded its online presence in recent years, and they now offer an extensive library of free and exclusive patterns for a variety of clothing types
(dresses, tops, jackets, pants, and coats), including garment types not covered by the majority of other websites (e.g. lingerie, swimwear, athletic wear).
Numerous designs are now very fashionable, like their paper-bag waist jeans, a pussy bow top, and this maxi shirt dress.
They have a "basics collection" that seems to be aimed at newbies, however, some of the projects, in my view, are not suitable for complete beginners.
While they do not provide instructions for their designs, they do offer blog postings on how to construct the ensemble with photos. To get the free designs, you must subscribe to their email list.
While you can filter the different articles by category (e.g. outerwear patterns, dress patterns, etc.), this will display only the blog entries that have photographs of completed outfits – not the line drawings.
Several free Hot Patterns designs are buried deep inside this online fabric behemoth's website.
While a few of these patterns are appropriate for total beginners, most are geared at intermediate sewers.
Their patterns provide illustrated step-by-step instructions. There is no need to register to download.
Hundreds of free designs for a variety of garments (shirts, slacks, dresses, and jumpsuits) are available at this online fabric shop, with patterns that may be filtered by "fast & simple" or "fun & hard".
Given the fabric store's concentration on linens, it's logical that their free pattern offers be shown in linen, but I believe these designs might also be utilized to create garments in other fibers.
While the designs themselves do not include instructions, their website does have step-by-step lessons. To access the free designs, just create a free account on their website.
For those unfamiliar, Peppermint is an Australian print magazine that focuses on "style, sustainability, and content." In a nutshell, this is not a sewing magazine.
Nevertheless, Peppermint sometimes collaborates with independent pattern designers to provide free sewing patterns, and many of these designs have garnered widespread attention from the sewing community.
The majority of these designs include simple foundations and clean lines, making them perfect for novices.
The patterns provide step-by-step instructions. There is no need to register to download the designs.
Fibre Mood is a European sewing magazine that covers sewing concepts. Each week, Fibre Mood offers a free design – in essence,
Fibre Mood hosts weekly sewalongs on Instagram Live, and each sew-along includes a free pattern.
Each design comes with comprehensive step-by-step instructions. To get the free pattern, you must first create a free account on their website.
One issue some found with Fibre Mood patterns is having their designs stack all of the available sizes over each other, making it very difficult to determine which line relates to which size.
Fibre Mood has addressed this problem by providing a dynamic PDF that shows exactly the size you want, including or without seam allowances.
RELATED: How To Repair A Sewing Machine By Yourself! Complete Guide
BurdaStyle is one of the oldest sewing pattern publications, with dozens of outfits from its designs.
The BurdaStyle Russia website contains a sizable number of free women's sewing patterns, and locating them is relatively simple
if you use Google's translate extension to automatically translate the website into English. 
While the majority of these patterns are straightforward, there are a few standouts, like the cocoon cardigan, a curved cardigan, and their asymmetrical skirt.
However, there are a few drawbacks. Seam allowances must be manually incorporated, as is customary with
BurdaStyle which may be a nuisance, particularly after spending an hour printing and pasting the pattern pieces together.
Additionally, you'll need to assemble the instructions manually, which may include manually putting bits of the Russian instructions into Google Translate.
However, if you've sewn any basic clothing before, it shouldn't be too difficult to figure out how to produce these items on your own.
To get access to free patterns, you must first create a free account on their website.
Bernina and its sewing magazine "Inspiration" provide a free sewing design each month, in addition to a variety of other free designs.
There are some clever, modern essentials and a few unique items featured like their Great British Sewing Bee dress.
The site's navigation can make it difficult to discover all of the website's free offerings. There are two basic options: you can do a search for
"free sewing patterns" or you can browse Inspiration magazine's free downloads and actively seek the free sewing patterns. 
The patterns provide detailed directions. No registration is required to download the designs.
This pattern vendor creates unique patterns based on your dimensions, removing any concern about fit, at least in principle.
Lekala provides a selection of complementing patterns to demonstrate if their patterns come up to their promise.
Although the clothing selection is limited (mostly skirts and dresses with a few shirts), some of the designs are rather lovely, like this tulip-sleeved dress.
The best part is that they provide a range of sleeve designs (pleated, cuffed, flounce, and bishop) that may be matched with several patterns.
The patterns provide step-by-step instructions. You may download without or with seam allowances.
This Russian pattern company maintains both an English and a Russian website; both provide free patterns, however, the Russian side has a larger range.
The website's English-language version has numerous lovely gown styles, like this sleeveless gown with button detail and this v-neck dress with a flouncy skirt.
On the Russian website, there are a few more wonderful pieces, including this dress with square shoulders and waist pleats.
Seam allowances are included. Numerous designs provide instructional videos or detailed written instructions that walk you through the assembling process. No registration is required to download the designs.
Marfy, the renowned high-end pattern producer, is offering some free downloads on its website,
and they're very lovely – there's a magnificent Chanel-inspired jacket, halter top, and A-line skirt, all of which can be worn together to create an exquisite outfit.
Sewers love Marfy styles for a reason: they are well-designed, figure-flattering, and stylish.
However, Marfy designs are intended for expert sewers alone, since they do not provide instructions and require basic sewing skills.
Additionally, you will be responsible for constructing your face and lining components, which will need some time and effort.
Marfy patterns are often time-consuming to create, but the finished garment is well worth the effort.
European sizes 42–58 are offered for the designs. No seam allowances are included. No registration is required to download the designs.
Vikisews, a Russian pattern creator, offers a variety of free designs on their website, including an adorable ruffled summer dress and a prairie-style dress.
According to the sewing blogosphere, the patterns are well-drafted and fit true to size.
Unfortunately, the pattern instructions are only available in Russian, which means you'll have to spend some time using Google Translate to decode them.
If you have difficulty understanding the verbal instructions, you may depend on the drawings and/or photos that accompany almost every step.
Additionally, some of their patterns offer step-by-step tutorials on YouTube, so it's worth checking to see whether the pattern you're using has one.
European sizes 34-52 are offered for the patterns. Seam allowances are included.
To get the pattern, you must add it to your cart, submit your email address, and complete the checkout process; however, payment is not required.
Modafacil.com, a pattern firm based in Mexico, provides a huge collection of free designs for dresses, skirts, blouses, jackets, and even athletic, sleep, and maternity clothing.
Although the majority of these designs are straightforward with straightforward shapes, three jumped out at us: a military-inspired coat, this puff-sleeved dress, and this wrap dress with a pleated skirt.
This website is an excellent resource for more experienced sewers searching for foundation designs that are simple to alter.
Additionally, their website suggests that they are providing these free designs to aid women in Mexico
in developing sewing skills and starting their own companies – so you can feel good about contributing to a noble cause!
The designs come in a variety of sizes, ranging from 8 to 34. Allowances for seams are incorporated. To see the patterns, you must create a free account.
Finally, Pattern Vault is a non-profit independent website operated by a fashion historian that features a selection of free designs by renowned designers.
They have patterns for an elaborate Alexander McQueen kimono jacket, an imposing Iris van Herpen gown, and even these John Galliano coats.
The patterns are only available in one size. Certain designs provide allowances for seams and instructions, whereas others do not. There is no need to register to download the designs.
RELATED: How To Shorten A Dress – The Total Guide To Shortening A Dress With And Without Sewing Or Cutting
Tips For Following A Sewing Pattern
Before you leave us today check out our tips that will help you follow a sewing pattern with ease.
Calculate Accurate Measurements
Because different patterns are available in a variety of sizes, it is essential to have the right body proportions for your sewing project.
Take your measurements using a flexible tape measure. Comparing your measurements to the size table on the back of the pattern envelope will ensure that your item is the correct size.
Read The Instructions Thoroughly
Be sure to read the directions provided with your digital or printed pattern before you begin. Each phase of the sewing activity is clearly described in the design instructions.
Important information like preferred fabric types, yardage needs, recommended cutting processes, and a project-specific sizing table will be included in the instructions.
Remember The Seam Allowances
Certain designs include seam allowances—the space between the stitching and the fabric's cut edge—which may have a noticeable effect on how your material hangs or drapes.
Since the majority of designs do not include seam allowances, you will almost certainly need to adjust your planned seam allowance.
Identify Your Weave Grain
Grainlines are the long, arrowed lines that go through your pattern and add to the direction of the textile design.
Grainlines run parallel to the selvage edge—the woven edge of the fabric—which facilitates pattern stitching.
Keep Your Eyes Peeled For Symbols
Notches are triangle-shaped markings added to cutting lines to assist in correctly matching your paper pattern pieces.
Additionally, dots (or circles) may be used to help coordinate the different elements of your sewing design.
Furthermore, dots may be used to denote structural elements such as darts, pleats, tucks, or pockets.
If your design includes buttons, they will be shown with an 'X,' and the buttonhole area will be indicated with a bracketed line.
To emphasize the fabric's edge location relative to the fold, fold lines are often shown as solid or dashed lines (which should not be cut).
Assemble Your Design
After cutting your pattern pieces, arrange them on the right quantity of cloth according to your instructions.
Assemble your designs on the face-to-face side of the material to facilitate the formation of guide markers.
Pinning the cut pattern pieces to the fabric (or using pattern weights) and sketching the shapes using a pencil, being careful to include the necessary seam allowances. Then, cut your pieces.
Assemble Your Clothes
After cutting out all of the fabric components required for your design, you can begin constructing your ensemble.
Keep a mental note of each component to assist you in determining which portion of the garment goes where.
Combine the garments manually or with the aid of a sewing machine. Always review the directions to ensure you've followed them properly.
Final Thoughts
A sewing pattern is a step-by-step guide for transforming the material into clothes. It is a garment pattern created on paper that is intended to be transferred to fabric,
traced, and then cut out. Adjustments will be given in sewing designs to enable a variety of sizes, fits, and forms to be created.
Paper patterns are pre-packaged patterns sold in stores that are created by pattern businesses. Offline printing of digital patterns is often accomplished in the comfort of one's own home.
The majority of patterns are created using predefined layouts for certain garment categories dubbed "block patterns" or "master patterns."
While there are undoubtedly an infinite number of patterns available on the internet, it can always be useful to use some free patterns when first starting with sewing.
Investing money into expensive patterns can be discouraging if you don't know how to use them properly, so this list should help you expand your knowledge and sewing experience.
Frequently Asked Questions
What Are Seam Allowances?
Sewing designs may or may not contain seam allowances. They are required for sewing a garment together.
They are 1cm or 1.5cm-wide edges attached to garment components that enable the parts to be sewn together at this distance to produce the desired size.
Sewing the components together is as simple as following the sewing machine's directions.
Following stitching, the majority of the seam allowances are concealed inside the garment, unless they are used as decorative elements. In any instance, a garment cannot be sewn without seam allowances.
How Do You Cut Fabric With A Sewing Pattern?
A sewing pattern, via the use of fabric layouts, demonstrates how and where to cut the fabric. Simply follow the directions to get the best results.
Generally, and especially when the garment is symmetrical, you will need to fold the fabric lengthwise and right sides together, aligning the selvages (fabric edges), to cut the cloth into two layers.
Once the pattern pieces are positioned on the fabric, they must be pinned in place before the material can be cut around them.
What Sewing Pattern Should I Choose?
It's crucial, to begin with, basic patterns if you're new to sewing. You know, rather than a ball gown fit for a princess, as gorgeous as that would be!
While fitting pants is more difficult, a pair of spacious pajama bottoms makes an ideal first sewing project.
On our website, which you may reach here, we provide a significant range of sewing patterns.
Consider designs that are straightforward and basic. Check the pattern piece count, which is often given on the back of the packet, as a general guideline. A garment with fewer components is easier to construct.
Additionally, the information is included in the line drawings on the rear of the container.
When many lines are incorporated into the body of a dress, top, or skirt, this often results in greater intricacy and the necessity to sew additional components.
Finally, consider how the clothes are secured. For a newbie, a zip is often easier to sew than multiple buttons and buttonholes.
Which Fabric Should I Use?
It is crucial to choose the right cloth for your design. The majority of patterns specify which fabric types complement the garment's style;
utilize this as a guide, since certain designs need more drape, body, or structure than others.
Natural fibers such as cotton, linen, wool, and silk are used to manufacture fabrics, as are synthetic fibers such as acetate, acrylic, nylon, polyester, rayon, and viscose.
All of these fabrics come in a range of thicknesses (referred to as weights) to allow a range of garment designs.
Chiffon, cheesecloth, georgette, crepe de chine, muslin, lawn, organdie, organza, and voile are all lightweight fabrics that are ideal for lingerie, nightwear, and summer attire.
Dresses, tops, shirts, trousers, and children's clothing all benefit from the use of medium-weight fabrics such as calico, cotton, crepe, dupion, linen, poplin, and finer woolen textiles.
Heavy-weight textiles are used in garments and projects that are exposed to a great deal of wear and tear and so need more strength, such as coats, jackets, winter wear, and bags.
Canvas, corduroy, denim, tweeds, velvet, and wool are all included in this group.
Certain designs call for fabrics with extraordinary drape and fluidity, such as challis or crepe.
Stretch and knit textiles, such as jersey and lycra, are available in a variety of thicknesses and qualities to accommodate a variety of applications.
How Much Fabric Should I Use?
If you want your pieces to match in terms of design, you will almost certainly want more fabric than the requirements allow.
The most precise way is to precisely measure each design component before purchasing cloth. Following that, decide on the fabric's pattern repetition.
The repetition of a pattern is equivalent to the length of a whole design printed on the cloth.
To determine this, lay the fabric flat and use a pin to highlight a conspicuous section of the design. Track down and pin the following instance of this. The pattern repeats in the space between these pins.
Consider the fabric required to do this, since each design element must begin and end at the same location on the pattern repetition.
If your fabric is striped or checkered, you may like for the pattern pieces to match horizontally; bear this in mind when selecting your fabric.
While some fabric may be wasted, a well-matched pattern results in a final piece that looks more professional.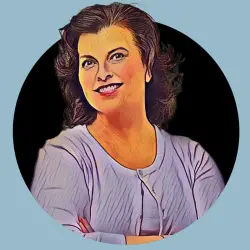 Latest posts by Amanda Brown
(see all)