Placemats inject life into an otherwise dull dinner and elevate your formal tablescape to new heights of elegance.
If you're constructing or acquiring a set of mats, you almost certainly have a lot of concerns about how to select the appropriate form and style.
For example, what is the standard dimension of a placemat?
The most popular size for placemats is 12 by 18 inches when rectangular, or 15 inches when circular.
Placemats are available in a range of shapes and designs and are used to both decorate and protect the table.
The majority of patterns are large enough to accommodate an entire place setting on top of the mat.
But is this the standard size? Is there one set size a placemat should be? And how do we know what that is when we are buying our placemats? These questions can race around in our minds, leaving us unsure where to turn or who to trust.
Well, no more! If you want to enhance your table setting abilities or learn more about these items, keep reading! You'll discover how to select an acceptable style and make a straightforward rectangular placemat.
Placemat Sizes – Is There A Standard Size?
A placemat is typically 12 inches broad by 18 inches long, or 30 x 45 cm. This big rectangle comfortably fits a normal place setting.
Some people may want to use 12 x16-inch mats if they have a smaller table.  
Today's placemats are frequently rather large, measuring at least 12 x 14 inches, to fit the size and shape of contemporary plates.
Having said that, placemats are available in a range of shapes and sizes.
While circles and rectangles are the most often used geometric patterns for placemats on the market today, any geometric pattern may be obtained if you want a different look.
Generally, it is preferable to choose the shape for your placemats before making any other selections.
Here are a few of the common ones that you can find in any good home store or online.
Large Placemats
By allocating a whole section of the table for each diner, giant mats may provide an interesting visual accent. They do, however, impose a limit on the number of visitors that can be seated at your table.
Small Placemats
Certain people prefer the look of lovely smaller mats rather than oversized ones. Small mats come in a variety of shapes, but the most frequent is circular.
Rather than being used for the entire set (such as the cutlery, glasses, plates, etc), these smaller mats typically concentrate exclusively on a single plate.
This is not appropriate for all meals, but it is effective in saving space.
The little mat serves as an eye-catching backdrop for the dinner plate, much like velvet in a jewelry box does for the piece of jewelry.
This creates a stunning visual appeal that focuses the viewer's attention on the meal you're serving.
Rectangular Placemats
Rectangles are the most popular and used shape for placemats. Rectangles work well since they entirely enclose the space beneath your place setting.
This protects the surface of the table from spills and scuffs. Additionally, it provides an aesthetically pleasing backdrop for your cuisine.
Typically, rectangular placemats measure 12 inches wide by 18 inches long (30 x 45 cm). 
Circular Placemats
Round placemats are another shape commonly used in a dinner setting.
They often measure 12″ to 15″ in diameter. With a larger circle, you can arrange a whole place setting on the mat, including the cup, flatware, and plate.
On the other hand, a little circle has its own charm, and it is up to you to decide which look you like better, or what is best to use on a particular occasion. 
Typically, circle mats come in 15 inch wide circles. (38 cm).
Square Placemats
While squares are less common than rectangles, they are capable of accommodating smaller eating areas.
They usually feature a modern aesthetic, with an emphasis on minimalism and sharp edges.
Typically, these placemats come in 13-inch squares (33 x 33 cm).
Cut Corner Placemats
This design, which is essentially a square or rectangle with the corners eliminated, is really appealing while giving you ample cover beneath your food and protecting your table. 
Oval Placemats
Oval mats pair wonderfully with circular dining tables. Additionally, they lend a softer, smoother appearance to the tabletop, which is great for an intimate setting.
Ovals are frequently rather large, measuring around 13″ x 19″ inches (33 x 48 cm).
Quilted Placemats 
These types of placemats are a classic and have been regularly used in dining rooms and restaurants for decades.
Quilted placemats provide additional insulation for your table, as they frequently contain a layer of batting. 
Additionally, they are visually appealing, usually including embroidered designs on the surface of the linen.
Wedge-Shaped Placemats
These modern placemats have an arching top and tapering edges and are designed like a flattened cupcake wrapper.
If you're looking for a clean, contemporary style, this might be the best type for you to choose. 
The Right Placemat Style For Your Table
Depending on the shape of your table, you may find that some placemats fit and work better on the table than others.
Here is how to choose the right placemat size and shape for whatever sized table that you have. 
A Round Table
Oval mats go well with circular dining tables. While the rounded corners compliment the table, the oval shape accommodates more dishes than a circle.
Circular mats are frequently offered in two sizes: 12″ circles and 15″ circles.
The size of the mat should be proportional to the surface area of the table, as choosing a placemat that is too big makes the table look and feel overcrowded. 
A Rectangle Table
Rectangular tables accept virtually any type of mat. Rectangular or square mats will symmetrically mirror the table's sides, but a circular mat will also look amazing!
Your table's dimensions will define the size of your mats.
If you have a huge rectangular table, standard 12″ x 18″ placemats might work well, but try a few out to see what suits you best. 
RELATED: How To Shorten A Dress – The Total Guide To Shortening A Dress With And Without Sewing Or Cutting
An Oval Table 
When coupled with circular placemats, round tables look their best. Both circles and ovals will appear attractive.
Keep in mind that smaller circles are frequently just large enough to accommodate one plate, not the full set. If your table is large enough to accept larger oval mats, you may like to choose those.
Where To Use Quilted Placemats
12″ x 18″ inches or 13″ x 19″ inches is the usual quilted mat size. Additionally, quilted mats are available in a variety of shapes. However, due to the fact that they are sometimes designed to carry a whole set, they are frequently rather large.
You will want to have a very large table, no matter what the size is if you want to use quilted placemats. 
Making A Placemat
If you don't find any placemats that suit your style in the stores or online, you could try to make your own. Sewing your own placemats enables you to select the exact colors, 
Shapes, and textures that you want. 
Additionally, even rookie sewers will find this project simple to do because it only takes a few fundamental skills.
If you are sewing rectangle mats, you will largely be sewing straight lines!
Follow the easy guide further down to begin your sewing journey. 
How Much Fabric Will You Need?
The amount of material necessary to make four mats varies depending on the desired size of the mat.
To make four standard 12″ x 18″ rectangles (which will be the easiest shape for beginners to do), approximately two and a quarter yards of fabric will be required (or four and a half if you are making double-sided placemats).
Calculating the needed amount of fabric is rather straightforward. To begin, add one inch to the length or diameter of the desired size. A seam allowance of 1/2 inch is necessary.
Second, double the length of the shape's longest side by the number of mats requested.
A good tip is to always measure the placemat as a rectangle, even if this is not going to be the final shape of the mats.
It is almost a guaranteed way to ensure that you have enough fabric for the project. 
If you're sewing a 15-inch circle, for example, measure it here as a 16-inch square! (Don't forget to add an inch for seam allowance.)
This streamlines the calculating procedure and ensures that a suitable amount of fabric is purchased.
4 X 16 = 64 if four 15-inch circle placemats are to be made. 
Then double that length by two to account for the fact that your mat will require a top and bottom layer (if this is what you want to do).
Using the 15-inch example again, 64 X 2 is 128.
Finally, calculate the number of yards of fabric you will require! Cloth is often purchased in yards, not inches. One yard is 36 inches or three feet squared. 
So, divide 128 by 36 for the 15-inch example, which is 3.5 yards of fabric!
It's important to note that fabric is not always sold in a width of 36 inches, and there may be a variety of sizes available in the shop.
If you purchase a 45-inch wide fabric, you will not require as many yards as you would with a thinner fabric. 
RELATED: How To Repair A Sewing Machine By Yourself! Complete Guide
Making The Placemat
In this very simple guide, we will go through step-by-step how to make a rectangular placemat. These, along with square-shaped placemats, are the easiest for beginners to make as it is all just straight lines. 
Here is what you will need:
Your fabric of choice 
Ruler
Fabric chalk
Sewing machine (makes everything much quicker and easier)
A thread that matches your fabric
Sewing scissors
While you can find plenty of guides online on how to make your placemats into fun shapes, or how to roll your hems, this guide is for beginners who want to give sewing a go. 
Using just a few basic sewing skills, you'll be able to make your placemats in no time! Here's how to do it. 
Preparation
.Before you do anything, you need to make sure that you have everything you need to hand. That means that you have to have the right fabric ready and in the correct size. 
Before stitching, wash and iron your fabric. This helps to avoid future shrinkage of the textile. Additionally, you do not want to permanently keep the wrinkles by sewing over them!
Cutting The Shapes
For this step, you really should be using sewing scissors as regular scissors can damage the fabric. But if your standard scissors are very sharp, it might be alright.  
Measure and cut out eight 13″ X 19″ inch rectangles. You may either adhere a paper pattern to the fabric or draw the rectangle using a ruler and a piece of chalk to guarantee that straight lines are cut.
Begin Pinning
Assemble the fabric rectangles into four fabric-looking sandwiches. The outside/right side of the fabric should be on the inside of each. Every edge of the fabric must be lined up precisely. 
After that, keep the fabric together by pinning it with sewing pins.
Stitching
Around the rectangle, sew a 1/2-inch seam. Sew down the final side of the rectangle for roughly five inches. Make sure you do not completely sew up this side, as we need a gap for the next step. 
Make It The Right Way Up
Each of the four corners should be clipped to within a few threads of your stitching. Then, reaching inside through the 5′′ inch opening you created, reach in and pull the fabric through the hole, like you would when your shirt is inside-out. With your fingers or a blunt object like a knitting needle, gently push the corners out.
Iron the mat at this stage to ensure that it has clean, crisp edges on all four sides.
Make The Topstitch
For the final touch, you have to fill in that small 5-inch gap that you left. 
With your fingers, push the open side of the fabric inside the placemat until the hole seems to be sewed shut. Then, pin it all in place. 
Now, set your sewing machine's needle extremely near to the mat's edge and sew around the circumference of the mat. This provides an attractive border and also plugs the hole that was left. 
After following these six simple steps, you should have a finished rectangular placemat. This process is super easy, so you should have no trouble creating a few more to make a matching set. 
Choosing The Right Style
Whether you buy or make your placemats, you must consider your design preferences, the proportions of your table, and the level of formality desired.
Here is everything you need to consider when buying or making your placemats.
What Are Placemats?
As you are probably aware, a placemat is a piece of cloth that is put under a place setting on an eating surface, such as a table.
These can be used directly on the table's surface or over a tablecloth, a much larger fabric intended to cover the whole eating surface.
Depending on the setting and formality of the occasion, you may want to put chargers on the table as well.
These are very large ornamental plates that sit beneath the real plate, which in turn, sit on top of a placemat.
Each of these items may be used by themselves or with each other, so keep this in mind when choosing your style.
Design Preferences
What style of decoration do you use across the rest of your home? If you enjoy the worn-in, homey vibe of farmhouse design, you'll want textured table mats, perhaps in a plaid or checkered design. 
If you're going for bohemian elegance, a metallic or satiny finish would work well with bold and colorful plates.
The secret is to choose the overall look you want for your table and then use the mats to accomplish that look.
RELATED: How To Make Pants Or Jeans Smaller
The Size Of Your Table
Naturally, regardless of color or texture, you must check that the mats fit properly on your table.
Placemats should never be put closer than four inches apart, according to the majority of etiquette texts.
If your table is tiny or you anticipate a large company, you may want to consider using smaller mats.
If your table is circular or oval, round or oval placemats will often fit better than square or rectangle placemats.
The Rest Of Your Dinnerware
Additionally, you should make certain that the mats you select are compatible with your dinnerware.
If you are making your placemats, you can do this by putting strips of your intended fabric next to the dinnerware to see if they are compatible with each other. 
The placemats not only need to match the color and texture of your dinnerware, but also the size of these items.
To do this, cut a piece of fabric to your intended size, and then arrange your dinnerware on top of it to make sure that everything fits correctly. 
What Dishes Will Be Used On These Mats? 
Finally, examine the dishes that will be served on these mats. Do you want a basic, easy-to-clean buffer to use regularly as a table protector? Or are you saving these mats for special events, such as a formal family dinner or event? 
According to etiquette rules, the highest level of formality requires the use of white linen tablecloths, napkins, and placemats.
While it is true that neutral colors and textures would not overpower a formal table already loaded with cutlery and glass, you should be cautious when doing this as the items may not match correctly. 
Just keep the intended use of the mats in mind while selecting a style.
Summary
Using placemats to spruce up your dining room table is a simple and effective method to add texture and color to your table.
Choosing the appropriate style, size, and shape may aid you in establishing a look that is uniquely yours while also letting you show off your delicious prepared dinner.
Frequently Asked Questions 
Get your last-minute placemat-related questions answered below!
Do You Need Placemats?
While you don't need to add placemats to your dinnerware set-up, it can be an excellent way to add a touch more style and class to your dinner.
They are especially useful if you want to make your dinner setting for a large event. 
Why Are Placemats Important?
Placemats are not just there to make your dinner table look nicer, they also serve a more practical function.
Placemats can protect the wooden table from being burned by hot dishes or from possible spills. This is very useful, especially if you have an old, hardwood table. 
Can You Put Placemats On Top Of A Tablecloth?
Yes, you can do this. This is a very common setup for formal events such as weddings.
When laying a table in this way, make sure that the placemats are small enough so that they don't entirely cover the tablecloth.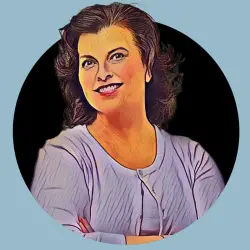 Latest posts by Amanda Brown
(see all)