How would you describe your craftsmanship? Is it precise or free-flowing? Would you say you're a perfectionist or a minimalist?
If you've ever tried cutting acrylic, you probably know that it's not always easy.
Acrylic is a clear plastic material that comes in sheets. It's often used in art projects because it's lightweight and durable.
Cutting acrylic can be tricky, though. The edges tend to curl up and become rough after being cut.
Here's how to get started with cutting acrylic. Learn how to create beautiful pieces from scratch using the Cricut Explore Air 2 machine.
Types Of Acrylic For Cutting
Before we explain how to cut acrylics using your Cricut machine, let's take a look at the different types of acrylic that are suited to Cricut Explore Air 2 Machines.
The Cricut Air 2 is not as powerful as larger Cricut machines, such as the Cricut Maker but it can still cut acrylic, just thinner pieces of acrylic.
Acrylic sheets that are .007 mm deep and .020 mm deep are the two most common depths that you can buy sheets of acrylic in and both depths can be cut successfully. 
Anything thicker and the cutting blade does not get through the full depth and merely scratches the surface, but not in a clean way.
RELATED: How Many Skeins of Yarn Do You Need to Crochet a Blanket?
Preparing Acrylic Sheets For Cutting
When you have got your sheets of acrylic there are some preparation steps that you need to take to prepare the acrylic for cutting. 
Acrylic sheets come with a protective coating on both sides, these are in place to keep the acrylic clean and to prevent any scratches while it is in packaging or on display in stores.
You must peel these off before cutting your sheet into pieces. 
Cricut machines come with a sticky mat but if your sticky matt is not clean it can end up dirtying the acrylic.
If you don't want to dirty the acrylic you can clean your mat before placing the acrylic or you can use a large piece of felt, to prevent the cutting blade from damaging your desk, and use masking tape to hold down the edge of the acrylic sheet when cutting.
Below we look at the two depths of acrylics that you should work with in more detail. 
.007 Acrylic Sheets
These super thin sheets come in 12 x 12 sizes making them perfect for Cricut projects.
You can cut them using the fine point blade and acetate setting on your Cricut machine. We have found that both of these settings work great! 
If you want to get a very clean cut when working with this depth of acrylic sheets you can make an extra pass over the design.
To do this, once your Cricut machine stops cutting, hit the Green "C" Button once again for another pass! This gives gorgeous clean edges to your fresh cuts.
.020 Acrylic Sheets
Next up we look at a slightly thicker acrylic depth being the 0.20 sheets. These sheets are considered to be a pretty thick material and are used for a lot of projects crafted on Cricut machines.
The blade and the basswood settings are great for this thicker sheet. Some makers can run up to 14 extra passes because this material is considerably thicker. 
This is a case of repeating the steam steps as outlined above, once your Cricut machine stops cutting, hit the Green "C" Button once again for another pass.
Repeat as many times as necessary until you are happy with the cut you have achieved. 
Cutting Acrylic With The Cricut Explore Air 2
Now that you have all the basics let's take a look at the cutting of the acrylic using specifically a Cricut Explore Air 2 machine. Follow the steps below to get the perfect results every time. 
Method:
Step 1: Prepare The Materials You Need
It's important to prepare for every step of this process to avoid any mistakes from happening.
Before beginning, you will need an acrylic sheet, or more depending on how many pieces you are cutting, scissors, a blade guard, a ruler, a cutting mat, and some tape.
You will also need your computer or laptop that has the design software on it.
Step 2: Set Up The Cricut Machine
Turn on your Cricut Explore Air 2 machine. Once it is all fired up make sure that the laser cutter is set to "cut" mode.
Step 3: Load The Cut File
On your computer, open the file for the project you want to make within the Cricut Design Space software. Click on the "Load Cut File" button at the bottom of the screen.
Step 4: Select The Material
Click on the "Material" tab. In this example, we are going to use one piece of acrylic. Choose 
the material you want to use by clicking on the name of the material from the list that appears.
Step 5: Adjust The Settings
Click on the settings icon next to the material you chose, this will open the settings menu.
The first thing you should do is change the resolution setting to 300 DPI. This resolution is needed because it makes the image more detailed when it prints out.
The second option you should check is the "Use Layer Thickness" box. Check this if you want the layer thickness to appear on the printout.
Step 6: Start Cutting!
Once everything is ready, click on the "Start" button.
Step 7: Preview The Project
When you start cutting, there will be a preview window that shows what the finished product looks like. 
If you don't like what you see, just press ESC and then click on the "Cancel" button, this will bring you back to your design and you can edit as necessary.
When you are satisfied with the newly edited result, click on the 'Finish' button.
Step 8: Print Out Your Piece
After finishing, click on the "Print" button. This will take about 10 minutes to finish printing.
RELATED: How Much Is A Yard Of Fabric? Yard Of Fabric Information – Fabrics By The Yard
Step 9: Enjoy Your Work Of Art!
Congratulations! You have successfully created your own masterpiece.
Frequently Asked Questions
What Cricut Machine Can Cut Acrylic? 
The Cricut Maker and the Cricut Air 2 are the most popular machines for cutting acrylic.
The Maker is ten times more powerful than other Cricut machines and can cut materials up to 2.4 mm thick.
The Cricut Air can cut acrylics less than 1 mm thick and is the most common Cricut machine that is purchased because of its range of functions, sleek look, and affordable price.
Where Can You Buy Acrylic Sheets?
The Cricut website has a huge range of materials and accessories that you can buy when using your machine to cut materials such as acrylic.
The website gives information about what size and depth the material is and what machines it is compatible with. 
You can also buy sheets of acrylic on Amazon and in other stores but you need to ensure you check size and depth so that it is compatible with your Cricut machines.
Is Cutting Acrylic With A Cricut Difficult?
Like everything, it can take time to learn how to use your Cricut machine correctly as well as the design software that you use to create your designs.
When you are cutting acrylic your design is communicated to the Cricut machine through the Design Space software and this instructs the blade where it needs to go and what it will cut. 
When making your design, dimensions are key. It is important to bleed the edges of your design to allow for space for cut-offs without running the design. After a few practices, you will get the hang of it.
Final Thoughts
Now that you know how to use your Cricut Machine to cut acrylics there is no stopping you! Acrylics can be used to make keyrings, table settings, signs, cake toppers, and so much more. 
You can use your designs as personalized gifts for friends and families or begin your own side hustle. Whatever you choose to do, enjoy your new skills and have fun creating!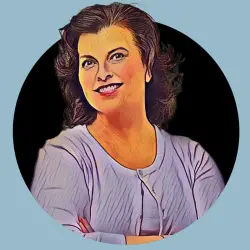 Latest posts by Amanda Brown
(see all)