Giving a new blanket to any baby communicates your desire for the child to feel cherished, protected, and warm.
A handcrafted baby blanket that has been crocheted, knitted, quilted, or otherwise created by hand is a wonderful way to greet any new family.
For those of you considering making your baby blanket, it would be wise to get acquainted with the conventional measurements and dimensions for baby blankets.
Baby blankets like receiving blankets, loveys, and pram coverings are all popular choices.
Organic cotton, soft flannel, crocheted or knitted wool are often used to create these fluffy, little blankets for babies.
But what is the right size for a baby blanket? How big should you make the blanket and what dimensions should you keep your eyes out for in-store?
It can be tricky to know what the correct size for a baby blanket is, and leaves many of us making blankets too small or far too big for the babies in our life. 
Well, no more! This article will go through the most common types of infant blankets that are available.
You can use this size guide to select the right blanket to purchase or to create your own wonderful baby blanket template.
Just keep reading to find out all you need to know.
What Is A Baby Blanket?
A baby blanket is a little, fluffy blanket that is used to make sure a newborn is warm and comfortable during the first few months of his or her life.
Since babies are always growing quickly, there is a range of different types and sizes of baby blankets available for purchase.
Although the sizes of baby blankets vary according to the age of the child, the bulk of them is made of soft cotton that is kind to the child's skin.
Organic cotton, soft wool, and lightweight flannel are all included in this collection.
Baby blankets are useful for a variety of reasons. Most of them are designed to keep a little youngster warm, cover baby seats, and be safe during brisk winter vehicle drives.
They are also used as comfort toys, allowing the infant to hold to something despite the extreme heat.
Wherever possible, you should avoid using materials that may cause some kind of allergic reaction, like polyester.
What To Look For In A Baby Blanket
There are several things that need to be considered when shopping for a baby blanket, or when giving one as a gift.
Breathability
Keep in mind that you may need a different weight in colder weather than you would in warmer weather such as spring or summer. 
Due to the chance that you'll end up with many baby blankets, try using a variety of fabrics in a variety of weights.
This will allow you to have blankets exclusively for the hotter summer months, and thicker blankets that will keep your baby warm in the colder winter months.
Materials
There are lots of different materials that can be used to make baby blankets. You will want to use or purchase blankets that are soft to the touch.
Look for cotton, soft flannel, or knitted wool. These will be super soft and provide your baby with the comfort it craves.
Be sure to check out the thickness of these materials too when looking at a baby blanket, as this will help determine how warm it will keep your baby. 
Safety
Tassels, dangling ribbons, and buttons should be avoided on newborn blankets. Avoid anything that has the potential to shred, fall off, or cause choking or tangling hazards.
You can always cut these off blankets, but we think it's best to avoid them altogether and just purchase or make a suitable blanket.
Size And Thickness
In addition to basic receiving blankets, larger and thicker versions are available in a number of sizes for use with babies.
It is possible that different sizes and thicknesses may be necessary for a variety of activities such as swaddling and tummy time.
Consider what you will be using the blanket for and allow that to help you to select the correct thickness. 
How Big Are Baby Blankets Supposed To Be?
While most baby blankets are 34 inches by 46 inches in size, the required size of any blanket may vary significantly based on how big or small the newborn is and the desired use for the blanket.
There are many different kinds of baby blankets available on the market, including comfort blankets or swaddle blankets, each of which is available in a certain size.
Of course, every newborn develops at a different rate, but you'll want to keep track of the baby's age to ensure that your blanket is large enough!
Let's take a quick look now at the different types of blankets out there and the sizes they are to help you decide which one is the right one for you and your baby.
Swaddle Blanket
Baby swaddle blankets are typically 48 inches by 48 inches in size.
Most of the time constructed of lightweight muslin, these blankets have decorative elements such as flowers, bees, and hearts.
Swaddle blankets allow parents to gently wrap a newborn in their arms, offering comfort and supporting the youngster in falling asleep without the child's arms flailing around accidentally.
These versatile blankets are often kept by parents to use as floor mats or burp cloths for older babies who need them throughout the day.
An additional feature to look for in a swaddling blanket is an open weave-like texture.
A hot baby might rapidly get swaddled in a tightly woven blanket with little room for air to circulate.
Receiving Blanket
Baby receiving blankets are often smaller in size than others like swaddling blankets, with sizes ranging from 36 by 36 to 18 inches by 18 inches.
Because it "receives" a newly born infant, this important blanket is fittingly titled!
It is common practice in hospitals to provide newborn babies with receiving blankets.
A simple, lightweight receiving blanket is used by some parents to wrap their newborn infant while he or she is still too little to fit into a traditional blanket.
In the future, these little blankets may be simply stowed away somewhere safe and used as an emergency changing pad, nursing cover, or burp cloth if necessary.
They are often made of absorbent, lightweight cotton flannel to keep your baby warm and comfortable.
Preemie Blanket
Baby preemie blankets brighten the lives of premature newborns in neonatal intensive care units (NICUs) all over the globe.
Because these little newborns may weigh as low as one pound, these blankets must be very compact to accommodate them.
Square preemie blankets are often 24 by 24 inches in size. Almost always, the colors of these little blankets are soft and delicate.
You will want to avoid blankets with lacy holes since tiny fingers can easily get caught in these intricate designs.
Baby Quilts
Baby quilts are available in a variety of sizes, ranging from 36 by 36 inches to 45 by 60 inches in length and width.
The dimensions of a quilt, on the other hand, may vary greatly depending on what the quilt's intended use is.
Quilted cotton with whimsical designs is often used to create baby quilts, which are completed with binding on the edges for long-lasting sturdiness.
Baby quilts are usually only made with cotton, although you can find those with a flannel blend or a mixture of the fabrics.
Handmade quilts often use bright cotton designs or even objects from the mother's youth that have been passed down through the family, such as old clothes or blankets.
Babies' quilts are very adaptable, and they may be used for anything from floor play to adult cuddling. They shouldn't, however, be restricted to a bassinet or crib!
These blankets are often thicker than typical baby blankets, increasing the risk of suffocating a baby while he or she is sleeping.
Crib Blanket
Having blankets in a baby's crib is permitted after a child reaches the age of one.
The majority of the time, crib blankets are large enough to cover a baby mattress of standard size.
A typical size for these light and fluffy blankets is 40 by 60 inches in size.
Babies often sleep in cribs throughout the initial two years into life, since the walls stop them from falling out on the floor at nighttime.
Cotton flannel provides an ideal alternative to traditional nursery blankets because of their lightweight, breathable, and absorbent properties, respectively.
Furthermore, a rectangular quilt is a wonderful choice for a baby. As a safety precaution, do not use blankets with buttons, tassels, large holes, or loose ribbons.
Blankets for baby cribs are often rectangular in the form to accommodate the 40 by 60 or 36 by 52-inch dimensions of a conventional newborn cot, respectively.
Most crib blankets are pretty similar in size, which is understandable given that the vast majority of cribs are the same in dimensions.
Avoid producing an extremely huge rectangle when choosing baby blankets, as this will make the blankets difficult to put in the crib.
Stroller Blanket
While you're out in the weather, drape a stroller blanket across the front and top of the pram to keep children warm! The dimensions of these blankets are 30 by 40 inches.
It is common for them to be provided with straps, which make it easier to connect to a stroller.
These size blankets also won't get trapped under the wheels of the stroller, preventing any disasters!
Providing the blanket is in the correct place, you won't need to worry about mud or blankets trailing on the floor.
To function as a windbreak and insulation rather than as sleeping aid, these blankets are sometimes fashioned of double-layered, velvety fabrics like faux mink or fleece.
As an alternative, summer stroller blankets made of lightweight muslin or cotton flannel may be purchased.
Car Seat Cover
Baby car seat covers, for the most part, are meant to fit tightly over the car seat's elevated handle.
These blankets not only keep your child warm but also serve as a critical safety precaution for them.
These blankets, which are generally 30 by 60 inches in size, are attached to the seat handle utilizing special straps that create tent-like structures around the blanket.
This one-of-a-kind blanket is made entirely of unique materials and is customizable. Using insulating textiles, like fleece, may be quite advantageous during the colder months.
During the summer, lightweight, breathable materials may be beneficial in keeping your child cool.
Comfort blanket
Baby comfort blankets offer babies an item to grasp that is both familiar and comfortable to hold.
A comfort blanket may come in any size or shape, but they are most often seen in the 12-by-14-inch size, which is readily gripped by little hands and is the most common.
To create a comfort blanket, use a fabric that is both smooth and relaxing in appearance.
Lovey
A baby "lovey," which is offered in 12-inch by 12-inch or 12-inch by 14-inch sizes, is similar to a comfort blanket in appearance.
The most significant distinction is that loveys are often accompanied by a little soft toy of similar size.
Knitting, crocheting, or sewing may be used to create a lovey with a beautiful flower, animal, or figure.
In addition, plush reproductions of major television shows and well-known children's book characters like Winnie the Pooh and Minnie Mouse are available for purchase.
Children six months and older often like their loveys; nevertheless, it is not recommended that a baby sleeps with one until he or she is one year old.
Toddler Blanket
There are many different sizes of toddler blankets available to fit your child throughout the transitional phase when he or she is still sleeping in their crib but might have outgrown the typical crib blanket.
In most cases, they are 40 by 60 inches for baby blankets and 66 by 90 inches for twin beds, respectively.
In addition, toddler blankets are available in a variety of different materials. Quilts, fleece blankets, and coverlets are excellent choices for frigid weather.
For summer, lightweight muslin or cotton textiles give breathability and comfort without letting the user get too hot.
Round Baby Blankets
Circular baby blankets have a diameter of around 40 inches, however, the exact measurement varies depending on the knitting, crocheting, or quilting design that is used.
It goes without saying that if you're crocheting a circular lovey or comfort blanket, you'll want to stick with the more traditional baby blanket measurements often by 10 or twelve by twelve inches.
Even though circular baby blankets are not popular, they may give a touch of fun to your child's nursery!
While circular blankets are not suggested for swaddling, they make excellent tummy time floor mats and may also be used as beautiful loveys.
Additionally, they are beautiful when draped over a nursery rocking rocker or cot as a blanket for the little ones.
How To Make Crochet Baby Blankets
Crocheting a variety of baby blankets, including preemie and comfort blankets, is an easy method that can be learned quickly.
To guarantee that you receive the suitable size for the kind of blanket you're making, check the gauge of the crochet pattern you've chosen.
This will aid you in keeping the optimum blanket size for your needs and size preferences.
Additionally, you'll want to choose a yarn that's designed specifically for babies. Bernat Softee and Mandala Baby products are available for purchase in the majority of craft outlets.
Fortunately, since the majority of baby blankets are small in size, they may be crocheted in an hour or less, especially when using an easy design.
While complicated stitches may seem to be more appealing, a simple design based on single and double chaining produces a reasonably hard texture that is more ideal for a baby than a lacy, whirling pattern that might entangle little fingers or toes in the process.
Consider developing simple crochet baby blanket designs that use corner-to-corner, chevron, or granny square motifs. These patterns are easy to make and are inexpensive.
To create this simple design, you may use whatever quantity of yarn and crochet hook that you choose, but you must make sure that your stitch size fits the gauge stated in the pattern before proceeding.
To help you make your baby blankets, we have a guide coming up below!
How To Make Quilted Baby Blankets
While baby quilts are available in a variety of sizes, the 36 to 52-inch square is the most often seen.
On the other hand, infant blankets are normally 30 by 30 inches squares, while baby bedding is often 30 by 40 inches rectangles.
If a quilted baby blanket is intended to be used as a lap blanket, a crib coverlet, a floor mat, or even as a toddler bed cover, the dimensions of the blanket will differ.
The majority of baby quilts are square and feature an intricately bound border in either satin or cotton fabric.
A basic square quilt may be made by patching together 45 five-inch squares if you're using quilting squares to make it.
A whole-cloth quilt may also be made by top-stitching two or more flannel panels together to form a larger piece.
You can find plenty of templates free online, or at an affordable price on sites like Etsy.
How To Make Knitted Baby Blankets
Although knitted baby blankets are often equal in size to commercial blankets, a handmade lovey or comfort blanket does not have to be exact!
Keep in mind that the weight of the yarn you chose will have an impact on the final size of the blanket when it is done.
While your choice of stitch pattern may result in a bigger or smaller blanket, the knitting pattern should provide a gauge to guide you through the process of achieving the appropriate final size.
A baby blanket will typically need between one and four skeins of yarn to complete.
Of course, the time required may vary depending on the kind of baby blanket you are crocheting!
The time and effort required to make a baby blanket are far more than that required to make a basic 12-inch square comfort blanket.
It is important to pick a pattern or design that is basic and easy, just as it is with crocheted baby blankets.
Anything with several lace holes should be avoided at all costs! Naturally, pick a yarn that is malleable and silky, as that is kind on a baby's skin!
How To Make A Flannel Baby Blanket
For those of you who are new to the world of baby blankets, why not start with this simple flannel blanket?
To begin, around 2 yards of luxuriously soft cotton flannel will be required for this project.
If you want a blanket with two different designs on the front and back, buy one yard of each pattern separately.
The majority of sewing stores provide a reasonable selection of nursery-appropriate baby-print flannels, or you can order them from Etsy or Amazon!
This straightforward kind of blanket does not even need a pattern! Simple instructions for putting together the blanket can be found below.
Step 1 
Separate the cloth into two squares, one of which is three inches bigger than the other.
In the case of two yards of fabric, you will only need one 36 by 36-inch square and one 33 by 33-inch square to complete the project.
Sewing scissors should be used to cut the cloth to get a clean, crisp cut.
Step 2 
Flatten the larger square using a large table or the floor. Directionally align the proper side downward in a manner that is acceptable (the side with any pattern or design).
Step 3
Arrange the smaller squares on top of the larger squares in an orderly way to complete the puzzle. For this square to be properly oriented, the appropriate side must be facing upward.
It should be possible to fully wrap the smaller square with a 1 1/2-inch strip from the larger square at this point.
To keep the squares together, put a couple of sewing pins into them at the corners.
Step 4
Then, using a low-heat iron, gently press the cut edge of the larger square inward by half an inch.
Step 5
Next, fold the folded edge over to the other side, covering the cut edge of the smaller square. In this case, the bigger fold should be a little broader than an inch.
If you're feeling very fancy, you can fold the fabric into mitered corners. It is sufficient to overlap the folded edges at the corners if none are present.
Make a large, folded edge using your scissors. Then use pins to keep it in place.
Step 6
Stitch along the inner border of the fold, as close as possible to the junction of the big and small circles. Repeat for the other side of the fold.
Because of the double layer of flannel used in this basic blanket, it is not only warm and cuddly, but it is also very breathable due to the absence of batting!
Furthermore, the process of cutting and stitching this easy baby blanket takes just a few minutes.
Final Thoughts
Baby blankets are available in a range of sizes, depending on what kind of blanket you are looking for.
Baby blankets are available in a variety of styles and sizes, including stroller covers, crib blankets, loveys, swaddling blankets, and receiving blankets, among others.
Due to their ease of production and the significance they have for the recipient, baby blankets are wonderful DIY presents.
When making baby blankets, always use materials that are safe and breathable, such as muslin or cotton flannel.
You should avoid lacy gaps when knitting or crocheting a blanket for a particular occasion. Instead, use a plain design with a solid texture.
Baby blankets are stunning, and to say that they are exquisite would be an understatement.
Even though they are lovely souvenirs of a certain time in a child's life, they are also quite useful products.
Once your children have outgrown them, you may even use them as throw blankets to keep your home warm.
Why not keep them as a precious keepsake or to warm your knees on a chilly evening?
Frequently Asked Questions
Before you leave us today, check out our FAQ section below to get your last-minute questions answered! 
What Is The Best Size For A Baby Blanket?
Although the appropriate size of a baby blanket varies depending on the kind of blanket, its intended use, and the infant's size, the most common proportions are around 34 by 60 inches or 30 inches square.
Having said that, the best size for your newborn may be a preemie blanket in a much smaller size or a swaddling blanket in a lightweight, breathable 40 by 40-inch square.
Additionally, while creating or buying a blanket, keep the baby's age in mind. A one-year-old newborn is much bigger than a two- or even six-month-old infant!
Why Should You Crochet A Baby's Blanket?
There are plenty of wonderful pre-made baby blankets available for purchase, of course.
For families who are expecting their first child, or know someone that is, you can consider crocheting one of their baby blankets as a gift.
When it comes to a baby shower or welcome home gifts, baby blankets are a very popular option for new parents and their newborns.
Creating a comfortable and aesthetically pleasing blanket may be accomplished via the use of sewing, quilting, knitting, or crocheting talents!
Crochet blankets are often more affordable than other types of baby blankets and they're also great because they can be made with any type of yarn, including acrylic, cotton, wool, or even silk!
If you've never crocheted before, there are many different patterns out there to get started on your blanket.
Are Baby Blankets Good As Gifts?
Baby blankets make great gifts because they're something everyone needs. They keep babies warm when they're sleeping, and they provide comfort for the mommy too.
They come in a wide variety of shapes and sizes, so you can find one that will fit your budget and style.
You don't have to worry about buying matching ones either since most baby blankets are machine washable.
You might not think of them as gifts, but they are. When you buy a baby blanket, you're giving a little piece of yourself to your loved one.
It is a way to show them that you care and that you want to help them through this special time.
What Materials Are Safe For Babies?
There are several safe fabric options for baby blankets, such as:
Cotton
Bamboo rayon
Fleece
Gauze
Take into consideration that the fabrics used in your baby's blanket should be devoid of chemicals and have the lowest possible danger of irritating his or her delicate skin.
As a general rule, babies, particularly newborns, have a limited ability to regulate their body temperature, especially when it comes to temperature regulation.
So, among other things, seek fabrics that are breathable and do not retain moisture or heat.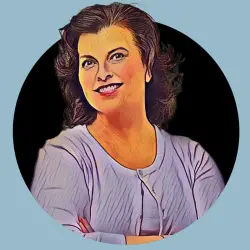 Latest posts by Amanda Brown
(see all)