As Fall grows to a close and the weather begins to get even colder, we're all looking for eco-friendly ways to keep warm. 
Instead of spending money on heating or buying warm clothes from fast fashion brands this winter, why not knit your own pair of leg warmers? 
Whether you're a beginner to the craft or a natural with a pair of knitting needles, we've found 31 gorgeous knitting patterns for leg warmers from Etsy that you can download today! 
These patterns are affordable, high-quality, and easy to follow, so you can be sure that your finished legwarmers will look and feel professionally made. 
Without further ado, let's take a look at these patterns!
This knitting pattern from TheGorgeousLifestyle is one of the easiest leg warmer patterns out there. 
You don't need a lot of wool and the digital download is ready in seconds, so this is a perfect starter pattern for busy beginners on a budget. If you need a pair of handmade legwarmers fast, this is the pattern we would recommend.
The 'In Living Color' Fair Isle Colorful Leg Warmers Pattern from SyndeyAndGrace is a slightly more intricate pattern for lovers of fun patterns and bright colors. 
This is also a flexible pattern that can be executed with either light worsted or worsted weight yarn. 
Follow the pattern with the example colors or choose your own favorite colors to create a personal pair of customized leg warmers!
RELATED: 13 Stunningly Beautiful Hooded Scarf Crochet Patterns
TheVintageWorkbox is one of the best sellers on Etsy for cute, vintage patterns – including patterns for leg warmers. 
This PDF download includes patterns for small, medium, and large leg warmers made with double knitting yarn. 
Please bear in mind that this is a vintage pattern originally from the U.K. so British knitting terminology is used throughout. However, these terms easily translate to American terminology.
Colorjoy's Tall and Toasty Stay-Up pattern for leg warmers is beginner-friendly and available as an instant digital download. 
These leg warmers are designed to be long, coming up over the knee for maximum warmth. The recommended yarn is worsted weight, and you'll need about 200 grams.
However, other stretchy yarns can also be used as long as they are 25% wool. This is a great project if you have plenty of springy yarn to use up. 
Bromefields is a seller that you'll see come up a few times in our list of recommended patterns. 
This pattern for cable knit leg warmers provides instructions for 2 different sizes and is suitable for advanced beginners. 
As long as you know basic knit and purl stitches and how to knit in the round, you'll have no trouble creating these cozy, vintage-looking leg warmers.
The Leg Warmers Knitting Pattern from JeyCatStudio doubles as a pattern for boot cuffs, so you can just slip your winter footwear over your finished leg warmers. This means that your feet and legs never have to get cold, even for a second. 
JeyCatStudio's pattern is versatile and can be made with all kinds of double knitting or light worsted weight yarn. 
This pattern might be a little complicated for total beginners, but confident starters and intermediate-level knitters should have no issue with the stitches required. 
We absolutely love this pattern for Women's Leg Warmers from KnitCookies!
These leg warmers are soft and ribbed, providing the perfect level of comfort for cold winter days and nights. 
The only skills you need to complete this pattern is the ability to knit in round and knowledge of purling and decreasing. 
HelloHandyHeart currently has a beautiful pattern available for Ballerina Leg Warmers!
Of course, the finished leg warmers can be worn anywhere, but it's true that leg warmers are especially useful for dancers during the colder months. 
You can use either circular needles or double-point needles to execute this versatile pattern.
RELATED: 15 Brilliant Crochet Baby Yoda Patterns (With Pictures)
This pattern from Girlyknits is for a pair of beautiful, over-the-knee cable knit leg warmers with a heart motif. 
The instructions will allow you to make these leg warmers in 5 different sizes, to fit both adults and children. 
All you need is a set of double-pointed needles and worsted weight yarn in your favorite color and you're good to go!
The pattern also includes guidelines for making matching mittens, so you'll definitely be warm enough this winter!
BreannaAnnHandmade's Chunky Knit Leg Warmers Knitting Pattern is suitable for enthusiastic beginners as well as intermediate knitters. 
The pattern makes a simple pair of leg warmers, designed according to the average small/medium women's size. However, this pattern also includes guidance on how to make the leg warmers smaller or larger, so sizing shouldn't be an issue here. 
Bear in mind that instructions are written, not pictorial. With that being said, you can always look up tutorials for individual stitches online for free.
GrandadscuriBoutique is a star seller on Etsy, and this is certainly a stellar pattern for leg warmers!
This is a fairly beginner-friendly pattern that only requires one color, but if you use a multi-colored yarn, it's easy to give the appearance of stripes. 
If you love your completed leg warmers so much that you want more pairs, you can either follow the pattern again or, alternatively, purchase the finished product directly from the seller.
This pattern from Estherkateknits is for a pair of simple, ribbed leg warmers that look subtle enough to go with any outfit but are thick enough to provide a good deal of warmth. 
Single or double-pointed needles are equally appropriate for this pattern. Heavy worsted weight yarn, or Aran yarn, is recommended. 
PastPatternsPalooza is a well-loved seller of vintage knitting and crochet patterns on Etsy, with this pattern for Knit Leg Warmers being an especially popular choice. 
This is actually a selection of patterns including instructions for a pair of basic leg warmers, ribbed leg warmers, no-seam leg warmers, fair isle leg warmers, teddy bear leg warmers, and sportsweight leg warmers. 
Because these patterns are vintage, the exact recommended yarn may need to be substituted, but this is quite easily done based on weight and texture.
Using this knitting pattern from PearlShoreCat, creating a pair of classic, 80's-style leg warmers is easy!
These leg warmers should be roughly 24 inches in length, coming over the knee and offering plenty of leg coverage. 
The only materials you need are worsted weight yarn and straight knitting needles. All stitches used in the pattern are basic, so this is a beginner-friendly project. 
VintagePatternFaves has a beautiful diamond lace knitting pattern on Etsy for leg warmers. 
This is actually a vintage pattern from before the year 2000. It's a pattern for over-the-knee leg warmers, measuring just under 24 inches in length. 
The leg warmers in the example photographs are a stunning color, but of course, you can swap the original color out for a different one if you prefer. 
If you're looking for leg warmer patterns that will fit men, women, and children, this one from Hobohooks is an excellent choice. 
This vintage pattern can be adjusted to fit children aged 4 and upwards as well as adults, so regardless of who you're making these leg warmers for, you can make sure the fit is perfect. 
The pattern is from the 70s and terms are given in U.K. English but needle sizes and yarn weights can be translated using the provided conversion chart. 
Babies are especially susceptible to the cold, so leg warmers make the perfect gift for a new baby this Christmas. 
This pattern for baby leg warmers is beginner-friendly and only requires simple knitting skills such as knitting in the round and purling. 
If you need charted instructions, however, you may need to find stitch tutorials online because the pattern is given in written form.
MadameSegneri's Toddler Ballerina Leg Warmers Knitting Pattern is ideal for slightly older infants and children. 
The pattern provides instructions for 2 leg warmer sizes, aimed at toddlers aged 1-2 and children between the ages of 3 and 4. 
You only need beginner to intermediate-level skills for this pattern, and because the leg warmers are so small, they won't take long to complete. 
This pattern for classic cable knit leg warmers by AndreeCraftsCo will make leg warmers to fit teenagers and adults. 
You will need 300 grams of worsted weight yarn, 4 mm and 4.5 mm needles, a 4 mm cable needle, and a yarn needle to finish off the project. 
Another pattern from Bromfields, this Harmony Knit Leg Warmers pattern is available in 2 sizes and includes a downloadable PDF with bonus video instructions. 
You can knit flat or in the round using this pattern, with only basic knitting and purling stitches. Thick yarn is recommended if you want these leg warmers to be warm and true to size.
ThisMomentisGood sells this beginner-friendly loom knitting pattern on Etsy. 
You can follow the basic pattern to make the standard leg warmers or add some extra length to turn them into boot toppers. Instructions for the second option are provided in the pattern. 
Why not try your hand at the Sofia Leg Warmers Knitting Pattern from TheKnittingNiche? 
The pattern is for child-sized leggings that will fit ages 4 to 10. It's pretty basic and beginner-friendly, with the only skill-based knowledge required being simple cable knit stitches. 
RELATED: 15 Crochet Ideas To Make At Home
Our final pattern from Bromefields today is this Leg Warmer Knitting Pattern. 
This is a very versatile pattern that you can execute by knitting in the round or knitting flat depending on which technique you prefer. You'll need to know basic knit and purl stitches, but apart from that, no prior expertise is required. 
KnitCollageYarns sells this intermediate-level leg warmer knitting pattern on Etsy for a very reasonable price considering the impressive appearance of the finished product. 
You can make these leg warmers using basic yarn, but the seller recommends their own daisy chain yarn, which gives the warmers an adorable, 3D floral touch. 
This super-cute, feminine knitting pattern for leg warmers is available in multiple sizes, so these leg warmers can be made for children as young as 2 as well as adults. 
The leg warmers feature an adorable diamond pattern and a little bow near the top cuff. 
Where better to find leg warmer patterns on Etsy than the CozySocksStore? 
These are advertised as yoga leg warmers, but you can wear them for any reason or activity. 
13 videos are included with the pattern, so even beginners will be able to complete it. 
This pattern for Keep-Me-Warm Leg Warmers from SeeLoveShare uses a mesh stitch, so these leg warmers are perfect for cool weather that doesn't require a chunky knit. 
These are tall leg warmers, reaching from the mid-foot to mid-thigh. 
RELATED: Fun Amigurumi Turtle Patterns That You Can Download And Make Right Now!
Lulupattern's Yoga Socks Leg Warmers Knitting Pattern is simple enough to be completed by beginners with knowledge of basic knit and purl techniques. 
The leg warmers are designed to be short, coming up to the mid-calf at full length. 
MyCharmingWool sells plenty of fun patterns, but this one for cable knit leg warmers is one of our favorites. 
This pattern and the finished leg warmers are simple, classic, and versatile. 
If there's someone in your life (including yourself) who loves dinosaurs, this leg warmer pattern will help you to make the perfect gift!
You can make these dinosaur-themed leg warmers in toddler, child, and adult sizes.
Finally, this knitting pattern for girls cable leg warmers from VeesKnits comes in 2 sizes: ages 6 to 9 and ages 10+. 
The cable pattern is easy for beginners to follow and will produce lovely results no matter which color you choose. 
Frequently Asked Questions 
Are Leg Warmers Easy Knitting? 
Leg warmers make for a particularly good beginner knitting project because, in their simplest form, leg warmers are quite easy to execute. 
Assuming no more complicated patterns or motifs are involved in the pattern, most leg warmers only require basic skills such as knitting in round and purling. 
However, some of the leg warmer knitting patterns we've included in this article are more suited to advanced beginners and intermediate knitters because they use more complicated stitches. 
Ultimately, leg warmers can be easy knitting if the pattern is relatively simple and doesn't call for complex stitches. 
How Do You Measure For Leg Warmers?
The easiest way to make leg warmers in the right size for you is to choose a pattern designed for your size. Therefore, checking the product information provided alongside your chosen pattern is crucial. 
But what if you don't know what size you're looking for, or have already purchased a pattern and realized that you might need to adjust the size? 
In that case, you'll need to take some measurements, and it's important to do this in the correct way for accurate results. 
Start by taking off your shoes and socks and standing on an even surface. Next, depending on how long the leg warmers in your pattern are.
You'll need to measure the length from your ankle to your knee, or between the ankle and the mid-thigh. You will also have to measure the circumference of both your ankle and your thigh. 
Based on these measurements, you can then adjust the size of your leg warmers if necessary. Some patterns provide instructions on how to make size adjustments, but you can also find plenty of tutorials online. 
If you do alter the size of your leg warmers, make sure to take into account the elasticity of your yarn so that they don't become too loose or too tight. 
What Is The Difference Between Leg Warmers And Boot Cuffs?
You may have noticed that some of the leg warmers in the patterns above are alternately referred to as boot cuffs. 
Leg warmers and boot cuffs are very similar, to the point where a pair of leg warmers can also function as boot cuffs. 
The only real difference is that boot cuffs are specifically designed to be folded over the tops of boots for outdoor wear, so they tend to have some extra length.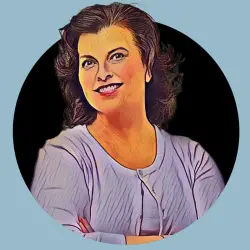 Latest posts by Amanda Brown
(see all)