Afghans are one of the best crochet projects for beginner and advanced crochet enthusiasts alike. Afghan patterns are easily customizable so you can stick to the pattern if you fancy an easy project, or go wild with the design and express your creativity! Either way, you will produce an exquisite afghan for snuggles on any chilly evening.
Perfect For Beginners
This crochet afghan is super chunky and perfect for getting cozy on chilly evenings. This afghan is made from just one stitch so is perfect for beginners or those looking to master a new stitch – the herringbone half double crochet. This stitch is a variation of the half double crochet so is really simple to master and creates a cute arrow effect in your work.
This pattern adds an extra flair by only working in the back loop, creating a ribbed design. You can add your own touch to this afghan and express your creativity by choosing whatever colors you like – make it as colorful or as monochrome as you like!
This afghan is made from just the double crochet stitch – 18,000 times! This is a super simple design that any beginner will master but is also perfect for a seasoned pro who would like a break from complex patterns. 
As it is so simple – just chain stitch 120 times and double crochet for 150 rows – you can modify the width and length to be any size you want. You could even spice it up further by adding a border. 
RELATED: Crochet The Amigurumi TikTok Bee
Got an afternoon free? This gorgeous afghan can be made in just four hours, perfect for killing some free time!
The simple design of this blanket means that not only can it be knocked up at break-neck speed, but it is perfect for beginners looking for a larger project.
Feathers And Chevrons
Feather effects always look fabulous for statement afghans around the home, and this chunky option is no different. Using shell crochet stitches gives a sculpted and rounded motif that is repeated, ideal for those wanting to improve their crochet technique.
You can also use chunky yarn for a more modern edge to this project with the added benefit that it will come together very quickly!
There is nothing more classic crochet than a chevron! This afghan is great for beginners who want to master this long-established stitch as the pattern itself is easy. Pair with a bulky yarn for a quick and easy weekend project.
If you like an exaggerated or really defined angular point to your chevrons, you must try this super cozy afghan. 
The interesting mix of stitches will keep any crocheter on their toes and do indeed make this afghan perfect for a cabin in the woods!  Think about your color choice for this pattern – bright rainbow shades for a cheerful burst of color in a room, or use rich hues for a more sophisticated, chic design.
A good ripple stitch pattern is hard to come by, particularly one that is beginner-friendly. This afghan, however, is simple to grasp and is easy to finish once the stitch is mastered.
RELATED: 15 Brilliant Crochet Baby Yoda Patterns (With Pictures)
Looking for a gift for a baby shower? This afghan is just a fantastic choice! This pattern makes a blanket that is bigger than a traditional baby blanket and a little smaller than a traditional afghan, but you can of course alter the size to customize your project. This makes it ideal for toddlers and young children or, depending on the size you go for, just about anyone.
Opt for this pattern if you would like some challenge to your next chevron project and can be done in about five hours. Be aware that this pattern uses two strands of yarn for extra coziness.
Unique Designs
This afghan is perfect for any intermediate or advanced crocheter looking for a challenge or looking to try the corner-to-corner technique for characters.
Once the 12 Chinese Zodiac characters have been made, the assembly is simple. The characters are more complicated but there are many resources – including videos! – available to help keep your project running smoothly.
If you would like to perfect your hexagon-crochet technique, why not try this cute hexagonal afghan? The hexagons are made individually and then stitched together which means that the finished size of the project is completely customizable.
This design is super chic and is a far cry from traditional crochet blankets. And the fact that the hexagons are made individually makes this project super portable – perfect for a project on the go!
If you want to step up your afghan game into the intermediate or advanced level, you have to try this star crochet design! 
The pattern creates a gorgeous and unique star pattern that is the perfect addition to any bed or sofa. In fact, you can even use it as a tablecloth to brighten up dinner time.
Want a modern crochet afghan but don't want to move too far away from tradition? This super cute afghan is the answer to your project prayers! 
Made with different stitch motifs and textures for incredible style, this afghan has a heart pattern on one side and a ripple afghan design on the other. This reversible 2-in-1 afghan is the perfect marriage of traditional crochet technique and contemporary design, putting it at the top of any crocheter's to-do list.
If you have a hankering for vintage designs this afghan must be your next project.
Inspired by a show set in 1950s London, this blanket is based on an original vintage pattern with all the intricacies of traditional crochet without the headache! There is enough complexity to keep your brain switched on but is not so difficult that only the most advanced crocheters could cope.
Striking Stripes
When in doubt, go for simplicity! This super cute baby blanket afghan is just two colors in bold, thick stripes. This simplicity makes it perfect for beginners or experienced crocheters looking for a gentle project and the whole afghan is made from one stitch.
The half double crochet is a great stitch as it is simple and quick to create but is durable, ideal for a well-loved afghan.
If you like expressing your creativity through crochet but don't want to move away from patterns completely, try this super cute afghan project. 
This afghan is textured which makes any colour changes in your project less obvious, creating an afghan that looks streamlined with deliberate stylistic choices rather than a colourful hot mess!
This pattern uses three bold colors that truly epitomize fall, but you can of course use any number of combinations to create your perfect striped pattern for your afghan. The textured stitch really makes any colors pop and adds extra snuggle points to guarantee that this afghan is the highlight of your living room.
Bright colors and some soothing repetitive stitches are all you need to unwind after a challenging day, week, or month. Try this super relaxing afghan the next time you need some downtime.
Perfect for beginners, this afghan is made from one stitch and the basic pattern is available with supplementary pictures and a video to help you finish this project.
Crocheting into the back loop of a row is a fantastic way to get defined texture in your project, as demonstrated by this great afghan pattern.
Opt for fall colors to create a superb statement piece for your home – a seasonal classic that you will love all year round!
This afghan is particularly gorgeous, using a combination of bold stripes, statement tassels, and delicate lace stitch work. 
This stunning design is sure to make this afghan a favorite in your home. Use thick yarn for all of the coziness you could ever want and to make crocheting this afghan go a little more quickly.
Frequently Asked Questions
What Is An Afghan?
An afghan is the name given to any crocheted or knitted blanket or throw. Most commonly, they are used as decoration around the home or as part of a bedspread but are also perfect for snuggling under when the weather gets chilly.
How Big Is A Crocheted Afghan Blanket?
A full-size afghan blanket traditionally measures 50"x60", roughly 4×5 feet (1.2×1.5m). If you would like your project to be smaller, try a lap blanket pattern that will measure 35"x40" (90x100cm) or a baby blanket that will roughly measure 25"x30" (65x75cm).
How Much Yarn Do I Need To Make An Afghan?
The number of yards needed for an afghan will depend on the type of yarn you use. If you are using a yarn of Weight 1 (superfine) for example, you will need around 4000 yards to make an afghan. You need fewer yards of yarn for bulkier yarn choices – for an afghan using Weight 3 you will need around 3300 yards and under 2000 yards for a Weight 6 yarn.
Remember that this is just a guide and it is better to overestimate the amount of yarn you need – nothing worse than using up all your yarn with 10 rows left!
How Long Will It Take To Make An Afghan?
The time taken to complete an afghan will depend on the thickness of the yarn used and the simplicity of the pattern. A thick yarn choice and a simple pattern will take roughly 20 hours to complete. With a complicated pattern, you can expect to take a lot longer, often resulting in a project that is completed in several months or even years.
Can A Beginner Crochet An Afghan?
Because of their size, afghans are a great beginner's project as they give you lots of opportunities to perfect your stitch. Afghans by no means have to be complicated and some of the most effective designs use just one or two stitches throughout. Afghans can also be made with bulky yarn that is much easier to work with than finer yarn which is easier to handle and will let you progress quickly.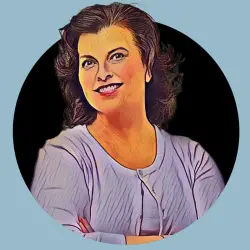 Latest posts by Amanda Brown
(see all)