Are you looking to add a little handmade touch to your kitchen? Crochet is a great way of creating a practical kitchen accessory that matches your decor and is absolutely unique.
Together with the individual design, making a crochet kitchen towel is super quick and easy. 
Handmade crochet dish towels are usually made with cotton, or a cotton blend yarn, which comes with a range of great benefits. They are much more durable than other dish cloth options, making them a reusable and sustainable option.
Cotton is excellent when it comes to water absorption so your crochet kitchen towel can easily absorb water when you wipe dishes, pots and pans.
The more you use cotton towels, the more absorbent they get. However, the greatest benefit of cotton is that it is anti-bacterial, so perfect for all families with young kids and pet owners.
Need some inspiration for your dish towel project? Here are our best 35 crochet dish towel and kitchen towel patterns.
The beautiful shell stitch gives this pattern for the crochet kitchen towel an elegant look, and it is even quick to make. You can work this with cotton or a cotton blend yarn in any color.
Create a stripe design or keep it classic chic in a single color. The practical crocheted handle at the top means you can hang it up easily when not in use.
This pattern for a turkey design kitchen towel is great fun to crochet. It doubles up as a functional dish cloth to wipe spills and dry your dishes, as well as a sweet decorative accessory for Thanksgiving.
If you want to keep this in the traditional turkey colors, you will just need brown, red, yellow, orange and white cotton yarn, as well as a couple of buttons for the turkey eyes.
You can whip up this quick and easy waffle stitch dish towel in a few hours. The repeating pattern is perfect for crochet beginners, even if you have never worked with waffle stitch before.
If you make this kitchen towel with cotton yarn, you can use it to dry your dishes and even as a crochet potholder as the thick texture helps to protect surfaces from hot pots.
This gingerbread man kitchen towel pattern brings festive cheer into your home. It is a fun accessory to make and would be a great Christmas gift.
This dish towel is so simple to create and the pattern also includes instructions on how to make the gingerbread man's facial features.
A thick texture and ripple effect make this pattern for this crochet cloth set so great as a water-absorbent kitchen or bathroom accessory.
You can make this in any color with cotton thread. Due to its more advanced stitches, this pattern is suitable only for experienced crocheters. 
RELATED: Fun Amigurumi Turtle Patterns That You Can Download And Make Right Now!
Whether you choose to make this lovely tea towel crochet pattern with organic cotton or a cotton blend, it will always turn out to have a thick texture thanks to the dense stitch used. 
This sweet snowman kitchen towel could be on your list for festive crochet patterns. Whether you are experienced or new to crochet, this pattern is easy to make in cotton yarn.
If you don't want to use the snowman to dry your dishes, you can also make this design with other yarns as a decoration.
This easy-to-follow pattern for a wash rag could be made with different colors in stripes or you can use a rainbow yarn for a greater effect. The tasseled design at both ends gives the dish towel a great vintage look.
A classic farmhouse design combined with an easy repeating crochet stitch makes this pattern for a striped kitchen towel really fast to create. The simple stitches mean this pattern is ideal for beginners.
This is a beautiful and easy to create pattern for a crochet dish towel in a dress design. Combine any colors you like or use more neutral colors for a modern look to match your kitchen.
It's best to use a cotton or cotton blend yarn for this kitchen towel, but if you just want to use it as a decorative piece, you can use any yarn, including acrylic.
RELATED: Easy Crochet Bookmark: Perfect Project for Beginners
If you are looking for a truly individual kitchen towel, this pattern for the monogram crochet dish towel is perfect.
As it is minimalist and modern, the farmhouse-style design can make a wonderful gift for friends and family.
The pattern uses the Intarsia crochet technique so may be best for a more advanced level, although detailed instructions on how you crochet Intarsia are included.
Perfect for fall and winter, this crochet pattern for the acorn hand towel is beginner-friendly. It uses four different colors of cotton yarn to create a rectangular, flat dish towel that absorbs all your kitchen spills easily. 
Mix and match colors as you like with this pattern for a striped crochet dish towel. It is quick and easy to make with worsted weight cotton yarn which creates a thick texture.
Perfect for drying pots, pans and dishes, as well as wiping stains. This hand towel pattern uses the corner-to-corner method which is explained in detail with the instructions.
Tunisian crochet stitch has become more and more popular because it looks so chic in a lot of kitchen accessory crochet projects.
This cottage kitchen towel uses Tunisian crochet to create a traditional tea towel effect.
You can make this in a single color, use rainbow yarn or combine both to bring out the texture. If you are a beginner interested to learn Tunisian crochet then this is a great beginner project.
Are you looking for a little Halloween spookiness for your kitchen? This lovely Frankenstein's Monster crochet kitchen towel doubles up as a dish towel to dry your dishes, and as a sweet decoration to hang up.
Simply use any color of your choice for little Frankenstein and add a couple of buttons as eyes. The dish towel design allows you to hang it up wherever you like.
This little spooky ghost kitchen towel is great fun to make and will add some Halloween cheer to your kitchen.
The pattern is made with white worsted weight yarn and it uses some black for the face of the ghost as well as a third color for a cute little bow as decoration. The simple design means you can also hang it up easily. 
The pattern for the set of a dish cloth and kitchen towel is worked with an effective mix of single crochet and raised berry stitch.
If you are not familiar with berry stitch you can start practicing on the dish cloth and then tackle the more advanced kitchen towel which features a heart design with the raised berry stitch.
The raised stitch is only on one side, so the other side is smooth making it perfect for washing up and drying your dishes.
RELATED: Crochet The Amigurumi TikTok Bee
Chasing chevrons stitches always create a wonderful, wavy effect for every crochet project, and this pattern for a chevron dish towel is no different.
You can make this in any color combination with cotton yarn. This pattern uses basic crochet stitches but also includes a 'special stitch' with instructions, so if you are a beginner who wants to take the next crochet step up, this would be a great project.
This wonderful pattern for a crochet set with dish towel and oven mitt works in the classic Christmas colors for your festive meal, or it would also work great in any other color combination.
The large button hanger at the top of the kitchen towel comes with a little flower decoration. You can even leave out the hanger and simply make it into a rectangular flat dish towel.
Modern and classic, this Buffalo Plain crochet kitchen towel pattern uses water-absorbent worsted weight cotton yarn and a range of different colors.
The design with varying shades of squares creates an effective design. It comes with clear instructions on how to make the loop for hanging it up.
This crochet kitchen towel pattern is easy to follow and works up quickly. Due to the different stitches this pattern uses, it is best for a more intermediate level or a crochet beginner who is looking for a challenging project.
However, the unusual stitch combination with basic single crochet and star stitches make this a beautiful and unique dish towel for every kitchen.
Make this super easy crochet kitchen towel pattern with any of your favorite colors or mix and match. Even a rainbow yarn would look great on this easy-to-make dish towel.
The crocheted hook with a button at the top ensures that you can hang it up anywhere when you don't use it.
RELATED: A Guide To Making The Famous TikTok Bumblebee – 3 Different Sized Crochet Patterns
The perfect beginner crochet project, this pattern for a country kitchen towel uses only single crochet and chains.
You can choose any color but the stripe effect is great when you use a darker main color and add a lighter color for the two stripes at the top and bottom.
The finished dish towel will be roughly 15 inches x 25 inches, depending on your tension. 
This pattern for the Hygge Home crochet dish towel is ideal for crochet beginners. A textured and striped design makes this a super chic and beautiful farmhouse-style accessory for your kitchen.
The pattern only requires a small amount of worsted weight yarn so that you can use up some of your leftover cotton yarn stash.
True to its word, Hygge (meaning 'contentment' in Danish) this wonderful crochet kitchen towel also makes for a superb gift for someone special.
With this fun Summer Ridges crochet dish towel you can add a touch of color and summer cheer to your kitchen.
This pattern works up quickly and as the simple design uses single and double crochets it is suitable for crochet beginners. You can use any of your favorite colors, keep the kitchen towel in one color or make it into a striped design. 
A picot stitch border gives this Picot Posy crochet dish towel a classic and timeless look perfect for every kitchen. Written in standard American crochet terms.
This pattern requires some understanding of basic crochet and pattern reading so may only be suitable for a more experienced crocheter. As you can make this crochet pattern with any soft yarn, it could even double up as a sweet baby blanket.
This colorful stripes dish towel crochet pattern is super easy to make and a perfect crochet project for beginners. You can use cotton yarn in any color of your choice.
And as you use two running strands of cotton held together, you can switch colors and make this a unique piece. The thick design makes it quick to whip up and also super absorbent for spills and to dry your dishes.
This pattern for a crochet Christmas tree kitchen towel is so much fun to make and could be part of your festive gift-making.
Easy to crochet, it is not just a functional kitchen accessory to dry your dishes after Christmas meals but also a beautiful Christmas decoration. This kitchen towel has a crocheted handle with a button so you can hang it anywhere you like.
Pick your two favorite colors and make this beginner-friendly crochet pattern for a kitchen towel. You can use cotton yarn with a 4mm crochet hook.
To make this pattern you only need to know how to crochet single crochet, slip stitch and changing colors. The size can be fully adjusted to create the length and width you want.
Bang on trend and so easy to make. This swearing kitchen towel crochet pattern is perfect for experienced beginners, or beginners who are looking for a little challenge.
The dish towel design features a crocheted handle with a button at the top so you can hang it up when you don't use it, and it makes a great decoration to remind everyone to keep the kitchen tidy.
Written in standard US crochet terms, this dish towel and dish cloth crochet pattern is fun and easy to make. It uses two contrasting colors making it suitable to adjust for your kitchen decor.
While the pattern doesn't include a handle to hang it up, you can simply sew a handle on or make a couple of chains at the end of the last corner and slip stitch in the corner so to create a loop.
Made in a beautiful rose color (or any color of your choice to fit your kitchen decor), this Sweet Suzy hand towel uses a repeating pattern that is simple to recreate for crochet beginners.
The pattern uses the Suzette stitch and back loop single crochets to create a layered effect. Together with the right cotton yarn, this makes a beautifully textured kitchen towel. 
Choose your two favorite colors in cotton yarn and easily crochet this lovely-looking twisted fringe dish towel.
The classic striped design with a twist and fringes gives this kitchen accessory a playful touch. If you use extra soft cotton yarn and a large hook, this kitchen towel could also make a fantastic hand towel.
Whether you make this dish towel crochet pattern in blue, beige or any other of your favorite color the ripple effect of the wave stitch is effective and easy to make.
Using only single crochet stitches and double clusters, this pattern is beginner-friendly. It has two flaps with buttons at the top to hang up your dish towel when you don't use it.
RELATED: 15 Brilliant Crochet Baby Yoda Patterns (With Pictures)
This diamond crochet pattern for a dish cloth and kitchen towel set has a beautiful vintage look. You can work this with any two contrasting colors to bring out the mosaic effect.
If you add a double border around it you can even avoid sewing any ends in.
Frequently Asked Questions
Can You Crochet Kitchen Towels?
Yes! You can crochet kitchen towels with cotton yarn, a crochet hook and a crochet pattern. Crochet dish towels are easy to create which makes them a great project for beginners.
Usually including basic stitches such as single or double crochets, there a number of different patterns and designs that you can follow to create a unique handmade kitchen towel for you or as a gift.
How Do You Crochet A Dish Towel Pattern?
Most patterns for how to crochet a dish towel include easy step-by-step descriptions and photos. The patterns usually also list what materials you need, including how much and what kind of yarn.
Hook size, needles and other crochet accessories. As some patterns may use unusual stitches, they are often explained in more detail individually as well.
If you don't know how to follow a written pattern, some crochet patterns also include links to instruction videos where each step is explained in more detail.  
How Much Yarn Do I Need To Crochet A Dish Towel?
How much yarn you will need for your crochet dish towel will depend on your chosen pattern. Commonly, patterns include a list of how much yarn you will need of each color, and also what type of yarn you should use.
For crochet dish towels, it is best to use cotton or natural fibers as they absorb water. Some patterns use complex stitches which need a lot of yarn.
While other patterns use simple stitches or a stripe design which means you could use less yarn of different colors. This is handy if you want to use up some of left-over yarns.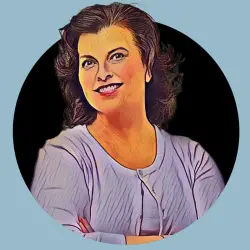 Latest posts by Amanda Brown
(see all)