Crocheting a ripple blanket is a fantastic way to add warmth and style to your home. The classic ripple pattern creates an elegant and eye-catching design perfect for snuggling up on a chilly day or adding a pop of color to your living space.
With the abundance of free patterns available, learning to crochet a ripple blanket has always been challenging.
Getting started on your crochet ripple blanket project is straightforward, even for beginners. By familiarizing yourself with essential tools, materials, and common crochet stitches and techniques, you'll be well on your way to creating a stunning, cozy blanket.
As you advance your skills and experiment with different yarns and personal touches, your ripple blanket will become a treasured, one-of-a-kind creation that reflects your style and personality.
What Is A Crochet Ripple Stitch?
A crochet ripple stitch, chevron, or wave stitch is a popular and visually striking pattern that creates a wavy, zigzag design. It is achieved by alternating increases and decreases in stitches, creating peaks and valleys.
This versatile stitch pattern can create blankets, scarves, and other projects. The ripple stitch is beloved for its soothing and rhythmic nature, making it an enjoyable and rewarding crochet technique for crafters of all skill levels.
It allows for endless color combinations and is an excellent way to add texture and interest to crocheted items.
Is Ripple Stitch Difficult To Crochet?
The difficulty level of crocheting a ripple stitch depends on the individual's crochet experience and familiarity with pattern reading.
For experienced crocheters, the ripple stitch is moderately easy as it involves repeating a simple sequence of stitches.
Novice crocheters may find it slightly more challenging to master the increases and decreases required for the zigzag effect.
With practice and patience, beginners can quickly grasp the concept and create beautiful ripple patterns.
Many online tutorials and step-by-step guides are available to assist crafters in understanding and successfully executing the ripple stitch, making it accessible to crocheters of various skill levels.
RELATED: How To Tighten Pants Without Belt
Essential Tools & Materials
Before creating a gorgeous ripple blanket, you must gather some essential tools and materials. Don't be intimidated; the list is short, and each item is easily accessible.
First and foremost, choosing the suitable Yarn for your project is essential. Opt for a high-quality thread that suits your style and intended use for the blanket.
A soft, durable yarn works well for a ripple blanket like the ones in this crochet ripple blanket tutorial.
Next, equip yourself with a crochet hook matching the yarn weight and skill level. For beginners, a medium-sized turn is a good starting point. Don't worry; you can constantly adjust as you learn and practice.
A few other items to consider gathering are:
Stitch markers to help you keep track of your progress
A pair of scissors to trim your Yarn
Now that you have the vital tools and materials in hand let's move on to the foundation of any successful ripple blanket – the crochet stitches.
Have confidence in yourself, dear crafter, because if you know how to double Crochet and Double Crochet two together, you'll find it a breeze to create the beautiful wave pattern seen in the ripple stitch blanket.
Embrace the notion of ripple blankets and have fun experimenting with colors and textures. Remember, the crochet world is your oyster; allow your creativity to shine as you work your way through rows of delightful ripples.
Be confident, knowledgeable, and straightforward as you crochet a beautiful, warm, stylish ripple blanket.
Abbreviations Of Common Crochet Stitches And Techniques
Once upon a time, in Crochet's whimsical world, you embarked on a journey to create a beautiful and warm ripple blanket.
Before diving into the magical pattern, let's familiarize yourself with the enchanting crochet stitches and techniques you may encounter on this adventure.
Chain Stitch (ch): To make a chain stitch, wrap the Yarn around your hook and pull it through the loop on your hook.
You've just created the starting point for your ripple blanket. Repeat the process to create a chain of the desired length.
Single Crochet (sc): This Stitch is one of your crochet spellbook's most straightforward yet powerful spells.
To create a single crochet stitch, slip your hook into the Stitch, yarn above (Over), tug through, yarn above (Over) again, and tug through both loops on your hook.
Double Crochet (dc): This taller and charming Stitch will add lovely texture to your ripple blanket.
To double Crochet, yarn above (Over), slip your hook into the Stitch, yarn above (Over), tug through, yarn above (Over) again, tug through two loops, yarn above (Over) once more, and tug through the remaining two loops on your hook.
Half Double Crochet (hdc): An enchanting hybrid of single and double Crochet, this medium-height spell is a versatile addition to your crochet grimoire.
To half double Crochet, first yarn above (Over), slip your hook into the Stitch, yarn above (Over), tug through, and finally, yarn above (Over) all three loops on your hook.
Slip Stitch (sl st): This unassuming yet mighty Stitch can seamlessly join your crochet rows or create beautiful decorative patterns.
To perform a slip stitch, slip your hook into the desired Stitch, yarn above (Over), swiftly tug through the Stitch, and loop on your hook.
Which Yarn Is Best For A Ripple Crochet Blanket?
Choosing the suitable Yarn can make all the difference in your masterpiece's warmth, style, and comfort.
Worry not, for I shall guide you through this whimsical quest for the perfect Yarn.
You could opt for the Yarn Bee Soft and Sleek Low-Pill fiber to achieve that lovely ripple effect.
It's delightfully soft, comes in various charming colors, and is designed to keep your blanket looking fabulous without pesky pilling. We recommend using a 6mm or size J crochet hook to facilitate your crafting endeavors.
Another delightful choice is lightweight cotton yarn. It creates a frothy, airy texture perfect for warm summer evenings.
Feel free to experiment with splendid colors, like the ones used in this Free Rainbow Sherbet Ripple Baby Blanket Pattern, to add a touch of whimsy to your creation.
As you venture into the land of ripple crochet blankets, always consider the feel of the Yarn on your skin, its durability, and the enchanting colors that shall grace your finished piece.
Choose wisely, and may your ripple crochet blanket bring you the warmth and style your heart desires.
How Much Yarn Do I Need To Crochet A Ripple Blanket?
You might wonder how much Yarn you'll need to crochet a beautiful ripple blanket. The amount of Yarn required depends on the size of the finished blanket and the type of Yarn you choose.
For a throw-size blanket of around 65 x 55 inches, you may need approximately 1,000 to 1,200 yards of Yarn.
When selecting the Yarn, consider factors like fiber content, weight, and color choices. A lovely example used 5 oz balls of Yarn, each 258 yards, with a recommended 6mm or size J crochet hook.
In this case, one more ball of each color was needed, completing the blanket at 65 inches wide by 55 inches long, which is a great throw size.
Ensure that your chosen Yarn is cozy and stylish to create a ripple blanket you'll love to have in your home.
Opt for colors that complement your interior or excite your senses, and remember that you can constantly adjust the size of your blanket by adding or removing rows as desired.
The crochet ripple stitch is a timeless technique that results in a visually appealing finished product.
With the right amount of Yarn and a helpful tutorial, you can crochet a ripple blanket that adds warmth and style to any space while showcasing your confident, clear, and knowledgeable crochet skills.
RELATED: Get You Chiffon On – The Complete Guide On All You Need To Know About Chiffon Fabric
Which Stitches Are Required For A Ripple Crochet Blanket?
Creating a ripple crochet blanket brings warmth, style, and a sense of accomplishment to your crafting journey. Before you start, it's essential to familiarize yourself with the stitches required for a fabulous ripple blanket.
Don't worry, dear crocheter; you'll master them in no time and create a stunning blanket that'll impress your friends and loved ones!
To begin with, you'll primarily need double crochets (dc). This essential Stitch creates the basic structure of your blanket, giving it a wonderful texture and volume. Remember to practice until you feel confident with this Stitch.
Next, the chain (ch) stitch ensures your work progresses smoothly. It provides the foundation for your blanket and determines its width.
When starting your ripple blanket, ensure your chain is a multiple of the ripple pattern so your design aligns perfectly.
Now, add some flair to your blanket with increases and decreases. These techniques will create the lovely waves that make ripple blankets so captivating.
You'll typically use two double crochets in a single stitch for increases. Decreases involve working two stitches together, commonly called "dc2tog" (double Crochet two together).
Here's a quick rundown of the essential stitches and techniques:
Double Crochet (dc)
Chain stitch (ch)
Increases: 2 dc in a single stitch
Decreases: dc2tog (double Crochet two together)
Armed with these stitches and techniques, you can enjoy crafting a ripple crochet blanket.
Is It A Beginner-Friendly Project?
A crochet ripple blanket is stylish and cozy and an excellent project for beginners. Ripple patterns use basic crochet stitches like double crochets, making it easy to master the technique.
After practicing the way, you'll effortlessly work through a one-row repeat, creating a beautiful blanket in no time.
When you start your crochet ripple blanket project, you'll find it only requires a little counting or brain power. This simplicity makes it a perfect choice for novices looking to sharpen their skills.
The ripple stitch tutorial provides step-by-step instructions, ensuring you can confidently create a stunning ripple blanket even as a beginner.
Enjoy the vibrant waves taking shape as you work on your crochet ripple blanket. While you might feel unsure at first, remember that practice makes perfect.
You'll soon find yourself lost in the rhythm of your creation's stitches and mesmerizing colors.
Consider personalizing your blanket by choosing your favorite colors to make your project even more fun. Mix and match hues to create a unique piece that reflects your taste and style.
Pattern Details
Pattern Details
Skill Level
Intermediate
Yarn Brand
Lion Brand
Yarn Name
Vanna's Choice
Yarn Weight
4 worsted & aran
Hook Size
5.5 mm (I-9)
Stitches
Double Crochet (dc), Chain stitch (ch), Increases: 2 dc in a single stitch, Decreases: dc2tog (double Crochet two together) (Article not updated yet for interlinking)
Color
As per your choice
Category
Blanket Patterns
Chevron Crochet Blanket Pattern
Here's a step-by-step guide to creating a warm and stylish chevron crochet blanket pattern.
Get ready to impress yourself and others with your newfound skill!
Gather Materials
Step 1: Determine the Gauge Before you dive into crocheting, it's essential to determine your gauge. Make a small swatch in a single crochet to measure it, and adjust your hook size if needed. It ensures your finished blanket will come out the size you desire.
Step 2: Create a Foundation Chain To begin your blanket, create a foundation chain with a multiple of 12+2 stitches. For example, you can chain 130 (12×10+2) for a medium-sized blanket.
Step 3: Starting Row 1 In your second chain from the hook, crochet 2 single crochets (SC). Now, crochet 1 SC in each of the next 4 chains. Then, decrease by creating a 3 SC stitch together across the next 3 chains.
Step 4: Continue Row 1. Crochet 1 SC in the next 4 chains and 3 SC stitches in the following chain. Keep following this pattern until you reach the last chain. Crochet 2 SC stitches into the final chain.
Step 5: Row 2, Chain 1, then turn your work. Repeat the pattern from Row 1, starting with 2 SC in the first Stitch.
Step 6: Create the Pattern. Continue repeating Row 2 until you reach your desired blanket size. Be sure to keep your stitches even and maintain the chevron pattern.
Step 7:
Finishing Touches When your blanket reaches your desired size.
Cut the Yarn.
Leaving a tail long enough to weave in using the tapestry needle.
Weave in all Yarn ends to give your blanket a finished look.
RELATED: How To Dye Silk Scarves, Dresses, And Flowers At Home
How To Block The Crochet Blanket?
Blocking the crochet blanket enhances its beauty and even out its shape. Gather your materials and get ready to give your ripple blanket some TLC.
First, you'll need to wash your blanket. Please place it in a washing machine on the delicate cycle or soak it in a tub of cool water.
The main objective is to ensure your crocheted blanket is completely absorbed. Remember to handle your creations with care, as they are delicate handiwork.
Once the washing step is done, gently squeeze out the excess water. Take care not to wring or twist your blanket, as this might damage or distort the fibers.
Now, it's time to lay your blanket out for blocking. A smooth, clean surface that lets you stretch the blanket works best. An ideal surface can be a blocking mat, a padded ironing board, a firm mattress, or even a carpeted floor (away from your furry friends, of course!).
As you lay the blanket on the chosen surface, stretch it out evenly. Please pay attention to the ripple pattern and adjust the fabric until it lays nicely and flat.
To keep it in its desired shape, consider using multiple rust-proof pins. The more pins you use, the better the final form will be.
Suggestions For Adding Personal Touch
As you venture into the world of Crochet and begin your journey with a free ripple blanket pattern, you must add your unique touch to make it a true expression of your style and personality. Here are a few ideas to start with:
Firstly, be bold and play with colors. The ripple blanket offers fantastic opportunities to experiment with different color combinations, so let your imagination run wild.
Choose your favorite shades, or mix and match hues to create a visually stunning piece. But remember to balance things out; sometimes, less is more!
Incorporating various textures is another excellent way to make your ripple blanket unique. You can explore different yarn materials and thicknesses to add richness and depth, ensuring your blanket feels as cozy and warm as it looks.
Remember the power of embellishments. Adding ribbons, pom-poms, or fringes can give your ripple blanket a charming finishing touch. A simple border or edging will also provide an elegant frame, elevating the overall appearance.
Finally, consider personalizing your ripple blanket with a special message or name. You can easily crochet letters and incorporate them into your design, making it a cherished keepsake or a thoughtful, heartwarming gift.
Wash & Care Instructions
Taking care of your beautifully crocheted ripple blanket is vital to ensuring its longevity and pristineness. Follow these simple instructions for washing and caring for your cherished creation.
First, gently place your ripple blanket in a basin or sink filled with lukewarm water. Avoid using hot water, as it may damage the fibers of your Crochet.
To preserve the delicate nature of your lovely piece, always opt for a mild liquid detergent designed explicitly for handwashing fragile items.
Once you've added the detergent, let your blanket soak for several minutes, allowing the solution to penetrate the fibers and work its magic.
Press on the mantle to further facilitate the cleaning process, but refrain from scrubbing or wringing it out. It will help maintain the blanket's shape and texture.
After soaking it:
Rinse your Crochet ripple blanket under fresh, cool running water.
Be patient and take your time, ensuring all the detergent has been thoroughly washed away.
Gently squeeze the water from the blanket without twisting or wringing the fabric.
When drying your ripple blanket, lay it flat on a clean, absorbent towel and gently press another towel. By sandwiching the blanket between two towels, you'll expedite the drying process and protect it from stretching or deforming.
Once the majority of the moisture has been wicked away, find a suitable area to lay your blanket flat to air dry completely.
Key Takeaways
Creating a stunning ripple blanket adds warmth and style to your home and can be a fun and fulfilling crochet project.
You'll quickly find that mastering this pattern is relatively simple as long as you understand single and double Crochet and decreasing stitches.
One of the beautiful things about crafting a ripple blanket is the endless variety of sizes and styles you can create.
From adorable baby blankets to cozy lap afghans and stylish throws, there is a ripple blanket for every taste and occasion.
Your ripple blanket should reflect your style and creativity. So as you crochet, have confidence in your abilities and let your imagination run wild. Most importantly, enjoy the process and take pride in your finished masterpiece!
Frequently Asked Questions
How Easy Is It To Learn The Ripple Blanket Pattern? 
Well, you're in luck! The ripple blanket pattern is simple to understand and doesn't require advanced crochet skills.
If you can double-crochet and double-crochet together, you can easily create this stylish and cozy design. Many tutorials like this one help you get started with the basic techniques.
What Size Hook And Yarn Should I Use For My Ripple Blanket? 
Your choice of theme and thread depends on your finished blanket's desired thickness and texture. Many ripple patterns work well with medium-weight Yarn and corresponding hook sizes, such as 5.0mm or 5.5mm.
However, you can experiment with different yarn types and hook sizes to find the perfect combination for your project.
Can I Adjust The Size Of My Ripple Blanket?
The ripple stitch pattern is easily adaptable to any size. Ensure your starting chain length is appropriate for the blanket dimensions you want.
This tutorial sheds light on adapting the way for different sizes, providing the perfect fit for your needs.
What's The Best Way To Choose And Combine Colors For My Ripple Blanket? 
The ripple blanket is your canvas for creativity, so feel free to let your imagination go wild! Classic combinations include alternating two or three colors, while others prefer bold blocks of color or a random mix of shades.
You can also explore gradient effects or even use a variegated yarn for an effortless fusion of tones. The choices are endless, so follow your heart and make your ripple blanket as vibrant or subdued as possible.
Do I Need A Pattern To Create My Ripple Blanket, Or Can I Make My Design?
The basic ripple blanket structure is a one-row repeat, and by mastering this technique, you can effortlessly tweak it to make a personalized pattern that matches your style and vision.
Check out this pattern for inspiration and ideas on customizing your blanket.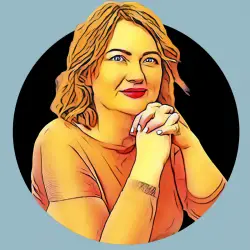 Latest posts by Sarah Reed
(see all)