Knowing what fabric is best to use when you are making clothing is very important for ensuring that it is good quality, easy to work with, and looks beautiful when it is complete.
Silk and polyester are common fabrics that are very popular to work with, but what are some good alternatives?
French terry fabric has risen in popularity over the years as it is a soft fabric that is very strong and versatile.
It can be used for many different purposes including baby clothes, tablecloths, and lots of different clothing items.
You probably have more French terry fabric items in your wardrobe than you realize!
If you want to get to know more about French terry fabric, this article will provide you with all of the information you need to decide if this fabric will work for you.
Discover the joy and beauty of French terry fabric below!
Never Heard Of French Terry Fabric? Find Out What It Is Here!
The reason that French terry fabric has become incredibly popular is due to the softness of the fabric on the skin.
It is very similar to the jersey fabric as it is very soft on one side and is usually used to make sweatshirts and midweight hoodies. 
French terry fabric is very comfortable to wear as the inside of the clothing is soft, and the outside of the piece of clothing has a smoother texture that is still soft, but not as soft as the inside.
Other materials have a soft side on the outside of the clothing, meaning that you can't get the full effect on your skin which can lead you to become uncomfortable when wearing the item. 
For those looking for a midweight fabric, French terry is perfect as it is lighter than heavy fabrics that are used for sweatsuits, but it is heavier than cotton.
It can provide you with warmth in the spring months when you need an extra layer, so it is a very good lightweight fabric to use. 
It is moisture-wicking so you can keep dry and comfortable when wearing the item, but it isn't as moisture-wicking as sportswear fabric.
It's a very versatile fabric that can keep you nice and warm in colder months but also cool in the summer months. 
Is French Terry A Good Fabric To Use?
There are lots of benefits to using French terry fabric, which is why it is one of the most popular fabrics to use in clothing.
Here are some of the main reasons why French terry is a great fabric to choose to use to make clothing. 
Varying Thickness
Although French terry usually comes as a midweight fabric, it can vary between lightweight to midweight so you can choose the density based on your personal preference. 
Durable Fabric
If you have kids, you will understand the act of someone pulling at your sweater to get your attention! French terry is a very strong fabric that can withstand the toughest of tugs used to get your attention. 
Crease-Resistant
Want to wear your sweater for a long car journey but are worried about the back creasing? Don't be! French terry doesn't crease or wrinkle very easily, so you can relax without worrying about the look of your sweater.
Low-Maintenance
The fabric is very soft and delicate, but it is also incredibly low-maintenance as it doesn't require dry-cleaning or any particular cleaning products to keep it looking in good condition.
RELATED: How Many Skeins of Yarn Do You Need to Crochet a Blanket?
Properties Of The Fabric
What are the properties of the fabric? How does it fit on your body? Can it stretch? These answers are very important to know before you choose this fabric.
Find out more about the fabric here!
Can French Terry Fabric Shrink?
Lots of clothing made from cotton can shrink when it is washed on low heat in the washing machine.
Is this the same for French terry? Luckily, no! French terry fabric washes better when it is on low heat as this prevents the clothing from shrinking.
It also helps to protect the fabric's fluffiness and softness so it doesn't become harsh or dried out from the heat.
Can French Terry Fabric Pill?
Pilling is when the fabric forms small hard balls on the surface that can become very annoying and hard to get rid of.
French terry is susceptible to pilling as it is soft, so if it is washed and worn regularly, it can be at risk of pilling. 
You can avoid pilling by gently washing your items so the risk of pilling is reduced.
You should also avoid putting your French terry fabric in the dryer as this can cause pilling, so it is always advised that you leave it to air-dry.  
Can French Terry Stretch?
French terry stretches when you are wearing it so you can make sure that you are as comfortable as possible when you are wearing the item.
Most people prefer French terry fabric for the reason that it is stretchy, meaning that you don't feel restricted when wearing the fabric and you can remain comfortable when wearing it. 
Is It Better To Wear French Terry Fabric In Summer Or Winter?
You can wear French terry fabric whenever you want as it all depends on how you are most comfortable.
However, lots of people don't think that French terry is a good choice for winter fabric due to its lightweight feeling on the skin. 
As it is lightweight and very soft, it isn't a very good material to use to keep warm in the cold.
You can wear French terry as a layer to keep warm, but it won't be able to keep you warm on its own.
As it isn't very thick, it isn't good at keeping you insulated and warm. 
Due to it not being a very good fabric to wear in winter, most people prefer to wear French terry in the spring and summer months.
It provides you with some warmth during a light breeze and it won't be too heavy to wear so that you become overheated when wearing it.
As it is lightweight, you can easily carry it in your bag when you need it. 
What Can You Use French Terry Fabric For?
As French terry is a very comfortable fabric to wear, it is the perfect material to make loungewear out of.
It is very soft and stretchy so it provides maximum comfort, and it can keep you warm when you are relaxing in the house.
If you just want a relaxing day but you don't want to wear jeans, French terry will help you instantly relax. 
French terry pajamas are very popular as they keep you warm during the winter months but they aren't too thick that you will overheat when you are all cozy in bed.
Some people prefer to wear French terry shorts to bed as they feel warm but are kept cool, whereas others prefer to wear long trousers to make sure they feel warm at night. 
What's The Difference Between French Terry And Terry Cloth?
French terry and terry cloth aren't the same fabrics as French terry is a type of terry cloth. So what is terry cloth?
Terry cloth is when the fabric has small loops that are uncut, which is how French terry is a variety of terry cloth.
Terry cloth can be made from a variety of different materials like polyester, silk, and linen, but the clothing is often made with cotton, which is what French terry is primarily made from. 
What's The Difference Between French Terry And Fleece? 
French terry and fleece are very similar fabrics as the soft sides of both fabrics are used on the inside and they are both lightweight.
So what are the main differences between the two? 
With French terry fabric, the manufacturers treat the loops differently from the way they treat fleece fabric.
They leave the loops of the yarn as they are to make sure that the fabric is breathable.
This makes the fabric moisture-wicking so you can keep cool and comfortable when wearing the fabric. 
However, the loops on the fleece fabric are treated differently by the manufacturers.
The yarn loops on the fleece fabric are shredded to create softness and fluffiness inside the fleece.
This means that the fleece fabric on its own isn't as breathable and moisture-wicking as the French terry fabric. 
As fleece can be used to make sportswear, you might be wondering why as it isn't very moisture-wicking.
However, fleece on its own isn't moisture-wicking, which is why it is often blended with cotton.
This means that it can absorb moisture and makes it perfect for playing sports. 
How Do You Keep French Terry Fabric Clean?
One of the main benefits of French terry fabric is that it is incredibly easy to keep clean.
It is very low maintenance as it doesn't require any dry-cleaning or special products.
The only thing you need to be careful of is that you don't use any harsh chemicals to clean the fabric as this can ruin and damage the material. 
Stains
If there are stains on your French terry clothing, never use bleach to try and remove them as this can cause the fabric to become very damaged.
It is always best to treat the stain first before you put it in the washing machine with some stain remover to make sure that the stain is completely removed.
Residue
After a wash, there can sometimes be detergent or soap residue on your clothing.
This can cause the fabric to become damaged as it can become stiff and hard, making it more uncomfortable to wear than normal.
This is why you should always use mild detergent on French terry fabric to make sure that it isn't too harsh on the clothing. 
Don't Use Fabric Softener
Fabric softeners are used to make clothing softer, but as French terry fabric is already soft, using fabric softener can make the material less absorbent.
You can still use some fabric softener on the french terry fabric, but not all the time.
Try using it once a month if you want to add it in or even add some vinegar in the final wash to prevent the fabric softener from sticking to the clothing. 
RELATED: How Much Is A Yard Of Fabric? Yard Of Fabric Information – Fabrics By The Yard
Other Things You Can Do To Care For French Terry Fabric
Here are some of the other things that you can do to keep your French terry fabric at a high quality.
This will help your French terry clothing to remain appearing brand new and high quality. 
Choose The Right Washing Machine Setting
Making sure that you choose the right washing machine setting is important for making sure that the quality of your clothes is of a high standard.
Make sure that the settings aren't too harsh as this could end up permanently damaging your fabric.
Only use hand-wash or delicate wash when you are washing French terry fabric so they can wash on a low heat and not become damaged or torn.
Turn Your Clothes Inside Out
Turning your French terry sweater inside out before you wash it will help to protect the front of the sweater.
If you constantly wash your clothing with the outside facing outwards, the color can begin to fade and the material could weaken over time.
By turning it inside out, you will be making sure that the clothing is protected and washed properly. 
Avoid Direct Heat
Direct heat can cause your French terry clothing to pill and become damaged, so it is always best to avoid direct heat when wearing it.
When you are drying your clothing, don't put it on the radiator or in the dryer as the heat can damage the fabric permanently.
If you want your clothing to remain soft and fluffy, avoid direct heat. 
Final Thoughts
To conclude, I hope that this article has helped you to learn about how to care for your French terry fabric.
Always remember to follow these tips and ensure that your French terry clothing remains good quality and looks brand new.
It is important to properly care for the fabric if you want it to be long-lasting and of high quality. 
French terry fabric is very popular as it is strong, comfortable, low-maintenance, soft, and stretchy.
As it is a very popular fabric, you will be able to find it to use in your creations. It is extremely popular and allows you to look stylish while feeling comfortable in your clothing. 
RELATED: Have Some Chambray – The Must-Read Guide on Chambray Fabric
Frequently Asked Questions
Get your last-minute French terry fabric questions answered below!
Is French Terry Fabric Warm? 
French terry fabric cannot be used to keep you warm on its own in the winter, but it can help to keep you warm when it is layered.
It is a popular material to use in the summer months if you want a lightweight jacket or sweater to take out in the sun to keep you warm in the breeze, but it won't cause you to become too hot or uncomfortable. 
Is French Terry Hard To Wash?
French terry fabric isn't hard to wash, but you need to make sure that you use a delicate wash to make sure that the clothing doesn't become damaged.
High heat and a harsh wash can cause the fabric to pill and lose softness, so make sure that you put it on a low heat on a gentle wash and leave it to air dry to keep it in good quality.
How Do You Prevent Pilling?
To prevent pilling, you will need to keep the French terry fabric away from heat. If the fabric is exposed to direct heat, it can pill, which can be difficult to get rid of.
Washing the clothing on a cool wash will help to reduce the risk of pilling so your fabric can remain soft and comfortable without any pilling.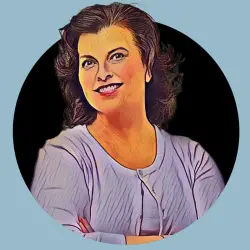 Latest posts by Amanda Brown
(see all)