Are you ready to discover the versatile world of women's pants? With so many styles and cuts, finding the perfect pair for any occasion or personal taste is easy. Dive into various types of pants to expand your wardrobe and give a fresh look to your outfit rotation.
You might be surprised by the wide array of pants styles that cater to your unique preferences. From classic dress pants like well-tailored trousers and wide-leg designs to more casual options like leggings and cargo pants, there's something for everyone.
Your outfit possibilities will feel limitless as you explore these distinct pant styles and incorporate them into your daily attire.
So, let your curiosity and creativity run wild as you dive into these selections. Embrace the whimsy and fun of trying new types of pants to elevate your wardrobe.
Importance And Popularity Of Women's Pants
Welcome to the world of women's pants and discover the importance and popularity of various styles that have shaped fashion history.
Pants have come a long way since their initial debut in the mid-19th century, when the dress-reform movement led women to start wearing pants for physical activities and household work, often out of the public eye source.
Today, you'll find countless types of women's pants to suit your every need for comfort, style, or functionality. As you explore your options, you'll realize shopping for pants has never been more exciting!
First, let's talk about jeans. Unquestionably versatile, jeans have become a wardrobe staple for women of all ages since their introduction.
They come in various colors, washes, and leg cuts like straight-leg jeans, skinny jeans, and flared styles. Jeans can be dressed up or down depending on the occasion, making them a go-to choice for many.
When it comes to professional settings, dress pants have quite an influence. Known for their tailored fit and classic silhouette, it's no wonder they're often deemed a must-have in every woman's closet source.
Show off your confidence by pairing them with a crisp blouse and stylish blazer for a chic office look.
Consider adding palazzo or culottes to your collection for a more relaxed vibe. These wide-leg styles provide comfort and make a unique fashion statement.
Ideal for brunch dates or a casual night out, you can easily dress them up with a lacy camisole or dress them down with your favorite graphic tee source.
In recent years, leggings and joggers have climbed the popularity ladder, offering an unmatched comfort level.
Perfect for lounging around or keeping active, you can rely on these reliable favorites to keep your wardrobe fresh and functional. Feel free to mix and match patterns and fabrics to flaunt your personal flair source.
3 Types Of Women's Pants
1. Wide Leg Pants
When you want to make a statement with your outfit, wide-leg pants are a great choice. They come in various styles, such as palazzo and bell bottoms.
The flowy silhouette of these pants adds a touch of elegance and works well with casual and professional settings. Try pairing them with a fitted top to balance the volume, and add heels to elongate your legs even more.
2. Skinny Pants
Skinny pants are the way to go if you're looking for a sleek and form-fitting option. They come in various materials, such as denim, making them synonymous with popular jeans and more formal fabrics like cigarette pants.
Skinny pants give your legs a more slender appearance and work well with various tops and shoes. You can dress them up with a blouse and pumps or keep them casual with a T-shirt and sneakers.
3. Cropped Pants
Cropped pants are your go-to option when the temperature rises, or you want to show off your footwear. They come in capris, which are mid-calf length and shorter cuts.
Cropped pants provide a breezy and fashionable alternative to full-length pants and can be worn in various settings. Pair them with a cute blouse and wedges for a summer outing or a sweater and boots for a chic fall look.
3 Popular Fabrics
When it comes to women's pants, several popular fabrics are frequently used that can provide various levels of comfort, durability, and style. In this section, we'll explore denim, linen, and wool as some of the most popular choices for women's pants.
Denim, a timeless and versatile fabric, is ideal for creating various types of pants, from classic jeans to trendy wide-leg styles.
This fabric is durable and easy to care for and gets softer over time, making it a top choice for many fashionistas.
Denim comes in a wide range of weights, with medium-weight denim around the 12-16 oz range. Its sturdy construction and versatile nature make it a staple in every woman's wardrobe.
Linen pants are perfect for those hot summer days when you need something light and breathable. This natural fabric, made from the fibers of the flax plant, is known for its ability to wick away moisture, keeping you cool and comfortable all day long.
Linen is also an environmentally friendly choice, as its production requires less water and energy than other materials. While linen does tend to wrinkle, its casual, laid-back vibe makes it a popular choice for relaxed, warm-weather outfits.
RELATED: 55 Men's And Women's Fashion Accessories To Unleash Your Personality
Finally, you can go right with wool pants for staying warm, cozy, and elegantly fashioned during colder months.
Wool is an excellent insulator that can regulate your body temperature while wicking away moisture, ensuring you stay comfortable in various weather conditions.
Furthermore, wool is naturally resistant to wrinkles and offers a polished, sophisticated look. Different types of wool fabrics are available, such as merino wool or cashmere, each providing its unique benefits in terms of softness, durability, and warmth.
So, when planning your wardrobe for the colder months, consider wool pants for their combination of style and practicality.
35 Different Types Of Women's Pants
Skinny jeans are form-fitting jeans that hug the legs tightly from the waist to the ankle. They are known for their slimming effect and can be made from stretchy materials to provide comfort and flexibility.
Bootcut jeans are fitted through the waist and thighs and gradually flare out from the knee down. The slight flare is designed to accommodate wearing boots, making them a popular choice for a balanced and versatile look.
Straight-leg jeans have a consistent width from the waist to the ankle. They offer a timeless and classic style that works well for various body types, providing a straight, streamlined silhouette.
Flare jeans are fitted through the waist and thighs and then dramatically widen from the knee, creating a bell-bottom-like shape. They are reminiscent of 1970s fashion and add a retro and bohemian touch to outfits.
Boyfriend jeans have a relaxed and slouchy fit, typically featuring a slightly loose cut around the waist, hips, and thighs. They are designed to mimic the look of jeans borrowed from a boyfriend, offering a comfortable and laid-back style.
Wide-leg jeans have a loose fit from the waist to the ankle, with noticeably wider legs. They provide a relaxed and breezy silhouette, perfect for those seeking a more casual and fashion-forward look.
High-waisted jeans have a waistline above the natural waist, often reaching the belly button or higher. They offer a retro-inspired style and can create the illusion of longer legs while providing a flattering fit for the waistline.
Low-rise jeans have a waistline below the natural waist, closer to the hips. They are known for their casual and modern style, sitting lower on the hip bones and offering a more laid-back and hip-hugging fit.
Crop jeans are typically ankle-length or slightly above the ankle, ending higher than regular jeans. They are designed to showcase footwear or create a summery and casual look. Crop jeans can come in various styles: skinny, straight-leg, or wide-leg.
Capri pants are calf-length trousers that typically end around mid-calf. They are characterized by their shorter length, providing a casual, summery style that falls between shorts and full-length pants.
Culottes are wide-legged pants that resemble a skirt due to their flowing and loose fit. They are typically knee-length or calf-length and offer a comfortable and versatile option for casual and formal occasions.
Palazzo pants are wide-legged, loose, flowy trousers from the waist to the ankle. They are often made from lightweight fabrics, providing a breezy and elegant style popular for warm weather or formal events.
Paperbag pants have a high waistline cinched with a gathered or pleated fabric, creating a "paper bag" effect. They are known for their relaxed fit and trendy style, often featuring a tie or belt at the waist.
Cargo pants are characterized by their numerous pockets, typically on the legs' sides. They offer a casual and useful style, initially designed for practical use in outdoor or military settings.
Chinos are lightweight cotton trousers that have a casual yet polished appearance. They are usually made from twill fabric and come in various colors, offering a versatile and comfortable option for various occasions.
Khaki pants are similar to chinos and are made from khaki-colored twill fabric. They have a casual and relaxed style that can be dressed up or down, making them a staple in many wardrobes.
Jogger pants are casual and sporty, often featuring an elastic waistband and elasticized cuffs at the ankles. They provide a comfortable and relaxed fit, perfect for athletic activities or loungewear.
Leggings are tight-fitting, stretchy pants typically made from spandex or a blend of fabrics. They are known for their form-fitting and flexible nature, often worn for exercise, as a layering piece, or as casual wear.
Jeggings combine the style of jeans with the comfort and stretchiness of leggings. They are made from a blend of denim and spandex, providing a tight and streamlined fit that resembles skinny jeans.
Tapered pants have a relaxed fit at the waist and hips and gradually narrow towards the ankle, creating a tapered or conical shape. They offer a modern and tailored look for casual and formal occasions.
Pleated pants feature folds or creases at the waistband, which release into a wider leg. They offer a classic and polished style, often worn in more formal or professional settings.
Track pants, known as sweatpants, are casual and comfortable pants typically made from soft and breathable fabrics. They often have an elastic waistband with stripes or other sporty details along the sides.
Leather pants are made from leather material and offer a sleek and edgy style. They can come in various cuts, including skinny, straight-leg, or wide-leg, providing a statement-making option for casual and dressy looks.
RELATED: 45 Different Types Of Sweatpants From Loungewear To Streetwear
Corduroy pants are made from a ribbed fabric called corduroy, which consists of vertical ridges or "wales." They offer a textured and retro-inspired style, often associated with colder seasons due to their warmth and thickness.
Linen pants are made from lightweight and breathable linen fabric. They are known for their airy and relaxed feel, ideal for hot weather. Linen pants often have a loose and flowing fit, providing a casual and comfortable option.
Satin pants are made from satin fabric with a smooth and glossy surface. They offer a luxurious and elegant look, often worn for formal occasions or as part of dressier outfits.
Velvet pants are made from soft and plush velvet fabric. They have a rich and abundant appearance, offering luxury to outfits. Velvet pants can come in various styles: skinny, wide-leg, or flared.
Wide-leg trousers have a loose and flowing fit throughout the leg, from the waist to the ankle. They offer a sophisticated and polished look, suitable for formal or professional settings.
Cropped trousers are pants that end above the ankle, typically around mid-calf or slightly higher. They provide a stylish and modern look, perfect for showcasing footwear or creating a more relaxed and casual outfit.
Straight-leg trousers have a consistent width from the waist to the ankle, offering a timeless and versatile style. They are often associated with formal or professional attire, providing a tailored and polished appearance.
Wide-leg culottes are a combination of wide-leg pants and culottes. They have a wide and flowing silhouette, similar to a skirt, but with the structure and comfort of pants. Wide-leg culottes offer a fashionable and unique style.
Harem pants have a loose and billowy fit, characterized by a dropped crotch and gathered or elasticized ankles. They offer a relaxed and bohemian-inspired look, often associated with comfort and freedom of movement.
Cargo joggers combine the style of cargo pants and jogger pants. They feature a relaxed fit with cargo-style pockets and often have an elasticized waistband and cuffs. Cargo joggers are casual and practical, perfect for a sporty or streetwear-inspired look.
Printed pants come in various styles, cuts, and patterns. They feature printed designs, such as florals, stripes, or geometric patterns, adding visual interest and playful touch to outfits.
Yoga pants are stretchy and comfortable pants designed for yoga and other forms of exercise. They are typically made from a blend of spandex and other fabrics, providing flexibility, breathability, and ease of movement. Yoga pants have become popular as casual and athleisure wear as well.
3 Occasion-Based Styles
When dressing for formal occasions, you should consider tailored and well-fitting pants. They often come in classic colors like black, navy, or gray.
Some popular types of formal pants are dress pants and wide-leg trousers. Dress pants are a go-to choice for professional settings, offering a polished look suitable for the office or important meetings.
Wide-leg trousers are another stylish option for formal events, providing elegance and comfort as they gracefully drape over your legs.
Remember to pair your formal pants with appropriate footwear and accessories, such as high heels or dressy flats, and a tailored blazer or silk blouse.
For casual outings, there are many pants styles to choose from. From classic jeans to trendy bell bottoms and relaxed-fit bootcut pants, you can find a style that complements your personality and wardrobe. Bell bottoms provide a fun, retro look, while bootcut pants are versatile and flattering on various body types.
Another option for casual occasions is capris, which are cropped pants that typically fall just below the knee. Capris work well for warm-weather events, picnics, or casual outings with friends.
RELATED: What's The Difference Between A Modern Fit And A Slim Fit?
When it comes to athletic wear, functionality and comfort are key. Some popular styles in this category include leggings, joggers, and track pants.
Leggings are lightweight, form-fitting pants made from stretchy materials to provide ultimate freedom of movement. They are perfect for yoga, Pilates, or other low-impact activities.
Joggers and track pants are looser-fitting options for running, hiking, or high-intensity workouts. These pants often feature elastic waistbands, drawstrings, and breathable materials to ensure maximum comfort during your physically demanding pursuits.
To complete your athletic ensemble, pair your pants with the right athletic shoes and moisture-wicking tops so you feel comfortable and confident during your workouts.
Frequently Asked Questions
What Are The Different Styles Of Women's Dress Pants?
Dress pants come in various styles to suit your taste and needs. Some popular options include straight-leg pants, which have a consistent width from the hips down to the ankles, and slim-fit pants that taper towards the ankles.
You may also encounter bootcut pants, which flare slightly at the bottom, making them ideal for wearing with boots. Feel free to experiment and find which style complements your wardrobe best!
Which Pants Are Best Suited For Various Body Shapes?
When shopping for pants, consider your unique body shape. For example, if you have an hourglass figure, opt for pants that accentuate your waist and curves, like wide-leg trousers or high-waisted styles.
Choose pants that balance out your proportions for pear-shaped bodies, like bootcut or straight-leg styles. Petite and tall women may benefit from pants designed for their heights, ensuring the perfect fit.
What Types Of Casual Pants Are Popular For Women?
Casual pants offer comfort and versatility, making them a must-have in any woman's wardrobe.
Some popular styles include jeans, which come in various cuts such as skinny, straight-leg, and bootcut, and joggers, which provide a relaxed fit while still looking stylish.
Other options include leggings, jeggings, and capris, offering a wide range of options to suit your preferences and activities.
How To Choose The Right Pants For Different Occasions?
Consider comfort, formality, and personal style when choosing pants for different occasions. Opt for dress pants or tailored trousers in neutral colors for professional settings. For casual outings, jeans or joggers paired with a chic top create an effortlessly stylish look.
Don't forget the importance of seasonal fabrics – lighter materials like cotton and linen work well for warm weather, while heavier fabrics like wool and denim feel cozier in colder months.
What Materials Are Commonly Used For Women's Pants?
Women's pants come in various materials to suit different styles, comfort levels, and occasions. Common materials include cotton, which offers breathability and versatility, and denim, known for its durability and timeless appeal.
You may also encounter pants made of synthetic fabrics like polyester and spandex, which offer stretch and a smooth, comfortable fit. For dressier styles, materials like wool, silk, and linen are often favored for their elegant appearance and luxurious feel.
What Are Some Trendy Pant Styles For Women Right Now?
Fashion trends come and go, but some current pant styles that have gained popularity include cigarette pants, which are slim and tapered, giving a sleek and sophisticated look.
Palazzo pants offer a dramatic and comfortable alternative, featuring wide legs and a flowing silhouette.
Additionally, cropped pants and wide-leg jeans create a trendy, modern look, while classic styles like straight-leg and skinny jeans remain popular staples in many women's wardrobes.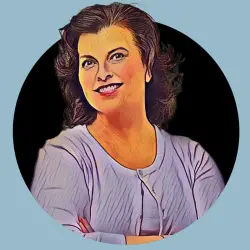 Latest posts by Amanda Brown
(see all)