Throughout this article, we'll be making the best recommendations for the best crochet triangle shawl patterns to guide you through your crochet journey in the most efficient way.
Whether you're a beginner in the world of yarns and patterns, or you're an expert looking for a new challenge to take up, there's something in this article for you!
Crocheting can be such a rewarding experience for anyone interested in adding a new skill set to their life. They make great gifts for yourself or friends and family as well as something to keep your mind and body in a peaceful, relaxed state.
Have you ever watched a grandparent watching TV whilst their hands seem to crochet away like it's none of their mind's business? It's fascinating and so easy to get to that point for yourself!
So, do you want a fun and creative shawl pattern to introduce yourself to the changing fall season again?
Try this crazy colorful hello fall shawl crochet pattern to add a pop of color to the browns and reds you'll be layering up this year. It's a complimentary pattern that's so easy to follow ready in time for the season!
If you've been searching for a minimalist shawl pattern to go with a party dress, but no such luck yet, then the lace shawl crochet triangle scarf pattern may save your day!
This pattern is one of our most elegant and sophisticated bobbled pattern choices that are certain to go with any dress you're planning on wearing. We recommend a darker yarn color if your dress is light and vise versa! 
Why not treat yourself to something with a bit more of a gradient with this triangle shawl crochet pattern, the ombre effect is so sophisticated and is the ideal shawl to introduce into your spring wardrobe.
The close-up photos really help to visualize the pattern in your mind so you can be confident in creating your own replica, or uniquely personalized shawl!
RELATED: 13 Stunningly Beautiful Hooded Scarf Crochet Patterns
This Flora shawl crochet wrap is such a fun and exciting creation to add to your spring and summer evening wear that is ideal for new beginners to crochet.
The shawl is worked down from the center top and the finished measurements are 140cm by 60cm depending on the weight of the yarn used and the size of the hook for this project. 
The unique quality of this shawl-inspired crochet pattern is that it has the ability to wrap around your body to fasten at the back by tying a secure bow or knot.
It's the ultimate house on the prairie-inspired shawl for the most vintage look and because of the freedom of the tie-around style, you can make it as long as you please! Have unlimited fun with this pattern today!
What's better than a boho crochet shawl? A crochet shawl pattern with pockets!
There are never enough or most of the time no pockets in women's clothing and an opportunity to add your own personalized sizing for pockets is one to grab!
This shawl pattern is so easily adjusted to your preferences and length so that you can make the best shawl possible that's going to last you a lifetime.
Another great pocket shawl coming your way! These shawls make the perfect gift for someone you care about and it's so easy to imagine yourself huddled around the firepit with all your close friends, cozy, warm, and stylish all in one.
Feel free to customize yours with any color you could imagine to get the most out of this perfect pattern.
This acorn triangle shawl pattern has such a fun bobble texture to add to your winter cosy collection! If you're a little on the shorter side or want something smaller, be sure to size down your hook size based on the pattern instructions to get the ideal result for you!
And if you're struggling to find the right yarn, be assured that substituting another type still gives the same results.
If you've watched your favorite grand[arent as a child crochet the best cardigans and shawls and wanted to give it a go yourself for old times sake, this pattern is the one for you and is so nostalgic!
The pattern is designed for an oversized pebble beach side-to-side shawl look and just imagine the color combinations you can come up with.
Looking for something a little different and obscure to crochet and add to your collection? Or a unique gift for a friend? This triangle crochet pattern creates the most exquisite garment to jazz up for a wedding, a friend's birthday party or a work evening do.
The pattern uses a double-sided memorable stitch pattern started with a garter tab cast on. The end result is a soft drapey look!
RELATED: 15 Brilliant Crochet Baby Yoda Patterns (With Pictures)
If you've been searching for something that's got a little bit more of a difficult appearance but with easy construction, this ombre poncho and cowl shawl pattern is screaming your name!
So if you're a beginner or an advanced crocheter, you can be certain this pattern is one to keep you satisfied and hands busy on the weekends or evenings when you feel like you have to have something to do with your hands. And who doesn't love a poncho-inspired shawl in winter?
Need a beginners triangle shawl pattern but the idea of finding one to suit you and your skills level is too daunting? Try this pattern little by little and you'll have yourself a beautiful triangle shawl in no time at all! The pattern uses a fingering yarn that changes yarn colors on its own throughout the yarn cake.
This Victoria crochet shawl pattern creates a wonderful flow and textured shawl for a lovely, warm fall wrap. The yarn structure resembles majestic ocean waves that are guaranteed to make you stand out from the crowd. It's something that sets you apart from anyone else at an event, or a new method to teach yourself in your spare time.
If you're looking for a triangle shawl pattern that you've never seen before, this may be it. The into the abyss triangle crochet shawl pattern really does take you into the abyss or into your own outer-space world using a not-so-ordinary stitch. The shawl is made up of crocheted hexagons and half hexagons joined together in a triangular pattern.
We've found you a triangle shawl pattern that can be experimented with in countless colorways and patterns! You could combine every color you can possibly think of and this shawl will look great! So have some fun and don't worry about the outcome with this pattern.
This beginner-friendly triangle shawl crochet pattern used two stitches: double crochet and puff stitch. You can create some great texture and drape with modern color blocking for a shawl that can be worn in many ways to suit you and your personal style! It's a one-size pattern that can be easily adjusted to your size preferences. Big and small. 
The wintertime crochet shawl wrap is an advanced beginner-level crochet pattern that uses basic crochet stitches to create a beautifully draped wrap. This pattern will have you excited beyond your imagination to get started on a quality garment that you'll be proud you made yourself! Also, the stylish look is simple and compliments any outfit day or night.
The foxtrot triangle shawl crochet pattern is a modern design that focuses on the edges of the shawl to create something more detailed in finishings. It is suitable for lightweight yarns and you can increase and decrease the size easily. It also works fabulously with different colored sections too!
This textured Katarzyna crochet shawl will make you feel like you're wearing the sea on your back with the oversized draped look it gives off! You do need to have some basic crochet skills to complete this pattern, however, soon enough you'll be set and on your way to achieving this overall look.
Do you find yourself missing something weighted during your meditation sessions? Or feel like you might benefit from a shawl to enhance your meditation experience? This shawl pattern is the one for you, it's a flexible pattern that can be crocheted in any yarn weight from fingering to bulky, so choose your pick!
The Turnberry pocket triangle crochet pattern works up great and is full of texture, the button and pocket details are the ultimate conversation starter for your friends and family to be left wondering how on earth you created such a masterpiece. Try it in your favorite color today!
This shawls crochet shawl pattern has more of a granny stitch look to it that you won't be able to resist creating to impress the family or yourself at your triumphant creation. And the pattern has instructions for two different shawls projects to keep you busy! One in a shell pattern, and one in an eyelet pattern.
This triangle crochet shawl pattern is a best seller on the market in crochet patterns! Be sure to grab yours whilst you can so you can create your very own beach-inspired ombre shawl that will be sure to set you apart on a trip to the seaside or ocean. And the best part? It's so easy to complete!
Why not try something cute and small to begin your shawl crocheting journey this year. The raindrop shawl pattern is perfect to give you an edge out and about or if you really need something to keep your neck warm in winter, but want something more interesting, this might be the perfect pattern for you to try out!
RELATED: 15 Crochet Ideas To Make At Home
Can't think of the ideal wedding gift for your loved one's wedding? We've got you covered with this ultimate boho crochet shawl pattern that is sure to spill a few tears at the ceremony! If cute beach weddings are something you like, this shawl pattern is a necessity to get you started on the gift of dreams!
Frequently Asked Questions
What Is The Best Crochet Pattern For A Triangle Scarf?
We recommend the ace shawl triangle scarf crochet pattern if you're struggling to make a decision on a suitable crochet shawl pattern. It's a simple but extremely sophisticated design that goes with anything in your wardrobe and because of the yarns used, it's suitable for all the seasons.
Can A Triangle Shawl Be Worn Around The Neck?
Yes, of course! Feel free to style your crochet triangle shawl any way you'd like to suit your unique body shape and preferences. Try wrapping it around your neck, or shoulders to complement and enhance a simple wedding look.
What Is The Best Stitch For A Beginner Shawl?
The moss stitch is recommended as the easiest crochet stitch for your triangle shawl, double crochet and chains as well as single crochet and slip stitches are the stitches mostly used for this design.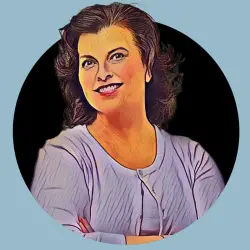 Latest posts by Amanda Brown
(see all)