With Christmas just around the corner, what better way to prepare for the day than by making those festive stockings!
It's one thing to purchase your stockings from the store, but there is something wholesome about picking up a pair of your favorite knitting needles sat in front of the fire and comfortably knitting away.
Soon enough you'll come out with a gorgeous festive themed stocking to hang up on your fireplace. But with so many options of styles and designs, it can be hard to come up with knitting ideas.
Why Should You Take Up Knitting?
A stocking is a great place to start if you are new to knitting. Many designs use basic beginner's level stitches which can be easily incorporated into a stocking.
But why should you take up knitting at all? Well, the answer is knitting has many benefits.
Knitting is a creative outlet and is a great form of therapy, acting as a way to relieve the stress of the day.
It is also a handy hobby which is compact, meaning unlike other activities that require specific spaces of work, knitting allows you take your hobby anywhere you like whether that be in your back garden or on the train.
Knitting is also great for your hand-eye coordination which in turn will benefit you in other areas of life such as cleaning and driving.
But most of all, you are learning something new, learning to create knitted pieces that make incredible personal gifts for the ones you love.
Christmas is the perfect time to put your knitting skills to the test, or to take that plunge and learn to craft a gift from scratch.
Even if the end product does turn out a little messy, that's okay! Because what is most important is the time and effort you put into creating a knitted masterpiece.
What Is So Great About Knitting A Christmas Stocking? A Brief History
Before we list suggested Christmas stocking patterns, it is good to know where the stocking derived from and how this tradition started.
Of course, the Christmas stocking didn't come out of nowhere, but is now today a phenomenon that thousands of people across the globe have come to love and knit for themselves.
The list of designs are endless!
An old folktale speaks of a nobleman who, after the passing of his wife, was left as the sole guardian of his three daughters. His worry was that his children would not marry as he was left with no money for a dowry.
One day, Saint Nicholas arrived and filled up their stockings, which were hung by the fireplace, with solid gold spheres so that they could marry.
This story was soon passed on and as time went on people would find themselves hanging stockings on their own mantlepieces just as the story intended.
Today, you will find stockings everywhere in stores preparing for the festive season which developed into people making their own ones!
That is why the Christmas stocking is so important and why creating you own knit stocking is sentimental.
It is a joy to handcraft anything, but there is something extra special about knitting your own Christmas stocking.
Below are listed 25 knit Christmas stocking patterns to give you that inspiration you need.
Go large or go home! This oversized Christmas stocking follows an easy-to-follow guide, suitable for those knitting at an intermediate level or for beginners who are wanting to push themselves.
This is the perfect stocking for Christmas.
It is large enough to stand up and the chunky yarn used will provide that extra soft touch.
Bring the North Pole to your home with this themed Christmas stocking. This pattern includes two stocking options – Santa/reindeer/tree and candy cane/snowman/rocking horse.
Whatever you desire, this pattern provides plenty of options. This stocking will also be sure to brighten the place up!
RELATED: 25 Festive Knit Christmas Stocking Patterns (With Pictures)
This stocking is for those knitting at an intermediate level and is inspired by the wonderful Northwoods of Wisconsin. Have a go and test your skills knitting this beautiful Scandinavian design.
This is a vibrant, colorful stocking guaranteed to bring the joy of Christmas to your home! The bright red and orange tones are eye catching and of high quality. This is a pattern for skilled knitters to try.
This knitted stocking is simple yet elegant. It is a great pattern for those wanting to try standard knitting. Choose to either knit this stocking in red or green and create a simple snowflake design.
Here is a knit stocking design that will certainly warm you up this Christmas! This is a cable pattern made with the softest knitting yarn. This will truly make your fireplace look cozy and warm.
This stocking is a great way to prepare for the coming Holiday season! Knitted in 100% pure wool is an image of Santa climbing down the chimney.
The colors used are your traditional red and green, perfect for Christmas.
Add some holiday sparkle to your home with this knit pattern. This pattern follows an easy guide, perfect for intermediates to try knitting. Make sure to add a tassel or pompom for that finishing touch!
RELATED: 25 Easy-To-Follow Knitting Patterns For Beginners (With Pictures)
Knit this old-fashioned Christmas stocking, perfect to display on your mantlepiece. It uses the colors red and white, resembling Santa's suit, and is a plain and simple design.
This is a simple pattern to follow.
Why not knit a Christmas moose this festive holiday? This stocking is great fun to create and can be treasured for many years to come as a keepsake.
This pattern is suitable for beginners entering the intermediate level of knitting.
Make your Christmas stocking a stocking to remember with a Santa with a giant fluffy beard. This is the perfect pattern to follow, great for the kids.
This super chunky, oversized stocking is the perfect stocking to knit for Christmas. It uses a simple color scheme and cable knitting pattern but will be sure to stand out.
The yarn used makes it soft to the touch and its large size is great for stacking with those extra presents.
This is an easy knitting pattern, perfect for beginners to practice with. If you are looking to create a stocking with simplicity, then the Scandinavian knitted stocking is the best choice for you.
This Christmas stocking is a great way to bring that festive feel to your home this year. Knitting this stocking requires knowledge of basic skills and is good for those working at an intermediate level.
This design just screams Christmas with its vibrant colors and traditional holly design. 
Have some festive fun making this beautifully knitted stocking. This stocking pattern uses a simple cream color but adds detail best for skilled knitters.
This one is great fun to make and to keep your hands occupied.
Add this stripey red and white Christmas stocking to your home. The stocking imitates the classic red and white candy cane stripe and is made from the softest super bulky yarn.
RELATED: 25 Amazing Knit And Purl Stitch Patterns (With Pictures)
This penguin themed stocking requires some detail and is the complete opposite of simple. If you are wanting to knit a stocking full of personality, this will be a good choice for any knitter.
Here is a very simple and plain stocking, perfect for beginners or those who are looking for an easy and quick knitting project.
This stocking is perfect for all ages and is great fun to make. On the front of the stocking is a lovely image of Rudolph and can definitely be kept as a precious keepsake.
You need to be able to have intermediate colorwork skills to complete this Christmas project.
This chunky Christmas stocking is easy to make and is great for a last minute project.
The pattern uses knit and purl stitches with added red pompoms for that festive finish. This is good for advanced beginner knitters to challenge themselves with.
RELATED: 20 Adorable Knit Baby Booties Patterns (With Pictures)
Why not create a stocking for your loveable family dog this Christmas? On the front of the stocking is a gorgeous golden retriever and is knitted with acrylic yarn.
This is a good pattern for those beginners entering the intermediate level of knitting.
Knitted with worsted weight yarn, this candy cane stocking is perfect for the holiday season.
The colors and image of the candy canes are striking, making for a great visually pleasing stocking for the mantlepiece.
This stocking delivers a traditional feel and requires a lot of detail. This is a stocking for experienced knitters and is a perfect heirloom.
RELATED: 20 Brilliant Knit Cardigan Patterns (Including Pictures)
Practice your cable knitting with this cozy Christmas stocking. This is a pattern perfect for intermediate level knitters and is a simple design.
Knit something a little different this year with these mini Christmas stockings. The design follows the tradition red and white and is a cute addition to hang up in your home.
Frequently Asked Questions
How Long Does It Take To Knit A Stocking?
The amount of time it takes to complete a Christmas stocking all depends on your pace and your level (are you a beginner, intermediate, or advanced?)
On average, however, the time it usually takes a person to knit a stocking is around 3 hours. This could be longer, however, if you are new to knitting.
What Are The Dimensions Of A Christmas Stocking?
The dimensions of a Christmas stocking vary depending on the size you are looking to knit.
You can create stockings which are jumbo and oversized, or you can have stockings which a miniature and an accessory to the home.
But for your average sized stocking you will be looking at around 20 inches in length and up to 7 inches in width.
What Is The Best Knitting Stitch For Beginners?
When you start to learn to knit, you should first be taught the garter stitch. This is a stitch suitable for beginners and a good place to start.
Then beginners can move on to other easy stiches such as the moss stitch, seed stitch, and basketweave stitch.
Final Thoughts
To commemorate this joyful and loved festive season, get yourself cozy, sit by that blazing fire, pick up those knitting needles and handcraft your very own Christmas stocking.
A Christmas stocking can be as extravagant as you'd desire with loud festive images stitched with yarn, or can be a simple yet elegant creation.
The great thing about the stocking is that you can really let your creative side out. There is no right or wrong and you can choose whatever pattern you want. Did you want a giant stocking as tall as your youngest child?
Maybe you'd prefer a bunch of mini stockings to hang up around the home. Or you could keep it traditional with your standard size.
Many of the knit Christmas stocking patterns suggested supply a range of different designs, suitable for any age, and you are always free to tweak some parts here and there. But the best way to finish off any stocking design is to mark it with a name.
Many people choose to make one stocking per family member with their names written on each one.
By doing this it adds that personal finishing touch and shows people that this was something you created with your bare hands, something you put work into making.
And what is better is these stocking can be kept forever as a keepsake.
However you choose to celebrate your Christmas, bring your own personal touch to the season and put your knitting skills to the test. But most of all, enjoy the pleasure of knitting.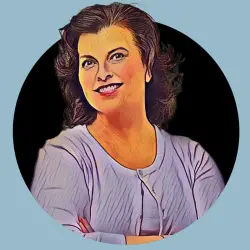 Latest posts by Amanda Brown
(see all)