In the colder months, there's nothing better than snuggling up on a sofa and knitting, especially when you know your creation will keep you warm. If you love to keep your thoughts untangled, simple knit and purl patterns are ideal. Many are easy enough to follow so that you can enjoy knitting without getting yourself in knots. 
Whether you're looking to give a heartwarming handmade gift to a loved one or make some cozy clothes for yourself, we love how quick and easy knitting and purling is. With this stitch, you don't have to be a pro with the needles to create stunningly soothing knitting.
This stylish fair-isle hat will add vibrancy to any outfit! The pattern requires super bulky yarn, which is sure to keep any loved one's head warm. 
The sophisticated-looking yellow diamond design is excellent for beginners starting out. If you don't like the pop of color, you can always swap out the yarn for neutral tones.
If you are looking for a pattern that will keep loved ones warm in winter, this water bottle cover makes a great present. This knit and purl cover will hold a 1.9 Litre/2 Quart rubber hot water bottle. 
The anchor design is a pretty easy shape, meaning it's a doable pattern for a beginner. And, you only need to be able to knit, purl, knit two together, and create a duplicate stitch for this, too! Super simple!
RELATED: 20 Adorable Knit Baby Booties Patterns (With Pictures)
Is a new tiny human coming into your life? These adorable baby booties make for delightful first shoes and lifelong keepsakes. We love that the pattern is free so that those on a budget can give a special welcome present. 
Also, we like that you can easily change out the colors and fully customize these boots!
How sophisticated is this knitting pattern? This design proves that shawls don't have to be unstylish! If you like making clothes that suit many outfits, we love that this scarf's muted tones give it a designer edge.
The shawl is knitted sideways so that sections run on an interesting diagonal. And, we love this subtle twist to a woolen scarf; the knit and purl stitch pattern is simple to master, too!
If you're looking for a project on the longer side, this nautical jumper will satisfy your knitting craving. The pattern works from the top down, which means it's ideal for beginners.
For us, the fact that the pattern is fully adjustable to suit different body shapes is a massive bonus. And, the sizes range from XS to 3XL, so most people can comfortably fit into the stripy jumper. 
Those of us who love the beach will appreciate this design. Why wait for a holiday, when you can have a bit of the beach in your home every day? The finished stop is 20cm deep and 15cm wide, in DK width yarn.
This cute knitted Beach Hut is sure to lighten up any dull room! We adore that there's no need to have an ugly doorstop bringing down your home's vibe with this pattern. 
Knitting this reversible blanket is quick and easy! The straightforward design ensures beginner knitters can comfortably handle making it. The chunky, super bulky yarn lets you snuggle up in the evening under it, even while you're stitching it!
You can use the skills learned on this project to do more complicated tasks, and it's a great blanket to make for practice, too.
RELATED: 20 Brilliant Knit Cardigan Patterns (Including Pictures)
This knit can be speedily made for any adult in 2-3 hours, ideal for those with short attention spans. It's also great for teaching others how to knit, as when making it, you can quickly see the satisfying results. 
The super bulky yarn is perfect for keeping heads warm, even in biting cold winds. 
This infinity scarf is a simple pattern that, to the untrained eye, probably looks difficult! The pattern guides you through knitting a 72-inch scarf. After that, you need a tapestry needle to join the ends together, creating the finished loop.
This is an ideal make for while watching TV. The repeating design lends itself to getting into a comfortable knitting rhythm.
This delicate scarf can be customized to suit your favorite color, letting you practice your knit and purl technique. We love that the thin design layers well, so the wearer can tuck it into clothing or bundle themselves up in it.
A tremendous first knitting pattern, this headband is as simple as it gets. The band uses jumbo weight yarn, and you can adjust it to suit your head size. 
We love that it's fantastic for keeping fly-away hair from your face, and it looks chic on anyone with short locks. To make it your own, we recommend using your favorite colored wool.
If you want some gloves that let you type and keep your fingers warm, we advise making these fingerless ones. It's worth noting that this pattern requires you to be ready for joining pieces together, which means it's probably not for you if you're a beginner.
This project is ideal for practicing seaming, and we believe you'll feel so satisfied once it's done. You can even go for multi-colored yarn to give your gloves a speckled look!
How sweet is this pattern? The smiling pandas are perfect for a baby's first blanket. This blanket is a beloved family heirloom in waiting!
However, we don't advise trying this pattern as a beginner because you have to closely follow the design to avoid getting a wonky blanket. So, if you're an intermediate knitter, this is an excellent option. 
RELATED: 25 Amazing Knit And Purl Stitch Patterns (With Pictures)
With this baby blanket, you can genuinely let your child drift off under the magical stars! To make it, you need 4mm needles and 150 grams of DK yarn. When finished, the blanket is between 21 by 23 inches and ready to be tucked into any crib.
The design is mainly created using knit and purl stitches, giving it a minimal look. Like most patterns, as long as you keep the wool type the same as is recommended, you can choose your own color!
For a bohemian look, we love this PDF open vest pattern. The chunky vest is ideal for layering and will fit snugly under many winter coats. In addition, the combined knit and purl stitches, otherwise known as stockinette stitch, make it delightfully minimal. 
This pattern proves that vests don't have to be ugly; you can even knit a flattering one yourself! 
If you love classic baby knitwear and want to pass down a handmade clothing tradition, this jumper and hat combination is for you. The fair isle design can be made for 0-3 and 3-6 months old babies, who are sure to look extra cute in these outfits.
The natural pattern is ideal for country-loving family members, and the gathered hat will stretch with your growing baby. The pom pom on top is almost too adorable to handle! 
Feeling festive? These elegant baubles are perfect for softening up any Christmas tree display. For us, the subtle chevron design is a refreshing alternative to garish decorations. 
If you prefer brighter decor, you can switch the colors for more seasonal, red and green, too! These baubles only require you to knit and purl, which is superb for beginner stitchers. We adore that the pattern is downloadable, so you can keep it for years to come.
This camp pumpkin hat is such a fun design that children are sure to love wearing! It's a fun way to get kids excited about putting on their hats and coats before heading out! 
For the environmentally conscious, reusing bags is essential. So why not make your own to carry anything from groceries, shopping, or a laptop for far longer than a plastic bag will last. It'll look much nicer too!
Want to get your excited children off to bed before Santa comes? This reindeer blanket is a great way to bring the festive cheer into kids' bedrooms, and hopefully, they'll fall asleep while they're there! 
We think the pom-pom nose is extra cute; it's lovely and fluffy, perfect for children to hold onto for comfort in the night.
RELATED: 25 Easy-To-Follow Knitting Patterns For Beginners (With Pictures)
Heading to a festival soon? This retro-style ribbed vest gives off those summer free-spirited vibes perfect for letting your hair down. 
The ribbed design means it's much more likely to stay in place than an unribbed one. Even when you're dancing your heart out!
If you're looking for a colorful make, this 'Happy Scrappy Hat' will brighten up your lap. The fun multi-colored pom-pom reminds us of sprinkles, which means it's sure to liven up even the greyest days. 
Arguably prone to getting cold, your feet need a little extra attention in winter! These socks do just that, and their stripy design lets you get creative with your color palette. And when you've finished knitting, you can put the socks on straight away and admire them!
We advise only attempting this one if you're at least an intermediate knitter, as the pattern requires some stitching know-how. If you're wanting a challenge, though, these can make a great gift to donate to charity or give to the homeless.
If you're looking for a challenge and crafting cute animals simultaneously, this pattern set is ideal for you. The pack includes instructions for a squirrel, acorn, hedgehog, owl, and mouse. So you could have your own little woodland in your home!
We recommend making these a meaningful gift for your children; they're sure to treasure these handmade creatures. The pattern isn't made for beginners because differently shaped parts require being put together.
RELATED: 25 Festive Knit Christmas Stocking Patterns (With Pictures)
Making this minimalist hat is a simple process, which produces a simple double-brimmed knit design. This hat is brilliant for those knitters and their loved ones whose style is understated. 
As the pattern is so simple, we love that you can experiment by adding in different wool colors or creating stripes that run around the head. 
Knitting FAQs
What Does Knit and Purl Mean?
Both knit and purl are stitches created by knitting needles and yarn. These stitches make a bump that sits either at the front or back of the knitting. A knit stitch is when the bump is at the back, whereas a purl rests at the front. 
Purl stitches have a more minor horizontal bump that seems to hug under the needle. Knit stitches don't have this bump; they form a little "v" shape instead. 
How Do I Start Learning To Knit?
Online there are handy knitting tutorials, instructions, and tips aplenty to suit your favorite learning style. If you're a visual learner, watching beginner knitting videos is a great way to see how to stitch. These videos are often commentated, giving you extra teaching and letting you stitch along with the instructor.
If you're not a visual learner, many knitting blogs offer handy guides for beginners. These usually have illustrations and detailed descriptions to help you quickly pick up the stitches. 
How Easy Is Knitting?
Knitting is pretty easy to pick up. However, practicing the basic stitches is key to later doing more difficult knitting. Also, learning the stitches' sequence can be confusing at first. Still, there are several handy rhymes and tutorials to help you remember.
Watching tutorials is particularly helpful, as you can easily pause and rewind the videos. This means you don't have to spend ages working out written instructions or trying to understand illustrations.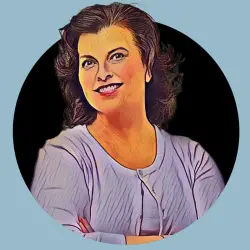 Latest posts by Amanda Brown
(see all)