Ponchos are famous for their cozy warmth and colorful patterns. Though the garment originates from South America it is now worn all over the world as a popular body warming layer that is easy to throw on and off. There are many different versions and interpretations of the poncho design, but the one distinguishing feature is the lack of sleeves.
The sleeveless shape makes the poncho an excellent project for knitters as its construction is so simple. If you are thinking of knitting a poncho for yourself or for a loved one, then look no further.
We have a list of 28 easy yet impactful poncho knitting patterns to fire your imagination and get your needles twitching!
This first pattern is perfect for beginners who haven't had much knitting experience. The design only requires a simple purl stitch, and once this technique is mastered the garment comes together in no time. The loose weave means that this poncho can be worn as a cover-up in spring and summer as well as an extra layer in fall and winter.
The choice of yarn or wool will dictate how light and breathable or fluffy and insulating the final product is, and you can always follow this pattern multiple times in different colors and materials once you have got the hang of it. Excellent knitting practice resulting in a versatile garment.
This second pattern is also suitable for beginners and provides lots of lovely knitting practice whilst also creating a great garment. The pattern involves alternating two techniques, the purl stitch and knitting stitch, in order to achieve the textured finish.
This is simple enough once you get into a rhythm, yet the result looks very impressive and professional and it means that this poncho is lovely and warm.
The bulky yarn recommendation makes this poncho an excellent choice for winter and fall, and the construction is ingeniously easy as it is just a case of joining two large rectangle pieces together!
RELATED: 20 Adorable Knit Baby Booties Patterns (With Pictures)
We love the round neckline on this next poncho pattern as it is flattering and soft. If you are looking to extend your knitting repertoire then this pattern is ideal as it involves a mix of the garter stitch and the stocking stitch and provides plenty of practice at both.
The chunky finish is perfect for cold climates and the weight of the bulky yarn means that this poncho hangs really well over the body.
The entire garment is constructed of one flat piece and the edging gives the completed article a really professional finish.
Wow, this Corali knitted wrap pattern is just beautiful and has the look of something very intricate and complicated, yet the pattern is actually simple enough for beginners to enjoy.
The lacey weave and use of contrasting stitches create lots of detail and intrigue, and the way that the wrap hangs about the body is very elegant and flattering.
This wrap will finish off any outfit wonderfully and keep you feeling warm and looking trendy. We love the addition of the feature buttons on the shoulder to anchor the design and really make a statement.
This next pattern is one of the most simple on our list as it is constructed of one single piece with no seams or complicated switching of stitches.
The addition of the holes around the edge and down the front of the design are a really effective way of creating interest and originality. The use of worsted yarn means that this poncho is wonderfully soft and warm, yet still very light and breathable.
It makes a great extra layer that you can throw on over dresses, tops or jumpers and not feel restricted and weighed down. The pattern can be adapted to be as short or long as you like.
This boat neck poncho pattern is so elegant and stylish and will make a wonderful addition to any winter wardrobe. The best part is that the pattern comes with a brilliant knitting tutorial and step-by-step instructions that are incredibly easy to follow.
The tutorial teaches you how to cast on, cast off, purl stitch and knit stitch, and once you have mastered the art of these simple techniques you will be able to  create this show stopping poncho in 6 to 8 hours! It is a great pattern for those wanting to grow in confidence and practice their knitting skills.
This next poncho pattern is very boho chic. The no frills finish is great for outdoorsy women who love to throw on an extra layer before a winter walk or gardening session.
The short cropped length means that your arms don't feel restricted and can have a great range of motion so you can get on with running errands or simply pottering at home.
The seamless design is versatile and adaptable and one size pretty much fits all as it is loose and loungey. We love the rolled over neck for that boho detail.
This Kinsey poncho pattern is suitable for an adventurous beginner who is looking to challenge themselves to a few new knitting techniques.
The poncho is constructed from two separate rectangular pieces sewn together to create an asymmetrical finish. The slightly off kilter design is casual and great for lounging around in and it comes together quickly.
There is the option of adding a turtleneck to this poncho for extra warmth and comfort. The turtleneck is knitted in the round as a separate seamless loop and then added.
If turtlenecks aren't your thing however, you can leave the raw edges and open neckline for a gorgeous feminine finish.
This clever autumnal poncho pattern uses a combination of simple techniques to create the various different textures on the design.
The pattern allows confident beginners to really flex their muscles and put their skills to the test, and is a relaxing project for advanced and intermediate knitters.
The panels of texture make a modern and eye-catching garment that looks great in a single block color because all the stitch patterns stand out and sing. This poncho would make a great gift for any lucky lady as it is stylish and unique and compliments any outfit.
RELATED: 20 Brilliant Knit Cardigan Patterns (Including Pictures)
You will be able to whip this woollen cape up in a single weekend because it is so simple and easy. The single rectangular piece is cleverly fastened at the front with a feature button to create a chic cape or body wrap that looks modern and effortlessly cool. The cape can be made as long or short as you like and the garment is easy to fit to size as you simply have to position the button where best suits your shoulders and body. This wrap will keep your chest warm on chilly days and will keep your fingers warm whilst you knit it!
This easy poncho knitting pattern is elevated by the addition of the plaited section that runs along the lower diagonal edge. The plait is elegant and intricate and makes this poncho an ideal make for those who love understated style with a twist.
The cable hearts are a great technique to master as they can be used on lots of other knitting projects to add personality and detail to your designs, and for this reason this pattern is best suited to intermediate level knitters. The finished item is a cozy and loving hug of a garment that you will never want to take off.
This next poncho pattern is a vintage classic which is an ideal project for anyone who loves some retro style. The pattern can be adapted to fit 7 years olds right up to adult sizes so it is very versatile.
We love the addition of the statement fringing on the bottom of the poncho as it is such an iconic look and adds movement and flare to the design.
The pattern can be made with or without the chunky neck, meaning that it can be made lighter and more breathable for summer wear or more insulating for winter. If you love 1970s fashion then you will adore creating this poncho.
This popcorn poncho pattern for kids is super fun and unique. The bobbles appear like raised polka dots all over the garment and are created using a simple popcorn stitch. The textured finish feels great to run your hands over and looks so adorable, especially on little ones.
The addition of the tassels along the bottom edge and the pom pom drawstring make this a truly characterful and zany design that any child would love to receive as a handmade gift.
The skill level is intermediate but we think advanced beginners could give this pattern a go because it includes excellent instructions and pictures.
This next pattern creates a stunning winter poncho that is highly warming and seriously beautiful. The cabling techniques used create wonderful sweeping plaits and coils which are very dramatic and impactful.
The choice of aran wool makes this poncho luxurious and high quality, and therefore this pattern is best suited for intermediate and advanced knitters.
The pattern can be made as a full poncho or as a cape (with the front section left open), so it is very versatile and you will be able to use it again and again. A really professional poncho pattern.
Wow, wow, wow! This elegant swinging cabled poncho pattern has such a unique and distinctive shape that flatters the female body and will certainly turn heads.
We love the dramatic flare created by this pattern, and better still, it allows you plenty of freedom to move your arms with no restrictions.
The pattern is constructed of two separate pisces which are sewn together and then joined by the single yolk and neck section. The finished effect is of a flowing garment that is sophisticated and stylish (and also keeps you warm!).
If you love cable knitting patterns then you will adore this poncho. The pattern is a vintage original from the 1970s and the garment really reflects that authentic, boho feel.
The chunky weave and bulky wool make this a snuggly and highly warming poncho that can be worn as an outer layer over large jumpers and cardigans.
It will protect you against wind and winter chill, and will keep you looking stylish as well. The large cable design is impactful even from a distance with the huge diamond motif adding lots of drama. The knitting techniques are complex and this pattern is therefore best suited to advanced knitters.
How cute is this Dayana knitted poncho pattern?! The use of three very simple techniques cleverly creates a really trendy garment that can be worn over day or evening wear as a stylish over-layer. We love the front pocket detail because it looks great and you can keep your hands warm when tucked inside. This poncho is made from a single piece that is secured by buttons down the sides and therefore it pulls together extremely quickly. The pattern adapts to multiple sizes and can be made for young children as well as adults, so why not make them for all the family!?
RELATED: 25 Amazing Knit And Purl Stitch Patterns (With Pictures)
This sublime knitting pattern includes directions for both the baby hat and matching poncho, making it an ideal make for anyone with little children in their lives.
The pattern involves an 8 cable repeat in order to create those stunning detailed plaits, therefore the skill level required is intermediate to advanced.
The use of aran wool means that this poncho and hat are winter ready and perfect for running in snow and building snowmen.
As the example photos show, the design can be accessorised and adapted in many creative ways to achieve the most adorable personalized finish that is specific to your little one.
If children's garments are what you love to knit then why not give this temptation pattern a whirl? The use of thick yarn and large knitting needles mean that this poncho and hat combo is surprisingly quick to make, and it is ideal for intermediate knitters who love to work with cables.
The poncho is created from the bottom up in 4 pieces which are sewn together. The neck is one seamless piece that can be attached at the end. The finished garment is beautiful and looks almost vintage in its intricacy. A work of art!
There are no prizes for guessing why this pattern is named Audrey! The design is just gorgeous and is reminiscent of one of Audrey Hepburn's stylish outfits due to the thick fold over neck and clean lines.
We love how this poncho is fitted at the waist and hips to flatter the figure, and we also think that the wide neck line is incredibly stylish.
This poncho is suitable for advanced beginners and intermediate knitters and will make an ideal garment for anyone who wants to benefit from the warmth of an extra layer whilst still looking chic and elegant.
This stunning vintage poncho pattern is a perfect project if you love cable work and circular knitting. The ribbed yoke and high neck give this poncho an almost regal appearance that is reminiscent of Victorian winter wear.
We love the arm holes which allow you a great range of motion and also give this garment an authentic vintage aesthetic. The use of DK yarn gives this poncho the delicate, lightweight finish that makes it so sophisticated and elegant.
The intricate tree motif on this child's poncho pattern is unlike anything else on our list. The delicate design elevates this garment to a higher level and makes it a truly special creation that can only be made with love.
The finished article can be made to fit sizes from 2 year olds to 10 year olds and is ideal for the festive season as the trees look like Christmas fir trees.
We love that the poncho can be adapted to have a turtleneck for added warmth, or to have a circular neck for a more lightweight finish. The choice of green wool used in the example photos is stunning.
This next poncho won't just keep your chest and torso warm, but it will also keep your head, ears and neck toasty thanks to the addition of the hood! The pattern involves a combination of stockinette and grid stitches to achieve the finely textured feel, and the dropped shoulder gives this poncho its oversized and slouchy shape that is extremely comfortable to wear.
The front pocket is useful for storing your phone or lip balm and the side buttons add a pop of color and fasten the poncho to hold in your body heat.  It can be made in many different sizes so you can knit parent and child versions for an adorable matching set!
This poncho is very simple to create as it is constructed from multiple knitted squares. The techniques involved include garter stitch, moss stitch, ribbing and ridge stitch, and the mixture of these results in a textured and interesting design.
The squares are joined to give this oncho a lovely natural drape across the body, and the full fringe is a great design feature which adds another dimension. A great project for any happy knitter.
RELATED: 25 Easy-To-Follow Knitting Patterns For Beginners (With Pictures)
This leafy poncho is a gorgeous lightweight layer that makes a perfect present for any nature lovers. The leaf motif is created through two cables and the loose weave creates a lacey effect that looks incredibly elegant and intricate.
The pattern is suitable for advanced beginners and intermediate knitters and it is made up of two rectangular panels that are joined together to create an asymmetrical shape. This poncho is perfect for wearing as a summer cover up and a spring accessory.
This super chunky poncho pattern is a vintage original and we love the bulky, oversized design. This poncho would be a wonderful handcrafted gift to give to anyone over winter.
It is the ideal shape and size to wear whilst snuggled on the couch in front of the fire. The pattern adapts to child sizes and there is an optional hood that can be added for that extra cozy element.
The techniques are simple and yet the finished garment is incredibly impactful – especially when made in the striking red color yarn used in the example photograph!
These children's ponchos from the 1980s are almost too cute to handle! The light worsted yarn with fluffy finish gives a fuzzy feel that children will absolutely love to wear, so you won't have any more trouble getting them to put on an extra layer before they go outside.
The striped effect is zany and fun and provides lots of opportunity to use bright color combinations. This pattern is a total winner!
If you want to create a poncho with a difference then why not give this pattern a try? The sleeves are elegant and long and will keep your arms lovely and warm, whilst the actual poncho section is sophisticated and stylish.
The short length of the shrug allows lots of movement and freedom, and the bulky yarn is insulating and perfect for winter. This pattern is a good choice for intermediate knitters who have made the standard poncho designs and now want to try something new.
Frequently Asked Questions
Is It Easy To Knit A Poncho?
Ponchos can be very quick and simple garments to knit as they do not need sleeves. If you have mastered the purl and knit stitches then you will be able to attempt a poncho, however there are many more complex and intricate patterns available for more advanced knitters.
How Much Wool Do You Need To Knit A Poncho?
The amount of wool required to knit a poncho depends entirely on the size of the garment you are making and the thickness of the wool. For a standard sized adult poncho you will need approximately two skeins of yarn which is the equivalent of around 1250-1500 yards.
Can You Knit A Poncho In The Round?
You can knit a poncho in the round if that is the style that you prefer. However, if you do not like knitting in the round you can create a flat poncho by joining two rectangular pieces together, or by following alternative patterns.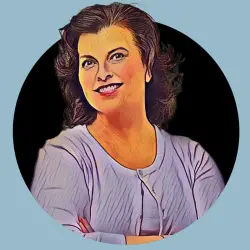 Latest posts by Amanda Brown
(see all)