Do you want to spruce up your outfit with a pretty handmade rose necklace, or are you looking for a cozy, warm afghan with a rose pattern? There are so many ways to enjoy the beautiful details in crochet rose. You can make a simple rose applique and sew it onto your bag or coat, or make a super stylish cardigan with rose granny squares.
You can even create crochet roses for a very special occasion. Why not make a rose crochet birthday cake for a rose lover, or a full crochet rose flower bouquet for a friend's wedding.
Here are our most popular 25 rose crochet flower patterns for you to choose from.
Keeping you super cozy in winter, this pattern for a beautiful rose crochet cardigan is made of individual rose granny squares. Details like the balloon sleeves and ribbed cuffs make this cardigan very comfortable to wear. This pattern includes step-by-step instructions and photos for two sizes, S/M and L. You can easily vary the width to adjust to your preferred dimensions. 
With instructions for six sizes, this pattern for a beanie with a crochet rose can be made for newborns, toddlers or adults. You need only three different colors of worsted weight yarn and a 5.5mm crochet hook. The pretty shell design can work with any color yarn, whether you like a natural grey or prefer a snazzy purple.
This rose necklace is so versatile that you can make it as long or short as you want. The pattern instructions are in standard US crochet terms and suitable for a crochet beginner. This lariat can be worn in whatever way you want, as a necklace, tie it around your hat as a stylish accessory or use it as a belt to spruce up your outfit.
RELATED: 13 Stunningly Beautiful Hooded Scarf Crochet Patterns
With this Tunisian crochet pattern, you can make your own rose clutch bag. The finished size is 11 inches x 11 inches and could be used also as a washbag. When you fold it over, you will have a stylish clutch bag to hold the essentials you need on the go. This pattern includes easy-to-follow instructions on how to make the bag and a cross-stitch chart for making the rose design. 
If you are looking for a handmade accessory, this old rose crochet headband is a classic. The pattern includes different sizes so you can make it for any age and adjust the size. You will need just a small amount of yarn in two colors so a great way to clear out some left-over yarn. 
Made of individual crochet tiles, this climbing rose wrap has a truly vintage feel. The pattern includes instructions for everything you need, photos and a layout plan for the whole piece. As the pattern uses a range of different stitches, this is more suitable for advanced crocheters.
This sweet-looking cottage rose headband keeps you warm and toasty in winter. You can crochet the headband in one main color, and then sew the crocheted rose with leaves on.  The pattern includes five different sizes so you can make them for the whole family. 
This pattern for a sweet rose crochet bracelet comes with plenty of detailed instructions and images for how to make the bracelet, roses, leaves, loop and button for closure in the back. As the pattern works with some advanced stitches this is best for more experienced crocheters or beginners who would like to try out a more difficult pattern.
RELATED: 15 Brilliant Crochet Baby Yoda Patterns (With Pictures)
With this rose crochet hat pattern you can pick one of five hat sizes, or just make one for everyone in the family. These easy-to-follow instructions include step-by-step guidelines on how to make the main crochet hat with different stitches, and how to crochet the roses. This is a more advanced pattern due to the intermediate stitches but experienced beginners would also be able to work with the color-coded instructions.
These baby boots with a little rose crochet flower are so intricate and beautiful. You can make them in neutral white, or choose any color to match baby's outfit. The finished size of these baby boots will be 3.5 inches, suitable for 3-6 months. You can decorate this pretty pair of boots with ribbon or firmly sew on some beads.
Make this large Victorian crochet headband in one color or multiple to match your outfit. This pattern is for advanced beginners. While the headband is very easy to make, the rose is slightly more challenging. However, there are detailed instructions and photos to help you through the design.
This beautiful crochet pattern for a potholder is inspired by lace crochet and uses a charming layer effect with a rose at the center. This crochet potholder lies completely flat so you can use it to handle your hot dishes or protect surfaces. A practical loop at the top means you can easily hang it up when you don't use it, or even hang it on the wall as decoration.
An original vintage pattern from the 1970s, this floral crochet afghan is best worked with worsted weight yarn. The original finished size is 50 x 74 inches but you can also increase the size if you want to make it bigger and use the afghan as a bedspread.
With its repeating square rose design, this large crochet afghan would make a perfect bedspread. You can easily vary the size and dimensions by making more or less squares.  The 3D rose design at the center of each square makes this an eye-catching piece, and you can create this crochet blanket in whatever colors you want.
Keep your tea warm and toasty with this pretty crochet tea cozy pattern. Perfect for beginners, the step-by-step instructions include guidelines for the main tea cozy body, flower appliques, leaves, and how to assemble them. The finished cozy will fit a standard 6 cup tea pot.
This beautiful Irish rose doily pattern has been recreated from an original vintage design from the 1950s. The intricate roses with leaves around a cobweb center are so detailed that they make a great decoration or gift for someone special. 
This beautifully designed crochet bedspread is made up of individual strips with frilled borders and crochet roses running along the middle. The roses are worked separately and sewn on at the end. The original pattern is for a finished length of 41 x 67 inches but you can easily adapt the size by making the strips shorter or longer. 
This stunning granny square crochet pattern with vintage roses can be made with every color and yarn of your choice. The 3D rose design, cluster and picot stitches are suitable for more advanced crochet levels but it could also be a great option if you are a crochet beginner looking for a longer project.
These super cute amigurumi rose onions are great fun to make. The pattern includes instructions for two designs measuring approximately 7.8 inches tall. The step-by-step descriptions take you through how to make the main body, the arms and face, as well as how to stuff the body. Put them in a small pot to use as decoration or give them as a very special birthday gift.
If you love bobble crochet stitch, then this rose bobble afghan pattern is a great choice. Made of individual squares, you can easily adjust the size of this crochet blanket. The squares alternate with bobble stitch blank squares, and rose clusters cross-stitched onto the afghan. The fringes on both ends of this classic blanket give it a vintage look.
This is a truly big rose design disguised as a crochet pillow. Whether you make this in the traditional rose colors such as red, pink or yellow, or in your favorite color to match your decor, this cushion makes an ideal home accessory for your sofa or bed. The beginner-friendly pattern includes high-resolution images with instructions on how to make the pillow, with an original size measuring 35cm in circumference. 
This pattern for an amigurumi skull and roses pillow is easy and great fun to make. This beginner-friendly pattern uses most single crochet for different parts of the cushion, and then all the parts are assembled. The design is inspired by Frida Kahlo's Mexican artwork, and is a great accessory for Halloween. 
Follow the instructions of this rose crochet pattern to create a whole bouquet of roses. The open bloom and lush appearance is wonderfully attractive and can make a unique centerpiece for weddings and special occasions. This rose is even the right size and shape to use as a hair flower. If you follow the pattern's recommendations for hook size and yarn, the finished flower will be 4.7 inches tall and 3.1 inches wide, but you can make your flower smaller if you use a smaller hook.
Inspired by an original 1980s crochet pattern, this crochet birthday cake is topped with beautiful rosettes as frosting. You can make this special birthday cake using one skein in white, and half a skein in any color you like for decorating the cake and the rose petals.
This unusual boho Christmas stocking pattern combines two great crafts: crochet and macrame. The pattern will take you through how to make the stocking base, crochet the flower appliques and assemble everything. The finished stocking is 19 inches long and 6 inches wide, with plenty of space for sweets and treats.
Frequently Asked Questions
How Do You Crochet A Rose Pattern?
This depends on what pattern you have. You can make individual decorative crochet roses, or clothing and home accessories with a rose pattern. Your pattern, either available as digital file, brochure or video, will let you know what materials you need, such as crochet hook size, the amount of yarn and other items. The crochet patterns give you step by step instructions on how to make a crochet rose, or any crochet project with rose appliques you want to make.
How Do You Crochet A Big Rose?
Big roses are easy to crochet because you can use a much bigger hook and chunky yarn. The size only varies with with your yarn weight and hook size. The heavier your yarn and the bigger your hook, the bigger your rose. If you want to make a rose applique, then it is best to follow a crochet rose pattern for instructions. The pattern will guide you through how to make the rose in detail and most roses are very similar to make.
How Do You Crochet A 3D Rose?
Crochet 3D roses that resemble real rose petals are quick and easy to make. Crochet roses are usually made in one long chain, and then sewn together so it creates the three dimensional effect of rose petals. The crochet rose leaves are crocheted separately and sewn on to the side of the finished rose. Depending on the crochet rose style you want, you can find a lot of different patterns for crochet flowers and roses.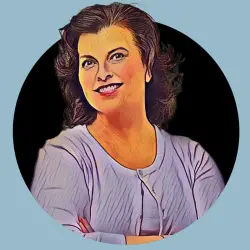 Latest posts by Amanda Brown
(see all)