Caron Cakes crochet patterns have taken the crafting world by storm, captivating the hearts of crochet enthusiasts everywhere. These unique patterns incorporate the beloved Caron Cakes yarn, renowned for its vibrant colors and smooth, self-striping nature. With its luxurious blend of acrylic and wool, Caron Cakes yarn provides the perfect balance of softness and durability, making it ideal for a wide range of projects.
From cozy blankets and scarves to trendy garments and accessories, Caron Cakes crochet patterns offer endless possibilities for creativity. Whether you're a beginner or an experienced crocheter, these patterns cater to all skill levels, providing clear instructions and step-by-step guidance.
One of the most exciting aspects of Caron Cakes crochet patterns is their ability to create mesmerizing color transitions effortlessly. The self-striping nature of the yarn eliminates the need for multiple color changes, resulting in stunning, gradient-like effects that add a touch of magic to any project.
Get ready to embark on a crochet journey filled with color, texture, and endless inspiration. Let the Caron Cakes crochet patterns unlock your creativity and bring your crochet dreams to life.
what is Caron Cakes Crochet Patterns
Caron Cakes Crochet Patterns are a collection of patterns specifically designed to be used with Caron Cakes yarn. Caron Cakes is a popular self-striping yarn produced by the yarn company Caron. It is known for its unique color combinations and soft texture, making it a favorite among crocheters.
The Caron Cakes Crochet Patterns are specifically tailored to take advantage of the yarn's self-striping properties. These patterns often feature stitch patterns or designs that showcase the gradual color changes in the yarn, creating beautiful gradient effects in the finished projects.
The patterns available for Caron Cakes encompass a wide range of items, including blankets, scarves, shawls, hats, sweaters, and more. They cater to crocheters of all skill levels, with patterns suitable for beginners as well as more intricate designs for experienced crafters.
These patterns typically provide detailed instructions, including stitch explanations, stitch counts, and sometimes even video tutorials. They allow crocheters to explore their creativity and create stunning, colorful projects using Caron Cakes yarn. With a vast array of patterns available, crocheters can find inspiration and create personalized items that reflect their unique style.
37 types of Caron Cake yarns
A simple market bag is a versatile and eco-friendly accessory designed to make your shopping trips more convenient and sustainable. This lightweight bag, typically made from durable materials like cotton or jute, features ample storage space and sturdy handles for carrying groceries, produce, or everyday essentials.
Its straightforward design ensures easy folding and compact storage when not in use. With a simple market bag, you can embrace a greener lifestyle while adding a touch of style to your shopping routine.
This intricate wavy scarf is one for the more experienced crocheters than beginners. It requires a 6.00mm hook and being comfortable with doing multiple crochet stitches. 
It's a little challenging to understand at first if you're not familiar with the fanning stitch, which is why it's ideal for intermediate stitchers. We love the flowing design; it looks so cozy for winter. 
Are you having a baby, or know someone who will? If so, this adorable blanket is sure to be a pretty addition to any crib! This pattern only uses two stitches, single and double crochet, making it perfect for beginners. 
The blanket makes a great baby shower gift, and its textured design will keep little ones warm throughout the winter months. It doesn't have to be a baby blanket, too! You can add stitches to it over time so that it grows with the child!
RELATED: Fun Amigurumi Turtle Patterns That You Can Download And Make Right Now!
With this pattern, a comfort blanket doesn't have to be tiny or for children!
No one wants annoying hair flying in their face on a windy day! This headband is a lovely handmade way to keep your locks in place. The front twist is minimal and chic but does require some crocheting know-how. So, this pattern is suitable for advanced beginners and up. 
You can probably make it in the evening too because the pattern repeats itself. This is a lovely gift idea for the homeless; you can hand these out to those in need to spread some love in the chillier months. 
Looking for a vibrant challenge? If so, this detailed scarf pattern has got you covered. It uses complicated yet beautiful broomstick lace stitches, which are definitely for intermediate and expert-level makers. 
We love that the stitches and warm-toned caron cake give it its sunray design. This scarf will brighten any grey day!
This blanket uses Tunisian crochet stitches. This oceanic blanket is definitely a long project you can sink your teeth into. It's made up of panels bonded together with contrasting post stitches, creating an exciting design. 
We love that the caron cake's colors blend into each other, giving any home a calming blue vibe. 
This pattern produces a large blanket, perfect for a big family or for covering a tired sofa. It's a lot cheaper than buying a new sofa too, and much more special because you will have made it! 
Wanting to spruce up your winter wardrobe? This vibrant beanie is cozy and uses easy stitches, which means it's a fantastic beginner project. 
The adorable top pom-pom adds an extra fun element, too! It's so satisfying to make something that keeps you warm, and you can customize the colors on this hat to suit your style!
For a flowery look, this motif can be made into blankets, doilies, and even scarfs. With this pattern, you learn intricate crochet stitches that you can use to experiment with your own designs. 
If you want to make a throw approximately 45 by 58 inches, you'll need eight skeins. As it requires moderate skill, it's not best for a beginner. 
If your wool collection is a cluttered, tangled mess, this project bag is a great way to use up your yarn and organize it! You'll need a 6.00mm hook, about 100g Aran yarn, and a stitch marker for this pattern.
The end product is a cute and sturdy bag measuring approximately 25 by 27cm, ideal for tucking away neatly in a cupboard. 
RELATED: Easy Crochet Bookmark: Perfect Project for Beginners
Spicing up your wardrobe is simple with this quick and easy scarf! As a beginner can crochet it, it makes a lovely gift that won't take ages to create.
The popcorn stitches lining the edges are highly compliment-worthy, adding dimension to any outfit. In addition, the fun tassels add eye-catching movement to the scarf and give it an extra boho vibe.
As chihuahuas originate from Mexico, they're prone to getting chilly in colder climates. This chihuahua dress is an attractive option for dog parents to keep their four-legged friends warm. 
The pink tones bring a pretty vibe to the outfit and suit any sandy-colored small dog well! We imagine this outfit feels like wearing a blanket, which must be divine for any little dog in winter! 
With worsted-weight chunky caron cakes, you can quickly build this funky diagonal shawl. The stripy design adds a pop of color to any outfit, and it's super chunky to protect you from cold winds. 
You can adjust the downloadable pattern, too, to grow the shawl as much as you want. So, you can enjoy handcrafting this for children and adults alike! 
Got a mermaid-loving child or adult in your life? This magical purse is a great way to give others the fishy tail they've been dreaming about! It's such an adorable beach or festival bag, too. 
It uses the scale-like crocodile stitch, which isn't made for novices. So, definitely only try this design out if you're at an intermediate and up level.
Want to bring some homemade magic to your Christmas decorations? Then, this delightful stocking pattern will fit in well in any excited family's home. Crocheting your childrens' Christmas stockings is a fantastic way to make the wait for Santa even more special. 
This pattern is suitable for intermediate and expert crocheters because it requires some shaping skills for the toes and heel. 
So, if you're up for the challenge, it's highly likely to be a gratifying project. It can even be a precious family heirloom for excited children for generations. 
If you want to wrap yourself in a squishy and comfortable scarf, this chunky one is perfect. But, of course, you can customize the pattern to create a more minimal look too, or embrace maximalism with an extra-long scarf! 
RELATED: Crochet The Amigurumi TikTok Bee
This beachy design is a cute addition for any day by the sea because it has beautifully oceanic colors. You can easily fit your essentials in the backpack; it will hold suncream, sunglasses, a purse, and lip balm. 
It's light enough to wear around town, too, meaning you don't have to drag around a massive beach bag! 
This sweater that uses top-down crocheting is modifiable! So, you don't have to worry about wearing something too long or trying to tug down short sweater arms. 
The self-striping warm-toned caron cakes yarn gives the sweater an organic look, ideal for casual walks, crunching autumn leaves. This pattern is pretty simple, and as it's a sweater, it's a brilliant option for those who've mastered beginner patterns and want to try more advanced designs. 
A genuinely homely design, the Buckley Blanket adds a soft touch to any interior. This is a simple afghan made with rib and other beginner crochet stitches; this makes it super easy to create while watching your favorite TV show.
This design makes an excellent throw for your bed and is a beautiful way to breathe new life into an old chair. The thickness makes it ideal for bundling into the car for long journeys so that children can sleep while traveling. 
Fancy going on an adventure? This Tote bag will hold everything you need for a lake day, beach trip, or shopping session. The stripy design makes it easy to crochet, so you can feel comfortable creating it if you're a beginner. 
If you prefer different color combinations, you can pick rainbow caron cakes or more neutral tones that will go with most clothes. 
Is there anything more satisfying than crocheting a practical gift? We don't think so!
This lightweight throw adds an airy feeling to any sofa, chair, or bed if you're missing seaside trips. The cotton material is super soft, making it perfect for wool allergy sufferers. It's a blanket you can snuggle into even while you're crocheting it!
You can even take it with you to the beach and wrap yourself in it to watch the sunset with loved ones. The pattern is made for beginners and uses worsted yarn.
RELATED: A Guide To Making The Famous TikTok Bumblebee – 3 Different Sized Crochet Patterns
Looking for an extra warm hat pattern? This beanie is made with chunky yarn, so it's sure to hold the heat in when you're wearing it. 
When finished, it will fit someone's head that's up to 62cm in diameter. This stretchiness means you can safely give it as a gift without worrying if it will do. 
And you don't have to be a crocheting pro, either! We love that beginners can quickly learn to make this beanie, which is so simple that you can teach children to make their own. This would make a lovely family activity on a rainy day, keeping little ones occupied for hours. 
If you love the triangle scarf trend, this pattern uses interesting stitches for a unique take on the chunky shawl. Made for intermediate stitchers because it uses advanced shaping techniques, the shawl gives a fun western vibe.
The self-striping yarn lets each shawl made have a life of its own, so you can create different ones for family and friends if you get in the crocheting groove.
The chevron pattern is a classic crochet tradition, and it makes up this eye-catching clutch purse. The design requires a 5.0mm hook, embroidery needle, a button, scissors, and caron baby cake. And only uses three straightforward stitches, which is perfect for a beginner. 
Do you want to feel like you're wearing a cozy blanket when you're outside in winter? If so, this cardigan jacket will comfort you! The pattern is long-sleeved and falls at least to knee-length, which allows you to feel covered in soft and fuzzy crochet. 
As the name suggests, this would make a great cardigan by a campfire because you can quickly wrap it around your legs. 
Do you love sweaters' warmth but find them annoying to take off when you want to? This elegant cowl cape solves that problem, as it has a stretchy turtleneck that will hug you just below your chin. 
The pattern requires Aran yarn and a 5.00mm crochet hook. It's delightfully easy and impressive for any beginner to make because the simple shape means it's not tricky to figure out. 
If you've been searching for a matching hat and scarf, this pattern will mean you can save time looking and start making! The ombre combination is super flattering, and we love the raspberry color bobbles. 
This is brilliant for using up yarn's odds and ends because the design is purposefully stripy. 
Know an older lady who would love a warm shawl? This blue and white one will brighten up any dull day with its fun woven effect. The layered stitches make us want to get closer and discover all the little details. 
This shawl lends itself to customizations; if blue isn't your color, you can choose another or let yourself run wild with a multicolor caron cake. The design also means you can easily use up leftover yarns.
Do you get annoyed when a scarf dips in your drink or flies about in the wind? If so, this neutral and chunky infinity scarf will keep you warm without getting in your way. 
We love the bobble honeycomb pattern, the neutrals will go with almost anything, so it's super versatile. 
As the name suggests, this pattern is a beginner crocheter's dream! It uses only one yarn ball, and in an evening's free time, this scarf can be yours! 
The flowing tassels give it a lovely and soft finish, which would gently move with you. This is a joyfully quick gift, ideal as a charming stocking filler at Christmas. 
Is your decor in need of a refresh? This sea-colored throw would be a soothing addition to any plain living space. In addition, the bubbling stitches make it an interesting sensory toy for babies and those with some disabilities. 
This is an excellent comfort blanket, and as homemade gifts are often treasured for years by the people they're made for, it is likely to be loved for a long time. 
Are you looking for an 80s retro make? Or maybe you're a dancer who needs to keep their muscles warm! These fun and fuzzy leg warmers will be a great addition to any fancy dress party, ice-skating rink, or chilly winter walk. 
It uses simple stitches, too, so beginners can quickly pick up the techniques.
If you know a unicorn fan, this adorable rainbow toy will make them so happy! The unicorn is the right size for children to hug, and the fluffy mane is soft when stroked. The pattern uses a 3mm crochet hook and 'Rainbow Sprinkles' caron cakes. 
The square stitching on this blanket is a classic crocheting style, creating a variegated design. The neutral tones work well to tone down any bright decorations, giving a room a more soothing and muted feeling. 
The border is finished off with a crab stitch to prevent fraying so that you would end up with a clean edge on this blanket. 
A lovely surprise for any robot and budding engineer, this pattern makes a friendly toy that's super huggable! We love the kind expression on the robot's face and primary color child-like design. 
This pattern is crafted in the amigurumi style, making it super easy for beginners to have a go. If you make one for someone else, you may even want to make another one for yourself because it's so adorable!
RELATED: 13 Stunningly Beautiful Hooded Scarf Crochet Patterns
With this pattern, you can bundle up in style, ready to face whatever chilly weather comes your way! We love the lattice pattern, which gives you extra chunky warmth and a gorgeous oversized finished shawl. 
You will need a 5.0mm hook, caron cakes, and at least 10 hours to crochet it. In addition, the pattern requires the crafter to cable, so it's not ideal for any beginner or someone with not much time. 
We adore that it's fully adjustable, so you can make it for a child or tall adult! 
If you know someone who suffers from neck pain or wants some extra cushioning behind their head, this bolster pillow is ideal. 
Perfect for frail loved ones, this is a beginner pattern, so even rookie stitchers can help out. In addition, the design is a brilliant alternative for some people to a neck brace, as it doesn't cause claustrophobia. 
Looking for something unique and funky? If you are, this squared-off hat has fun bouncing pom-poms attached to add joy to your day. 
We believe this is an excellent hat for energetic kids to wear because it has so much movement in the tassels, meaning they're more noticeable in a crowd! In addition, the pattern is easily adjusted to fit different-sized heads, so it can easily be worn by an adult, too. 
However, as it's pretty different from usual hat patterns, it does require an intermediate or expert crocheter. Nevertheless, we love that this quirky hat is a lively addition to an autumnal wardrobe! 
Frequently Asked Questions
How Do I Start To Crochet?
You can find super easy-to-follow tutorials online. Video tutorials are great for beginners because you can easily see what the teacher is doing. Rewinding and pausing videos allow you to learn at your own pace, too!
There are plenty of blogs, books, and audio descriptions about basic crochet stitches if you're not a visual learner. And, learning to chain stitch is often the first thing you'll have to do, as it's the basis for most crochet designs.
Once you have learned the basics, practicing will help you to grow a crocheting instinct. Then, you can experiment with more complicated designs, such as sweaters, frilly blankets, and socks. With enough practice, you'll be able to quickly stitch gifts, home decor, and clothes for your wardrobe!
What Can I Crochet With A Yarn Cake?
Nearly anything! There are so many brilliant designs out there because the self-striping yarn makes color matching so easy. 
Caron cakes work well with just about anything! So, you can easily crochet simple projects like hats with it because the yarn creates a colorful design for you. Also, many cakes start and end with the same color, so you can use another one without messing up your project. 
Is Crochet Easier Than Knitting?
Most people find crocheting easier than knitting because there's only one hook rather than two needles. However, once you've mastered the basics of both, crocheting is sturdier than knitting, so you're less likely to accidentally unravel your project. 
Knitting requires the needles to move the stitches in the gap between two needles, quickly allowing a dropped stitch or mistake. As crochet doesn't use two needles, fewer mistakes are likely to be made by the crafter. 
However, it also depends on the person as to which they find more straightforward.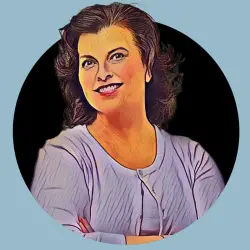 Latest posts by Amanda Brown
(see all)