Darling Dolls are proving to be immensely popular toys all over the world, thanks to their cute and cherubic proportions and expressions.
It's really no surprise that they've taken off quite like they have. With so many individual dolls and so many different ways you can customize them, they're a truly expressive and personable little collectible. 
However, buying professionally tailored clothing for dolls can be incredibly expensive, and totally unfeasible for the average collector, or a child that has a favorite darling doll!
Thankfully, with a little bit of sewing skill, and a measure of patience, you can actually create your own clothing to place on darling dolls!
The possibilities are endless when it comes to creating your own darling doll clothing, but we understand that that can be very daunting. 
In order to help you find inspiration, to get started in making your own darling doll crochet clothing.
We've put together this comprehensive lift of 39 of the best crochet patterns that you can use for your darling dolls. Read on to discover what you can make!
This combo crochet pattern is perfect for creating wonderful winter outfits for your darling dolls.
The soft jackets look like they'd be perfect for keeping these dolls warm while they play about in the snow, and the hats look like they provide ample warmth to keep their little ears from frosting over!
The hats and the jackets also feature small wooden buttons that appear much larger on the small doll figures, and create a rustic look that makes it perfect for both winter and autumn styles.
So that your dolls can dress seasonally, and look great no matter the weather! 
This pattern also features adorable little boots made from wool, which will protect their little feet from the elements, and keep their toes warm. 
The Alli sweater from 'Littleabbee' on Etsy has a beautiful purple and blue color palette that gives it a true luxury feel.
Luckily, unlike ordinary luxury clothing for dolls, this crochet pattern doesn't feature a luxury price tag, and can be bought for an affordable price. 
All you need is an intermediate skill level at Crochet, and the right materials! This pattern requires no sewing or extra steps to put the look together.
Which makes it a great little project to keep your idle hands busy, without any complicated processes to tangle your brain up! 
The soft blue buttons across the sweater pop out beautifully, thanks to their slightly lighter hue. This creates a repeating pattern across the center which gives the outfit a sense of rhythm and accentuates the form of the doll! 
'Littleabbee' strikes again with this amazing pattern, which creates a beautiful and simple purple sunrise dress fit for a princess!
The purple shape of the dress is emphasised thanks to the white belt across the center, which divides the outfit into two parts.
On top is the form fitting element of the dress, while towards the bottom is the flared element of the dress that spreads out from the doll's form, and creates a look that is rather reminiscent of a blooming flower! 
This dress requires little knowledge, and good results can be achieved even without any sewing! You can also customize the finished product to achieve different results, such as shortening or lengthening the dress as you see fit! 
The simple crochet technique used in this pattern gives the dress an incredible sense of texture, and a wavy look throughout that almost makes it look rather aquatic!
This pink dress differs in small ways from the previous purple dress. Aside from the color, this dress also features a totally unique pattern.
Made up of flowery shapes that give the dress a natural and summery look. This makes for a great element of a summer wardrobe for your doll.
Once again, crocheting skill is all you need to create this simple beauty, as it is sealed by a series of subtle buttons towards the back that make it easy to take off and put on.
You will need a good amount of experience with crochet to get this pattern done properly, as some of the patterning is rather complex. 
You can easily swap around colors in this pattern, to create different looks for the doll, and to create entirely different moods. Try making it with green colors, to create a more earthy and springlike look!
This dress pattern has a deceptive simplicity to it. When the finished product is placed onto the doll it has a subtle and form-fitting look.
But when you really take some time to notice the details, you'll see how much intricate attention was put into making it shine. 
Towards the bottom of the dress is a tiered section, made up of three distinct layers that create a flower-like look.
This flower image is further accentuated by the flower-shaped buttons across the midsection, which creates the illusion that the dress can be buttoned down.
This pattern also shows you how to create an accompanying hat, which also features a flower-like shape.
With frills across the bottom rim. These two elements look simply wonderful together, and create a truly coherent outfit!
RELATED: Fun Amigurumi Turtle Patterns That You Can Download And Make Right Now!
If you're just looking to create a very simplistic look with no bells and whistles, then this pattern was made for you! 
THis pattern features no intense or unique elements to make it pop, but that is definitely part of its charm.
This simple design allows you to accentuate the color of the fabric you have chosen, and create some simple but effective outfits. You could easily pair this sweater with another set of clothing items to create some great outfits.
The sweater itself is appropriately named, as it does feature that characteristic wavy look that makes it a pleasure to look at, and also gives it a breathability that makes it flexible. 
If Christmas time is on its way, and you want a simple way for your dolls to celebrate the holiday, look no further than this simple hat pattern. 
This adorable little hat will fit on any doll, and can be stretched to fit slightly larger doll heads. You can also adjust the instructions in the pattern, to achieve larger or smaller sizes as you see fit.
The simple block colors of red, white, and green perfectly capture the spirit of christmas, while still giving the hat a simple but effective look.
The green pom pom, however, does give the hat a little extra color explosion, as it has a comically large size that makes the whole thing look adorable.
It can be quite difficult to find some truly modern styles for your darling dolls to don, as many patterns seek to create classical styles, or rustic looks. This is the perfect remedy for that exact problem.
This baggy-shaped beanie hat gives your darling doll a modern and chic look that makes them look incredibly hip.
Notice the small flower-shaped button on the rim of the hat that almost looks reminiscent of a button badge? Small details like that are this pattern's bread and butter. 
You only need a few materials to create this look, such as the cotton, the ribbon, and the small flower button to create this amazingly flashy look that will have your doll looking so fresh!
The yellow accents across the bottom and top of this blue dress are what give it its great sense of form. The yellow sections accentuate the round shape of the outfit and the rounder shape of the doll itself. 
As well as the dress, this pattern also comes with an adorable matching hat that effortlessly completes the look.
The hat itself has a curved brim that makes the face visible from all angles, while still providing your doll with ample shade from the sunlight!
However, what really makes this pattern in particular stand out is the accompanying handbag which is so tiny that it's irresistibly cute. You could imagine the doll carrying about its valuables in there, which helps to give the outfit that last spark that creates the illusion of life for the doll!
Tiny baby dolls look so cute in this simple cradle purse! It's shell-like shape keeps the baby securely snug, and makes it look absolutely comfortable.
This is a perfect pattern to create for a young child who has their own special baby doll, as they can roleplay at taking care of the baby, by tucking it into its cradle. 
The cradle features an incredibly cool shape, but is also very easy to make, with only a few materials needed, and a little bit of skill required. 
The cradle itself can also be converted into a simple purse, to make carrying around a baby doll easy and stylish! Nifty!
RELATED: Easy Crochet Bookmark: Perfect Project for Beginners
The small acorn-like shape of the hat in this crochet pattern set creates a rounded look that emphasises the adorable look of the doll, while also looking incredibly modern.
The hat itself looks reminiscent of a French beret, which gives the outfit a classy look. 
As well as the small rounded hat, there is also a soft and comfortable cardigan, which lightly hugs the upper body of the doll.
The cardigan is only held shut by two simple wooden buttons, which leaves the bottom half open, which gives the outfit a certain edge that makes it shine. 
Creating a fantasy look for your darling doll just got a lot easier! These fantastic laced boots help to create a fairy-like look that you could easily picture Tinkerbell wearing!
The small fabric flowers towards the toes of the boots give them a natural look, which is emphasised by the green color of the boots at large.
Even the heels of the boots have a little extra flair, with their curved shape that gives them a wistful look. 
This is truly an amazing pattern if you want to try something unique and fantastical, so what are you waiting for? Give it a try!
These outfits feature some truly outstanding crochet work! With a massive array of patterns, techniques, colors, and materials used to create it, this is one hell of a look to try with your favorite darling dolls.
The flared shoulders give the outfit an exciting edge that makes them incredibly unique to look at, and the pattern work across the body is intricate and detailed, with many varying shapes, to make the outfit truly interesting to behold. 
Small bows across the midsection of the doll help to keep the outfit in place, and give it a great sense of shape, which would make it fit on any number of dolls perfectly.
Dressing up your dolls to celebrate the holidays is a great way to interact with them, and give them a whole new lease of life. This crochet pattern set makes it easy for your dolls to celebrate the spooky holiday of Halloween in style.
Each outfit comes with a pointed witches hat that gives the doll a mischievous and spooky look. When a set of dolls dons these pointed hats it creates a fantastic look, like a coven of Witches has gathered to brew up a special potion!
As well as the pointed hats, this pattern makes it easy to create a wonderful halloween dress, with the usual black and orange colors that you would come to expect from the holiday. 
This hip modern outfit brings your favorite darling dolls right into the 21st century! The long oversized sweaters are totally in fashion, and are reminiscent of the street fashion trends that are popping up across the world. 
Alongside the oversized sweaters, this pattern also allows you to create fashionable beanie hats that are worn with the band rolled up high.
Your doll will soon look incredibly chic when you don them in these outfits. Pair this outfit with a pair of small sneakers, and short jeggings, and you're truly onto something special.
RELATED: Crochet The Amigurumi TikTok Bee
The shape of this summer hat has a rounded and pleasant look, and sits lightly on the head of your darling doll, which helps to give it a light look that is perfect for the summer time.
This light summer hat can easily be paired with a summary outfit, such as a pair of bright overalls, on top of a flower-print shirt or dress.
This pattern is easy to put together, and only requires the basic materials to get the desired results, so you can easily aim to make this your first crochet project for your darling doll! Why not give it a try?
Sometimes, less is more! The simple combination of black and white is a perfect way to give anything, whether it be clothing or photography, a subtle but modern look. It's amazing just how amazing such a simple combination can be, but it totally is! 
The black and white combo gives this outfit an incredible sense of shape, with the upper half of the dress being made up of black, and the lower half of the dress being white.
This creates a great contrast that makes the outfit pleasant and simpel to look at, with no clashing elements or gaudy and oversaturated parts!
This basic dress shape pattern can be used to create a truly mind-blowing range of outfits for your darling dolls.
With a large and comfortable upper part of the dress, atop a breathable and billowing dress section, this outfit is perfect if you want just a simple dress that you can edit however you want.
This is a great crochet project for a beginner, or someone who wants to get into making clothes for their dolls, as it has a timeless look that is simply perfect. 
If you want to create a cute anime school girl look for your doll, then this is a perfect pattern for your needs. 
The red and white colors create an understated and mellow look that is effortlessly classy and full of grace.
The colors also give it a certain dramatic flair, with the red and white combo eliciting images of peppermint that gives this outfit a certain spicy look!
The matching hat and bag of this outfit also fill it with a character and personality that others lack. And the mini bow-tie at the very front of the shoulder sash adds a final cute element to make the outfit work.
Every good dress needs a matching pair of shoes, right? It just makes sense! To achieve that desired look 'HandmadeManiaShopCo' have created this simple crochet pattern that you can follow. 
This dress, hat, and shoe combo may take some extra skill to really nail down, but makes for an incredibly worthwhile challenge to hone your craft.
The dress itself billows outwards more than any other on this list, which gives it a childlike energy and a real sense of personality.
Photos are also present throughout this pattern, to guide you visually through every step.
Wintery warmth is the focus of this crochet pattern. Both the comfy and flexible beanie and the large sweater look incredibly snug and warm atop the doll, and have a modern look to them.
For example, the sweater has two hand pockets, and a pair of tassels towards the neck, which gives it the look of a modern hoodie.
The beanie itself is also breathable, and has a loose-knit pattern that gives it a free-riding look that fills your doll with an edgy sense of attitude.
Dress your doll up in this look, and they'll be ready to head into a deep and comfortable sleep!
The basic crochet technique that this pattern employs makes it easy for inexperienced crocheters, and also makes it look more handmade, which is perfect for giving it a rustic look. 
The blue and white combo is reminiscent of rolling clouds over a deep blue sky, an image that makes you feel calm and serene.
In other words, this crochet pattern creates a truly stunning outfit that will have your doll looking like they are floating atop a fluffy white cloud! 
RELATED: A Guide To Making The Famous TikTok Bumblebee – 3 Different Sized Crochet Patterns
Like a large and comfortable blanket, this crochet poncho wrap is destined to have your doll feeling incredibly warm and content.
You could likely picture your favorite doll wrapped up warm in this poncho, and enjoying a nice hot cocoa in front of a roaring fire.
This poncho wrap would also look great in a photoshoot, especially with a backdrop of snow.
The subtle creamy white color of the thread would beautifully blend with the pure white tones of the snowfall. It would truly be magical!
You might have trouble stopping your jaw from dropping when you place your eyes on this incredible pattern.
The sheer amount of small and intricate details across the entirety of this dress make it easy to get lost just analysing it in depth! 
With a massive array of colors that all blend together within a general Autumnal theme, and small details such as the series of flowers across the chest, this is truly one of the best dresses we have on this list.
And to top it all off, this dress also has a pattern to create a small silver crown, to give your doll a regal look!
This double pompom hat creates an otherworldly look to this outfit. The pompoms almost look a little like funky antena!
The green and blue colors, divided by rows, help to create that alien look that really makes this a one of a kind crochet project for your favorite doll. 
This hat is easy to make, and only requires basic knowledge of crochet. If you are a beginner, it may pose some challenges, such as alternating the colors to create the pattern, but this is a very achievable goal, and has an incredible end result if you persevere!
You should probably be used to seeing 'HandmadeManiaShopCo' popping onto this list by now! This incredible pattern further shows off this designer's incredible eye for detail and extravagance!
The dress itself has a rather aquatic look to it, thanks to the wavy patterns and curves across the dress.
As well as that, the second design, which employs light browns and darker turquoise colors, also adds to this aquatic look, which is helped by the small shell shapes that circle the bottom half of it. 
You can make your darling dolls look like true flower girls, thanks to another pattern by 'HandmadeManiaShopCo' which features an incredible flower-inspired design.
Across the neck and the bottom section of the dress is a series of flowers of varying shapes and sizes, as well as colors and varieties. You'll notice all manner of flower species are rendered in soft crochet glory here!
You can choose to follow the pattern directly to create either a grassy green look, or a sky blue look that both have a natural sheen to them that make them truly beautiful.
You can also choose to use any number of other color combinations, to achieve an incredible array of other looks, such as red and green for a Christmas look!
'Another sailor outfit!' I hear you say! Can you really blame us? So many of these doll-sized sailor outfits are simply perfect, and are absolutely adorable in just about every way!
Each one differs in its own small way, and employs different crochet techniques or colors to create some truly unique styles. 
This pattern is no exception! The green and white colors here give it a really shiny appearance that is pleasant to behold, and has a certain fantasy appeal to it.
Protect your beloved darling doll's eyes from the blazing hot sunshine with this simple crochet pattern.
The hat has a large and puffy back section that gives it a plush appearance, and draws attention to the exaggerated size of the doll's head.
Towards the front of the cap is a wide brim that would easily keep the sun out of your doll's eyes, to keep them protected and happy during the summer months.
This is truly an incredible and very modern look that brings new life to your doll.
What makes this pattern truly special is its large hat with soft ear flaps that can keep your doll's ears nice and toasty!
This hat has a large white flower that acts as the major centerpiece of the outfit that draws attention to the doll's adorable face, and will make you feel truly proud of your favorite doll.
The hat's flaps also have long tassels that lead naturally down to a large brown cardigan that covers up to an average doll's knees.
From there, the outfit ends at the soft brown boots. This is truly an incredible crochet project to get involved with, to create an entire outfit from one set of materials! Which will save you a lot of money!
You can easily imagine how soft this small sweater would feel to the touch. It's choice of materials is truly unique, and makes it stand out amongst all of the other patterns we've talked about so far.
The cotton used to create the sweater has a messy and fluffy experience that almost makes it look like your doll is draped in a cloud!
With two layers of comfort; a light blue upper cardigan, and a white jumper underneath, this outfit has some incredible sense of form and shape that makes it look just like something you'd expect an average sized human to don!
Give your darling doll a Scandinavian twist with this crochet pattern. The tall red hat reaches high above the doll's head, and gives a great sense of height.
However, it isn't exaggerated, and has a subtle and curved look, which leads towards a soft snowball-like pompom up top! 
This pattern also shows you how to make a small matching scarf, which has two soft pompoms at each end, and give your precious doll even more defense against the chilling cold air of winter!
Get a blast from the past with this pattern! A full high-quality PDF scan is waiting for you when you purchase this pattern.
With the pattern, you can create a truly awe-inspiring outfit that will have your favorite doll looking like a regal princess from a far off land! 
With a soft white look accented by small colored beads, your doll will truly look otherworldly when you dress them up in this classic design.
Across the design are a massive series of frills. Long threads dangle from multiple patches across the dress, and give it an incredible sense of motion which would look incredible in some good photographs!
Get your darling dolls gym ready with these jumpsuit patterns. With a one-piece design that extends across the entire body you only need to focus on making a few elements to make this look work.
Even though it is all in one piece, it looks like an outfit made up of separate elements, thanks to the black belt shape across the middle section. 
The upper section of the outfit also features a large hood, which can give your doll an urban look that makes it look really modern!
Featuring a soft and plain upper half, with a detailed and energetic bottom half, this crochet top is perfect for giving your dolls a little bit of edge, while still giving them a simple outfit that won't draw too much attention. 
If you have a large collection of darling dolls, then this is a great pattern to create outfits for some of your extra dolls to make them look great without drawing too much attention away from the favorite doll of your collection!
Another vintage outfit, this time a little more subtle and down to earth. These yellow and blue outfits may look like something designed by IKEA, but this simple color combination has a pleasant look that will make your dolls a joy to look at.
This pattern also contains instructions to create a matching hat. You could easily picture your dolls, when dressed up in this outfit, working as an air hostess on a fancy '50s airline!
This collection of dress patterns can help you to create an incredible range of outfits for your dolls.
These patterns are designed to be followed easily, and won't pose too much of a challenge for even a total novice. And, you get an incredibly beautiful dress for your efforts.
This dress pattern may have a supremely simple design, but its simplicity is deceptive! You can follow this pattern with a number of different colors.
Or create your own variations on the design, to step out of your comfort zone and teach yourself some valuable crochet skills!
The ruffles towards the bottom of this dress give it an incredibly vibrant look that is full of energy. The design of these ruffled dresses is almost reminiscent of a classic swimsuit. Put one of these on your favorite dolls and imagine they are heading for an amazingly relaxing beach vacation!
The small flower pattern across the chest stands out from the base color of the dress, and adds an eye-catching element that makes it stand out.
RELATED: 13 Stunningly Beautiful Hooded Scarf Crochet Patterns
Take your doll on an exciting European adventure with this voguish crochet beret. Like something straight out of France, this hat gives your favorite doll a sense of style and imbues them with a sense of personality and character. 
Include a little extra embellishment, such as a small flower or a special icon, at the front of the beret to give it a sense of style and a stylistic flourish that makes it stand out. 
Frequently Asked Questions
What Do You Call A Person Who Crochets?
If you've ever called a person who does crochet a 'Crocheter', don't worry, this is the correct term! Unlike many other hobbies, masters of the craft have a very simple name that makes them easy to refer to! It's also just a fun word to say!
Is It Easier To Knit Or Crochet?
Crocheting is considered by some to be far easier to learn. Crocheting does not involve having to move your stitches from one needle to another, and you are far less likely to have your crochet creation unravel than a knitted creation!
Is Crochet Good For Anxiety?
Crochet can be a great way to alleviate symptoms of generalized anxiety! Find yourself a comfortable place to sit, put on your favorite tv show, and create something by hand.
The repetitive motion of crocheting promotes relaxation, and the act of creating something is rewarding, and gives your brain a rush of dopamine!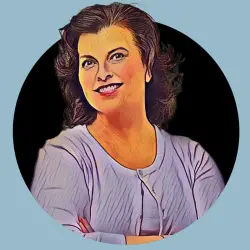 Latest posts by Amanda Brown
(see all)