Do you enjoy crocheting? Create one of these adorable cow crochet designs for a fantastic little gift or a sweet baby gift for a boy or girl.
A lovely handmade cow would make a great baby present for anybody who adores cows or has a farm theme in their home. It would also be ideal for a gender-neutral nursery.
There are numerous cow toy crochet designs to select from, including amigurumi plush toys, tea cosies, and soft blankets. So, what are you waiting for? Let's get moo-ving!
The first pattern we'd like to mention is this traditional-style amigurumi cow crochet pattern from MyKrissieDolls on Etsy. The finished pattern is a perfect and realistic looking cow plush toy.
You can choose to make it with either black or brown spots – or maybe both!  Your finished cow toy will measure approximately 14 inches tall when sitting.
And roughly 19 inches tall from hooves to horns when standing. This pattern is available in both standard English and US terms as well as Dutch. 
Next up is this funny and unique highland cow trophy head-style crochet pattern. By following this in-depth pattern from Cottontailandwhisker on Etsy.
You can make your very own faux taxidermy crochet highland cow head. It makes for a great conversation piece and is sure to stand out in just about any space in the home.
It even comes with a seperate pattern for a long curly cow tongue – so cute! The finished wall decal will measure approximately 10 inches x 8 inches x 14 inches, which is plenty big enough to have pride of place above your fireplace. 
We're obsessed with this cow doorstop pattern, and we think you will too! A novelty door stop makes for a great housewarming present.
Using this unique pattern, you can make your own standing cow doorstop, complete with small yellow horns, big pink udders, and crazy crossed eyes.
When complete, this cow will measure approximately 15 inches x 6 inches x 6 inches tall, which is big enough to make a statement, but not too big as to get in the way in your home.
This pattern is written in English and uses standard US crochet terminology. 
This is probably the cutest cow crochet pattern we have ever seen, and we're sure you'll agree! The finished product is an adorable plush cow toy complete with huge realistic eyes and eyelashes.
Little horns, a cowbell necklace, and a tuft of hair adorned with a pretty hair bow. We love how in-depth this pattern is, with its 32 pages of textual instructions.
100+ colored photographs, and a whopping 26 YouTube video tutorials which can be accessed once you've purchased this pattern. What are you waiting for? Get started now!
This is the most adorable hat design to create for your baby's newborn photo session, to wear back from the hospital, or to warm them up on cold days.
This adorable farm animal inspired hat looks excellent on both boys and girls. Because your kids are only this young once, make the most of their sweetest memories!
Crochet stitches are simple, working in both sets and rounds with traditional, readily available yarn kinds. Owners of this pattern have full permission from the creator to sell their final creations.
We couldn't make a list of the best cow crochet patterns without throwing in this applique cow pattern from NellasCottage on Etsy.
Appliques are great to crochet projects as they can be used to adorn other items, such as blankets and cushion covers, with just a couple of stitches.
This cow comes complete with an adorable sunflower design on its head, making it perfect for throwing blankets or used as a nursery decoration.
This is also one of the most affordable cow crochet patterns on this list, so what are you waiting for? Get started and make your own today!
RELATED: A Guide To Making The Famous TikTok Bumblebee – 3 Different Sized Crochet Patterns
We think this is the greatest cow crochet pattern we've ever seen, and we hope you'll think so too! 
The end result is a cute plushie cow doll with enormous lifelike eyes and eyelashes, tiny horns, a cowbell collar, and a tuft of hair topped with a nice hair ribbon.
Cotton yarn is used to crochet the toy. If you utilise the specified materials, the toy will stand 20-21 cm tall (7.87-8-27 inch).
The toy is almost entirely crocheted, and the head is linked to a plastic joint. Only the horns and rear are stitched in the pattern, which has a low number of sewing elements.
Highland cows are some of the world's most beloved animals, and it's easy to see why!
Their huge fluffy bodies and goofy long tongues make them irresistibly cute, making them the perfect animals to stitch for your next crochet project!
This pattern from Cottontailandwhisker on Etsy is a great choice, and the artist has received thousands of 5-star reviews on the platform – so you know that you're in good hands.
The finished cow will measure approximately 12 inches x 12 inches x 8 inches, but you can make smaller cows too as the instructions show all sizing options. 
cottonandcloud.com/25-alpaca-amigurumi-crochet-patterns/(opens in a new tab)
If you're on the hunt for the perfect amigurumi crochet cow pattern, then look no further! This pattern from rinmeow21 on Etsy is a great choice, and it's super affordable!
When you purchase this pattern, you'll receive 2 design instructions for the price of 1. The first is a sweet brown cow complete with a cross-body bag and a cheeky grin.
The second design is a pink cow complete with a cross-body ice cream inspired bag – so adorable!
The adult cow's body includes an interior compartment that opens to show the young calf inside!
This 18-page template provides guidance for the cow and her baby, as well as additional accessories like an ear tag and a stalk of grass for her to munch.
The pattern includes a plethora of images to assist you at each and every stage of the process. It is written in English and uses American crochet terminology.
This crochet design is really adaptable. Create this cow crochet baby blanket with dots, and then use this very same baby blanket crochet design to make a white calf with no patches and no colour work.
The Baby Blanket is changeable and crocheted with the graphghan technique. The pattern comprises a visual chart as well as a clear description, with color changes stated in the table format for ease of use.
This Baby Blanket Crochet Pattern is published in over 19 sections with a lot of information and gorgeous photographs to ensure that you have an easy and fun time doing this project.
Create your own Flying Saucer melodic tug toy with this amazing Crochet Pattern — complete with kidnapped bovine and quirky charming Alien Amigurumi, of course.
The crochet template is simple to grasp and includes clear instructions as well as numerous step-by-step images and tutorials. It is also appropriate for novices.
The pattern is available in a variety of languages, including normal US English, Dutch, German, French, Italian, and Spanish.
If you're simply looking for a traditional cow crochet pattern, then look no further. This design made by SweetOddityArt on Etsy is a great choice for beginners, and it's even one of the cheapest crochet patterns we've included on this list.
Once completed, each toy will measure approximately 8 inches from head to toe, making it the ideal size for a newborn baby gift or a toddler's bedtime cuddle companion. Get started today!
RELATED: 13 Stunningly Beautiful Hooded Scarf Crochet Patterns
If you're new to the art of crochet and would like to take on a smaller project to get you started, then this is the perfect cow crochet pattern for you!
With this pattern, you'll have everything you need to make your very own mini amigurumi cow crochet pattern, which is perfect for Christmas hanging decorations or even keychains.
The pattern comes with multiple pages of textual instructions as well as many accompanying detailed photographs to help guide you through the stitching process.
This pattern is written in standard US terminology and it is only available in English.
We couldn't make a list of the best cow crochet patterns without including this adorable lavender cow pattern created by AmigurumiByRuby on Etsy.
The finished product is a small cow plush toy sporting some khaki-colored dungarees and a black long-sleeved shirt. The cow itself is purple, hence the lavender part.
This pattern is not recommended for beginners, as it includes some complicated stitches. You'll need to have some basic knowledge of crochet stitches as well as an understanding of reading crochet patterns. 
This crochet pattern includes clear and easy-to-follow instructions for making the crochet cow (18 pages). It also includes numerous step-by-step images as well as useful comments and recommendations throughout the design.
If you use woolen yarn with a 3.0 mm crocheting needle, the cow spans 16 cm (6 inch) in the sitting posture and 25 cm (9.5 inch) altogether (from horns to feet).
This pattern is intended for people who are already familiar with the basics of crochet. To create this toy, you ought to be acquainted with fundamental crochet techniques like single crochet, increase and decrease, and so on.
RELATED: 15 Brilliant Crochet Baby Yoda Patterns (With Pictures)
Say hello to Chloe the Cow! If you assumed cows were lazy animals who just worried about eating… When it comes to Chloe, you'd be correct. Chloe is only interested in one thing: grass!
In just a couple of hours, you can make your own cute cow! This simple pattern contains a PDF file with thorough directions and photographs on how to crochet and combine all of the elements to produce this adorable cow.
Only basic crocheting abilities are required, such as chaining, single crocheting, increasing and reducing.
If you're looking for a crochet pattern that is a little more detailed than the standard amigurumi-style plush toys, then look no further!
This Bertha the Cow pattern from Amigurumisnl on Etsy is a great option, and we're obsessed with the diorama-style design the creator has opted for here.
The final product will measure approximately 7.1 inches x 9.8 inches.
This pattern isn't suitable for beginners, and you'll need some basic understanding of crochet stitches before you can start.
This pattern is only available in English and uses standard US crochet terminology. 
This pattern comes with all the instructions you need to make your very own amigurumi-style plush cow toy. The pattern comes in three different color options, so there's sure to be something to suit everyone.
These make a perfect gift for a newborn or any cow-lover in your life. The finished product is super soft and comes adorned with a neck ribbon.
The pattern uses standard US crochet terminology and it is only available in English. 
This is an 11-page pdf download template that includes detailed directions and numerous images to help you crochet this charming small highland cow. The finished piece stands about 6-7cm tall.
The size will differ according to the kind of wool and needle size used.   Crocheted using fundamental crochet stitches and concepts, this Amigurumi is ideal for beginner/intermediate grade crocheters.
That's a little fiddly because it's so tiny, but there's plenty of photographs to help you make this little hairy baby.
RELATED: 15 Crochet Ideas To Make At Home
Craft your own wonderful toy as a gift for someone special. When finished, you'll have a 7.1-inch-tall (18-cm) crochet toy. The finer the thread you use, the shorter your figure will be.
This 13-page crochet tutorial is written in English and includes conventional crochet terminology (US terms).
It provides not only extensive directions on how to crochet the item, but also the necessary materials, focus points, and so on.
Frequently Asked Questions
What Does It Mean When A Crochet Pattern Is "Amigurumi"?
Amigurumi is the stitching (or knitting, in some cases) of tiny figurines. The term "amigurumi" is derived from the Japanese terms "ami," which means "to knit or crochet," and "nuigurumi," which means "stuffed doll."
These humanoid creatures and dolls drew attention with their ludicrous large heads, goofy eyes, wide smiles, and brilliant colors.
What's The Easiest Crochet Stitch?
The simple chain stitch is among the most fundamental crochet techniques that all beginning crocheters must learn. For newbies and most crochet crafts, this stitch serves as the beginning point or basis for practically all sorts of crochet stitches.
Why Are Cows Sometimes Called "Coos"?
If you've been looking into cow crochet patterns, it is likely that you've noticed some artists referring to their patterns as "coo" patterns. Coo is simply another word for a Highland Cow.
They are prevalent in the Highlands, and the word 'coo' signifies 'cow' in the old Scots dialect. Scots is an English dialect that was spoken in the Highlands for centuries.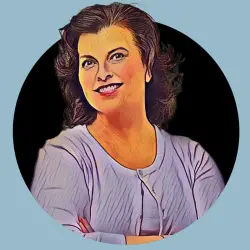 Latest posts by Amanda Brown
(see all)