Are you looking for some new crochet projects? Or maybe you want to start crocheting for fun?
Maybe you are a fan of cats who are looking for a way to incorporate your feline friends into an arts and crafts project? If so, then these 20 free cat-related amigurumi patterns could be perfect for you!
Amigurumi is a Japanese craft where crocheted or knitted stuffed animals are created using natural materials.
The term literally means "crochet/knit doll" in Japanese. Amigurumi has become very popular worldwide, especially since the 1990s.
There are many ways to create amigurumi, from basic techniques to advanced ones. These free patterns are suitable for a wide range of skill levels when it comes to crochet and amigurumi making.
They can be used as inspiration for creating your own unique designs, but they also make great gifts for people who love cats.
With all this in mind, let's take a look at the 20 free amigurumi cat patterns below!
This crochet pattern from Yarnspirations has a particular inspiration that stems from both the idea of the "grumpy cat" and trends for cute- or kawaii- toy trends.
The Bernat Fat Cat Crochet Stuffie would be a great toy for kids to cuddle with thanks to its plump nature. 
Thanks to being stitched almost entirely in the round- utilizing a single crochet- this project is perfect for beginners,
but would also suit more advanced learners looking for a quick and easy amigurumi pattern with an adorable end product. 
The tightness of the crochet stitch that is used leads to a thick, dense fabric that won't fall apart or reveal any stuffing if crafted correctly.
For beginners, the pattern is an excellent way to practice single crochet as well as simple shaping and even a bit of embroidery. 
The Bernat Fat Cat crochet pattern will leave you with a cute plushie cat that measures around 25.5 cm tall and 23 cm in diameter.
To get a perfect replica of the final product that Yarnspiratons shows, you will need some Bernat Baby Velvet in Potpourri for the body and Yolk Yellow for the eyes. 
To wash the final plush product safely, machine wash it in cold water on a gentle tumble dry cycle with low heat.
If you're looking for something a little more seasonal, then this Halloween-themed scarecrow cat crochet is a fantastic option.
Creator Enchanted Ladybug made this cute scarecrow kitty with a 4.0 mm crochet hook. 
The cat's body was made with Caron Simply Soft yarn- in a pumpkin color- whilst the hat was made with Loops and Threads Impeccable yarn in soft taupe (with a hint of Caron Simply Soft in sunshine yellow).
The cat's collar is made with Lion Brand's Vanna's Choice yarn in Kelly green. Of course, these are all just suggestions! 
This free pattern also includes an adorable crow buddy, who was made with Loops and Threads Impeccable yarn in black.  
RELATED: 15 Brilliant Crochet Baby Yoda Patterns (With Pictures)
Sticking with Enchanted Ladybug and their Halloween-themed cat crochet patterns, this black witch cat is another adorable and free pattern that is great for crochet fans of any skill level.
Enchanted Ladybug created this kitty with a 4.25 mm crochet hook along with Red Heart Super Saver yarn in black. 
The cat's witch hat is crocheted using Caron Simply Soft yarn in iris along with Red Heart Super Saver yarn in pumpkin,
whilst the witch broom is made from Red Heart with Love yarn in chocolate and Caron Simply Soft yarn in sunshine. 
Enchanted Ladybug suggests either stuffing the cat with polyfill doll stuffing or scrap yarn to make it extra cuddly. 
Created by Amigurumi Today, this cute cat was made with a 2.0 mm crochet hook and 4 ply semi-cotton yarn in white, pink, and- of course- ginger!. The finished product will measure around 4 inches tall. 
Some other materials you will need are fiberfill, scissors, sewing needles, safety eyes, and optional satin ribbon. This is a great cat pattern for beginners getting into crochet.
This dumpling kitten is another that is perfect for beginner crafters. The Dumpling Kitty pattern was designed by Sarah Sloyer and was made with 10 ply Lion Brand Vanna's Choice yarn in various colors. 
You will need a 3.25 mm crochet hook with around 50 to 60 yards of yarn, The simple yet adorable
designs of the Dumpling Kitties make them great for beginners but still a cute side project for experienced crafters. 
Created by RobotRish, this Hello Kitty crochet pattern is another adorable and free crochet pattern for those wanting to try out some new skills.
Made with Red Heart Super saver yarn in white, red, blue, and yellow, this kitty has a specific design but is still easy enough for beginners to follow. 
Hello Kitty was made with a size G hook, and you will need to know how to decrease, how to half double crochet and will also need to know what a magic ring is in terms of crochet knowledge. 
If you love kittens (who doesn't love kittens?), then this lying kitten crochet pattern will definitely appeal to you.
Designed by Crochet Mama, this cute pattern was created with a 3.5 mm hook, polyester filling, and 5 ply milk cotton yarn. 
RELATED: 15 Brilliant Crochet Baby Yoda Patterns (With Pictures)
This small cat crochet pattern was designed by Lilleliis and was made with 8 ply Drops Cotton Light cotton alongside a 3 mm crochet hook (though a 3.5 mm would also do fine). 
You'll need some polyester fiberfill and safety eyes to get the same cute cat design created by Lilleliis, as well as some thread for stitching and some embroidery and darning needles. 
Kitty Bean is a free crochet pattern that was designed by KHook Creations. These are another seasonal choice,
with a Halloween theme designed by KHook. However, you can mix and match colors of yarn to create a unique kitty bean. 
The kitty beans are made from a 3.5 mm hook alongside worsted weight yarn, fiberfill, 6 mm safety eyes, scissors, white felt, and a yarn needle.  
The Roly Poly Cats pattern is another adorable and simple cat crochet pattern designed by Nina Shimizu.
The rounded roly-poly cats are made from worsted 10 ply yarn and either a 3.75 mm crochet hook alongside a 4.00 mm hook. 
This kitty crochet pattern from Thoresby Cottage was made with DK cotton, some stuffing, and a yarn needle.
The adorable Itty Bitty kitty can be made bigger or smaller depending on the crochet hook that you use. For a super itty bitty kitty, you'll need a 2.75 mm crochet hook, whilst a larger design will need a 3.25 mm hook.
Long Legged Cat is a free crochet pattern designed by Kristi Tullus. That is great for beginners looking to work their way up to a higher crochet skill level,
as it only utilized simple crochet stitches (the single crochet stitch and the slip stitch). 
The long-legged cat will measure at around 24 cm tall when made with DK yarn and a 2.50 mm crochet hook,
but you can also make a larger design that measures 28 cm by using worsted weight yarn and a 3.00 mm crochet hook. 
We all know the internet sensation that is Pusheen the Cat, but now you can make your very own thanks to this pattern from I crochet things.
Made with 10 ply worsted weight yarn in shades of gray with some black and a 3.75 mm crochet hook, it's simpler than ever to make your own Pusheen. 
You'll also need some stuffing, a tapestry needle, scissors, and some 6 mm safety eyes. 
RELATED: 15 Crochet Ideas To Make At Home
Quiet Cat is a free crochet cat pattern designed by Victoria Makarevich. This cute cat was made using Alize Cotton Gold Hobby yarn with a 2.00 mm crochet hook,
some fiberfill, scissors, a sewing needle, and some black embroidery for the extra kitty cat features such as the whiskers and nose. 
This is a simple yet adorable crochet cat pattern that would make an excellent cuddly toy for both kids and adults.
This adorable pair of kittens were made with Cotton DK yarn, a sewing needle, a 2.25 mm hook, polyester stuffing, and 4.5 mm eyes. 
The ease of this design means that you can make as many kitty cats as you want to practice your crocheting skills, whilst also making some adorable decorations or gifts. 
Hanna the Cat is a multicolored cat crochet pattern that may seem a little difficult- due to the use of different colored yarns- but it is a great beginners project. 
To make Hanna the same way that Akamatra has done, you'll need any kind of DK or sport weight yarn in different colors, two 4 mm safety eyes, a yarn needle, a pair of scissors, stuffing, and a 3.00 mm crochet hook. 
If you want to make some mini Pusheen's in a wide range of colors, then this pattern is the one for you.
Paint It Colorful uses pink and lavender 4ply acrylic sport weight yarn to create these pastel kitties, along with a 2 mm crochet hook, a tapestry needle, safety eyes, and black embroidery thread. 
RELATED: Crochet The Amigurumi TikTok Bee
These cute kitties are super small crochet projects, making them perfect for beginners, but also suitable for experienced crafters to make quickly and easily. 
Ami Amour created these tiny kitties with a 5.0 mm crochet hook, Red Heart Super Saver worsted weight acrylic yarn,
black felt for the eyes, a yarn needle, a stitch marker, and some Fabri-tac glue. They are great for beginners to practice with. 
Back to the infamous Pusheen, you can make yourself a unicorn Pusheen with this simple and easy crochet pattern.
Tartrumies made this unicorn kitty crochet doll with a 3.0 mm crochet hook (but a 3.5 mm will work well too), various yarn colors, fiberfill, black cotton thread, and some 6 mm safety eyes. 
You can also make a smaller, keychain Pusheen unicorn by using a 2.5 mm crochet hook, a yarn needle, scissors, and a stitch marker.
RELATED: 13 Stunningly Beautiful Hooded Scarf Crochet Patterns
Cecil the Cat is a pattern that is best for advanced beginners as it utilizes several different crochet techniques, including the Magic Circle, the Single Crochet, the Chain, the Slipknot, and more.
Made with worsted weight yarn, Cecil should measure at about 4.5 inches tall, but this could vary depending on the yarn and the chosen crochet hook size. 
Frequently Asked Questions
What Types Of Yarn Are Best For Crochet?
We mentioned some of the best yarns to use for crochet above, but there are so many types of yarn out there.
Some are better than others for certain things like durability, and elasticity. Here's a quick rundown of the most common ones used in crochet:
Worsted Weight
This type of yarn is sturdy and durable. It's usually thicker than other yarns, which makes it ideal for larger items such as afghans and blankets.
Sport Weight
This type of light-weight yarn is often used for sweaters, scarves, hats, and mittens. It's thinner than regular yarn, which means it stretches easier.
Double Knitting Weight
This type of lightweight yarn is similar to sport weight yarn, except it has two strands twisted together instead of just one. It's good for knitting socks and gloves because it doesn't stretch much when knitted.
Lace Weight
This type of fine yarn is typically used for lace projects such as shawls and baby clothes. It's very soft and delicate, which makes it an excellent choice for those who love crocheting for babies.
How Do I Know Which Size Hook To Use?
The size of the crochet hook you choose depends on what kind of project you want to make. If you want something big and bulky, then go for a large hook.
However, if you want something small and delicate, then go for a smaller hook. There are many sizes available, ranging from 1/4 inch all the way up to 10 inches. So how do you know what size to get? 
Well, you need to take into account the yarn you plan to use. Smaller hooks are recommended for finer yarns, while bigger hooks are recommended for coarser yarns. 
You can easily determine the size of the hook needed by simply looking at the gauge of the yarn.
Gauge refers to the number of stitches per inch. A higher gauge indicates a looser yarn, while lower gauges indicate tighter yarns.
What Is Amigurumi In Crochet?
Amigurumi is a Japanese term meaning "crocheted doll". The word was first coined in Japan during the 1970s and 1980s.
In English-speaking countries, the term is commonly used to refer to any handcrafted stuffed animal made using crochet. 
But in Japan, amigurumi is actually a specific style of crochet. It's basically a form of art where people create unique characters out of fabric and stuffing.
They're not considered toys. Instead, they are considered to be works of art.
Final Thoughts
No matter whether you are a crochet beginner or are more experienced, you are sure to find a cat crochet pattern that will suit your needs.  Have fun designing some cute kitties!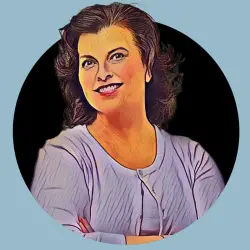 Latest posts by Amanda Brown
(see all)