While the soft material of sherpa is ideal for chilly days, maintaining it may prove difficult.
If you've ever had a pilled or matted sherpa jacket, you're probably interested in knowing how to properly clean a sherpa jacket or blanket to prevent this from happening again. 
The majority of sherpa jackets and blankets will keep their fluffy and texture with the right care and maintenance.
Utilizing a cold water wash on the delicate setting cycle with a fragrance and dye-free detergent is the best way to avoid pilling or matting. 
Allowing the sherpa to air dry prevents it from being burned by the heat of the dryer, though on a cooler setting than the dryer machine could also prevent pilling of the fabric. 
This article will discuss how your sherpa becomes so puffy and soft, and how you can keep this texture by washing it the right way.
You will be provided with thorough guides on caring for and cleaning this one-of-a-kind material the right way. 
Here is everything that you should know about sherpa jackets and blankets!
What Is Sherpa?
Sherpa blankets often feature two unique textures: one that feels like a smooth weave, and on the other side, a texture of wool.
The majority of sherpa blankets are completely made up of polyester or sometimes a blend of polyester and other fibers. 
This kind of fleece is intended to conjure memories of the traditional attire of the native  Sherpa people in Nepal, which is how this fabric got its name. 
Sherpa blankets are the ultimate choice for softness and comfort! This type of fleece is generally referred to as the plushest fleece available.
The sherpa fleece side is composed of thin, brushed threads that retain body heat as well as provide exceptional comfort.
Additionally, these blankets are frequently constructed using a lightweight fabric that weighs just two pounds so you won't feel too trapped when using the blanket. 
The only negative you may notice with sherpa blankets is they may pill, matt, or otherwise seem crushed if not properly cared for.
Are you looking for a new sherpa blanket to use as an attractive throw in your living room or bedroom? Then these blankets might be the ones for you.
Sherpa blankets are unparalleled when it comes to plushness and silky softness!
These blankets need somewhat more work to maintain and clean than others though, so this should be considered when buying the item. 
Another thing you should think about before buying any sherpa product is if you are comfortable with wearing/using synthetic fibers.
Sherpa blankets are often constructed of polyester fibers. This is a synthetic fiber made entirely of petroleum byproducts.
The manufacturing of synthetic fibers and materials such as polyester has led to a worldwide plastic pollution increase.
If you suffer from sensitive skin, there is a chance you could be allergic to the polyester fibers derived from plastic used to make sherpa products.
Over 60% of household and clothing fabric goods sold today include a large number of synthetic fibers.
Because of this, you may have difficulty locating a throw made of natural fibers such as velvet or fleece. 
RELATED: Get You Chiffon On – The Complete Guide On All You Need To Know About Chiffon Fabric
Washing Sherpa
Sherpa fabric may be hand washed in cold water or machine-cleaned on a mild cycle. Using a more gentle cycle, or even better hand washing the items, reduces the levels of friction on the fabric.
Friction may result in the creation of small thread bobbles known as pills on the material.
Precautions like using dye- and fragrance-free detergent only can help avoid matting the sherpa material. 
Additionally, if you use a washing machine, you should use cold water for both the wash and rinse cycles rather than hot or warm water.
Extreme heat, powerful chemicals, and extended friction may all harm sherpa fabric. Never dry this cloth in a normal dryer setting.
It may burn, dissolve, or become irreversibly matted at these temperatures.
Finally, stay away from bleaching sherpa. In an emergency, you can use chlorine-free bleach then rapidly rinse it off, although even this may have a negative effect on the material's texture. 
While this might seem like too many rules, keep in mind that washing as well as drying sherpa correctly can help make your sherpa fluffy and soft for years!
A Quick Clean
If you have a little stain or spot on your sherpa jacket or blanket, you may attempt to clean it without the assistance of a washing machine.
Cleaning your blanket is simple: use cold water, a light washing detergent, non-chlorine laundry solutions, or dish soap to get it clean.
Avoid using the dryer if at all possible; the heat and friction created by the dryer will damage the blanket. Instead, hang the blanket to dry naturally.
You may soak your blanket in the sink and massage the stain out with a dab of dish soap or any of the other treatments described above if you're only cleaning a small portion of it.
Immediately after cleaning it well under running water, hang it to dry.
If your blanket becomes soiled, you may soak it in a bowl of mild detergent overnight to clean it.
The blanket will remain fresh and fluffy if it is washed in cold water no more than once a month under normal circumstances.
The Right Way To Wash Sherpa
Taking some preemptive steps before you start to wash your sherpa material can help in preserving the sherpa blanket's delicate, fluffy quality.
Some positive news for you is that your blanket may be washed in many different ways.
Unfortunately, the flip side of this is that incorrectly washing your blanket may result in a matted, flat material rather than a fluffy, soft blanket. 
Always follow the manufacturer's care and cleaning instructions that can be found on the attached label on the jacket, blanket, or other sherpa items.
This must be done before trying any form of cleaning. While the steps indicated here should work on the majority of sherpa throws, please read the label!
Continue reading to discover the best approaches and ideas for masterfully cleaning these blankets!
RELATED: Have Some Chambray – The Must-Read Guide on Chambray Fabric
Pretreatments
The simplest way to eradicate dirty spots or stains on your blanket is by treating them before washing.
You should, however, avoid using any stain remover containing bleach or other potentially hazardous compounds.
The two most effective strategies make use of everyday household materials!
Here is how to pretreat an oily type stain: 
If you have an oily stain, you might have more luck absorbing the oil using cornstarch or baby powder.
Using a paper towel, carefully blot the area of the stain. If it seems as though the stain has already dried though, there is no need to do this step. 
Dust the stain's surface with a little amount of baby powder or some cornstarch. A tiny quantity will be enough, you just have to completely hide the stain.
With your fingertips, gently massage the powder onto the fabric's surface.
Allow at least 24 hours for the powder to settle.
If you can, use a handheld vacuum equipped with a small nozzle you can use to suction up the particles of baby powder. If vacuuming is not possible for you, shake the sherpa over the bathtub or outside to remove any residual dust and powder.
For the last step, follow the steps further down to see how to wash sherpa in a washing machine!
Here is how to pretreat a non-oily spot or stain: 
Dish-soap can be very useful to use here. 
Blot the stain with a clean paper towel. This will absorb any extra moisture so long as the stain has not dried yet. Avoid rubbing; instead, gently pat the blanket with your paper towel
Directly on the discoloration, apply a few drops of dish soap. With another clean paper towel, gently pat the soap into the fibers.
Thoroughly rinse the discolored area under running cold water.
As this region dries, you can see how it settles into a flat, matted mass. There is no reason to be alarmed when this happens though. This may be rectified by running a washing machine cycle after the pretreatment.
Using A Washing Machine
Once you've learned the skill of washing a sherpa throw, you'll find that the following procedures are rather uncomplicated!
During the cleaning procedure, the most important thing to remember is to keep away from any substances that might cause damage to your blanket.
Here's how to wash sherpa fabric in a washing machine in the appropriate manner.
If you have a washing machine, choose the delicate or mild cycle setting. Depending on what washing machine you have, this option may alternatively be referred to as "permanent press" or "indefinite press."
If at all feasible, use cold water instead of hot.
Place your blanket in the machine by itself. As a result of increased friction in the machine, your blanket will be covered in an abundance of tiny, disgusting small pills. Additional color bleeding may occur if you use non-dye-resistant fabrics on your blanket.
A few drops of liquid detergent should be added. It is best not to use fabric softener on synthetic fibers since it will adhere to them and result in matting. In a similar vein, you should avoid using powdered detergent since it may adhere to the sherpa blanket rather than dissolving completely.
For the last step, turn the washer on and let it go through its typical cycle.
It is critical to wash the sherpa with cool water. Your blankets may get irreparably damaged if exposed to high temperatures.
Utilize a mild soap or detergent that does not contain any extra softeners or bleach in addition to this.
Hand Washing 
Providing you have the necessary room, you might find that hand cleaning a sherpa item is something you like doing! This method requires a bit more time and work, but it is the most secure method of preserving your fluffy jacket or blanket.
Fill a clean bathtub, big basin, or sink halfway with cool water. The use of hot or warm water may be detrimental to the fleece.
Place the sherpa in a sink of cool water. Move it about a little in the sink to ensure that the cloth is well moistened.
Using one or two drops of mild washing detergent, wash the clothes in the water. To make a frothy froth, gently stir the detergent in the water using your hands until it becomes foamy.
At this point, push the sherpa folds into the water using both hands, allowing the entire material to be exposed to the detergent and water. It is important to avoid excessive squeezing or rubbing of the blanket. 
Remove any excess water from the system. A word of caution: this step will result in you having to cope with a very huge and dripping wet blanket, which will make your shopping experience less enjoyable. It is best to elevate it and softly knead the sherpa between your palms to wick away any extra moisture.
Make careful to follow the drying processes outlined below to ensure that there is no harm done during this following phase.
One important thing to avoid doing during this method is stuffing your sherpa into a sink or bucket that is too small.
Hand washing your blanket ensures that it is washed gently and without friction.
Its benefits are eliminated when it is squeezed into a small space since the fibers are flattened!
RELATED: Acrylic Paint On Leather: How To Paint And Seal Leather
Drying The Fabric 
If you own a clothesline, one of the simplest ways to dry sherpa is by putting it outdoors to air dry!
Using mild plastic clothespins is sufficient; hardwood clothespins may grab on the sherpa and damage it. 
If you lack access to a clothesline, another option is to drape the sherpa over the backs of some chairs, or a clothes rack.
If even this is not an option, hang it up over the shower curtain pole in the bathroom, where it will dry.
If you are pushed for time or lack the room for air-drying your sherpa, you may put it in the dryer. Simply set the machine to be on the tumble-dry setting. This option produces no heat.
High heat may be detrimental to fleece so the dryer mustn't be blasting out hot air. 
How Often Should I Wash Sherpa?
A once-a-month wash will maintain your sherpa throw clean and odor-free, with the exception of a natural spill or other occurrences.
If a huge stain is created on the blanket, it will need to be washed right away, so plan accordingly!
It is often recommended not to wash it regularly. Wear and tear are caused by friction, which is created by anything that is washed.
Simply throw your fleece blanket outside in the sunshine during warm weather to allow it to air out completely.
Fresh air will pass through the fibers, removing any unwanted scents that may have accumulated!
If you want to use your fleece throws as bed throws, you may need to wash them more frequently than usual.
Simply do an old-fashioned sniff test to see whether they require more frequent cleaning than once a month.
Washing A Jacket
Turning a sherpa jacket inside out before washing it with only cold water is the key to getting it clean and looking good.
Washing your jacket by hand or machine is OK if you follow the previously mentioned instructions on how to care for it.
Turning the jacket inside out will help to keep it from becoming tangled when put in a washing machine.
In addition, use a gentle washing detergent to wash your clothes.
One of the most notable characteristics of sherpa jackets is their water resistance; nevertheless, harsh chemicals can destroy the integrity of the fleece strands over time.
If your jacket seems to be worn and flattened after washing, use the brushing procedure suggested in the next section.
Fixing Matted Sherpa
If your sherpa throw appears matted, a simple brushing approach may be all that is required to restore its fluffy and soft appearance!
A strong brush is required for this procedure. Some cosmetics retailers have vintage boar hair brushes. Alternatively, a stiff-bristled pet brush will suffice.
Distribute the blanket evenly on a level area, such as your living room floor. Make sure that you vacuum the floor first though.
Snip away any loose threads or bunches protruding from the toss with sharp scissors.
Fluff up the throw by brushing over the fleecy side!
If this doesn't show good results, try misting the fleece with cool water and then brushing.
If you have the time, you can brush your sherpa fleece blanket every time you wash it! It gives an extra touch of softness and helps keep the fleecy fibers fluffed.
Keeping The Blanket Soft
If your sherpa looks to have been through some hard times, you may restore its softness with the vinegar method.
To begin, do an honest evaluation of the state of the blanket. If you've had it for a long time and it has stains, tears, or rips you may wish to replace it.
On the other hand, if it seems faded and matted around the edges, it is almost always recoverable and may be restored to its former glory!
Here is how to safely try the vinegar way of softening up your blanket: 
In your washing machine, select the delicate wash cycle and the cold water option.
Before adding your blanket, add half a cup of baking soda to the machine.
Fill the specialized fabric softener spout halfway with distilled white vinegar before starting the machine. If you do not have this spout, simply measure the vinegar into the water in the basin.
Start the wash cycle.
Now knot the drying stage. This will sound a bit weird but form a ball out of a huge sheet of aluminum foil. This should be placed in the dryer.
Dry the damp fleece in the dryer on the tumble dry setting. The metal ball will infuse the fleece throw with extra fluff, ensuring that it dries smooth and silky! Additionally, it eliminates static build-up in the synthetic strands of the fleece.
While fabric softeners are not suggested for this sort of fleece, the vinegar method will ensure that it remains soft for you!
RELATED: All Of The Differences Between Pima And Supima Cotton
Summary
Sherpa jackets and fabrics are notoriously difficult to maintain, but by following a few simple steps you can ensure that they remain luxurious and comfortable for an extremely long time!
If you wash the fleecy side of your blanket in colder water, use a mild soap or detergent, and dry it outside, the fleecy side of your blanket will last longer.
It is recommended that you either air out or wash your sherpa once a month to keep it looking its best.
Alternatively, if you see that your throw is getting matted, you may either add vinegar to the wash or fluff it up with a stiff brush to restore its fluff.
Frequently Asked Questions
How Do I Clean Faux Sherpa?
The majority of faux sherpa blankets are made of synthetic fabric, which means they can be washed in cold water without harming the blanket.
Always double-check the label on the back of your fleece throw to ensure that you are cleaning it the correct way. 
Depending on the fabric it is made of, you will learn about how to properly care for it in a safe environment due to the label. 
As an example, the maker of some faux fur throws claims that the throws are composed of acrylic fibers.
Because acrylic cannot be heated, it must be dried alone by utilizing the air technique!
How Do I Wash Ugg Sherpa? 
UGG sherpa blankets are made completely of polyester and may be laundered in a washing machine on a soft cycle with cold water on a mild cycle.
Even though these blankets have a beautiful bound border and look to be fairly nice, they are just as soft and useful as a typical sherpa blanket.
It is therefore incredibly simple to clean them up!
Remember to take the important precautions of using cold water, gentle laundry detergent, and air drying your clothes whenever possible when you are doing your laundry!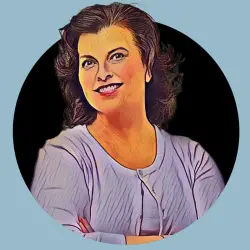 Latest posts by Amanda Brown
(see all)