Crochet blanket sizes can be quite diverse, making it essential for beginners and experts to understand the various dimensions and measurements. By learning about the standard sizes for different types of blankets, such as baby blankets and couch blankets, you can create the perfect crochet masterpiece for any occasion.
In addition to understanding the standard blanket sizes, it's crucial to know how to adjust crochet patterns to suit your needs.
This guide will also explore techniques such as adding a "pillow tuck" allowance and comparing different types of crochet blankets like Afghans, quilts, and more.
With this knowledge, you'll be equipped to customize and create crochet blankets confidently, no matter the project.
Blanket Sizes In Crochet
In the magical world of crochet, you can create beautiful blankets of various sizes to suit your needs. To help you on your crochet journey, here's a handy guide with a chart outlining different blanket dimensions.
For the tiniest treasures, baby blanket sizes usually range from 30 inches by 35 inches up to 40 inches by 60 inches. Lovey blankets, perfect for snuggling, are smaller at 12 inches by 12 inches.
Stroller blankets, ideal for draping over a baby's stroller, measure 30 inches by 35 inches. Receiving blankets, commonly used for swaddling, are 40 inches by 40 inches. This crochet blanket size chart shows you all these dimensions and more.
As babies grow into charming little toddlers, you might need blankets for their cribs or beds. Toddler bed blanket sizes typically range between 42 inches by 52 inches and 40 inches by 60 inches.
Let's remember blankets for the adults in your life! For snuggling on the couch or adding a cozy style to a room, afghan blankets come in various sizes.
The smallest afghans, called lapghans, are around 36 inches by 48 inches, perfect for draping over one's lap.
A standard afghan measures 50 inches by 60 inches and is just right for one adult. Larger afghans, aptly named throw blankets, typically measure 60 inches by 72 inches, suitable for covering a couple.
Regarding couples, bedding blanket sizes can also be crocheted for a touch of handmade love.
Twin-sized blankets are 66 inches by 90 inches, full-sized blankets measure 80 inches by 90 inches, queen-sized blankets are 90 inches by 100 inches, and king-sized blankets measure a luxurious 108 inches by 100 inches.
Different Types Of Crochet Blanket
You'll discover various blanket types to showcase your skills and creativity in your crochet journey. From cozy baby blankets to elegant throws for your couch, you have countless options to explore.
Baby blankets are perfect for providing warmth and comfort to little ones. These often come in stroller, receiving, and crib sizes, allowing you to make blankets tailored to different needs.
Whoever said that crocheting only caters to larger sizes has yet to see the Crochet Blanket Sizes Chart, which includes various baby blanket measurements.
Throws are just the right size when you want a functional yet stylish addition to your living space. From small lapghans for personal use to large throws that cover an entire family, these versatile blankets offer warmth and visual appeal.
Let's remember bedding blankets that cater to different mattress sizes, from twin to king. Adding a lovely handmade quilt to your bed is an excellent way to display your work and keep it snug on chilly nights.
Here's a quick overview of common crochet blanket sizes:
Remember, you can customize your blanket dimensions or modify patterns to suit personal preferences and needs. Don't be afraid to let your creativity soar while ensuring each piece's functionality.
RELATED: Fun Amigurumi Turtle Patterns That You Can Download And Make Right Now!
Standard Sizes For Crochet Baby Blanket
When creating a crochet baby blanket, knowing the standard sizes is essential to ensure your masterpiece is the perfect fit for its intended purpose.
The most popular blanket size for babies is the lovey, which is usually square or circle-shaped and ranges between 10″ to 12″.
Loveys are an excellent choice for soothing and comforting babies when they need a little extra snuggling. On the other hand, an average-sized baby blanket is typically 42″ by 52″.
But, of course, baby blankets come in various sizes, such as stroller blankets, receiving blankets, and lapghans, to name a few.
To make your crochet project easier and more enjoyable, here's a handy table with the standard sizes of various baby blanket types:
| | | |
| --- | --- | --- |
| Blanket Size | Dimensions (in inches) | Dimensions (in centimeters) |
| Preemie | 18 x 18 | 46 x 46 |
| Receiving | 30 x 30 | 76 x 76 |
| Swaddle | 40 x 40 | 102 x 102 |
| Stroller | 30 x 36 | 76 x 91 |
| Crib | 45 x 60 | 114 x 152 |
| Toddler | 36 x 48 | 91 x 122 |
Remember, these standard sizes are meant to serve as a guide, but you can customize your crochet blanket according to your or the baby's needs and preferences.
Do not be afraid to get creative and add your unique touch to your crochet baby blanket.
Crochet Couch Blanket Sizes
Having a crochet couch blanket can make all the difference when you cozy up on the couch with your favorite hot beverage. Picking the perfect size for your couch blanket can be tricky, so here's a simple guide to help you out.
| | | |
| --- | --- | --- |
| Blanket Size | Dimensions (in inches) | Dimensions (in centimeters) |
| Lapghan | 36 x 48 | 91 x 122 |
| Throw | 50 x 60 | 127 x 152 |
| Sofa/Standard | 60 x 70 | 152 x 178 |
| Queen/Full | 90 x 90 | 229 x 229 |
| King | 108 x 90 | 274 x 229 |
The lapghan is your ideal companion for binge-watching your favorite show. It's designed to keep your lap and legs warm when sitting down.
The size makes it perfect for draping across your lap, providing you with cozy comfort while enjoying your evening.
The small throw is larger than a lapghan and designed to cover your entire body while sitting.
It's perfect for those who want a little more coverage and warmth. Make sure to choose this size if your couch is small and you want a blanket that does not overpower your couch's height.
Elevate your comfort with the medium throw. This size is great for snuggling up with your loved one or stretching out on the couch. It's an excellent choice if you're looking for a blanket to accommodate multiple people.
Finally, the large throw is big enough for you and your family to enjoy comfort and warmth together. This size also works well for nappers who want to stretch out on the couch or cover themselves from head to toe.
Remember, your crochet couch blanket will be your companion for many movie nights and rainy days.
Choose the size that fits your needs, and don't be afraid to mix and match patterns to create a whimsical and unique piece that showcases your personality. Happy crocheting!
RELATED: Easy Crochet Bookmark: Perfect Project for Beginners
Crochet Bed Blanket Sizes
Regarding crocheting bed blankets, it's essential to understand the standard sizes to achieve the perfect fit and desired drape.
This comprehensive guide is here to help you navigate the diverse world of crochet bed blanket sizes. Let's dive in, yarn enthusiasts!
Have a look at this handy table featuring crochet bed blanket sizes:
| | | |
| --- | --- | --- |
| Blanket Size | Dimensions (in inches) | Dimensions (in centimeters) |
| Twin | 66 x 90 | 168 x 229 |
| Full/Double | 80 x 90 | 203 x 229 |
| Queen | 90 x 90 | 229 x 229 |
| King | 108 x 90 | 274 x 229 |
| California King | 108 x 98 | 274 x 249 |
Keep in mind that these dimensions are approximate, and you may wish to customize them based on your personal preferences or design goals.
Remember to measure the thickness of your mattress before starting your crochet bed blanket project. It will help you achieve a perfect fit.
When planning your bed blanket project, consider the yarn's weight, the crochet hook size, and the stitch pattern. These factors can significantly impact the outcome and modify the overall dimensions of your blanket.
Once you've mastered the crochet bed blanket sizes, don't be afraid to get creative with colors, patterns, and textures! A unique and cozy crochet bed blanket can add a touch of whimsy and warmth to your bedroom décor.
How to Add a "Pillow Tuck" Allowance into Crochet Blanket?
When planning your cozy crochet blanket, you may want to consider adding extra length for a "pillow tuck" allowance.
This extra bit of fabric allows for a neat appearance when tucking your blanket under your pillows. To help you with this whimsical endeavor, follow the steps below.
First, measure the width and length of your mattress. Let's say your bed measures 60 inches by 80 inches.
To determine the ideal size of your crochet blanket, you'll need to consider the pillow tuck allowance and any desired draping. For a standard pillow, consider adding around 16 inches to the length of the blanket1.
Now that you know the size of your mattress and have considered the pillow tuck allowance, it's time to calculate the total dimensions for your crochet blanket.
In this example, the width remains at 60 inches, but the length increases to 96 inches (80 inches mattress length + 16 inches pillow tuck allowance).
In the delightful world of crochet, it's important to consider the stitch pattern and any possible alterations to size as required.
Swatching is a fantastic way to determine your stitch pattern's dimensions and gauge. Once you have the indicator, you can calculate how many stitches are needed for the width and length of your blanket.
Look at this crochet blanket size chart for a more detailed breakdown of blanket sizes, including baby blankets and larger bed sizes.
As you embark on your crochet blanket journey, remember to maintain a clear, confident, and knowledgeable mindset.
With your newfound understanding of pillow tuck allowances, you're ready to create a perfectly tucked, dreamy crochet blanket that showcases your wonderful skills.
Comparison Between Afghan, Blanket, And Quilt
You might wonder about the differences between an Afghan, a Blanket, and a Quilt regarding cozy coverings. Well, let's take a closer look and unravel the mystery!
Afghans are usually hand-crocheted or knitted, with intricate patterns and designs. Their construction makes them perfect for draping over furniture or as a decorative element in your home.
Afghans are an excellent choice when you want to add a personal touch to your space with a splash of color or pattern.
Blankets, however, are typically made from a single layer of fabric or material. They are lighter and more versatile than Afghans or Quilts.
Blankets come in various materials, such as fleece, wool, or cotton, providing varying warmth and comfort. Additionally, you can find blankets in numerous sizes and designs, making them suitable for many occasions.
Finally, Quilts are made of three layers of fabric and are filled with a layer of material in between. This construction results in a warmer and more durable covering.
Quilts are often used as bed coverings, providing both warmth and decoration. Their intricate designs and craftsmanship can also make them exquisite art pieces for your home.
| | | | |
| --- | --- | --- | --- |
| | Afghan | Blanket | Quilt |
| Purpose | Typically used as a decorative or functional throw. Often used to cover laps or shoulders. | General term for a large, rectangular piece of fabric used for warmth or comfort. | A bed covering made by stitching together multiple layers of fabric, often with a decorative top layer. |
| Material | Can be made from various materials, such as yarn or thread, and crocheted or knitted. | Can be made from various materials, such as fabric, fleece, or yarn. | Made from fabric, typically cotton, and consists of a top layer (patchwork) and batting between the layers. |
| Construction | Typically created using a crochet or knit technique, often with intricate patterns or stitches. | Can be created through knitting, crocheting, or sewing. The construction can vary based on the desired style and warmth. | Pieced together using a patchwork technique, where fabric squares or pieces are sewn together to create a larger design. |
| Size | Often smaller in size compared to blankets and quilts. Can vary from small lapghans to larger throw sizes. | Comes in various sizes, ranging from small lap blankets to large bed-size blankets. | Available in different sizes, including Twin, Full/Double, Queen, and King, to fit standard bed sizes. |
| Warmth | Provides a moderate level of warmth due to the nature of the crochet or knit stitches. | Offers warmth based on the thickness and materials used. Can vary from lightweight to heavy blankets. | Offers warmth based on the layers and type of batting used between the fabric layers. Provides insulation and can be thicker than afghans or blankets. |
| Design | Often features intricate stitch patterns and designs created through crochet or knit techniques. | Design can vary depending on the fabric used, ranging from simple patterns to printed designs. | Can have a wide range of design options due to the patchwork technique, including traditional patterns, modern designs, or personalized motifs. |
| Usage | Often used as decorative throws for couches, chairs, or as personal wraps. | Used for warmth and comfort in various settings, including beds, sofas, or as an extra layer during colder months. | Primarily used as bed coverings for additional warmth and decorative purposes. Can be layered with other bedding. |
Full/Queen Blanket Size
The majestic Full/Queen crochet blanket size is a cozy addition to your bed that adds warmth and charm. Let's dive right into the details of this popular blanket size.
Regarding Full/Queen size crochet blankets, you're looking at dimensions of approximately 90 inches by 108 inches.
This site covers a full or queen-sized bed, ensuring you stay snug and warm throughout the night. Keep in mind that these dimensions are just a general guideline.
Factors like yarn weight, crochet hook size, and stitch patterns can affect the final size of your crochet blanket.
As you begin your Full/Queen blanket journey, consider using a blanket size chart to help plan your project. Taking a moment to map out your desired dimensions and stitch count can save you time and frustration later.
For Full/Queen crochet blankets, use medium to heavy-weight yarn. It ensures your blanket is warm and durable, perfect for keeping you toasty on cooler nights. Remember to select a crochet hook size compatible with your yarn choice.
When choosing a Full/Queen blanket pattern, the sky's the limit! Explore various stitch patterns and designs to find one that suits your style and complements your bedroom décor.
Once you've picked a way, you can contemplate the wonders of color. Will you create a monochrome masterpiece or unleash a kaleidoscope of hues upon your bed? The choice is yours!
How To Resize Crochet Blanket Patterns for Adjusting Sizes?
Resizing crochet blanket patterns might sound like a magical trick, but you can become a resizing wizard with some simple steps! Transform your favorite ways to fit your desired size quicker than a fairy godmother's spell!
First, grab your trusty measuring tools and measure your mattress – width, length, and depth. It will help you calculate the total width and height of your blanket.
Now it's time for some math, but don't fret – let's say it's as easy as pie! Calculate the total width of your blanket: width + depth + depth = entire width.
Next, you'll need to examine your chosen pattern and count the stitches across as well as the rows. It will ensure you keep the way and maintain its delicate harmony.
Remember that some designs may require extra stitches at the end of rows, but you've got this covered in your calculations.
Now that everything is measured and counted, it's time to adjust the number of repeats in your pattern.
Take a look at your pattern's stitch repeat and row repeat. Don't worry; resizing your blanket doesn't have to be as complicated as finding a needle in a haystack.
Lastly, remember the power a simple hook or yarn change can have on your resizing mission! You can either change the weight of your yarn or the size of your theme to upsize or downsize your blanket like magic.
RELATED: 35 Sock Knitting Patterns To Inspire You For Mastering The Art
Measuring Blanket Sizes in Centimeters
Measuring your creations in centimeters brings new levels of precision, ensuring your handcrafted treasures suit their intended purpose.
Now, how to convert those inches in the crochet blanket sizes chart to centimeters. Fret not, dear crafter! With every inch equal to 2.54 centimeters, your beloved numbers shall change form in the blink of an eye. Here's a quick cheat sheet to help you:
1″ = 2.54 cm
10″ = 25.4 cm
20″ = 50.8 cm
When crafting for the little ones, remember that baby blankets have an average size of 107 cm x 132 cm. But remember, the world of blanket sizes is vast, allowing for boundless creativity.
From the tiniest of lovey blankets to the sprawling expanse of large throws, the chart promises dimensions aplenty.
And variety, they say, is the spice of life! Emboldened by your ever-expanding knowledge, you'll be weaving magic into your work, catering to every need, from stroller covers to cozy afghans.
Recognized by your confident hand, unique creations in centimeters shall spring to life under your fingertips.
Convert those marvelous inches into centimeters, and watch as your crochet blanket sizes find their true purpose. Your handiwork shall be cherished by all who experience its warmth, comfort, and undeniable charm!
Key Takeaways
You have entered the enchanting world of crochet blankets, ready to create warm and cozy heirlooms. To help you on your journey, here are some essential, concise takeaways:
When deciding on the size of your crochet blanket, consider the common mattress sizes and if you want to include a "drape" or "drop."
Crochet blanket sizes vary based on the pattern, yarn, and hook size. However, a handy crochet blanket sizes chart can serve as a guide for your project dimensions.
Consider if you want to add a border or edging, as this can impact your blanket measurements. Test your wall on a gauge swatch to find the perfect balance.
As you embark on your crochet adventure, here are some tips and examples to make a unique, lovely creation:
For a baby blanket, 27 "x36" is a suitable size.
If you're crocheting a throw blanket, consider dimensions like 40 "x70" or 50 "x60".
For bed sizes, keep in mind common sizes like a twin (66 "x90"), full (80 "x90"), queen (90 "x100"), or king (108 "x100").
Now that you have the knowledge, confidence, and clear guidelines, you're ready to weave your crochet magic. So, grab your hooks and yarn, and let your creativity take flight in the world of crochet blankets!
Frequently Asked Questions
What Are The Standard Crochet Blanket Sizes?
The standard crochet blanket sizes can vary depending on the intended use and personal preference.
Some common sizes include baby blankets, which usually measure around 42 inches by 52 inches, and throw blankets, which range from 50 inches by 60 inches to 60 inches by 80 inches.
Larger bed-sized blankets are also common, with dimensions like twin (66 inches by 90 inches), queen (90 inches by 100 inches), and king (108 inches by 100 inches). 
How Do I Choose The Right Crochet Hook Size For My Blanket?
Choosing the right crochet hook size depends on the type of yarn you use and your desired stitch density.
Generally, the hook's thickness should be proportionate to the yarn's thickness to create a comfortable and uniform texture.
Start by checking the yarn label for the recommended hook size and adjusting as needed to achieve your desired result.
Making a small swatch before starting your blanket is always a good idea to ensure you're happy with the hook size and stitch appearance.
What Is The Ideal Yarn To Use For A Crochet Blanket?
The ideal yarn for a crochet blanket depends on your comfort, warmth, and durability preferences. Acrylic, wool, and cotton are popular choices, each offering benefits.
Acrylic yarns are affordable and versatile; wool provides excellent warmth and insulation, while cotton is comfortable and breathable. You can also explore blended yarns that offer a combination of these qualities.
How Do I Create A Custom-Sized Crochet Blanket?
To create a custom-sized crochet blanket:
Start by knowing your desired dimensions.
Create a foundation chain to match the width of the veil, and work in your chosen stitch pattern until you reach the desired length. You can increase or decrease the number of stitches and rows needed to achieve the dimensions you want.
Remember that some stitch patterns may have specific multiples, so plan accordingly.
Making a swatch first is always helpful to ensure your gauge and measurements will be accurate.
How Much Yarn Is Needed For Various-Sized Crochet Blankets?
The yarn needed for a crochet blanket varies based on dimensions, weight, stitch pattern, and hook size.
Some general guidelines are as follows: baby blankets may require 800-1500 yards, throw blankets around 1500-3000 yards, and bed-sized blankets between 3000-5000 yards or more.
Be sure to consult your pattern and the yarn label for estimated yardage, and consider buying extra yarn to account for variations in gauge and stitch pattern.
What Are Some Useful Crochet Stitch Patterns For Blankets?
There is a wide variety of crochet stitch patterns perfect for blankets. Some popular options include the granny square, single crochet, double crochet, shell stitch, ripple stitch, and waffle stitch.
Try experimenting with different stitches and combinations to create unique and visually appealing designs. With so many possibilities, your crochet blanket can be as simple or intricate as you'd like it to be!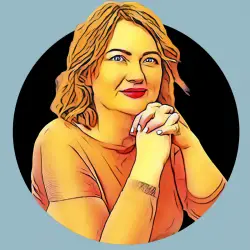 Latest posts by Sarah Reed
(see all)