Introducing our Crochet Newborn Hat Pattern, a delightful and heartwarming creation for the tiniest members of your family.
Crafted with love and care, this pattern is designed to keep newborns snug and stylish, making it a perfect project for both seasoned crocheters and beginners alike.
Our pattern offers a seamless blend of simplicity and charm, providing detailed instructions and easy-to-follow stitches.
Whether you're crafting this adorable hat for your own bundle of joy or as a cherished gift, it's sure to bring joy and warmth to those precious early moments.
With endless possibilities for color and embellishments, you can customize this newborn hat to match any baby's unique personality.
Crocheting has never been so rewarding – creating a keepsake that will be treasured for years to come with our Crochet Newborn Hat Pattern.
Is It Worth Crocheting A Newborn Hat?
Crocheting a newborn hat is a delightful task brimming with rewards. Not only does it offer a cozy covering for the baby's delicate head, but it's also a heartfelt token of affection, handmade with each stitch.
Imagine your bundle of joy sporting your creation Plus, it's a fantastic way to flex your crafting muscles or learn a new skill. You're fostering creativity and mindfulness and starting a beloved family tradition. So, is it worth crocheting a newborn hat?
Every stitch, every loop, every hat is a labor of love that's truly worthwhile.
Essential Tools & Materials
Crochet Hook: This is the primary tool for crocheting. Choose a size suitable for your yarn type. A medium size (4.5mm – 5.5mm) is ideal for baby hats. The hook pulls loops of yarn through others to create stitches.
Yarn: Select a soft, warm, and washable yarn, perfect for delicate newborn skin. Wool or acrylic blends are popular choices. Remember, the yarn's thickness should match the hook size.
Scissors: A pair of sharp scissors is crucial for cutting yarn. Please ensure they're clean and sharp to provide smooth cuts and prevent fraying.
Yarn Needle: This tool is used to weave in the ends of the yarn after you finish your project. It has a large eye that accommodates the thickness of the yarn.
Stitch Markers: These are bookmarks for your work. They help keep track of the start and end of rounds or mark where changes occur in your pattern.
Pattern: This is your roadmap to the final product. It tells you what stitches to make, when, and how many. Ensure you have a clear pattern to follow, especially if you're a beginner.
Measuring Tape: This helps to ensure the right size for the newborn's head. Measurements should be accurate for a snug, comfortable fit.
Abbreviations Of Common Crochet Stitches
Here are some common crochet stitches you might find in patterns for a newborn hat:
Chain (Ch): Basic crochet stitch that often forms the foundation of the work.
Single Crochet (Sc): The most straightforward and shortest stitch, it's often used for dense, firm fabric.
Half Double Crochet (Hdc): A stitch taller than single crochet but shorter than double crochet.
Double Crochet (Dc): A common and popular stitch that creates a soft and fairly loose fabric.
Treble Crochet (Tr): A tall stitch that creates a loose, flexible fabric.
Slip Stitch (Sl St): A stitch used to move yarn across rows without adding height or to join work when working in rounds.
Bobble (Bo): A decorative stitch that creates a raised "bobble" or bumps in the fabric.
Magic Ring (Mr): A technique often used to start crocheting in rounds, creating a tight circle with no hole in the middle.
Front Post Double Crochet (Fpdc): A variant of the double crochet stitch that's worked into the post of the stitch from the previous row, creating a textured, raised effect.
Bpdc (Back Post Double Crochet): Like Fpdc, but worked circling the post of the stitch from the back to the front, creating a different texture.
Increase (Inc): A technique to add more stitches, usually by working two stitches into one from the previous row.
Decrease (Dec): A method to reduce the number of stitches, usually by turning two stitches from the previous row into one.
Abbreviations For Crochet Pattern
The standard abbreviations you might come across in a crochet pattern for a newborn hat:
Ch: Chain
Sc: Single Crochet
Hdc: Half Double Crochet
Dc: Double Crochet
Tr: Treble Crochet
Sl St: Slip Stitch
Bo: Bobble
Mr: Magic Ring
Fpdc: Front Post Double Crochet
Bpdc: Back Post Double Crochet
Inc: Increase
Dec: Decrease
St(s): Stitch(es)
R: Round or Row
Rep: Repeat
Sk: Skip
Sp: Space
Beg: Beginning
YO: Yarn Over
These abbreviations are universally used in crochet patterns. Make sure to familiarize yourself with them before starting your project.
RELATED: Get You Chiffon On – The Complete Guide On All You Need To Know About Chiffon Fabric
The Crochet Stitches For Newborn Hat
Double Crochet (Dc)
This stitch is taller and creates a more flexible fabric than single crochet. To do this, yarn over the hook, insert it into the stitch, yarn over again, and pull it through, and finally, yarn over and pull through all loops on the hook.
Bobble (Bo)
The bobble stitch creates a fun, textured design. Essentially, several incomplete double crochets are worked into the same stitch, leaving you with many loops, which you then pull together into one stitch.
Slip Stitch (Sl St)
Slip stitch is commonly used to join rounds or to move your yarn to a different position without adding height. Insert the hook into the stitch, yarn over, and pull the yarn through both loops on the hook.
Chain (Ch)
The foundation of crochet, a chain stitch, begins most projects. Make a slipknot on the hook, yarn over, and pull through the loop. It forms a chain of stitches, which you can build upon with other stitches.
The Best Yarn For Newborn Hat
Choosing the suitable yarn for a newborn hat is about softness, warmth, and durability. Look for yarns that are hypoallergenic and gentle on a baby's sensitive skin. Baby-specific yarns are a safe bet as they're often tested for harmful substances.
Acrylic yarn is an excellent choice due to its softness, moth resistance, and easy-care properties. It's machine washable and can withstand frequent cleaning. Natural fibers like cotton or bamboo can also be suitable for their breathability and softness.
Opt for lightweight yarn for summer hats and heavier, warmer yarn for winter wear. Remember, the comfort of the little one is paramount!
Pattern Details
Pattern Details
Skill Level
Beginner-Friendly
Yarn Brand
Red Heart
Yarn Name
With Love
Yarn Weight
4 Worsted & Aran
Hook Size
6 mm (J-10)
Stitches
Double Crochet (Dc), Bobble (Bo), Slip Stitch (Sl St) & Chain (Ch)
Color
Berry Red
Category
Baby Crochet Patterns
How To Crochet A Newborn Hat – Step By Step Instructions (Floral Hat Pattern)
Here's a basic outline of how to crochet a floral newborn hat:
Materials
Crochet hook (size as per yarn label)
Scissors
Yarn needle
Stitch markers
Abbreviations
Ch: Chain
Sl St: Slip Stitch
Dc: Double Crochet
Hdc: Half Double Crochet
Sc: Single Crochet
Inc: Increase
Dec: Decrease
St(s): Stitch(es)
Instructions
Part 1: Hat
Round 1: Begin with a magic ring. Ch 2 (this counts as the first Dc). Make 11 Dc into the ring. Join to the top of the initial Ch 2 with a Sl St. You should have 12 sts.
Round 2: Ch 2. Make 2 Dc in per stitch around. Bind with a Sl St to the top of the initial Ch 2. Now you have 24 sts.
Round 3: Ch 2. Dc in the next stitch, then 2 Dc in the next stitch (increase). Repeat from * to * around. Join with a Sl St to the top of the initial Ch 2. You should have 36 sts.
Rounds 4-8: Ch 2. Dc in per stitch around. Bind with a Sl St to the top of the initial Ch 2.
Round 9: Ch 1. Sc in each stitch around for a nice edge. Join with a Sl St to the first Sc. Fasten off and weave in ends.
Part 2: Flower
Start with a magic ring. Ch 1.
Round 1: Into the magic ring, Sc, Ch 2, Dc, Ch 2, Sc. It forms one petal. Repeat this five times to form five petals. Join with a Sl St to the first Sc.
Round 2: Sl St into the first Ch 2 space. Ch 1. Into the same Ch 2 space, Sc, Ch 2, Dc, Ch 2, Sc. Repeat this in each Ch 2 space around. Join with a Sl St to the first Sc.
Fasten off, leaving a long tail for sewing.
Final step: Sew the flower onto the hat using the yarn needle. Weave in all ends.
This is a very simple floral hat pattern. Depending on your skills and creativity, you can make it as intricate and unique as you wish!
Please note: Crocheting for babies should always take safety into account. Avoid small, detachable pieces that can be a choking hazard. Always ensure any embellishments are securely attached.
How To Use A Crochet Newborn Hat?
Here are some tips on how to use a crochet newborn hat:
Right Fit: Ensure the hat fits the newborn's head properly. It shouldn't be too tight, which could make the baby uncomfortable, or too loose, which might make it fall off easily.
Check Temperature: Be mindful of the weather. Use lightweight yarn for warmer climates or inside wear and heavier, warmer yarn for colder weather.
Softness Is Key: Always ensure that the inside of the hat is soft and free from any loose ends or knots that could irritate the baby's delicate skin.
Proper Cleaning: Follow proper washing instructions depending on the yarn used. Some yarns are machine-washable, while others need to be hand-washed. Never use harsh detergents.
Storage: Store the hat in a clean, dry place when not in use to prevent it from getting dirty or developing odors. Use breathable storage containers to prevent any moisture buildup.
Regular Checks: Inspect the hat for any wear and tear or loose threads that could pose a hazard.
Remove For Sleep: It's generally unsafe for babies to wear hats while sleeping, as they can overheat, or the hat can slip to cover their faces.
Does A Newborn Hat Require Blocking?
Typically, a newborn hat does not require blocking. Blocking shapes and sets of your finished crochet pieces is often necessary for larger or more intricate projects. However, if your newborn hat doesn't quite fit right or isn't perfectly symmetrical, gentle blocking can help shape it.
How To Determine The Size For A Newborn Hat?
Determining the correct size for a newborn hat involves considering two main measurements: head circumference and hat height.
Head Circumference: This is the measurement around the largest part of the head. A newborn's average head circumference is about 13.5 to 14 inches (34 to 36 cm). However, these numbers can vary slightly, so measuring the baby's head directly is best.
Hat Height: This is the measurement from the crown of the head to just above the ears, where the hat will end. The average hat height for newborns is about 5 to 5.5 inches (13 to 14 cm).
It's important to note that crochet has a certain degree of stretch, so aim for a snug fit. Also, each pattern and type of yarn can produce different results, so always make a test swatch to check your gauge before starting the project.
If you're making the hat for a baby that's not born yet or unable to measure the baby's head, consider making the hat a bit larger or with a roll-up brim to ensure it fits the baby for a longer time.
RELATED: How To Tighten Pants Without Belt
How To Customize A Newborn Hat?
Customizing a newborn hat can make it unique, special, and personal. Here are some suggestions:
Choose Different Yarns: Different types of yarns – textured, variegated, or self-striping yarns can add interest and variety to a simple pattern.
Color Choices: Use colors that are significant or loved by the parents. Match it with the nursery color scheme or baby's clothing.
Add Appliques: Add crochet appliques like flowers, stars, animals, initials, or other shapes to the hat.
Try Different Stitches: Incorporate various stitch patterns to create exciting textures and designs.
Earflaps or Ties: Adding earflaps or ties provides extra warmth and gives the hat a cute and whimsical look.
Add a Pom Pom or Tassel: A soft, fluffy pom or a playful tassel on the top can add a fun element to the hat.
Use Ribbons or Bows: Thread a beautiful ribbon through the last round of stitches or attach a crochet or fabric bow for a pretty touch.
Brim Variations: A rolled brim, picot edge, or ruffled brim can dramatically alter the look of the hat.
Do's & Don'ts For Longevity And Durability
Here are some do's and don'ts to ensure the longevity and durability of a newborn hat:
Do's:
Follow Care Instructions: Always follow the care instructions provided on the yarn label. It can include instructions for washing, drying, and ironing.
Gentle Cleaning: Newborn hats should be washed gently. Use mild baby-friendly detergents and avoid harsh chemicals or bleach.
Dry Properly: Allow the hat to air dry rather than using a dryer. High heat can shrink or damage the hat.
Store Correctly: Store the hat in a dry, cool place away from sunlight. It will prevent the colors from fading and the fibers from deteriorating.
Regular Checks: Inspect the hat for any loose threads, tears, or damage that may need repairing.
Don'ts:
Avoid Rough Handling: Be careful not to stretch or pull the hat unnecessarily, which can cause it to lose shape.
Don't Overheat: Do not iron or expose the hat to high temperatures, which can damage the fibers, especially if it's synthetic.
Avoid Direct Sunlight: Don't leave the hat in direct sunlight for extended periods, which can cause the colors to fade.
No Bleach or Strong Detergents: These can damage the fibers and cause colors to fade.
Following these guidelines, you can help ensure your crochet newborn hat stays beautiful and functional for as long as possible.
A Quick Recap
Crafting a crochet newborn hat is enjoyable and perfect for personal use or gifting. This process requires basic crochet tools and soft, baby-friendly yarn. Fundamental stitches include double crochet, bobble, slip stitch, and chain.
The hat's size should fit the baby's head comfortably, and you can further personalize it with various colors, stitches, and appliques. Although blocking is not typically required, it can help shape the hat.
Care should be taken when cleaning and storing the hat to maintain longevity. Finally, prioritize the baby's safety and comfort in all process steps.
Frequently Asked Questions
What Type Of Yarn Is Best For A Newborn Hat?
The best yarn for a newborn hat is soft, lightweight, hypoallergenic, and easy to clean. Baby-specific yarns, organic cotton, bamboo, or soft acrylic blends are all good choices.
How Much Yarn Do I Need To Crochet A Newborn Hat?
The yarn required can vary based on the pattern and stitch density. Generally, a newborn hat may need around 50-100 yards of yarn.
How Do I Make Sure The Hat Fits The Newborn's Head Correctly?
A newborn's head circumference averages between 13.5 to 14 inches, and hat height is around 5 to 5.5 inches. These measurements are a good starting point, but crocheting allows some stretch.
How Do I Care For The Newborn Hat To Maintain Its Quality?
Always follow the care instructions on the yarn label. Usually, gentle washing, air drying, and proper storage away from direct sunlight will help maintain the hat's quality.
Can I Add Decorations Or Accessories To The Hat?
You can add crochet appliques, bows, ribbons, or pom poms. However, ensure all items are securely attached to prevent them from becoming a choking hazard.
Is Blocking Required For A Newborn Hat?
Typically, blocking isn't required for a newborn hat. However, you can gently block the hat if the shape appears irregular.
How Can I Customize A Crochet Newborn Hat?
There are numerous ways to customize a newborn hat:
Using different yarns, colors, and stitch patterns
Adding appliques
Making design variations like earflaps, ties, or brims
How To Block A Crochet Newborn Hat?
Here are simple steps to block a crochet newborn hat:
Materials
A bowl or balloon around the size of a newborn head
Lukewarm water
Instructions
Steps

Wet the Hat:
Immerse the hat in lukewarm water until fully saturated. You can add a touch of mild detergent to the water.

Squeeze Out Excess Water:
Gently squeeze the hat to remove excess water. Do not wring it, as it may distort the stitches.

Roll in a Towel

Lay out your towel and place the hat on it.
Roll the towel up with the hat inside to absorb the remaining moisture.
Press gently.
Shape the Hat
Place the damp hat on a bowl or balloon approximately the size of a newborn's head.
Gently shape it to the desired form.
If the hat is too dry to shape, use a spritz bottle to mist it with water.
Dry
Let the hat air dry completely. It may take a few hours to a day, depending on the thickness of the yarn and the humidity of the environment.
Remove and Store
Once dry, gently remove the hat from the blocking form. It's now ready to be worn or stored.
Use this process sparingly on newborn hats. Too much blocking can make the yarn lose elasticity, making the hat sag or stretch out.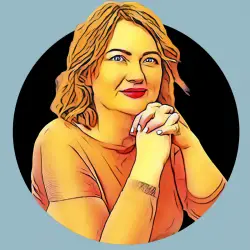 Latest posts by Sarah Reed
(see all)