When I'm stuck on a gift idea for a friend or family member, I like to see what I can make for them. Crochet is a really quick and fun way of creating gifts for people in my life.
Plus, crochet is a hobby of mine, so really I'm giving myself a gift of being able to make something, too!
Here are 35 ideas on what to gift your loved ones when you're planning on getting your crochet hook out.
First on my list has to be this adorable little bookmark shaped like a fox. This is a perfect pattern for people who want to push their crocheting skills out of their comfort zone.
The little fox's head pokes out of the top of the book to ensure that the reader never loses their place. This is the perfect gift for any bookworms in your life!
If the recipient is a fan of cleaning or simply needs some more cute but useful pops of color in their house, then this is a great gift.
Not to mention that it is super easy to create and won't take you too long at all. Why not make a bundle and wrap them in some ribbon?
We all know someone who loves hedgehogs and regularly feeds them in their backyard. So, why not make them their own little crocheted hedgehog? This super sweet little toy is perfect for people of all ages, and you're bound to get the best gift award.
I absolutely love the look of crochet baskets, and they are so practical too! Make one using this pattern and add a few more gifts inside to make a lovely and thoughtful gift.
RELATED: 15 Brilliant Crochet Baby Yoda Patterns (With Pictures)
Ear warmers are excellent for gift giving in colder months. Plus, the braided stitch down the middle of this ear warmer looks like coffee beans, giving it a professional look. The button makes it look even more expensive!
If you're looking for a gift for a makeup lover, look no further than these makeup remover pads. Not only are they super cute, but they're better for the environment than single use pads – win win!
If you're making a gift for a Potterhead, then look no further. These bookmarks symbolize the scarves of each of the Hogwarts colors, so choose the recipient's favorite and get to work!
This mug cozy is so simple to make, yet still looks amazing. Add a button as a clasp to finish the look. make as many as you like to give a complete set. I love the idea of making one every color of the rainbow.
These fingerless gloves are just plain adorable. They're also very versatile and could be used for almost anything.
You can make them with different yarns, patterns, and sizes to suit anyone's style. These are great for anyone who is always complaining about cold wrists.
This is probably the most sophisticated and professional item on our list. The beanie looks like it should be found in a high-end store with a price tag of over $100. So, if you're making a gift for your lavish friend, this is definitely a good option.
Coasters are such an essential part of having a home. If you're looking for something unique, try making coasters using this pattern.
It's a fun project, and the results will be well worth the effort. The lacy effect is so intricate and beautiful, and you can make them in any color! I like the look of white for an elegant look.
This cross bookmark is a simple project, but it will give your recipient a lot of joy. It's also a good reminder of how much you care about them. You could also make a bunch of them and put them together as a set.
Crochet is excellent for making rounded items, such as hats or coasters. This pattern allows you to make an adorable set of coasters for anyone who loves vintage style items or farm vibes.
The large blue chicken comes with four egg coasters, perfect for any table.
My favorite thing about this pattern is how intricate the final design looks, yet how easy it is to actually make. Beginners might have a trickier time mastering the stitches, but once you get them down, you won't be able to stop making dishcloths!
This star ornament is just begging to hang from the tree. It's simple enough to make, but also beautiful and unique.
You can use as many or as little colors as you want. Plus, this isn't just a gift for Christmastime – it can be hung in a window all year round!
This hot pad pattern is excellent for anyone who enjoys cooking and doesn't want to damage their kitchen surfaces. Choose whatever color you want to make it in, just remember to use a thicker yarn to absorb the heat.
Whenever you think of crocheting a gift for someone, the first thing that comes into your head is a scarf – right?
I promise that this list isn't just full of scarves, but I had to include one! This keyhole scarf is gorgeous with intricate patterns all over it. The best part is that it is super simple to make!
This bracelet is great for beginners because there aren't too many difficult techniques used here. Plus, it's a fun way to practice some new skills without feeling overwhelmed by the process. Customize with a few beads to make it look more intricate and beautiful!
RELATED: 15 Crochet Ideas To Make At Home
Pom poms are always a crowd pleaser, so why not crochet some for yourself? These coasters are perfect for keeping your tea warm while sitting on the couch.
They're also a fun craft for kids to do at home. They look perfect with very little effort needed, which is a plus.
I love these mittens because they use a super simple stitch that you don't need to be a master at crochet to use. Plus, this makes them a super quick gift to make. So, if you've left the gift search too late and are running out of options, make these mittens!
This is the perfect gift if you're going to a baby shower or the recipient has recently had a baby. A dribble bib might be a savior for them if their baby is going through teething pains. This is a fast and easy gift for any new parent.
The infinity scarf is an awesome way to show off your crochet skills. It's a really versatile piece of clothing that can be worn on its own or wrapped around something else.
This is a great beginner-level project that takes only a couple of hours to make, so you'll have plenty of time to wrap it.
If you know someone who loves wearing beanies, then this hat will be a hit. It's adorable, soft, and cozy. And, it's made using a basic crochet technique that even a beginner could master. Plus, look how great the pom pom looks!
Another dishcloth – who ever has enough of them lying around? This pattern is a little more intricate with a slip stitch featured. The slip stitch allows the wool to remain tightly together so that it retains water well and really gets things clean.
These baskets are perfect for gifting. They feature handles on the side which means that you can easily carry them without any hassle. Plus, they are super versatile and can be used for storing anything from toys to books.
This headband is perfect for beginner crafters who are just getting into crochet. You can practice a number of different stitches while creating this in a short amount of time.
The button closure makes it look expensive, but you won't have to spend much to make this at all!
Again, when you think of crochet gifts, your mind might spring towards a hat. Wooly hats are perhaps the easiest thing to make with a crochet hook, so make this and number 20 on our list and your gift will be the talk of the town!
Coasters are always useful, especially during the holiday season. These coasters are made using a simple stitch and are completely customizable. You can choose the colors, to add a border, change the size, etc., making each coaster unique.
Wine glasses are a must-have in every household, but they tend to get dusty quickly. A wine cozy is a great idea for any wine lovers who want a spruced up wine glass.
An infinity scarf is one that has no end and is stitched in a loop. Because you're not making a super long scarf, you won't have to worry about this craft taking too long. It is also a nice thin scarf to use most of the year.
This planter is so cute I want to make one for myself! The wooden plaque is optional and you can find these online to write whatever you want on it. Add a plant that you find from your local plant store to create a perfect gift for anyone.
These are a great hit with kids who love the magic of Christmas. Add a couple of chocolates in each one and hang them on the tree for Christmas morning. You can make as many as you need all in different colors, too, so everyone's is different!
Flowers are beautiful and they smell amazing, but they don't last very long. To keep your room full of flowers, try making some flower coasters. This pattern is one of the easiest that I have ever used so you can complete several of these coasters within a week.
Here is another pattern for a crochet planter. These are so small that you can make multiple in one sitting! Add a fake or real plant into the planter to finalize the gift.
RELATED: 17 Different Types Of Pleats For Skirts And Dresses
This bookmark looks amazingly intricate despite it being incredibly easy to create. It doesn't take long to make either, so it could be ideal if you're making gifts for multiple people.
I think this could be a great gift for groups of children to get them excited about reading.
Finally, we have another pair of mittens. This pattern features gathered buds to make the mittens look gorgeously lavish. They'll pair with anything and keep your recipient's hands nice and toasty. Pair them with number 17 and you've got the perfect gift.
Frequently Asked Questions
Why Are Crochet Items So Popular?
Crochet items are so popular because they look effortless yet cute. They're also fun to make and people appreciate when loved ones have made them gifts as it is more sentimental.
You can crochet an amazingly large number of things, such as clothes, hats, blankets, decor pieces, and more. It is also a rustic style that some people love to place all over their house.
What's The Easiest Thing To Crochet?
The easiest thing to crochet would probably be a hat. Beginner-friendly crochet often consists of a magic circle, which is the starting point for rounded crafts. You can then crochet double or single stitches into the magic circle to create a bowl shape.
As you can imagine, this is perfect for a hat shape. Alternatively, coasters are also a very easy starting point on your crocheting journey. Luckily, crochet isn't very difficult and you can pick up more advanced stitches in a short amount of time.
Summary
And there you have it! 35 crochet patterns that are ideal for gift giving occasions. If you're looking for a fresh way to give gifts and want to save money, you can consider crocheting the gift.
There are plenty of options available to you on my list, so pick out something that fits your budget and personality. Happy crafting!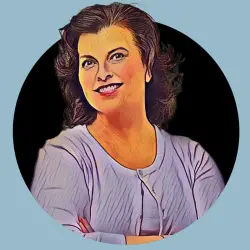 Latest posts by Amanda Brown
(see all)