Are you ready to dive into the world of crochet? The perfect starting point is learning how to crochet a scarf. This beginner-friendly project will give you a fantastic introduction to crochet techniques while still having an enjoyable time creating a cozy and fashionable accessory.
By mastering the basics of crochet with this project, you'll be ready to tackle more advanced patterns in the future.
Crocheting a scarf is pretty straightforward and doesn't require too many materials. First, choose your favorite yarn, taking note of the recommended hook size on the label.
Then, find a free, easy-to-follow crochet pattern suitable for beginners, like this scarf pattern tutorial. As you work on your scarf, consider design notes, pattern stitches, and gauges to create a beautifully finished product.
Essential Materials
Before diving into your crochet adventure, let's gather the essential materials. You will need a few things to create a magical scarf that will leave you feeling like a crochet wizard.
First and foremost, select the perfect yarn for your scarf. Consider the yarn's texture, thickness, and color, as it will significantly influence the outcome.
Look for a comfortable, soft wool, preferably medium-weight, to keep it simple for beginners. Remember to check the label for any care instructions or recommendations!
Next, you'll need a trusty crochet hook. Choose a theme matching the yarn label's recommended size, or opt for a slightly larger angle to achieve a looser, cozier fabric. Remember, you can always experiment to find the perfect fit for your creative desires.
Keep a pair of scissors handy to snip your yarn when needed. This trusty tool will also help you in creating a charming fringe for your scarf in the finishing stage.
Finally, equip yourself with a tapestry needle for weaving in your ends and giving your scarf a professional look. With a proper hand, you'll be able to tuck any loose ends away discreetly and ensure the durability of your creation.
Design Notes And Pattern Stitches
Design Notes: You'll be amazed how quickly you'll master crocheting a scarf for beginners.
Using a large crochet hook and super bulky yarn, your scarf will come together in 2-3 hours, making it perfect for a weekend project or last-minute gift.
Not only will you enjoy completing your first scarf, but you'll also learn valuable skills and techniques to apply to future crocheting projects.
When choosing your yarn, consider going with a super bulky option like Wool-Ease Thick and Quick, as it will help speed up the creation process and use up every bit of two skeins.
Another helpful tip is to measure the center three inches of your fabric to see how many stitches you make per inch.
It will allow you to adjust your hook, yarn, or stitch pattern accordingly to achieve the desired size.
Pattern Stitches: Crocheting a scarf for beginners doesn't have to be complicated. In your journey to master the basics, focus on these easy-to-learn stitches:
Chain stitch (ch): Start with a slip knot, then create a foundation row of chain stitches. This crucial first step serves as the backbone of your entire project.
Single crochet (sc): One of the simplest and most common stitches, the single crochet stitch is perfect for beginners looking to create a neat and even scarf.
Double crochet (dc): Take your skills and scarf to the next level by mastering the double crochet stitch. This versatile stitch will add texture and depth to your project.
As you progress, don't be afraid to experiment with different stitches or combinations to create a unique and personalized scarf.
Also, choose lighter yarns such as Lion Brand Truboo for spring and summer scarves, or choose weight 3 threads like DK (double knitting) or Light Worsted for more lightweight options.
How Long Should A Scarf Be?
The ideal length of a crochet scarf depends on personal preference, style, and intended use. On average, a standard crochet scarf ranges from 55 to 70 inches long.
This length allows for versatile styling options, including draping around the neck or wrapping it multiple times for added warmth.
However, longer scarves, around 70 to 80 inches, are perfect for creating trendy oversized looks or for those who prefer more coverage during colder weather.
Conversely, approximately 45 to 55 inches shorter scarves are suitable for lightweight or decorative scarves, better suited for milder climates, or as fashion accessories.
Ultimately, the length should be tailored to the individual's height, style, and comfort, ensuring a cozy and stylish addition to any outfit.
RELATED: 25 Amazing Diamond Stitch Crochet Blanket Patterns (With Pictures)
Various Scarf Patterns
Ah, the magical world of crochet scarves! As a beginner, you'll find it delightful to know there are many patterns to explore.
In this whimsical journey, we shall discover a few impeccable designs that are simple, delightful, and perfect for mastering the basics.
First, let's venture into the realm of the modern unisex scarf. This charming pattern is excellent for beginners, as it only requires mastery of two basic stitches:
The chain stitch and the half double crochet stitch (dc). In no time, you'll be creating stunning scarves using this free pattern: no fuss, no frills, just pure crochet magic.
Now, onto another enchanting pattern – the easy crochet scarf. With a variety of 25 free designs, you'll soon be weaving beautiful scarves using different yarns.
Acrylic yarn is soft, widely available, and a dream. Acrylic/wool blends offer the warmth of wool with the convenience of acrylic yarn.
Want a luxurious option? Wool yarn is your answer, with superwash merino yarn being a splendid choice due to its softness and machine-washable properties.
As you continue to hone your crochet skills, consider the captivating Lion Brand Wool-Ease Thick & Quick yarn for your next scarf project.
This marvelous 80% wool and 20% acrylic blend is perfect for crafting an easy-to-care-for and extra warm crochet scarf. It's a magical addition to your ever-growing repertoire of crochet patterns.
Crochet Hooks And Gauge
Ah, the world of crochet hooks and gauges awaits you! You've chosen an incredible journey, my friend. In this section, we'll explore crochet hooks and gauge them whimsically yet knowledgeable.
Crochet hooks come in a variety of sizes and materials. The size of your theme will determine the size of your stitches and, ultimately, the overall look of your scarf! It's essential to select the right crochet hook for your project.
Materials include aluminum, bamboo, and plastic, so choose one that feels comfortable in your hand.
There's no need to fret if you're unsure which size to choose. Many patterns, like this beginner-friendly one, guide you on the hook size and yarn type. But experimenting is half the fun in crochet, so don't be afraid to explore different options!
Now, let's talk about gauge. Gauge is the number of stitches per inch (or centimeters) in your crochet project. It's crucial to create a consistently sized scarf, even if you use chunky yarn or the cozier wool-acrylic blend.
To determine your gauge, create a small swatch of crochet fabric using the hook and yarn you've chosen for your scarf.
Measure the number of stitches and rows per inch (or centimeters) in your swatch, and make sure it matches the pattern's recommended gauge. You can adjust your hook size or tension to achieve the desired gauge if it doesn't.
By understanding crochet hooks and gauges, you'll soon master the basics and create a beautiful scarf that'll make your friends ask, "You made that?!"
So grab your favorite hook, put on some inspiring music, and dive into the beautiful crochet world. Happy stitching!
Determine Scarf Length
You've decided to dive into the beautiful world of crocheting, and what better way to start than by mastering the basics with a fabulous beginner's scarf pattern?
First, it's crucial to determine the length of your scarf. After all, it must suit your taste and keep you warm and comfy.
Generally, an adult scarf can range from 60 to 70 inches long. However, feel free to add a little whimsy and make it shorter or longer, depending on your preference.
Grab your crochet scarf size chart and sketch out your scarf's dimensions. Keep in mind that the width typically ranges from 4 to 12 inches.
If you need more clarification about how much yarn you'll need, don't fret – the handy scarf calculator on the chart will provide the estimated yardage required.
Selecting a suitable yarn and hook size for your project is essential. An 80% wool and 20% acrylic blend is a splendid option, providing warmth while being easy to care for. A 9mm (M/N-13) hook is commonly used for beginner scarf projects.
Pattern Details
Pattern Details
Skill Level
Beginner-Friendly
Yarn Brand
Merino Nylon
Yarn Name
Super Bulky (Chunky)
Yarn Weight
6
Hook Size
Size K or 6.5mm
Stitches
Chain (ch), Half Double Crochet (dc) 
Color
Monochromatic With Pops
Category
Crochet Scarf
Easy Crochet Scarf Pattern Instructions 
Chunky Scarf Crochet Pattern:
Materials Needed
Size
Finished scarf dimensions: Approximately 60 inches (152 cm) in length and 8 inches (20 cm) in width.
The size can be easily adjusted by changing the number of stitches and rows.
Stitches Used
Chain (ch)
Half Double Crochet (dc)
Gauge
Gauge is not crucial for this pattern as it's a scarf. However, to check your gauge, work a swatch of 10 dc stitches and 8 rows using the specified yarn and hook. The swatch should measure approximately 4 inches by 4 inches (10 cm by 10 cm).
If your gauge is more significant, try using a smaller hook; if it's smaller, try using a more prominent theme.
Pattern Instructions
Step 1: Foundation Chain
Start by making a foundation chain of 17 stitches. If you want a more comprehensive or narrower scarf, adjust the number of starting chain stitches accordingly. The chain should be a multiple of 2 stitches plus 1 extra chain stitch.
Step 2: First Row
In the third chain from the hook, work 1 dc (this counts as your first dc stitch).
Work 1 dc in each chain stitch across the row until you reach the end. You should have 16 dc stitches in this row.
Step 3: Second Row and Beyond
Turn in your work.
Ch 2 (counts as the first dc of the row).
Work 1 dc in the back loop of each stitch across the row until you reach the end.
Step 4: Repeat the Second Row
Repeat the second row until the scarf reaches your desired length. For a standard-sized scarf, repeat the second row until you have approximately 60 inches (152 cm) in length. Adjust as needed for a longer or shorter scarf.
Step 5: Finishing
Once you have reached your desired length, fasten off the yarn by cutting it, leaving a tail of about 6 inches. Yarn over and pull the yarn tail through the last loop on the hook to secure the end.
Use a tapestry needle to weave in any remaining yarn tails on both ends of the scarf.
Trim any excess yarn with scissors.
Tips To Avoid Mistakes In Scarf Crocheting
It's a beautiful adventure for beginners to embark upon and master the basics. However, mistakes can be disheartening.
As a crochet enthusiast, I'll share some tips to help avoid everyday scarf crocheting errors.
Firstly, choosing the suitable yarn and hook size for your project is essential. To create a warm and cozy scarf, go for bulky yarn and a large crochet hook. This combination works well for scarves and helps the project finish quickly.
When it comes to maintaining stitch consistency, it's essential to keep track of your stitches. A good tip is to count your stitches in groups, such as 2's, 4's, or even 5's, as suggested by Happily Hooked.
This way, you can quickly spot any irregularities and correct them on the go.
Another handy idea is to use stitch markers. Place them at regular intervals on your working row so that you won't have to unravel the whole row to fix it if you make a mistake.
Gauge is another aspect that requires your attention. To avoid ending up with a scarf that's too long or short, check the gauge by making a swatch. If you need to adjust it, change the crochet hook size and test again.
Lastly, embrace the learning process! Nobody's perfect. You'll forge a strong bond with your hooks and threads as you crochet your way to mastery.
Hold your head high and let your confidence flourish as you triumphantly wave your finished scarf.
RELATED: Fun Amigurumi Turtle Patterns That You Can Download And Make Right Now!
More Patterns To Try
Once you've mastered crocheting a scarf, you'll be eager to try more projects. Here are a few fun and easy-to-master patterns to crochet:
A crochet blanket is a beautiful, cozy project for beginners. It allows you to practice different stitches and create a beautiful piece you can proudly display in your home.
Crochet socks are an excellent project for expanding your crochet skills. They are functional and can be customized with various colors and patterns.
Once you're comfortable with creating socks and blankets, try crochet hats.
Frequently Asked Questions
What Materials Are Needed For A Beginner Crochet Scarf?
To start crocheting a beginner scarf, you'll need at least 200 yards of worsted-weight yarn and a crochet hook in a size that is appropriate for your adventure (check the yarn label for recommendations).
Additionally, scissors and a yarn needle for weaving in ends will be helpful.
What Are Simple Crochet Stitches For A Beginner's Scarf?
Learning the chain stitch (ch) and the half double crochet stitch (dc) is a great way to begin. These two basic stitches can create a simple, stylish scarf for beginners.
As you gain confidence, you can try other beginner-friendly stitches like single crochet (sc) and double crochet (dc).
How Can I Adjust The Width Of Crocheted Scarves?
Adjusting the width of your scarf is as simple as changing the number of chain stitches you begin with. More chains will result in a broader scarf, while fewer chains create a narrower one.
Don't be afraid to experiment to find the perfect width for you. Just remember that you'll need more yarn for a wider scarf.
Are There Tutorials For Easier Scarf Patterns?
Yes, there are many tutorials to help beginners crochet scarves. One such tutorial on YouTube walks you through the process step-by-step and explains all the skills and techniques needed to complete a beginner scarf.
How Can I Make A Chunky Crochet Scarf As A Beginner?
To create a chunky crochet scarf, you'll need bulky or super bulky weight yarn and a larger crochet hook, typically around 10mm (N) or 12mm (P) in size.
Then, create your scarf using simple stitches like half-double or double crochet. Chunky yarn works up quickly, giving you a fast and fashionable result.
How Long Does It Typically Take To Create An Essential Crochet Scarf?
The time it takes to crochet a scarf will depend on factors like your skill level, the size of your scarf, and the complexity of your stitch pattern.
However, simple beginner scarves can often be completed within a few hours to a day or two. Practice makes perfect, and you'll find yourself crocheting scarves more quickly and efficiently as your skills improve.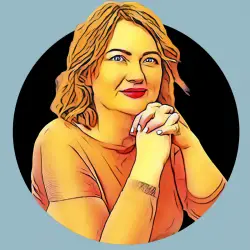 Latest posts by Sarah Reed
(see all)