In winter there is nothing better than a warm and cozy pair of socks, especially when you know they are handmade.
Usually, when we think of socks, we think they are knitted but thanks to the many variations of yarn, crochet hook sizes, and interesting patterns, you can make a pair of crochet socks just right for you.
Quick and easy, most patterns for crochet socks are for slipper socks which can be worn only around the house, but you will find a few options with the right choice of yarn which can also be worn outside.
Whether you are looking for comfy winter warmers, elegant ladies socks, baby socks, yoga socks or simply a personal gift for friends and family, these small items of clothing can make a great beginner project.
You can make very simple crochet socks or you can make more ornate crocheted socks. Here are our best 28 patterns for crochet socks and slippers.
Adults Crochet Socks Patterns
We start off with a pattern for a basic crochet sock design perfect for beginners. Quick and easy, you work this pattern in single crochet only. If you use a rainbow yarn, you can create a truly individual pair of socks.
This step-by-step instruction pattern for twirling toe crochet socks includes different sizes, and even how to turn these originally thigh-highs into shorter socks.
As this pattern uses front post double crochets, it is an intermediate design but also worth a challenge for a crochet beginner.
The intricate effect of lace wrapping around the leg could make this pair of socks a handmade gift for someone special.
RELATED: 13 Stunningly Beautiful Hooded Scarf Crochet Patterns
With an option for a thinner or wider foot, this pattern for crochet socks with pom-poms can be easily adjusted to your foot size.
You can use either two colors or stick with one color for the socks and a different design for the pom-poms. For the texture of the socks to come out better, it is best to use a darker color.
Unique and individual. This pair of knee-high striped socks is made with lots of different colors so you could likely use up some of your left-over yarn stash.
Create a couple of crochet flowers and add them as applique to make these socks extra special. They can be adjusted to different foot sizes.
This pattern for a pair of two-tone crochet socks is bang on trend for winter. You can use two neutral colors or experiment with bolder colors for extra fun.
The thick weighted yarn keeps your feet warm and it creates a tight knit-look texture.
Whether you choose to make this pair of ladies lace crochet socks in white or another color, they will always look timeless.
The elegant shell design wraps around the lower leg and if you choose a breathable yarn you could even use them as boot socks. The pattern provides instructions on how to adjust the size to ensure they fit your feet.
The design of these crochet ripple socks resembles the flow of water. It is very effective and so easy to make.
The ripple effect works best when you use four different colors to create a stylish contrast, and though this may sound difficult, this is an easy pattern suitable for beginners. You can adjust the size of the socks by using a smaller or larger hook.
What a fun project to make for the man in your life! This pair of crochet socks for men comes originally in two colors featuring a mustache on top.
You can choose different color options, or vary the size by a smaller or larger crochet hook. When you use a soft, textured yarn, these socks make a wonderful house slipper.
This pair of crochet socks looks so intricate and elegant that you can show them off at home or use them as boot socks.
You can make them in any color or size as the length of the foot can be easily adjusted. The pattern gives you three different size options (S, M and L) for the cuff part.
RELATED: 15 Brilliant Crochet Baby Yoda Patterns (With Pictures)
They look almost too fragile to wear but this solid cobweb lace design is sturdy and durable. You can make these socks in any color and adjust the size as outlined in the detailed instructions.
As this pattern uses a number of difficult crochet stitches, it is suitable for more experienced crocheters.
These cozy yoga crochet socks keep your feet warm during your gentle work out allowing your toes and heels to grip for better balance.
The pattern is suitable for a UK foot size 5/6 and if you want to use just one color throughout then one ball of yarn is all you need.
While the pattern is labeled intermediate, it mostly uses only single crochets and requires some concentration, so this is great for all beginners who are ready to up their crochet skill level.
These ramble crochet socks feature a hypnotic mosaic design with a toe-up and a short row heel. Each sock is crocheted in rounds but due to the use of some more intermediate stitches, this is a pattern best for experienced crocheters.
These warm Cosie Tosies crochet socks have a low cut so you can easily wear them with any shoe, suitable for shoe sizes from 4-7.
Make them in any of your favorite colors or just add a dash of color by attaching a snazzy pom-pom or bow to the back.
This classic Segue crochet socks pattern is ideal for an experienced crocheter as it works with post stitches. The intricate ribbing effect create socks that are stretchy and cozy warm.
Featuring toe-up on the front and a short row heel, this pair of socks is adjustable to make in different sizes for all the family.
This pattern for the super creepy skull knee socks comes with two knee lengths (below and above the knee). It is suitable for calves between 13-15 inches.
The original design works great with black and white yarn but feel free to experiment. The perfect pair of creepy slippers for Halloween!
If you are looking for more unusual slippers, then this cute twinkle toes slippers pattern is perfect. They look like tie shoes and with the right color, they can suit men and women alike.
The easy-to-follow instructions come with pictures, stitch guides and explanations. There is also a baby crochet socks pattern for these available so you could match looks.
Baby And Kids Crochet Socks Patterns
Super simple to make, this crochet pattern for a pair of baby socks is made with thick yarn so it's ideal to help protect baby's feet from the cold.
You can make these socks with any color of your choice and as they are worked only in single crochet, they are a go-to project for beginners.
With these quick and easy crochet socks, you can keep baby's feet warm and toasty. Keep them in a classic neutral yarn color or use bright and bold colors to match baby's outfit.
The finished socks measure approximately 3.5 inches length, so would fit a newborn. If you would like to make them bigger, you can either increase the hook size or use slightly heavier yarn.
Keep those little tootsies warm and comfy with these sweet-looking baby crochet socks. They are so easy to make and can be adjusted to different color combinations and with soft fibers.
This pattern is for socks that fit most babies from 6 to 12 months with a foot length of approximately 4 inches.
If you had enough of baby losing socks everywhere, then these super cute Keep your socks on crochet socks are here to help.
These slip-over socks stay in place until you decide it's time to take them off. They fit baby feet for ages 6-12 months and can stretch up to a maximum of 6.5 inches.
The pattern provides two instep sizes to vary the foot length and with less than 100m yarn needed for the pair, it's very quick and easy to make.
Super stylish for baby feet, the design for these Chanel crochet espadrilles is based on the original Chanel espadrilles for adults.
With is different stitches and parts to assemble, this is a crochet pattern suitable for more experienced crocheters.
This matching pair of a panda hoodie and socks are great fun to make. The design features a panda hoodie with ears, front zipper, and black and white striped sleeves.
The sock design is super quick to make with doubles only, including panda face and ears.
With the assembly of different parts, this pattern is more suitable for experienced crocheters but it only uses single and double crochets so it could be a great challenge for a beginner as well.
RELATED: 15 Crochet Ideas To Make At Home
Slipper Sock Crochet Patterns
Make your own winter warm socks with this cable crochet sock pattern. You can use worsted weight yarn for them to create a bulky and cozy feel.
They work up super quick and fit a typical woman's foot but can be customized for any shoe size. Due to the intermediate cable stitch, this pattern is better for more experienced crocheters.
Super fun and fast to make, these double-sided crochet slippers can be worked with any color. The sweet flower design on the top gives the slipper a chic look.
The pattern includes instructions for sizes small, medium and large.
These fast and easy collared crochet ankle socks almost look like elf boots, which makes them a great little gift for Christmas.
Made with lightweight cotton, the socks would fit a US foot size 6 and 6.5 but can be easily adjusted by using a different crochet hook size. With a simple single crochet stitch, this pattern is perfect for beginners.
Perfect for the warmer seasons, these sweet crochet summer slippers can be made in so many bright and bold colors, as well as with rainbow yarn.
They feature a crochet strap with a small button sewn on at the top. You can make these crochet slippers in sizes small, medium and large to fit your feet snugly.
Keep your feet cozy in the cold winter month with these hip sneaker-look crochet slippers. They are worked with two strands held together throughout and you can easily adapt the pattern to your favorite colors.
The original pattern is for size S, fitting women's shoe sizes 5-6 but as a more experienced crocheter, you can also experiment with a larger hook size to make them bigger.
Smart and stylish, with these fun crochet soccasins you don't have to choose anymore between socks and moccasins.
This unisex moccasin-style slipper has a built-in sock leg to sit snug to the ankles when folded. Ideal to keep your feet warm and toasty in winter.
You can make them in a variety of colors and styles so they can work for men and women. You can even make these just as slippers without the sock leg if you do not want to have such a tight fit.
Frequently Asked Questions
How Do You Crochet A Simple Sock?
Crochet socks are easier to make than you might think, and they are an ideal beginner project.
Whether you want to make your next pair of winter warmers, baby socks for small tootsies, yoga socks to keep you balanced or thick crochet slippers, you can choose from a range of crochet sock patterns to suit your level.
How Many Skeins Of Yarn Do I Need To Crochet Socks?
How much yarn you need will depend on your pattern, the type of yarn you use and hook size. If you choose a thicker yarn, then you may need a lot less for a smaller project like socks.
Every crochet pattern is different but they will usually specify how much material you need for your socks or slippers, and it usually also contains recommendations what type of yarn and hook size is best.
Can You Crochet Socks With Acrylic Yarn?
Yes, you can use acrylic yarn to crochet socks and slippers, but there are a few things to bear in mind. Synthetic fibers, such as acrylic, are not as breathable as natural fibers, like wool or cotton, so acrylic can cause your feet to keep moisture and sweat.
So it is best to know upfront where you want to use your socks. For most crochet socks, it is best to use a wool-nylon blend because the wool provides a natural stretch which make it easier to get in and out of your socks, while the nylon helps the socks to withstand wear.
If you use your socks just as winter warmers at home, then 100% wool is ideal, whereas you couldn't use them when you are outdoors. For a more sustainable option, bamboo yarn is great.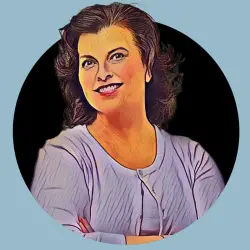 Latest posts by Amanda Brown
(see all)