When finding pants that combine durability, comfort, and style, Dickies has long been a go-to brand for many people. However, there are many other options if you seek a similar look and feel to Dickies pants.
In this article, we will explore some alternatives that provide the same benefits as Dickies pants without compromising on quality or design.
As you search for pants similar to Dickies, consider the key features that make this brand stand out, such as reinforced stitching, resistance to wear and tear, and versatile styles. 
By keeping these attributes in mind, you'll be able to find pants that meet your expectations in terms of both appearance and functionality.
Some noteworthy alternatives to Dickies include the Carhartt Ripstop Cargo Work Pants and Duluth Trading Company Men's Fire Hose Relaxed Fit Cargo Pants.
These options, among others discussed in this article, offer a range of colors and designs, ensuring you can find the perfect pair that suits your taste and needs.
So, let's dive in and discover the world of pants that resemble the qualities that have made Dickies a popular choice.
Dickies Work Pants Overview
Dickies work pants are a well-known choice for hardworking individuals like you. Their durable construction and practical design make them a staple in workwear. 
It offers everything from the Original 874 Work Pant to other versatile styles. These pants provide long-lasting wear for your daily grind.
You'll love the comfortable fit with essential features like reinforced seams and roomy pockets to store your tools. 
The Original 874 Work Pant is an icon in the world of work pants, known for its long-lasting quality and reliability. The heavy-duty fabric ensures durability in even the most demanding work environments.
Dickies work pants come in various colors and fit so that you can find the perfect pair for your work style and needs.
Whether you prefer a straight-leg cut or a more tailored fit, you will find suitable work trousers for your daily tasks.
In addition to the Original 874, Dickies offers options like Flex Cooling Relaxed Fit Pants and DuraTech Ripstop Cargo Pants for your convenience.
Beyond functionality, these pants proudly exhibit a fashionable aspect of workwear. Their timeless design can be incorporated into your daily wardrobe, making them a go-to choice for versatile wear.
Rest assured that you're making a stylish and practical choice by incorporating Dickies work pants into your work attire.
Before starting your job, wear your trusty Dickies work pants. They'll provide you with the confidence, comfort, and protection needed to tackle any task that comes your way.
RELATED: 29 Fantastic Knit Hat Patterns For Beginners (With Pictures)
Popular Fits And Styles
These pants are made from durable duck fabric and are designed for harsh work environments. They feature a relaxed fit and multiple utility pockets for convenient storage of tools and equipment.
These pants are known for their durability and are made with rigid materials and reinforced stitching. They offer a relaxed fit and feature roomy cargo pockets, ensuring ample storage space for tools and gear.
These pants are designed specifically for industrial settings, made from durable fabric, and feature a relaxed fit. They are equipped with multiple pockets for easy storage and access to tools.
These pants are a classic in the Dickies line, known for their durability and versatility. They have a straight-leg fit and feature a sturdy construction suitable for various work environments.
These pants combine durability with flexibility. They are made from canvas fabric and feature a relaxed fit, allowing for ease of movement. They are designed to withstand demanding work conditions.
These pants are constructed with double-layered front panels for extra durability. Made from firm duck fabric, and they are tough and built to withstand heavy use in demanding work environments.
These cargo pants offer a relaxed fit and are made from twill fabric. They feature multiple cargo pockets for convenient storage of tools and personal items.
 These pants provide a relaxed fit and are made with stretch fabric for added comfort and freedom of movement. They have a flat front and are suitable for work and casual wear.
These cargo pants are designed for work and outdoor activities. They feature six pockets, including cargo pockets, for ample storage space. They are made with durable materials to withstand rugged conditions.
These pants feature a regular fit with a straight-leg design. They offer flexibility and comfort with a blend of durable materials. The cargo pockets provide additional storage space for tools and essentials.
These pants combine rugged durability with flexibility. The Rugged Flex technology allows for ease of movement, while the dungaree style offers a comfortable fit. They are suitable for demanding work environments.
These work pants are designed with an elastic waistband for added comfort and flexibility. They offer a relaxed fit and multiple pockets for conveniently storing tools and personal items.
These pants feature a classic carpenter style, with utility pockets and hammer loops for convenient tool storage. They provide a comfortable fit and are made from durable materials.
These pants are designed to withstand wet conditions with their water-resistant fabric. They offer durability and functionality, with reinforced stitching and multiple pockets for storage.
These carpenter jeans provide a relaxed fit and are made from durable duck fabric. They feature utility pockets, a hammer loop, and a straight-leg design for enhanced functionality.
These pants are made from a blend of twill fabric for durability. They offer a comfortable fit and are designed for work environments. They feature multiple pockets for storage and reinforced stitching for added strength.
These pants feature a loose fit and are designed with double-layered knees for extra durability. They offer ample room for movement and are suitable for demanding work conditions.
These work pants feature a pleated front for a professional appearance. They are made with durable fabric and offer a relaxed fit. Multiple pockets provide convenient storage for work essentials.
Materials And Durability
When considering pants similar to Dickies, it's essential to examine the materials and durability of potential options.
In this section, we'll explore different fabrics used in constructing pants and how they affect durability and comfort.
Cotton is a popular material for pants due to its natural breathability and softness. Many pants similar to Dickies, such as Goodfellow & Co, are made from 100% cotton, providing a comfortable and rugged feel. This breathable fabric can withstand daily wear and tear while offering a comfortable fit.
Twill fabric is a durable weave commonly used in pants similar to Dickies. It features a diagonal pattern, which adds visual interest and increases the fabric's strength and resistance to wear and tear. This makes Twill an ideal choice for work or outdoor wear.
Denim is another durable material often used in pants designed for work or outdoor activities. Brands like Levi's and Wrangler use denim to offer highly durable pants while maintaining a casual style.
Denim can be tricky and comfortable, making it a suitable option for those seeking pants like Dickies.
Cotton duck is a heavy, plain-woven fabric commonly used in work pants due to its durability and resistance to wear and tear.
Brands like Carhartt utilize cotton duck in their pants, providing a perfect blend of strength and comfort that rivals Dickies' offerings.
RELATED: Knitting Stitches: Ultimate Guide – Every Type Of Knitting Stitch
Notable Features Of Dickies Pants
In your quest for pants similar to Dickies, there are some notable features to look for. These features will help you identify high-quality alternatives with common characteristics, providing a similar experience without sacrificing durability or style.
Double Knee
A key feature that sets Dickies pants apart is the double knee. This design element provides extra durability in a high-wear area, protecting the fabric from tearing and improving the longevity of your pants.
When shopping for alternatives, you should look for brands that offer double-knee pants to ensure you're getting a comparable level of quality and protection.
Pockets and Storage
A major draw of pants like Dickies is their practicality, and this often comes down to the pockets and storage features they offer.
Many styles include cargo pockets, which provide ample storage space for tools, gadgets, and personal items.
Some pants even feature a hammer loop for added convenience on the job site. When considering alternative pants, consider storage options such as these.
Natural Waist
The natural waist fit is another characteristic of Dickies-style pants that you may want to look for in similar offerings.
A natural waist sits comfortably at your body's natural waistline, creating an outstanding balance between style and comfort.
Pants with a natural waist can be flattering and functional, an essential combination for any workwear enthusiast.
Reinforced Stitching
Finally, what sets pants like Dickies apart is their reinforced stitching. The extra attention to detail in the construction of these pants ensures they'll hold up under pressure, whether you're putting them through their paces at work or wearing them for leisurely pursuits.
Keep an eye out for reinforced stitching when browsing alternative brands to help ensure your replacement pants meet similar standards.
In your search for pants with these notable features, you'll find variety and versatility that rivals the Dickies brand.
Explore your options and discover new favorites that offer the distinctive combination of durability, functionality, and style you've come to appreciate.
7 Top Competing Brands
Regarding durability, Carhartt gives Dickies a run for their money. With a long-standing reputation for producing high-quality workwear, Carhartt offers a range of jeans and pants perfect for tough jobs.
You'll find yourself confidently strutting into your work site, knowing your Carhartt pants are up for the task.
Levi's is a household name in the world of jeans. Their workwear collection offers sturdy and dependable pants for various professions.
Whether you need something classic or modern, Levi's has your back. With their wide range of styles and fits, you'll find a perfect pair that suits your needs.
Wrangler, another iconic brand known for its denim, also features a selection of work pants that rival Dickies.
Embrace the feeling of ruggedness and reliability that comes along with wearing Wrangler pants on the job. Their functional designs and durable builds make them an excellent option for workwear.
If you're in the market for no-nonsense work pants, Red Kap has your ideal pair. Red Kap work pants are designed to withstand harsh conditions, making them an excellent alternative to Dickies.
Plus, their exceptional durability doesn't compromise on comfort. Your work days will fly by in style and ease with Red Kap.
You can't help but feel confident and self-assured while wearing a pair of Ben Davis pants. Known for their workwear, you can trust Ben Davis to provide sturdy and dependable pants. You'll appreciate these pants' durability when wearing them on the job.
Eddie Bauer may have yet to be your first thought for work pants, but their high-quality outdoor wear seamlessly crosses into the workwear realm.
Eddie Bauer offers a selection of pants that combine durability and comfort, making your work experience more enjoyable.
Last but not least, Duluth Trading is another brand whose work pants give Dickies a run for their money.
Known for their durable, comfortable, and functional workwear, Duluth Trading offers a range of pants that can withstand the most challenging tasks. Trust that your Duluth Trading pants will withstand pressure without sacrificing comfort.
Colors And Sizes
When it comes to pants similar to Dickies, you'll find a variety of colors and sizes to suit your needs and preferences.
Firstly, let's talk about colors. Like Dickies, these pants come in classic shades like black, khaki, navy, and gray. So, you won't have to compromise on style or versatility when choosing an alternative option.
As for sizing, many alternatives offer a wide range to cater to different body types. For example, some pants are available in sizes ranging from 30 to 42. It ensures you can find a comfortable and flattering fit, regardless of your waist size or body shape.
Another great alternative to consider is Lee Carpenter Jeans and cargo Pants. These pants are stylish and come in high-quality materials like denim and Twill. With a price range of $40 to $55 and a loose fit, they offer durability and comfort comparable to Dickies.
Comparing Prices
When seeking pants similar to Dickies, it's essential to consider the cost. You want to find alternatives that align with your budget while providing the style and functionality you love.
So, let's dive into a few options that offer the best bang for your buck without sacrificing quality. First, you can explore Carhartt, a brand known for its durability and comfort.
Although Carhartt prices may vary depending on specific styles and materials chosen, they are generally considered a cost-effective option. You'll be able to find comparable, hard-wearing pants without necessarily breaking the bank.
Additionally, in pursuing a more budget-friendly alternative to Dickies pants, turn your attention to various brands with similar materials and fits. Not only will you benefit from a diverse range of styles, but you'll also save money in the process.
Styling Tips And Streetwear
Chinos
When it comes to versatile pants, chinos are your go-to option. Brands like Goodfellow & Co. offer chinos in various fits, such as skinny, slim, athletic, and big & tall.
Their wide variety of colors lets you mix and match with your favorite streetwear pieces. To style chinos, try pairing them with:
Graphic tees: Bold, eye-catching designs give your outfit a contemporary streetwear look.
Sneakers: This guide mentions that a good pair of sneakers is vital to mastering streetwear style.
Layered clothing: Experiment with layering a denim jacket, hoodie, or flannel shirt for a casual yet stylish appearance.
Skater Look
For a more relaxed style evoking the cool vibe of a skater, try loose-fitting pants like Dickies' Loose Fit Double Work Pants. To achieve a skater look, consider these clothing elements:
Classic Work Look
Embrace the timelessness of classic workwear by choosing pieces from well-known brands like Carhartt or Ben Davis. To rock the classic work look, incorporate the following:
Work pants: Durable, khaki-colored pants are essential for this style.
Work boots: Sturdy boots with a rugged appearance complete the classic workwear look.
Utility shirts or jackets: Go for solid colors or plaid patterns with functional pockets.
Alternative Pant Styles
Cargo Pants
Cargo pants are a true staple in workwear, these pants are all about function and versatility. With multiple pockets, you'll have plenty of space for your essentials and tools.
When looking for alternatives to Dickies, consider checking out brands like Carhartt and Wrangler for their robust and well-designed cargo pants options.
You can be confident that these pants will withstand the test of time, much like your trusty pair of Dickies.
Painter Pants
Another stylish yet practical pant choice, painter pants bring a unique flair to work pants. With their comfortable fit and details like hammer loops and tool pockets, they serve as a practical option for those working in the painting or carpentry industries.
Check out companies like Ben Davis and Red Kap, which offer quality painter pants with a similar fit to Dickies.
Denim Work Pants
Turning our attention to the beloved denim, we find work pants that perfectly balance style and functionality.
Denim work pants, like carpenter pants, often feature reinforced knees, making them more durable than your average jeans.
With familiar brands such as Levi's and Lee offering denim work pants with a similar fit to your go-to Dickies, you'll have no trouble finding a new favorite. In the world of denim work pants, you can't go wrong with these tried and tested brands.
Work Environment Suitability
Rain and Moisture Resistance
It would help if you had pants that could withstand rain and moisture when working in wet conditions. Some pants feature water-resistant materials, ensuring you stay dry and comfortable all day.
With a touch of spandex or elastane, these pants offer a nice balance of protection and flexibility. So, even when it's pouring outside, you can confidently tackle your tasks without worrying about soggy clothes.
Various Workplace Demands
Different work environments come with specific demands on your wardrobe. Choosing pants that can adapt to a wide range of situations is essential.
Whether you're dealing with heavy machinery, rugged terrain, or indoor tasks, a versatile pair of pants is crucial.
A durable construction and materials like polyester or cotton blends can help withstand the rigors of various workplace conditions.
Mobility and Flexibility
In many jobs, unrestricted movement is essential for comfort and safety. By prioritizing pants with features like stretchy fabric and ergonomic design, you can ensure optimal mobility throughout your workday.
Look for options incorporating a mix of materials, such as a touch of spandex or elastane. These fabrics provide extra stretch, allowing greater flexibility and ease of movement.
Frequently Asked Questions
What Are Some Alternatives To Dickies Pants?
There are plenty of alternatives to Dickies pants that offer similar styles and functionality. Some brands include Carhartt, Red Kap, and Ben Davis.
These brands provide workwear options tailored to job types and personal preferences. Feel free to explore your options and find the perfect fit for you!
Which Pants Have A Fit Similar To Dickies 874?
If you're a fan of the fit and style of Dickies 874 cargo pants, you'll be happy to know that other brands offer similar fits, such as Carhartt and Red Kap.
These brands provide a range of work pants in similar cuts and materials, designed with durability and functionality.
What Are The Best Stretch Work Pants?
Stretch work pants are an excellent option for those who require flexibility and comfort while on the job.
Some of the best stretch work pants include brands like Duluth Trading Company, Wrangler, and Lee. These brands offer pants with built-in stretch, a range of motion, and a comfortable fit.
Which Brands Offer Work Pants Like Dickies And Carhartt?
Numerous brands offer work pants with similar styles and durability as Dickies and Carhartt. A few options to consider are Red Kap, Ben Davis, and Wrangler. Each brand offers quality work pants designed to withstand the rigors of demanding jobs.
What Types Of Skinny Work Pants Are Available?
Skinny work pants are a modern take on traditional workwear, offering a slimmer profile while maintaining functionality.
Brands such as Volcom, Levi's, and RVCA offer skinny work pants with reinforced knees and various pocket configurations, making them a stylish and functional choice for those preferring a slimmer fit.
How Do Carhartt's Pants Compare To Dickies?
Carhartt and Dickies both offer durable and functional work pants, but there are some differences between the two brands.
Carhartt's cotton duck fabric tends to be more durable, whereas Dickies' blended twill construction is often easier on the wallet.
Ultimately, your choice depends on your personal preferences and budget. Both brands offer reliable options for work pants so that you can go right with either choice.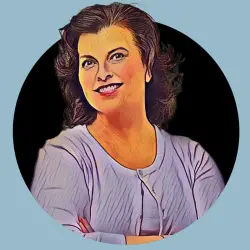 Latest posts by Amanda Brown
(see all)