As the nights draw in and the sky begins to change, you may find yourself in need of a new winter project to keep your crafty fingers busy. What better way to while away an evening by the fire than making a pair of crocheted mittens which can keep crafty fingers warm too!
There are hundreds of fun, fancy and functional mitten patterns available online, and once made they make the most marvelous handcrafted gifts. To help you pick we have put together a list of the 33 best crochet mitten patterns on Etsy.
We have included patterns appropriate for all different skill levels and tastes, so you are sure to find one that gets a big thumbs up!
This first pattern for rustic cabin mittens is ideal for those of you who are just starting out on your crocheting journey. The instructions are well written and easy to follow, with just a few simple stitches needed to complete the whole pattern.
These mittens are designed for everyday use, whether you are walking in the woods or walking to school.
Better still, the pattern accommodates all sizes, from toddlers through to male adults. This means it is a highly versatile design that you will get plenty of use out of.
Wow, we love the textured effect of these willow mittens and luckily the pattern is super easy. Even beginners will be able to give these a go and produce a pair of mittens that look good enough to be shop bought.
The textured weave is tight and close so as to keep your hands toasty even in the coldest conditions. And what is really great is that this pattern can be made to fit toddlers, children and women's hands, so you could even make matching pairs for you and your kids! How cozy!
RELATED: 13 Stunningly Beautiful Hooded Scarf Crochet Patterns
These teeny tiny baby mittens can be made from premature babies, newborns and 18 month olds. They are so adorable and will keep little hands warm and protected in the winter months. They make the most brilliant baby shower gift because of the handcrafted element – things always mean more when they have been made with love.
Luckily, once you have mastered this pattern the mittens come together incredibly quickly so you will be able to churn them out in no time at all.
The little joining string is a great touch, as it stops them from getting separated and also allows these darling mittens to be hung up and displayed when not being worn. 
This wintertide mitten pattern is designed for beginners but does have some detailed stitches involved. Luckily this pattern comes with a video tutorial for the first 5 rows, which go through the techniques needed step by step.
We love the vertical cabling effected on these mittens and the choice of biscuity yarn used in the example photos is perfect for fall. These mittens will look great with any winter outfit and will earn you lots of compliments – especially when people discover you made them yourself!
The fuzzy softness of these winter bliss mittens is something else! The textured finish is achieved through the use of the herringbone double stitch, so you will get to flex your crocheting skills with these beauties.
They are detailed and delicate, yet will definitely keep your hands warm. We recommend using the Sugar Blush Bliss and Drizzle yarns used by the seller to achieve that fuzzy, festive look.
If you want to create a really eye-catching pair of mittens then this Charlotte mitten pattern could be for you. We love the contrasting cuff and the clean lines on this design. They feel contemporary yet classic and are suitable for both men and women as well as children.
This pattern comes with photos to help you along your way, so you can see examples of how each stitch ought to look. As it adapts to 5 different sizes you will be able to make them for all the family.
This next pattern captures the winter wonderland vibe perfectly with its snowdrop theme. The clever stitching results in an intricate and textured mitten that looks as though it is made of little snowflakes.
We love the icy blue cupcake yarn that has been used in the example as it amplifies the snowy theme. These icy mittens will make a marvellous winter gift for anyone as they are so unique and have that little bit of added detail that makes a handcrafted gift so special.
We simply had to put these adorable little mitten christmas decorations on our list as they are ideal for the upcoming festive season. These dinky little decs can be made up incredibly quickly so you can make multiples to hang on the tree, under the fireplace, or even to pop in peoples stockings.
There is something very retro and kitsch about the shiny yarn used in the example photos, so we recommend using the yarn suggestions if you want to create the same fabulous aesthetic. Deck the halls with tiny mittens, fa-la-la-la-lah!
RELATED: 15 Brilliant Crochet Baby Yoda Patterns (With Pictures)
These fingerless mittens are incredibly practical as well as being cozy and fabulous. We love how simple the pattern and design are because it means that these are a great project for any keen crocheter, even if you have not had much experience.
A great tip is to use the multicolored yarn as is used in the example photos, because this way the changing colors create pattern and interest and add detail to the simple design.
The designer is more than happy to help with any issues that may arise along the way, and once you have made a pair these are the ideal crochet mittens to wear whilst crocheting!
We just love this next winter warming mitten pattern because of its chunky weave. These mittens are very traditional in shape and look, and the bulky yarn suggestion makes them soft and warm against the skin.
The cuff can be made longer if you like to pull your mittens up under your sleeves for extra warmth, or shorter if you prefer and easy on off. We adore the yarn choices used in the example pictures because the pinks and blues ping out wonderfully against the white.
The skill level is intermediate on these, so a little experience is advisable.
Glittens are a hybrid of gloves and mittens and are just about the most useful and trendy winter accessory there is. Who wouldn't love to receive a homemade pair of these beauties as a gift?!
The hood can be folded forward for ultimate warmth, or folded back to allow your fingers to move, type and touch when they need to. The skill level is easy, and you can have great fun picking the color for these mittens.
For an extra design feature why not choose a clashing or contrasting color for the button!?
You might have heard of foxgloves the flower, but have you ever heard of fox gloves the mitten pattern?! This ingenious design is quirky, original, witty and clever. These fun foxy gloves will dazzle friends and family and delight anyone who is lucky enough to receive them as a gift.
The fingerless element makes them suitable for office wear, texting and all sorts of other practical applications, and the fun foxy design makes them eye-catching and stand-out.
We love the clean lines on this design because it means there is no doubt that these are foxes, and they can double as fun sock puppets when you need to entertain the kids! Win win!
You can tell immediately that these mittens are a vintage design, and indeed, this pattern is an original from the 1980s. You receive a digital copy of the pattern (not the actual original) but the mittens that you create will feel like they have come directly from the good old days.
We love the soft, fuzzy yarn choice used in the example photos, and for the most authentic finish you should try to get yarn as close to the recommendations as possible.
These would be a great gift for older family members who will appreciate a trip down memory lane, or for any trendy youngsters who are into shabby chic and retro designs.
If you are feeling eager to take on an even bigger challenge then why not have a go at this next crochet pattern. These mosaic mittens can be made with a matching hat to create an entire winter wardrobe!
The mosaic pattern is just beautiful and can be achieved using a simple technique. The pattern is suitable for those with an intermediate skill level or above and when finished the matching accessories look incredibly professional and stylish! 
If you have been busy practicing your basic crocheting techniques then you will almost certainly have made a couple of granny squares by now. Granny squares are the ideal way for beginners to get to grips with stitches and patterns, and this mitten pattern lets you put all that practice to good use.
These adorable granny square mittens are decorative and eye-catching and can be personalized however you like. The skill level is intermediate, however we think that advanced beginners will be able to have a go too!
These Hedera mittens are so elegant and Romantic they make the perfect gift for loved ones in your life. The botanical leaf motif is just stunning and looks great whether completed in contrasting colors to the base yarn or in the same color.
These mittens will really let you flex your crafting muscles as they require detail and attention, but the final result is so fantastic and you will feel very proud of yourself once they are finished. These mittens will add class to any winter outfit and you will surely receive requests from friends who want you to make them a pair as well!
The bobble cuff on these winter spun mittens is so fun and unique. Not only does it add texture and warmth to the mittens, but it also works as a great design feature and almost looks like a fur cuff from afar.
The pattern is adaptable to three sizes including toddler, child and adult (small), so making a mother / daughter set could be a wonderful and very cute option. The pattern is suitable for beginner to intermediate skill levels and comes together quickly once the basic techniques have been mastered.
HOw could we resist adding these hilarious Minion themed mittens to our crochet list. These are fun, bold and adorable and will keep little fingers and thumbs warm very comfortably this winter.
The pattern is advanced beginner / intermediate level but as the mittens are so small they can actually be completed in only a few short hours once you start.
If you have kids, nieces, nephews or friends who love the Minions movies, then these mittens will go down a treat and will make getting them ready to go outdoors that much easier!
These chunky mittens look so cozy and comfortable. You will not be able to resist going out in the snow with these on your hands, and we absolutely love the bright red choice of yarn used in the example photos as it is perfect both for fall and the festive season.
These K.I.S.S. mittens are designed so that even beginners can have a go at creating them, and there is even a free video tutorial to set you on your way! 
Oh, we love the clean lines and modern look of these Chroma mittens. The colors used are seriously eye-catching and work incredibly well together thanks to the intentional clashing. These mittens will brighten up not just your outfit but your whole day!
And best of all, there are patterns for Chroma hats and scarfs also available on the seller's website, so check them out and make the entire set!
RELATED: 15 Crochet Ideas To Make At Home
If you love dragons, drama and dreamy design then you will go wild for this next crochet pattern. These dragon scale mittens are seriously popular amongst amateur crocheters at the moment and it is no wonder.
The layered effect of the scales is so unique and it also means that air gets trapped and keeps your hands extra warm as you wear them. These mittens are suitable for intermediate level crocheters who have knowledge of the crocodile stitch along with other intricate techniques.
They will make the perfect gift for any fantasy fans, and you can put your own personal twist on them when deciding what color your dragon scales should be!
Holy moley, these hedgehog mittens are hilarious! We just love the ingenious design as it manages to be so clear and accurate as well as being minimal.
The pattern involves quite a few tricky techniques in order to create all the various details and textures so it is best suited for crocheters with some experience under their belts. The bobbly back will keep your hands warm, and the cute little nose will certainly put a smile on anyone's face who sees them!
We challenge anyone not to love these DIY mittens.
These happy heart mittens are so sweet and delicate. We love how the repetition of the tiny hearts throughout the pattern adds detail and character to the make.
The pattern is suitable for advanced beginners and intermediate crocheters as the little hearts require concentration and lots of stitch counting.
Once you find your rhythm, these mittens come together swiftly, so you can make them in any number of color combinations and pop them in Christmas stockings as a wonderful handcrafted gift.
We can't get enough of this beautiful sunflower motif, and it looks absolutely stunning on the back of these fingerless mittens. Once you master the sunflower design, you will be able to use it on all sorts of other crochet projects from scarfs to cushions to bags, so you really will get your money's worth out of this pattern.
There are a few tricky details in there, but we think this pattern is suitable for advanced beginners and up.
This next crochet pattern is unusual as there is absolutely no sewing required. These convertible mittens are all made from one single piece and therefore have no clunky joins even where the hood meets the back of the mitten.
They have a concealed button loop on the back of the mitten so that the cohesive design never appears to be interrupted. These mittens are very chic and look super professional once completed.
If you love all things celtic and traditional, then you will adore these fabulous celtic cable mittens. The textured finish is just stunning, and the design created by the cable stitching is intricate and detailed just like traditional celtic patterns are.
Due to the elaborate nature of the design, this pattern is most suitable for advanced crocheters with a good deal of experience. We think they work best in single color yarn as that lets the pattern of the crocheting stand out.
We love the placement of the different stripes of color that highlight and ancient these Dreckly mittens. The pattern is fairly simple and there is lots of room for you to get creative with the colors you use.
The stripes are all different lengths and thicknesses, giving these mittens a lovely homemade feel – which is what you want! The pattern can also be used as a fingerless hand warmer pattern, so why not try making both?!
RELATED: Fun Amigurumi Turtle Patterns That You Can Download And Make Right Now!
This pattern is visually stunning and looks impactful even from afar. You will turn heads wearing these tapestry colorwork mittens, and make jaws drop when you say that you made them yourself! The pattern is definitely for advanced crocheters with lots of confidence as there aren't many photos provided.
However, you will get to practice color transitions time and again and become really proficient at it by the time these mittens are made.
If you have a dad, grandpa, son or nephew who you are hoping to create a crochet gift for then these gorgeous mittens could be ideal. We love the fine pinstripe design and the choice of olive and mustard yarns.
The design is one size fits all and is aimed at adult hand sizes, but the pattern contains instructions and advice as to how you can make these mittens bigger or smaller. We think they are super smart.
If you love all things leopard print then these next mittens will be right up your street. The pattern is well written and easy to follow, and the print is bold and distinctive even from afar.
You will feel pretty killer in these lux mittens, and they make an awesome present for any trendy girl friends who happen to love a little animal print to jazz up an outfit.
This Stevie pattern comes with a step by step tutorial and photos to help you master the awesome textured crisscross design. We love how the finished hat and mitten set looks so professional, and it is even better if you have time to make a mother daughter pair!
This way you or your gift receiver can turn up at the school gates looking warm and coordinated with your little one!
You just can't beat a good old fashioned stripe when it comes to winter warmers, and these Bifrost mittens demonstrate that perfectly. The bold and colorful stripes are simple to achieve and yet have maximum impact, making this pattern a must try for crocheters.
And finally, we could not resist popping these cute, pink mitten ornaments on our list. The little smiley face detail is so adorable, and the snowflake design is festive and beautiful. These tiny mittens can be made with love and will add some homemade magic to any christmas tree.
Frequently Asked Questions
Are Crochet Mittens Warm?
Crochet mittens are a great way to keep your hands warm in winter. The quality and texture of the yarn or wool that you use will dictate exactly how warm they are, and natural, moisture wicking yarns and wools work best.
How Long Does It Take To Crochet Mittens?
The length of time it takes to crochet a pair of mittens will differ depending on your skill level and the intricacy of the design. However, on average a simple set should take around three hours to complete.
How Much Yarn Do You Need To Crochet Mittens?
The exact amount of yarn needed to crochet a pair of mittens will depend on the size of the mittens, the weight of the yarn and the size of the crochet hook you are using. For thick, heavy yarn you will need between 75-125 yards, whereas with a fine yarn you will need closer to 400 yards.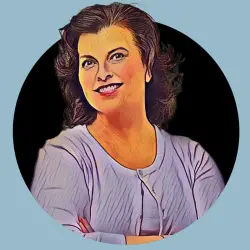 Latest posts by Amanda Brown
(see all)