Quite frankly, what is there not to love about unicorns? Honestly. These magical, mythical, mono-horned beasts are a symbol of purity and grace.
Their tears are said to have healing powers, and their single, spiraling horns can protect against evil.
They can fly, are famously untamable and shy, and they sprinkle glitter and sparkles wherever they care to roam! 
Equally… What is there not to love about crocheting?! Seriously. It is mindful, creative and skilled, and by doing it you end up with wonderful handmade gifts for yourself and those you love.
This is why we think that your next crochet project should be unicorn themed!
By the power of all that is kitch, adorable and heartfelt, a crocheted unicorn is a must. Lucky for you, we have compiled a list of the 25 cutest unicorn crochet patterns available on Etsy today, to give you a sprinkling of rainbow colored inspiration!
Crocheting unicorns is no mean feat, and therefore all the patterns on our list are slightly more advanced than 'beginner' level.
This gorgeous corner to corner blanket pattern is simple once you get the hang of it however, and only requires a few basic crochet stitches.
If you are just starting out on your crochet journey, then this could be a great way for you to achieve a unicorn-themed make without it being too challenging and time consuming.
Corner to corner patterns are so satisfying as they come together, and the silhouette of the unicorn head on this blanket is beautifully distinct.
There is no mistaking it for anything else, so it will make a great present for any unicorn loving girl or boy.
Whoever sleeps with this on their bed is sure to have sweet dreams!
Another unicorn themed option for any novice crocheters out there is this fabulous hooded blanket.
The clever design means that this make can be used as a costume for costume parties and dress-up games, a scarf for winter walks and a blanket for snuggling up under at nighttime.
The basic pattern is easy to follow as it is a large, rectangular blanket, and the hood section comes together easily when you count your stitches carefully.
What really brings this design to life are the features of the unicorn, such as the crocheted horn, eyes, ears and mane.
These sections require a little more concentration and time but are so worth it for the finished effect. Absolute magic!
We adore this unicorn ornament pattern for its striking impact and simple design. The circular baubles are easy to create after you have got the hang of them, and they come together very quickly as they are so small.
This means that you can create a set to give as a handcrafted gift. They can be hung on a christmas tree during the festive season, but can also be used to decorate bedroom walls and furniture all year round.
The choice of rainbow colored yarn is vital for the overall impact of these ornaments, and you could even switch up the base color to be baby pink or pastel blue to create more variety in your set.
The options are endless with this awesome unicorn crochet pattern.
Okay, we have had a cuteness overload with this next pattern. If crocheting a mini unicorn isn't sweet enough, how about crocheting a tiny little egg out of which it can hatch as well?!
This really is a great choice for those of you who have young kids in your life as they will treasure this gift and be able to keep it for many years to come.
Children will love tucking their tiny unicorn up inside its egg at nighttime, and this pattern also includes instructions for a tiny dinosaur as well!! Amazing if you have both boys and girls to make for.
The instructions are aimed at advanced beginners and are really well worded and easy to follow so you can have a lot of fun with this make.
This next pattern is aimed at experienced crocheters who are intermediate level or above, and the skills required are evident when you look at how amazingly detailed this unicorn utopia blanket is.
There are a number of different techniques required to achieve this textured and detailed blanket, but luckily the pattern comes with lots of high resolution photos for you to follow as a guide.
The photos show close ups of each stage of the make so that you do not get lost along the way.
Who wouldn't love to receive this fantastic blanket as a gift and snuggle up under it at night?! 
RELATED: Fun Amigurumi Turtle Patterns That You Can Download And Make Right Now!
This adorable little boho unicorn has so much character and cuteness. The pattern is aimed at confident beginners who are looking to edge towards intermediate level makes, and it will give you lots of chances to try out different techniques.
We love the facial features of this little beauty, and the addition of appliqued flowers makes it so girly and kitsch.
The finished article is about 9 inches tall and can therefore be stitched onto other blankets, scarves or hats as an eye-catching design feature, or simply left as it is. 
If you are a fan of the granny square, then you will love this unicorn dreams square blanket pattern. The item comes with instructions for 14 different applique designs which each sit on a separate crocheted square.
When stitched together they create the most sugary sweet comforter or blanket imaginable!
There are lollipops, flowers, kites, ice creams, and of course, unicorns galore! You can really pick and choose whichever designs to like best in order to personalize this pattern.
The finished effect is tremendous fun, and you will master lots of intricate applique techniques along the way. Win win!
If you are looking to make something for any new mums or newborns, then this sleepy unicorn comforter is the ideal baby shower gift.
It is so soft and snoozy, and any baby will love to snuggle up with this unicorn and feel protected and warm.
The design is beautifully simplistic, and there are no potentially dangerous loose ends or choking hazards so it is baby friendly.
The pattern is aimed at the advanced beginner or intermediate crocheter and involves increasing, decreasing and a magic circle stitch amongst others.
Once you have made one you will want to make many more because the final article is so beautiful and cute.
Wow, now we really are getting advanced with this next pick. When it comes to crocheting anything 3 dimensional the skill level always increases.
Amethyst is actually made from one single crochet piece from her neck to her hooves, with her head and tail stitched on separately. This is why she looks so professional and has such a clean finish.
We love how dinky and small she is, as she is the ideal size for little hands to play with. She has lots of character and you can add your own personal touch when it comes to the choice of color yarn for her mane and tail.
When finished she should stand up all by herself and so will look very impressive on your shelf.
If you don't feel quite ready to take on such an advanced crochet pattern just yet, then why not give Charlotte a go instead.
Her pattern is aimed specifically at beginners and has plenty of instructions and photos to help you along the way.
Although Charlotte is not as sturdy as Amethyst and therefore cannot stand up on her own. She sits up beautifully when propped against a book or toy and she looks very cute and humorous as she does so.
We love Charlotte's spiralling mane and tail and her little skinny legs are just too sweet!
Calista is a clumsy unicorn with heavy hooves and a lovely slouchy stomach that is great to hug and cuddle.
She really is the quintessential unicorn design and looks almost shop bought when finished. You will have to convince people that you made her!
The pattern is designed for beginners and there is a 119 step instruction manual with photos to guide you as you go. The weight and feel of Calista is perfect for children and she sits very nicely on the couch too.
Once you complete one you will want to make this pattern up in all different color combinations and create a whole blessing of unicorns!
RELATED: Easy Crochet Bookmark: Perfect Project for Beginners
Holy glitter balls! Candi the realistic unicorn really is incredibly accurate and impressive! If you are an advanced crocheter with lots of experience under your belt then she is surely the next challenge for you.
Although the stitches involved in this pattern are relatively simple, the difficulty lies in the seamless nature of the pattern, since Candi is made from one single piece from her nose to her hooves!
The proportions of this design are just brilliant and result in a really realistic looking make that is the perfect size for Barbie and her pals to fly about on.
This is a challenging pattern but the finished article is so worth it, it really will be a show stopper!
If a unicorn isn't quite magical enough for your liking then why not make a crocheted unicorn mermaid toy?! That's right, this majestic creature is a blend of both unicorn and mermaid, making it just about the most adorable and ridiculous pattern on our list.
Any little boy or girl will love this quirky character with her flowing locks, flappy tail and unicorn horn.
The pattern is suitable for intermediate crocheters and it comes with a 16 page step by step manual instructing you at every stage.
We love the color suggestions provided on the pattern but also think that there is plenty of room for you to get bold and creative when picking your own choice of yarns.
Just think of all the amazing imaginary games that this gift will inspire!
Pegasus the winged unicorn takes on a majestic shape thanks to this crochet pattern. The wings add tons of drama and fun and make this unicorn stand out from all the rest.
Other splendid details include the flared hooves (very Abba) and the corkscrewed mane, meaning that this unicorn would not look out of place at a glam rock concert!
The finished article stands at around 20 inches tall and is very impactful.
This pattern is suitable for intermediate crocheters and there is a complementary video tutorial covering the ins and outs of the magic circle stitch to help you on your way. Now that really is magic!
If mermaids don't do it for you, here is a marvelous ballerina unicorn pattern complete with ballet shoes and tutu.
We love that the tutu is a separate piece which can be removed because kids so love to dress their toys and this allows for that.
This pattern is not as difficult as some on our list but certainly depends on some good knowledge of simple crochet stitches.
Luckily, the seller also has a lot of informational and instructional videos on her website which will help you to grasp the basic techniques if you don't already have them down.
This leggy beauty is tall enough to be a supermodel! We love the way the head and body are reminiscent of a seahorse because it makes this unicorn distinct and special and means that there are plenty of wonderful sea themed games to be played.
The pattern does require some wiring in the back in order to achieve the structured finish, and once complete she should be able to stand tall and proud on display for all to see.
RELATED: Crochet The Amigurumi TikTok Bee
This boho unicorn themed wall hanging is so unique and clever because the techniques are simple and minimalistic and yet the finished article is striking.
We love how it looks like a dream catcher of sorts and will be perfect for hanging over the bed at night to fill your sleep with rainbow colored dreams.
The long tassels and decorative flowers elevate this pattern and make it a statement that deserves attention in any bedroom.
You could always finish it off by stitching the name of the person it's for in the center of the wheel to make it extra personal and heartfelt.
Wow, this lovely creature has the best head of hair (or mane should we say) on our list. The amount of color, volume and drama created by her curly locks makes this unicorn a favorite with little girls as they can plait and play with her hair like they are in a salon.
We love the dimension of this particular unicorn pattern as she is so squishy and huggable, and we highly recommend that you use the seller's yarn suggestions if you want to guarantee you get the ultimate soft feel. 
The fantastic thing about this applique unicorn pattern is that you can make it very quickly and therefore make as many as you like.
These little, decorative beauties are perfect for sewing onto bags, coats, headbands, blankets and cardigans to give them that extra special something and make them stand out.
Once you have made one you won't be able to stop, and you will probably be inundated with requests from friends for you to make them one too! 
We know that Santa is generally associated with reindeer, but that doesn't mean that you can't crochet a Christmas unicorn as well. This fabulous pattern is a vintage original from the 1980s and the design captures that era so perfectly.
Of course you only receive a digital copy of the vintage pattern not the physical copy, but you can make it manifest through crocheting this festive creature and popping him under the christmas tree to guard the presents each night. 
If you want to create a stocking filler sized unicorn then this next pattern is perfect. This adorable lollipop themed unicorn is sweeter than candy in her little lollipop hoolahoop band and swirling mane.
She even has a detachable lollipop made separately and really will make any child's eyes light up. The pattern is aimed at advanced beginners who are looking for a challenge and the finished article is approximately 22cm tall.
Since unicorns are famous for their protective powers it makes perfect sense that you would make a unicorn inspired cup cozy!
Not only will it keep your hands from getting too hot when holding a coffee mug and too cold when holding an iced tea, but it will also make you officially the coolest person in Starbucks!
This pattern is a one size fits all affair and can easily be adapted to a particular cup size if necessary.
It is suitable for popping round a child's beaker as well which is brilliant because it makes little ones much more eager to drink their juice and stay hydrated.
All your wishes will come true with this pattern, as it is simple, quick and highly effective!
This unique unicorn head cushion is a great gift for any little ones who find it hard to get to sleep at nighttime. It is the perfect size and softness for them to cuddle and feel safe and warm next to.
It is also not too plump or thick as to be obstructive but provides just the right plush support under the head.
The pattern is much simpler to follow than you might expect and comes together rather quickly once you get into your stride.
Just make sure that the positioning of the button is not anywhere that will cause discomfort or choose a soft button for the eye instead.
This unicorn security blanket crochet pattern is perfect for newborns and makes a wonderful handcrafted baby shower gift.
The draped skirt doubles as a soft comforter for young fingers as they sleep and the unicorn head design is so snoozy and adorable.
The finished article is the perfect size for popping in the pram and taking out and about so that it is on hand whenever it may be required.
A blissfully simple and effective crochet project that will make you feel so proud of yourself when you finish it.
And finally, this unicorn beanie hat pattern is awesome because not only does it look super cool and fun but it will also keep little heads and ears warm and protected from the winter weather.
Kids will have heaps of fun and feel so proud to wear this hat into school and on the playground and you will get so much enjoyment from watching them wear it!
We love this simple yet head-turning design and it is not too tricky to make either!
Frequently Asked Questions
Is Crocheting A Unicorn Hard?
Crocheting a unicorn can be easy depending on what pattern you choose. If you are making a flat applique unicorn it is often more simple than trying to make a 3D amigurumi unicorn.
If you are a beginner then you might want to begin with a simple scarf that can be decorated with applique unicorns, then progress to a teddy afterwards.
What Is The Difference Between Crochet And Amigurumi?
Amigurumi is basically the same as crochet but it refers specifically to the creation of 3 dimensional animals and toys. Many of the unicorns on our list are amigurumi unicorns but they are made using crochet stitches.
Should Amigurumi Have Holes?
In order to ensure that your 3D creation has structure and that the stuffing doesn't fall out, it is important to try to keep your stitches as tight and close as possible without causing them to gather and pucker. Amigurumi should not have large holes in.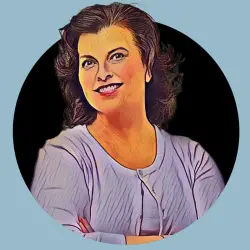 Latest posts by Amanda Brown
(see all)