Have you ever wondered about the perfect yarn for your knitting and crochet projects? Look no further! Worsted weight yarn is a versatile and popular choice for creating beautiful garments, cozy afghans, and delightful accessories.
As you dive into the world of worsted weight yarn, let yourself be amazed by the variety of textures and colors available. You'll find that it's sometimes referred to as "Aran" or "Afghan" weight, but don't let that confuse you – it's still the same wonderful yarn.
This marvelous yarn offers a knitting gauge of 4-5 stitches per inch and a crochet gauge of 2.75-3.5 single crochets per inch, making it perfect for crafting your next masterpiece.
Your creative journey with the worsted-weight yarn can be truly magical. Armed with a 4.5 to 5.5 mm (US 7-9) needle, you'll produce a firm yet pliable fabric perfect for anything from playful scarves to snuggly sweaters. So, explore the endless possibilities waiting for you and your worsted-weight yarn.
Understanding Worsted Weight Yarn
Yarn Weights
You'll come across different yarn weights when exploring the world of yarn. As you may know, the worsted-weight yarn is considered a medium-weight yarn, falling between light and bulky yarns.
It's often referred to as Afghan or Aran weight and is popular among beginners due to its versatility and ease of use. You can use it for various projects, from knitting scarves to blankets, hats, and sweaters.
Gauge And Ply
Understanding gauge and ply is essential when working with worsted-weight yarn. Gauge refers to the number of stitches and rows per inch you'll create with a particular yarn and needle size combination.
Each yarn weight has a recommended gauge range, and for worsted weight yarn, a 4.5 to 5.5 mm (US 7-9) needle usually produces a firm yet pliable fabric.
As for ply, worsted-weight yarn is generally 10-ply in Australia and the UK. The ply refers to the number of strands twisted together to create the yarn. The higher the ply, the thicker and more substantial the yarn.
Material And Composition
Worsted weight yarn can be made of various materials, including wool, cotton, alpaca, and synthetic fibers. Here's a quick overview of these fibers for your consideration:
Wool: Wool is warm, elastic, and durable, making it the perfect yarn for cold-weather garments and accessories. Additionally, it's moisture-wicking and can retain heat even when wet.
Cotton: Cotton is soft, breathable, and hypoallergenic, making it an excellent choice for sensitive skin. It's great for warm-weather garments and household items like dishcloths and oven mitts.
Alpaca: Alpaca is incredibly soft, warm, and lightweight, making it a beautiful fiber for garments, shawls, and cuddly blankets. Alpaca fiber is also considered more eco-friendly than some other options.
Popular Worsted Weight Yarns
Aran Weight Yarn
Aran weight yarns are a comfortable choice for both knitting and crochet projects. They are similar to worsted-weight yarns, but their thickness is medium.
This feature makes them ideal for creating cozy winter knits like jumpers, scarves, and blankets. You'll also find that working with these yarns is a delight for beginners and experts alike.
Heavy Worsted Weight Yarn
If you're looking for something with more substance, heavy, worsted-weight yarns are the way to go. These yarns are thicker than traditional worsted yarn, which means your projects will feel more robust.
For instance, consider using heavy worsted weight yarn to craft chunky sweaters, warm hats, or even stylish home décor items, like cushion covers.
Medium Weight Yarn
Medium-weight yarns, such as light worsted and DK, are versatile and suitable for various knitting and crochet projects. They stitch up beautifully on 4-5½mm needles, which adds to their popularity among beginners.
Whether you opt for Lily Sugar 'n Cream worsted weight yarn or dive into Aran and heavy worsted options, you're bound to create stunning pieces that feel as wonderful as they look.
You can explore and experiment to your heart's content with so many worsted-weight yarns.
Knitting And Crocheting With Worsted Weight Yarn
Needle And Hook Sizes
You'll find it versatile and easy to handle when working with worsted-weight yarn. You'll want to use needle sizes US 7-9 (4.5-5.5mm) for knitting to achieve the best results. In the crochet world, hook sizes US I/9-J/10 (5.5-6.0mm) are recommended for this delightful medium-weight yarn.
Gauge And Adjustments
Gauge is an essential aspect of any knitting or crocheting project. Always create a gauge swatch before diving into your masterpiece to ensure an accurate fit.
A typical knitting gauge for worsted-weight yarn is about 16-20 stitches per four inches. Crochet projects in worsted-weight yarn might have a gauge of approximately 11-14 stitches per four inches.
Refrain from fretting if your gauge doesn't perfectly match the pattern requirements! Adjust your needle or hook size to achieve the correct gauge. Remember, spending extra time on a gauge swatch is better than investing hours in a project that doesn't fit.
RELATED: Knitting Vs Crocheting
Yarn Substitutions
Sometimes, you might fall in love with a pattern but can't find the exact yarn specified. Fear not, dear crafter! Substituting yarns is possible and can even lead to delightful, unexpected results.
Worsted weight yarn is considered a medium-weight yarn, sitting between sock/sport weight and bulky weight. This happy medium makes it a great candidate for substitution.
If you need to replace worsted-weight yarn in a pattern, look for alternatives in the same weight category, such as Aran or DK (double knitting) yarn.
Pay close attention to the fiber content, texture, and recommended gauge, ensuring a suitable match for your dream project.
Worsted Weight Yarn Projects
Garments
Worsted weight yarn is a popular choice for creating stylish and comfortable garments. Treat yourself to a cozy sweater with a perfect balance of warmth and elegance, or knit a beautiful shawl to drape over your shoulders on chilly evenings. Worsted weight yarn is versatile, making it easy to tailor your projects to suit your style and preferences.
Accessories
Are you in need of some new accessories? With worsted-weight yarn, you can easily create:
Scarves: Wrap yourself in a soft and stylish scarf, perfect for adding a touch of warmth or a pop of color to your outfit.
Hats: Craft a fashionable hat, whether a classic beanie or a trendy slouchy hat, to keep your head warm and chic on colder days.
Mittens: Keep your hands toasty with customizable mittens or fingerless gloves, sized for both children and adults.
Home Decor
Worsted-weight yarn isn't just for clothing! Spruce up your living space with the following:
Blankets: Knit or crochet a luxurious throw to drape over your sofa, adding warmth and style to your home.
Afghans: Create a cozy, heirloom-quality afghan perfect for cuddling up under while watching a movie or reading a book.
Homeware: Add whimsy and warmth to your abode with unique homeware items like cushion covers, table runners, or wall hangers.
Characteristics That Make Worsted-Weight Yarn Different
What sets this yarn apart from the rest? Well, its all about the unique characteristics.
Worsted weight yarn is known for its medium thickness, perfect for cozy winter knits and beginner-friendly projects. Imagine wrapping yourself up in a warm jumper or snuggling under a soft blanket you've made yourself. Pretty lovely, right?
When working with this yarn type, you'll find that it knits up nicely on 4-5½mm needles. And if you're starting your knitting journey, that's just the correct needle size to get those first creative stitches going.
Worsted weight yarn comes in various fibers, so you can choose the one that best suits your project. Some popular ones include Cascade 220, a classic 100% wool yarn offering many colors to match your creative vision.
You may need to substitute for worsted-weight yarn. It's possible to use two strands of DK weight yarn to achieve a similar thickness. It is quite easy.
RELATED: 29 Fantastic Knit Hat Patterns For Beginners (With Pictures)
Working With Different Yarn Weights
Lighter Yarns
Lighter yarns, such as lace weight and fingering, are perfect for delicate and intricate projects. You'll enjoy knitting or crocheting lacy shawls, complicated socks, and lightweight garments with these yarns. Remember, working with lighter yarns may require more stitches to achieve your desired size.
Heavier Yarns
Like worsted, chunky, and jumbo, heavier yarns work well for cozy winter projects and beginners. These yarns knit up quickly and create a warm, satisfying fabric. Think of comfy blankets, warm sweaters, and snuggly scarves in your journey with thicker yarns.
Mixing And Matching
Want to do some experiment? Try combining different yarn weights for exciting textures and unique effects! Here's a quick guide on how to mix and match:
Dk Weight & Sport Weight: You can create fascinating gradient projects combining these two weights.
Dk Weight & Worsted Weight: Lightweight sweaters are possible when you pair these versatile yarns.
Chunky & Super Bulky: Combine these for a cozy and warm fabric, perfect for winter garments.
What Are The Pros And Cons Of Using Worsted Weight Yarn?
Worsted weight yarn, also known as Aran or category 4, offers a delightful balance of functionality and versatility, making it an excellent choice for many projects.
Pros
Beginner-Friendly: The worsted-weight yarn is your perfect companion if you start your knitting or crocheting journey. The medium thickness allows for quick knitting without sacrificing detail and is widely available for you to practice with.
Adaptable: No matter what crafty endeavors you embark on, whether sweaters, scarves, or blankets, the worsted weight yarn will adapt beautifully to your creations.
Needle Size Variety: The recommended needle sizes for worsted yarn range from 4.5 to 5.5 mm (US 7-9). It allows you to create a fabric that suits your project requirements, whether firm or more pliable.
Varied Texture: Worsted weight yarn offers a wide array of textures, from smooth and sleek to fluffy and cozy. You're sure to find a texture that appeals to your senses.
Cons
Not Suitable For Delicate Projects: If you want to create a lightweight, lacy garment, there may be better choices than the worsted-weight yarn. It's essential to match the yarn with your project goal, and in this case, you'd likely need to choose lighter yarn options.
Possible Yarn Substitution Challenges: While it is possible to substitute yarns, you might face some challenges with the worsted weight yarn. Combining two strands of another yarn weight to achieve a similar thickness might lead to complications, especially in garments. You'll want to tread carefully with yarn substitutions.
Heavier Than Some Other Yarns: Worsted weight yarn, being a medium weight, is not the best choice for lightweight projects, as it turns out heavy. Consider fine or light yarn weights if you're looking for lighter options.
Exploring Color And Texture
Worsted weight yarn offers a delightful opportunity to play with colors and textures in knitting and crochet projects. This section delves into variegated yarns, textured stitches, and incorporating multiple colors to enhance your projects.
Variegated Yarns
Variegated yarns are a brilliant way to add a pop of multiple colors without needing to change yarns continually. These yarns have various shades and hues, often repeating, providing an attractive, whimsical look to your work. The colors naturally change as you knit or crochet with variegated yarns, creating a beautiful, organic effect.
Textured Stitches
Textured stitches bring your projects to life by adding dimension and depth to your fabric. With worsted-weight yarn, you can experiment with various stitches, such as bobbles, cables, or seed stitches, to create dynamic, visually appealing pieces.
These textured stitches enhance the appearance of your finished project and add warmth and thickness, perfect for cozy sweaters and blankets.
Incorporating Multiple Colors
Colorwork can truly elevate your knitting or crochet to the next level. With worsted-weight yarn, you have endless possibilities to mix and match colors, allowing you to create striking contrast or harmonious gradients. Explore techniques like Fair Isle, Intarsia, or stripes to incorporate multiple colors into your projects seamlessly.
Popular Brands And Sources
When searching for the perfect worsted-weight yarn, there are several popular brands and sources to consider for your next project.
Lion Brand: One of the leading brands in the market is Lion Brand. Known for their high-quality, affordable yarns, Lion Brand offers a variety of worsted weight options, such as Wool-Ease Yarn, which combines the warmth of wool with the ease of care you get from acrylic fibers.
Patons Classic: Patons Classic Wool Worsted Yarn is an excellent choice if you're looking for something more luxurious. This all-natural wool yarn is a favorite among knitters and crocheters, perfect for garments, accessories, and home decor items.
Lily Sugar'n Cream: Lily Sugar'n Cream offers a range of 100% cotton worsted weight yarn for a sturdy and durable option. With a soft, squishy texture, these yarns are an excellent choice for making long-lasting projects.
Also, remember to consider Sugar Bush Yarn Bold Knitting Worsted Weight, a soft 100% merino wool yarn perfect for crocheting and knitting.
No matter which brands you choose, always consult the Craft Yarn Council for guidance on adequate working with worsted weight yarns. This organization offers a wealth of information on gauges, stitch recommendations, and other valuable tips to ensure your project succeeds.
Frequently Asked Questions
What Ply Is Worsted Weight Yarn?
Worsted weight yarn is a medium-weight yarn category that falls between bulky and DK (double knitting) weight yarn. When choosing worsted-weight yarn, it's more important to consider the recommended gauge and the thickness of the yarn, which is generally medium. 
What Is The Difference Between Worsted And Woolen Yarn?
The main differences between worsted and woolen yarn are the spinning techniques used, the fibers' alignment, and the yarn's resulting characteristics. Worsted yarns are smoother, denser, and have higher stitch definition, while woolen yarns are softer, lighter, and have more loft and insulation.
What Ply Is Aran Yarn?
Aran yarn is typically considered to be a medium-weight yarn. However, the term "ply" concerning yarn can have different meanings depending on the region and context.
Can I Substitute Worsted-Weight Yarn For Other Yarn Weights In A Pattern? 
Yes, you can substitute worsted-weight yarn for patterns designed for other yarn weights, but swatch and adjust your needle size to achieve the pattern's gauge and desired fabric thickness.
What Are Some Popular Brands Of Must-Try Worsted-Weight Yarns? 
Some popular and well-regarded worsted-weight yarn brands include Cascade 220, Malabrigo Rios, Lion Brand Wool-Ease, Berroco Vintage, and Knit Picks Wool of the Andes.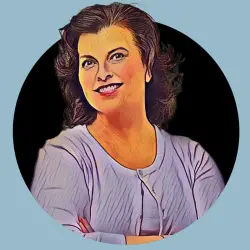 Latest posts by Amanda Brown
(see all)