Are you crazy about cats and handy with a crochet hook? Then look no further!
Crocheted cat-themed items make for great gifts for cat-lovers and plush cat toys are perfect for babies to snuggle up with.
To make things simple, we've scoured the internet for the very best cat crochet patterns and listed them below.
We've included everything from throw blankets and plush toys to trinket dishes and beanie hats – so you're sure to find the purr-fect pattern for you!
First up just has to be this adorable cat crochet pattern from Hugles on Etsy. This pattern will help you to create a small plush cat toy, complete with a smiling face and realistic collar.
The finished product reaches approximately 14cm tall but the instructions can easily be adapted and changed to suit your own requirements.
The pattern includes clear step-by-step instructions in conventional American terminology.
As well as numerous photographs to assist you along the way, and the instructions will be sent over in PDF format via email and will be ready to download once a purchase has been made.
This pattern has thousands of positive reviews, with happy customers praising it for how simple it is to follow. 
Next up is this unique zombie cat crochet pattern from tanflowconcrochet on Etsy.
This pattern will help you to create a spooky yet super cute zombie cat plushie that is approximately 11 inches tall when finished.
It has a fun and kooky appearance and is adorned with ragdoll-like features such as a zig-zag crochet mouth and button-style eyes.
This pattern is ideal for making Halloween-themed cat decorations, or even as a cute gift for any zombie enthusiasts in your life.
This pattern is really simple to modify to meet your own size and color preferences, with some reviewers creating ombre effects in a variety of colors.
If you have any questions, the maker is on-hand to help you out and guide you through the process.
RELATED: 15 Crochet Ideas To Make At Home
This pattern is perfect for beginners or those who are only looking to take on a small crochet project. The finished result will be a 12cm tall plush cat toy, adorned with a gorgeous ruffle ballet scarf.
Thanks to its small size, the finished product can easily be transformed into a cute keyring or hanging tree decoration – perfect for both cat and ballet lovers!
This 8-page detailed crochet pattern is published in English and includes conventional crochet terminology (US terms).
It provides not only extensive directions about how to crochet the item, but also the necessary materials, focus points, etc.
This pattern will be ready for downloading immediately following your payment. In addition, if you purchase the material kit, you will receive the paper pattern as a complimentary gesture – pretty neat!
We couldn't make a list covering the best cat crochet patterns without including this gorgeous creation from LauLovesCrochet on Etsy.
This pattern is one of the cutest and most intricate we've ever seen! With this pattern, you'll have everything you need to make your own adult cat as well as 2 tiny kittens – adorable!
The adult cat is complete with an internal pocket that you can open and close to reveal the kittens. We're obsessed with this pattern, and we think you will be too.
Once again, this pattern is pretty straightforward to modify, so you can easily make changes such as fur color and the number of kittens.
The pattern is written in standard English and is complete with multiple pictures along the way to guide you.
How beautiful is this vintage cat crochet blanket? Well, this pattern has all the instructions you need to make your very own!
The finished product is a patchwork-style Afghan blanket adorned with simplistic cat portraits of all colors and patterns.
It's a perfect addition to any cat-friendly household or as a gift for the cat enthusiast in your life. Some of the cats are block-colored, whereas others have an ombre effect.
Each kitten has a cute bow around its neck on a plain background. Once completed, the finished blanket will measure 42 inches x 49 inches.
However, this pattern can be easily modified and adapted to meet your own measurement needs, simply remove a column or row of patchwork kitties!
Once your payment has been confirmed, the pattern will be ready to download and the seller is always on-hand to answer any questions you may have.
Next up is an easy-to-follow pattern with thousands of positive reviews on Etsy. This pattern will help you to make your very own cat ring dish, perfect for rogue jewelry and for use as a super cute trinket tray.
Even if you're not a very experienced crocheter, you're in luck! – this pattern is suitable for beginners and experts alike, and the instructions come in PDF format with detailed instructions complete with comprehensive illustrations.
This pattern will take approximately 1 hour to complete, depending on skill and experience. The finished product will measure 10 x 10 x 2.5cm and is written in standard US English. 
If you're looking for a pattern to create a handmade gift for the cat-lover in your life, then look no further! This pattern will guide you step by step through the process of crocheting your very own cat hat.
The finished product is simply adorable; a winter-appropriate pom style beanie hat adorned with a cat pattern. The 6-page pattern is very detailed and easy to follow and each step comes with intricate colored photos.
This pattern is written in standard US English terminology and the measurements can be modified as necessary to suit your needs and sizing.
This crochet pattern from MyKrissieDolls on Etsy will teach you how to make your very own cat plush toy. This pattern is best made using sock yarn and the finished product will measure approximately 18cm tall.
However, if using cotton, your kitty is more likely to measure approximately 26cm. The instructions are sent via PDF upon purchase and the pattern is available in standard US English as well as Dutch.
Reviewers say that this pattern is super easy to understand and follow, and it's pretty straightforward to make changes to sizing and color if desired.
Next up is this gorgeous sleeping cat crochet pattern from FireflyCrochets on Etsy. The finished product is a super cute plush kitty taking a nap and looks great sitting on a shelf in a nursery or as a bedtime buddy for your child.
The pattern takes advantage of simple crochet shapes which can be put together effortlessly with little experience to create the finished plushie.
Upon purchase, the pattern will be sent via PDF and will be ready to download immediately. The pattern instructions are available in different languages; Standard US English, Spanish, and Russian.
This pattern comes with all the instructions you need to make your own miniature cat plushie. The finished product is super cute, complete with a neck scarf or a collar depending on your preference.
The finished cat will measure between 3 and 9cm depending on what kind of yarn you choose to use.
The PDF document contains 10 pages of detailed instructions complete with step-by-step photographs to guide you through the process. 
What could be better than one cat crochet pattern? That's right – 4 crochet cat patterns! This product is a bundle deal and upon purchase, you will receive four different pattern instructions for different cats including a tuxedo cat, a siamese cat.
A tabby cat as well as a calico cat – making it perfect for beginners who want to experiment or those who can't pick a favorite style of cat.
These patterns are easy to make and will take just a few hours to complete, even with minimal experience and skills.
The pattern is extensive and the instructions span 16 pages, complete with clear and colored photographs to help you.
This is probably our favorite pattern on this list, and it's easy to see why! How adorable is this cat sweater? This pattern comes with detailed instructions to make your very own.
The finished product has a vintage Afghan style and it works great as a cozy winter sweater or as a cute novelty gift for the cat-lover in your life.
The patchwork jumper pattern is included in this PDF download in sizes XS/S, M/L, XL/2XL, 3/4XL, and 5XL. Every size has been thoroughly tested.
This pattern is suitable for advanced beginners who have some experience with colorwork. 
RELATED: Crochet The Amigurumi TikTok Bee
Do you like cats? Are you good with a crochet hook? Have you ever wished to commemorate your kitty but didn't know how? Then this crochet pattern is for you.
This whimsical crochet square is straightforward to customize to your beloved feline. Basic stitches are used to make the Many Cats Square.
The foundation square is stitched in linked rounds before the appliqué cat is sewed on.
The written design is for a single square and a single type of cat. It provides thorough annotations, a plethora of color images, and advice on how to customize your cat.
This simple cat pattern is perfect for beginners with little crochet experience as the instructions are super detailed and straightforward to follow.
The pattern itself is only 3 pages long and shouldn't take much longer than a couple of hours to complete the finished product.
The cat stands approximately 6 inches tall but the exact measurements will vary depending on what kind of yarn you choose to use.
Each step of the instructions is complete with simple colored photographs to help you through the process. 
This pattern will help you to create your very own amigurumi cat plush toy. The finished result measures approximately 25cm tall when standing and makes a great gift for a child or a cat lover.
This project requires basic crochet and amigurumi skills, as well as the ability to understand crochet patterns.
You should also be familiar with basic sewing and embroidery methods.The pattern is very easy to follow and understand, and the hundreds of positive reviews on Etsy speak for themselves.
RELATED: 13 Stunningly Beautiful Hooded Scarf Crochet Patterns
Next up is this super cool crochet pattern from NiggyArtsPatterns on Etsy.
The instructions are detailed and will teach you how to make your own realistic crochet cat. The finished product is a cat standing on 4 legs, truly resembling a real-life cat.
However, this pattern is not suitable for beginners and requires intermediate-level knowledge and experience.
The pattern is sent via email in PDF format upon purchase and contains 20 pages of detailed instructions complete with clear colored photographs. 
Last but certainly not least we have this baby rattle cat crochet pattern from FairyToysByInnaChi on Etsy. How gorgeous is the finished result?! We love it, and we're sure you will too.
The pattern comes with all the detailed instructions you need to make your own crochet baby rattle, perfect for little cat lovers.
The finished rattle measures approximately 11cm, so it's small enough to fit in a baby's hand comfortably. This PDF pattern is 15 pages in length and very comprehensive and simple to follow. 
Frequently Asked Questions 
What Is Meant By a Cat Stitch?
Despite the misleading name, a cat stitch has nothing to do with the actual animal.
Instead, it is a style of crochet stitch. It's called a cat stitch as the motions you make when stitching resemble a cat's head and ears, but when connected, will not actually resemble a cat.
A cat stitch is created using a series of shell stitches, double crochet stitches, and drop stitches. 
Is It Difficult To Make A Crochet Cat?
The answer to this question will depend on your level of experience and knowledge as well as what kind of pattern you have selected.
If you have minimal experience, we recommend looking specifically at crochet patterns suitable for beginners. The more difficult cat crochet patterns will feature elaborate stitches and more steps.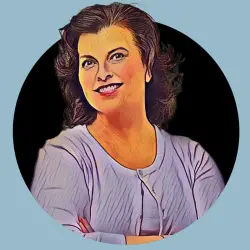 Latest posts by Amanda Brown
(see all)