Amigurumi is a practice that has made its way all across the world. The cute little animals that countless people have designed and made fill up many of our social media feeds, and almost make us jealous and want to start making them for ourselves.
Well, with this list of adorable turtle amigurumi patterns, we can turn that want to craft, into crafting itself!
Turtles are so lovable and fun to make, they would be perfect additions to any collection. So here's hoping you find one or more of these free turtle patterns just as much fun to crochet as it was to design.
Happy knitting and crocheting!
These miniature turtles are going to be your kid's favorite for sure when they see these little critters! Being only small, they'll fit perfectly in your children's hands. Ideal for cuddling!
These adorable little turtles can take on the role of a frog, lizard, or even a caterpillar! They're so cute and easy to make that a needle and thread will be all you need to finish them off, along with a little guidance from the instructions.
This is a great project to do with kids as it involves sewing but doesn't require much skill or time. It's also perfect for beginners because there isn't anything complicated about this design. You just have to decide what kind of animal you want to turn into before starting.
Once finished, each one takes less than an hour to create! Just follow along with our free tutorial to get started!
The turtles you'll be able to knit or crochet with this design are next-level cute! This little family is going to be an adorable decoration or toy in any room you want to put them in, whether that is in the living room or your kid's bedroom!
They're made using a no-sew technique, which means you won't need a lot of yarn or materials to complete them. The most important thing is getting the right size and shape, then finishing them up with some basic stitches.
You don't have to worry about making mistakes, either! All the patterns come fully written out for you, including step-by-step picture tutorials. Stringydingding, the creator of this pattern, has included everything you need to know to get started and finish creating this super adorable turtle family.
Easy and quick, knitting or crocheting these little guys will be a fun activity to do with your kids!
RELATED: 13 Stunningly Beautiful Hooded Scarf Crochet Patterns
If you're looking to make a turtle Amigurumi that you know will become a favorite of anybody you gift it to, then you need to check out this turtle toy pattern. With a removable shell, this design stands out from many of the other patterns on this list.
It's simple enough that anyone can easily pick it up and start playing around with it, while still being complex enough to keep you intrigued and improve your skills.
The instructions include detailed pictures showing how to construct this awesome turtle toy. Once you've completed the pattern, you'll love the way it looks — you'll want to keep it for yourself, even if it was intended as a gift.
It's also very simple to make, too, so if you've never tried crafting before, this is a great place to start.
If you love turtles, then you must love baby turtles even more! Because let's face it, who doesn't love baby turtles? This amigurumi pattern only solidifies this love, with a design that is great for younger and older kids to play with!
Whether you use it for decorating or giving it away as a gift, this baby sea turtle is sure to bring joy to whoever gets hold of him/her. There are two different designs available here, each featuring a completely different style of turtle.
Both feature a similar construction method, though, meaning you shouldn't find it difficult to figure out how to work with both. Your final product will depend on whichever design you choose, but the process remains the same.
As usual, every pattern comes with full instruction sheets, which break down the steps necessary to complete this cute creature. These directions are clear and concise, leaving nothing to guesswork.
This turtle Amigurumi pattern is perfect for those who enjoy working with their hands and can't wait to create something cute. It features one of our most popular designs, the classic turtle, as well as a few other variations on the theme.
Because this pattern uses a fairly easy-to-follow construction method, you'll be able to complete it quickly and without trouble. Each variation includes its unique color scheme, which makes it easier than ever to match your creations with your home décor.
If you're not familiar with the turtle Amigurumi trend, there are plenty of reasons why you might want to give this a try. For starters, they're extremely versatile, allowing you to add lots of personality to any space in your house. They're also incredibly easy to make, making them ideal for beginners.
We've got another great sea turtle design for you animal lovers!
While this particular turtle pattern may seem a little basic, it's quite intricate when you take into account all the details involved. The finished piece is simply adorable and would make an excellent addition to any kid's room.
Bob is the perfect little companion for someone who enjoys spending time outdoors. He's made out of soft yarn, which means he won't scratch anyone when he rolls over or tries to get into things.
He has an adorable expression on his face, as well as some precious beady little eyes, so he's sure to steal hearts wherever he goes. The pattern itself was created by avid crocheter Amicidicotone.
If you fancy making your bob, then you'll love these instructions! Whether you're new to crafting or have experience, you'll find everything you need right here.
You can use this crocheted turtle as a decorative object in your home or give it as a present to someone special. We think it would make a fantastic birthday or Christmas gift for any friend or family member.
RELATED: 15 Brilliant Crochet Baby Yoda Patterns (With Pictures)
If you love Pokémon, then you know exactly which one we've gone with for this list!
This adorable Squirtle is the perfect project for yourself, or another gamer who you know will love this piece of craftwork.
It's going to end up being one of the most treasured items in your collection, so why not start it off now?
The instructions are very simple, with just a handful of steps required to get started. Once completed, you'll end up with a beautiful, soft toy that would look great hanging around your child's bedroom.
I mean, just look at this little turtle! He's such a sweet-looking guy, and he'd make a wonderful addition to anyone's collection. He's made using a combination of solid yarns and crochet thread, which gives him a nice finish.
With its friendly face and big eyes, your new buddy will certainly brighten up your day. He's made from a super soft yarn, which gives him a really cuddly feel. As if that wasn't enough, his body has been decorated with some lovely flowers.
Sheldon is made to such a beautifully high standard, he looks like a pro was responsible for crafting him into life. But don't let his appearance fool you:
Sheldon is still a beginner at the game of crochet. He's designed using only a few rows of chain stitches, which is perfect for someone who wants to learn how to crochet.
This adorable turtle is a great beginner project, and if you've never tried crochet before, this is a great way to learn. If you do decide to keep Sheldon around, we highly recommend keeping him out of reach of small children.
A classic turtle design is always a good choice, especially when it comes to finding free patterns online. This cute turtle pattern is really easy to follow and would make a great first project for anyone looking to learn how to crochet.
As long as you keep everything together while working through the pattern, you shouldn't run into any issues. Once you've completed this adorable little turtle, you'll be left with a soft plushy that would look great next to your bed or anywhere else in your home.
It's time for another adorable little turtle pattern! The color combinations on this design let each part of the turtle pop from the other. It's a great little toy that any child is sure to cherish!
There are a few stitches used in this project, but none of them are particularly difficult. You'll quickly become comfortable with this pattern once you see how simple the entire process is.
One thing that makes these sea turtle crochet patterns stand apart from others is their simplicity. There are only a handful of stitches needed to complete each item, and the instructions make it clear what needs to be done at every step.
They're also incredibly detailed, so even if you've never crocheted before, you should feel confident about tackling these designs.
The giant googly eyes set this pattern apart from the others we have covered so far. While most of our crochet turtle patterns use smaller eyes, this one takes things to a whole new level.
If you like the idea of having a fun activity for kids to play with, then this free crochet pattern for a turtle with big eyes is perfect for you.
We think everyone will enjoy crafting this adorable creature, no matter what age they are! As you can tell from the picture above, this adorable turtle isn't shy about showing off its pretty face, either!
RELATED: 15 Crochet Blanket Patterns For A Cozy Home</p
This one is so cute, it even has its name already! If you want to recreate little Timmy for your own home, then this pattern and its instruction will help guide you through the crafting journey!
You won't need much experience to create this adorable little guy. He's made out of just three colors, which means he doesn't require any fancy techniques.
He's got an awesome design too! His shell looks like it was created using a single strand of yarn, which makes him extra realistic.
His body also features some cool details. We love the fact that he has little flippers sticking out of his bottom half, and they look like little lime slices too! These look amazing when attached to his body, and they add a nice bit of detail to the overall design.
This is such a cute little turtle pattern, and we hope you get to craft one for yourself very soon! If you have trouble finding a suitable occasion to use this adorable little pattern, why not gift it to someone special?
Come on. It's in the name. How could you not want to make this adorable little guy?
He's all ready to take on the world, and he's going to show you just how strong he is. This crochet turtle pattern is a very straightforward design, so you shouldn't have any problems getting started.
Each piece has been designed to be as easy to work with as possible, so there aren't any complex techniques or tricky stitch counts involved. Once you know how to crochet, you'll find it easy to follow along with the written instructions.
All of the pieces are fairly small, so you don't have to worry about making your finished product overly large. This cute little turtle is meant to fit snugly inside a small box, so it won't take up too much space.
The best part of this pattern is that it comes with two different sizes to choose from. You can easily adjust them to suit your needs by simply changing the number of stitches used.
Little Tina here is just begging to be made for your home! And with just the cutest little box-shaped body, they make the most adorable little throw pillow too!
She's so cute, she deserves her little spot in your house! She's super easy to make too since you only need to crochet together four basic shapes to complete her!
There's nothing complicated about this crochet pattern, but if you're looking to learn more about crocheting, we've included a few helpful links below.
And if you do need a little help creating this adorable little girl, we've provided the measurements for each shape. Just click on the link to see exactly where each section begins and ends.
Once you've mastered these four simple steps, you'll be ready to start designing your original designs!
This pattern stands out from the rest! Whilst every amigurumi cushion has been adorable on this list, how many have flowers on them!?
But this one takes things to another level, as it's made entirely out of crochet flowers. The result is a beautiful flowery effect, which gives the entire project an incredible appearance.
It's certainly something you'd never expect to see on a crochet cushion, but it works perfectly well. It's also incredibly versatile because you can easily change the size of the individual flowers to suit your needs.
We love the way this pattern has been designed, so you should give this crochet flower pattern a try!
RELATED: 15 Crochet Ideas To Make At Home
This one is a must-have for the Disney Pixar kids (and adults) in your home! This crochet design perfectly replicates the adorable baby sea turtle from the hit animated film, for your home and hugging pleasure!
There's no limit to what you can create using this free crochet pattern!
It's perfect to keep around the house too, so you can snuggle up with your favorite movie when you feel like doing some cuddling.
What's more, this cute little crochet turtle will look great sitting proudly on your sofa!
Frequently Asked Questions
What Are Amigurumi?
You may be wondering what exactly an Amigurumi is, after seeing it used so much in this list. Well, it's a type of crochet doll that looks very similar to traditional plush toys.
However, instead of being filled with stuffing, they are typically made from fabric, yarn, or thread. They're then given their unique personality through various embellishments, which makes them all the more special.
What Is The Difference Between Amigurumi Turtles Made By Sewing Or Crocheting?
Throughout this list, you may have noticed that both knitting and crocheting patterns have been listed, which might be a little confusing to those who don't quite know the difference.
So, it's important to understand the differences before you decide whether to purchase or download either sewing or crochet patterns.
Crocheting is a type of needlecraft, which means that it involves working fabric into three-dimensional objects. This technique uses a single hook to make loops that you feed your yarn through to build larger shapes and designs.
Sewing is a form of needlecraft as well, however, it is usually done with a single needle and thread in order to fix fabrics together.
Conclusion
As you can see, there are plenty of turtle designs to go around for any crocheting and knitting enthusiast. Whether you want to make your original designs, or simply copy off someone else's work, we've got everything you need here.
We hope you enjoy our collection of free crochet turtle patterns just as much as we enjoyed creating it for you.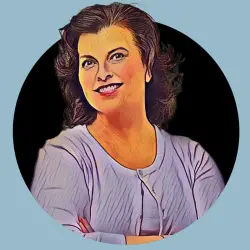 Latest posts by Amanda Brown
(see all)