With winter quickly approaching, the temperature has dropped, and stepping outside the house can feel like stepping into a walk-in freezer: cold, cold, and more cold. Now would be a good time to get yourself a nice, chunky scarf to ensure you stay warm and cozy throughout the winter season.
Or, if you're like us and love the look of crochet scarves, or have a general interest in crocheting and want to learn more about it, you can take the opportunity to make your own chunky scarf!
Crocheting can seem difficult and complex, and you may sit there with your half-made, uneven pattern thinking you'll never get a scarf finished…this is where we come in.
We have compiled a list of 25, stunning chunky scarf crochet patterns, all complete with links to written instructions, videos, step-by-step pictures, to ensure you know exactly what to do when it comes to making your scarf. We love them, and we think you will too!

Starting our list is the wonderful ribbed-knit-like crochet scarf. It has an acrylic wool base, using bulky weight yarn which keeps you warm – perfect for winter! If you're a beginner, this is an easy scarf to start off with. It uses two types of stitches, the half double crochet and the half double crochet, back loop. This gives the scarf its pattern, similar to a ribbed-knit. 
An infinity scarf is a type of scarf that sits around the neck like a loop, or circle, as if it could go on forever – hence, 'infinity'. This is one of the many infinity scarves on this list – we cannot get enough of them! This February Elemental infinity scarf is so versatile, you can wear it in a number of different styles and make it work with your outfit! 
This scarf requires half double crochet stitching and is so easy to do! The yarn used is number 6 super bulky. 
RELATED: Fun Amigurumi Turtle Patterns That You Can Download And Make Right Now!
The beautiful colors make this scarf perfect for fall. It is big, cozy, and reminiscent of fallen leaves. The pattern itself is slightly more complex, requiring you to know single crochet stitching, double crochet stitching, and a double crochet cluster stitch. Don't let this put you off, though. These patterns are easily learned and can be practiced until perfection (or at least close to!) You only need to repeat the stitching in two rounds until you reach the desired size. 
This pattern uses cake yarn, which is so soft and easy to work with. Gorgeous!
Speaking of cake yarn, check out this textured infinite scarf! These bright colors are full of fun, and definitely a statement piece for any outfit. This scarf is made using a floret stitch: a row of slip stitches, alternating slip stitches, and double crochets. This second row will give the scarf its texture. 

To turn this scarf into a classic infinity scarf, simply weave the short ends of the scarf together.
If you love multi-colored scarves, this is another perfect one for you! This scarf uses the granny stitch, which is such a fun pattern to do! However, the Not Just for Granny scarf puts its own spin on the typical granny stitch – and instead of a square pattern, the crocheter has opted for a rectangle, did someone say stylish? 
You can choose between two types of yarn for this scarf – either mandala yarn or cake yarn will work beautifully! 
Not only is this chunky crochet scarf made up of colors that work beautifully together, but it is so long it's sure to be the defining feature of any outfit you pair it with – and it can work with so many. 
This scarf uses three different types of Bernat Roving Yarn, and its own unique half double crochet method of stitching, which you can view in more detail here. 
A cute striped scarf with fringe detailing. It will be a staple in your wardrobe for years to come! This scarf uses two types of yarn, both Caron Colorama. It also uses single crochet stitches. 
This beautiful chunky crochet scarf showcases many wonderful shades of purple. The symmetrical image adds a delicate touch. The yarn is self-stripping, as shown by the double row border finish. This scarf works up quickly, and your finished product will be a delicate, cozy scarf with a lot of body. 
We recommend you use worsted weight yarn for this scarf. 
RELATED: Easy Crochet Bookmark: Perfect Project for Beginners
This beautiful, vanilla cream chunky crochet scarf is the epitome of cozy. It boasts a wonderful crochet heart pattern that makes for a great gift for a friend, family member, or loved one. This scarf is made by using half double crochet stitches, but with no back post stitches. This means it is by no means the easiest scarf to crochet, but it also means the hole size of the scarf is reduced and it is smoother at the back. 
We recommend making this scarf out of number 6 super bulky weight yarn so that it works up quickly. 
Another chunky crochet scarf perfect for fall, we love this scarf's earthy tones and fringe trim on the bottom! The yarn used is by Vanna's Choice, and if the color is not to your taste, then you can choose another!
The scarf pattern is the same throughout. It is made up of half double crochets and chain stitches. 
Stay toasty and warm with this gorgeous chunky crochet scarf. This is a beautiful color that embraces winter, you'll definitely turn heads as you do your festive holiday shopping! Best of all, this scarf is so easy to make! It is comprised of single crochets (front loops only), and the pockets are made with slip stitches. The Willow Scarf is made from Lion Brand yarn. 
Jump back into the 70s with this striped chunky crochet scarf! You can use a variety of color combinations or patterns for your scarves, but we love this one because it is bright, bold, and beautiful! This scarf uses fingering weight yarn in five colors, but you have the option to use heavier yarn (the chunkier the crochet, the better, right?) if you want a wider stripe. 
If you're less of a fan of bold colors, and lean more towards faded, lighter, or neutral tones then not to worry! We have the perfect scarf options for you, too! Take for example this chunky crochet scarf, the dark purple-blues, and greens contrasting with the white and nude screams classy, but in an elegant and understated way. 
Make your own with medium worsted weight yarn (4), and wear this scarf as it is or doubled as a cowl – the choice is yours!
RELATED: Crochet The Amigurumi TikTok Bee
Add a pop of color to your neutrals with this baby blue infinity scarf. And don't feel limited to this one color, you can achieve this look with a variety of them! 
This chunky crochet scarf is a great choice if you have some experience in crocheting. It uses a mix of patterns, including both back and front post double crochets, double crochets, and chain stitches. See the full crochet tutorial here.
You can use two different types of yarn for this scarf – both Bernat yarn, in sizes H and I. 
Check out this monochrome chunky crochet scarf! This pattern is ideal for those with beginner experience and are ready to learn new patterns. This scarf features a zigzag shape that is very easy to learn!
This pattern is made using single crochet stitches and bulky fiber yarn that is so soft you'll feel like you're wrapped up in a blanket. 
If you're looking for a scarf with a bit more going on than simple stitches, then look no further than this next chunky crochet! This scarf has a classic neutral color scheme with a fun stripe pattern to add that little extra something! 
The scarf uses number 6 super bulky yarn and is made with double crochet and chain stitches. 
If you happen to enjoy simplicity in your clothes and accessories, then this would be the perfect scarf for you! The Ridge Walk scarf has a beautiful warm tone and will also keep you warm in bitterly cold weather. The ridged effect on this scarf is created by using one stitch for the entire pattern, single crochet alternated with long single crochet. This is a simple technique to achieve and makes this chunky crochet scarf beginner-friendly. 
This scarf uses number 4 medium worsted wool. However, if you don't like using wool, then any number 4 acrylic yarn acts as a great alternative. 
This gorgeous scarf kind of reminds us of the Aurora Borealis when worn as a cowl, which makes it perfectly on theme for winter! Not only that, it is so easy to make – the pattern only uses double crochets and simple chains stitches. Feel free to sit by the fire or in front of the TV watching your favorite shows as you spend a fun evening crocheting. 
This pattern uses number 3 lightweight yarn, but feel free to swap that out for a bulkier kind, and see how the colors and style change – just like the Northern Lights!
This chunky crochet scarf adds a unique twist to the classic infinity scarf. It can be paired with a variety of outfits to elevate them and add some fun. It is made using super bulky yarn.
This scarf is made up of half double crochets worked into the back loops. Click the link to find step-by-step instructions and even a video tutorial!
This stunning chunky crochet scarf looks so professionally made that you could easily use it as a hand-made gift for loved ones this festive season. And, it's beginner-friendly! You can achieve this by using any size 5 yarn and single crochet stitches. 
RELATED: A Guide To Making The Famous TikTok Bumblebee – 3 Different Sized Crochet Patterns
You won't want to leave home without your trusty Wanderlust chunky crochet scarf! The yarn used to make this autumnal accessory is from the Lion Brand Heartland line and is so soft – just what you need for stepping out into the icy winter weather. In fact, the yarn is so nice to use that making it won't feel like work. Which is a good thing, as this is slightly more difficult to make than some of the other scarves on this list. 
It uses a variety of different patterns to achieve the final result including single crochets, double crochets, half double crochets, front and back post double crochets, and chain stitches. 
Can't pick a favorite scarf color? Well, with this chunky crochet scarf you don't have to! Enjoy an array of colors made with two different types of yarn, both in number 4 medium weight. There are many balls of yarn used in the making of this scarf, so it's suitable for only the most dedicated crocheters. See the list of specific yarn colors here.
As for the pattern, this scarf is comprised of chains and single crochet stitches. 
This stylish scarf is a beginner-level scarf that works up quickly, which means it's great to crochet when you're in the middle of last-minute festive shopping and need gift ideas. 
The stitch pattern is entirely half double crochet, and it is made from number 5 bulky weight yarn. 
Be the talk of the town with this dreamy chunky crochet scarf. This scarf is so cute you'll wish you could wear it all year round. It is made from two different types of yarn, with more details to be found on the website. It is made using half double crochets, half double crochet cluster stitches, and chain stitches. 
This list would not be complete without this stunning chunky crochet scarf. This beautiful color can be achieved with two types of bulky weight yarn, with more details being listed here on the website. Use a double crochet stitch pattern to achieve this versatile, comfortable look. 
Frequently Asked Questions
How To Pick The Best Yarn For Scarves?
There are three types of yarn options available for making scarves.
Acrylic yarn – excellent for beginners and does not split easily. 
Wool yarn – retains its shape even when stretched. It is great for items that need elasticity because it does not wrinkle easily.
Acrylic/wool blend yarn – a combination of both, soft wool and the easiness of acrylic yarn.
You can use whatever yarn you like best to make chunky crochet scarves. You'll find you may develop a preference the more scarves you make. Or, the type of yarn you use could be dependent on the type of crochet project you're working on. 
Which Is The Best Stitch To Use For A Scarf? 
The easiest stitch to use for beginners is the single crochet. The single crochet stitch gives scarves a modern look that always looks tasteful. However, there really is no 'best' stitch, the stitch you use depends entirely on the look you want to achieve with your chunky crochet scarf.  
How Long Should An Infinity Scarf Be?
We recommend your infinity scarf measure around 60 inches. However, your scarf can be as long or short as you want it to be. It all comes down to personal style preference. 
Can You Make A Scarf Out Of Bulky Yarn?
In short, yes! No matter your personal preference, be it an infinity scarf, a scarf with fringe detailing, or your everyday chunky winter scarf, bulky yarn is a great option for crocheting! Bulky yarn is thicker, and therefore perfect for keeping you warm during the winter.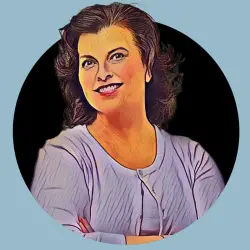 Latest posts by Amanda Brown
(see all)